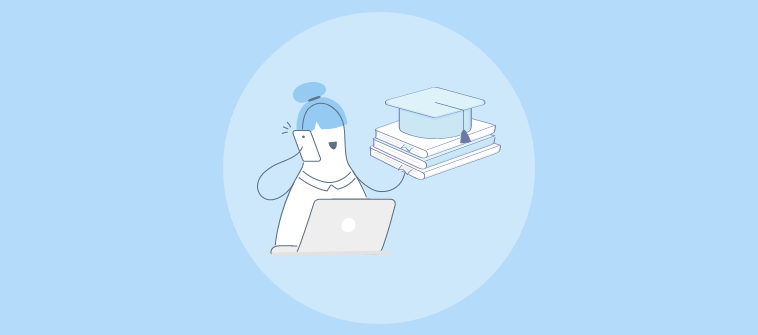 As young kids, we were always encouraged to ask questions – Why is the sky blue? Where do babies come from? How can Santa Claus reach all the kids in one night?
While your educational institution may not have answers to these questions, you must be able to answer all queries and doubts related to courses offered, admissions, fee structure, leave policies, hardware requirements, training material, and so on.
If you are struggling to keep up with endless student requests, complaints, or inquiries, help desk software for schools can be your best bet.
Whether you run a K-12 school, an international university, or a training center, the right help desk system can help you centralize all support-related communications. You can interact with students via email, live chat, or web forms and resolve their issues in a jiffy.
Not sure which school ticketing system to choose? We have got you covered!
In this blog, we will understand the benefits and features for help desk software for schools. Later, we will explore the top 10 tools that can help you make learning an enjoyable experience.
Let's go!
What Are the Benefits of Help Desk Software for Schools?
The right ticketing system can help you meet all your student support needs. Let's quickly discuss some of the top benefits of an education help desk system:
1. Organize All Communications in One Place
Help desk software for educational institutions will help you organize all internal and external inquiries, requests, and complaints in one place.
Whether a student shares a request via email or raises a complaint by filling out a web form, your support team can track all messages from a centralized dashboard. When you can get 360-degree visibility into all support interactions, you can better decide which issues demand urgent attention and which ones can be handled with time.
2. Encourage Inter-Departmental Collaboration
Every educational institution has multiple departments that must function together to resolve student concerns and requests. The help desk system makes inter-departmental collaboration effortless.
The admin, facilities, IT support, and HR teams can join hands to proactively resolve student and teacher concerns. Internal collaboration features such as private notes, parent-child ticketing, etc., help you offer better and more efficient support to end-users.
3. Empower Students & Teachers With a Knowledge Base
With the best help desk software for schools, you can create an online knowledge base in simple steps. A student knowledge base can provide students with quick and easy access to information on a variety of topics, reducing the need for direct assistance from teachers and staff.
For example, they can access admission forms, course materials, training modules, and other multimedia content. By having a centralized repository of information, schools can reduce the time and resources needed to find and share information.
Read More: How to Reduce Support Ticket Volume in 15 Sure-Fire Ways
4. Monitor Key Performance Metrics
How quickly does your team respond to student concerns? How many tickets are lying pending with your team? Are students happy with the support they are receiving? Help desk reports and analytics can help you answer all these questions and more.
With the help of metrics such as average first response time, ticket resolution time, etc., you can monitor your team's overall performance and identify areas for improvement. Additionally, you can share automated surveys to gauge user satisfaction.
Read More: 15 Help Desk Metrics to Improve Customer Support
Must-Have Features of Help Desk Software for Schools
Are you looking to find the right tool for your team but don't know where to start? Explore some popular help desk features that will surely come in handy.
1. Ticket Statuses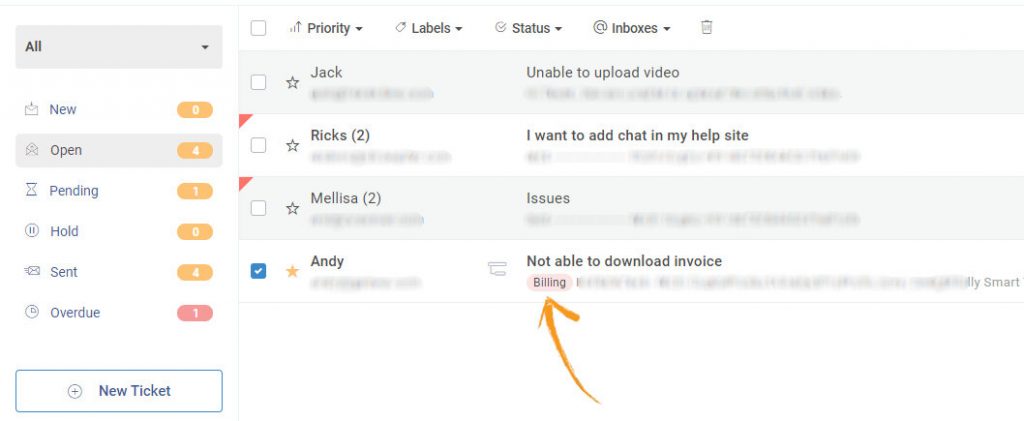 Your help desk inbox may be full of requests and complaints from students, teachers, parents, and internal staff members. Amidst such chaos, how do you keep things organized?
You can easily track the progress of tickets using different statuses, such as New, Open, Pending, Overdue, Hold, and more. The best part is that you can create custom ticket statuses based on your needs.
2. Collision Detection
When you send duplicate responses to users, you can hamper your school or university's hard-earned reputation. Collision detection is an essential feature that helps prevent multiple agents from working on the same ticket at the same time.
Your team members can see who is viewing or replying to a ticket in real-time. This simple feature can significantly reduce the risk of sharing duplicate, confusing, and conflicting responses.
3. Automated Responses
Many student inquiries are repetitive in nature – "What are the program costs?" or "Is placement guaranteed?" There is no need to waste time typing the same responses again and again.
Automated responses use predefined templates to respond to user inquiries. It helps to speed up response times and gives your agents enough time to focus on more complex issues.
Read More: 11 Best Canned Response Templates for Customer Support Emails
4. Security
For any educational institution, data security is paramount. This is the reason why a student help desk system comes with powerful security features.
For instance, you can assign different roles (admin, manager, staff, watcher, etc.) to team members to determine what help desk features and capabilities they can access. In addition, you can enable IP restrictions to limit help desk access to a particular location or your institution network.
5. Mobile App
Many help desk vendors offer dedicated mobile apps for Android and iOS platforms. The feature allows your team members to stay in touch with students, teachers, and other stakeholders, even when they are not at their workplace.
For instance, support agents can create, assign, track, and resolve inquiries right from the mobile app. Moreover, mobile apps often have push notifications and real-time alerts, which help to increase response times and improve the overall user experience.
Read More: How to Deliver 24/7 Support Without 24/7 Staff
10 Best Help Desk Software for Schools and Universities
The right tool can make all the difference to your educational institution and to the life of each student. We have created a comprehensive list of 10 help desk software for schools that will help you get started quickly.
Whether you run a K12 school, college, university, learning center, or any other educational institution, ProProfs Help Desk can be your ideal help desk partner. With the shared inbox feature, you can manage multiple email accounts, such as admissions@, info@, edu@, facilities@, IT@, etc., in one place.
Now, prospective and existing students might have multiple questions related to the admission fee, types of courses, etc. You can create an online knowledge base and reduce your team's workload to tackle such common queries.
Top Features of ProProfs Help Desk:
Prioritize issues based on their urgency and potential impact
Set up a knowledge base for students and internal staff members
Create powerful chatbots to offer 24×7 assistance
Assign tickets to multiple departments with parent-child ticketing
Create and save canned responses to share faster replies
Pricing:
Starts at $20/agent/month (billed annually).
Front is a great alternative for those educational institutions that are heavily dependent on email as their primary communication channel. With the team inbox feature, you can connect all communication channels, such as email, SMS, WhatsApp, live chat, etc.
Front lets you track important metrics such as the average reply time, new conversations, SLA breaches, overall customer satisfaction, and more. However, one major drawback of this too is that advanced reports and metrics are only offered in their higher-priced plans.
Top Features of Front:
Create automated workflows to scale customer communication
Get a shared view of customer messages
Easily adapt to the tool with its intuitive email-like interface
View reports and analytics for specific channels
Create insightful forms and add them to your website
Pricing:
Starts at $19/user/month
Read More: Best Front Alternatives for 2023
Help Scout is an easy-to-use communication platform that can help you manage all parent and student requests in one place. As soon as you sign up, you can access multiple tools and capabilities to enable your team to communicate across multiple channels.
Instead of forwarding emails and getting lost in email threads, you can directly assign a request or complaint to other teams or departments. In addition, customer profiles in Help Scout can help your staff members know exactly who they are talking to.
Top Features of Help Scout:
Monitor student experience with satisfaction surveys
Discuss complex tickets using private notes
Access all information in one place with customer profiles
Leverage live chat to offer instant assistance to website visitors
Save time by creating a searchable library of saved replies
Pricing:
Starts at $20/user/month
Zendesk offers a powerful ticketing system that helps you streamline your educational department's support requests into a single dashboard. Although your team will not require any hardcore training sessions, the tool comes with a steep learning curve.
The best part is that you can set up a knowledge base almost instantly. To encourage self-service among students and staff members, you can fill your knowledge base with relevant FAQs, community forums, and guides.
Top Features of Zendesk:
Capture and track support requests from multiple channels
Create an integrated community forum for your audience
Manage user requests over social media and messaging
Leverage built-in intelligent routing to reduce manual work
Integrate Zendesk with hundreds of business tools and applications
Pricing:
Starts at $49/user/month
HappyFox is a school help desk tool that offers multiple features to stay connected with parents, students, and internal staff members. The tool makes it easier to manage incoming requests from the phone, email, live chat, and social channels.
With HappyFox, you can set up your online IT help desk in minutes. This will allow your team to help staff members with any technical help they might need with their laptops, printers, projectors, login credentials, and more.
Top Features of HappyFox:
Encourage self-service with a dedicated knowledge base
Automatically convert incoming emails to support tickets
Sort tickets into queues and categories for improved organization
Boost productivity with scheduled reminders and task notifications
Track all IT assets and infrastructure in one place
Pricing:
Starts at $29/user/month
If your IT team spends a considerable amount of time answering common questions, then this tool is for you. With Freshdesk's ticketing system, your team can easily create a self-service IT knowledge base for staff and students.
For every inquiry, the tool provides context about the person submitting the issue and the history of tickets they have reported. So your team can quickly get into action without having to ask end-users for additional information.
Top Features of Freshdesk:
Monitor messages on Facebook and Twitter with a single click
Offer support on the move with a dedicated mobile app
Prevent reopening of tickets when students respond with a thank you
Allow people to raise tickets from your website
Create an online forum to encourage student discussions and collaboration
Pricing:
Starts at $15/user/month
Gmelius is a popular team collaboration tool designed for Gmail users. You can assign student emails to your team members with a single click and see who is working on what.
Gmelius allows you to send accurate responses to students and parents with the shared draft feature. Your team members can collaborate in drafting the best responses. However, one major drawback of this tool is that if you use any other email client, Gmelius will not be of any use to you. It is solely designed for Gmail users.
Top Features of Gmelius:
Discuss email messages with teammates using quick notes
Gain complete visibility into your team's workload and task ownership
Create shared emails for improved email categorization
Enforce SLA policies to ensure faster operations
Integrate with Slack, Zoom, and multiple Google tools
Pricing:
Starts at $12/user/month
Deskero is affordable software for schools, universities, and other educational institutions. The tool offers live chat features to help your team proactively interact with end-users and enhance engagement.
If students or teachers repeatedly bombard your support team with common queries, you can create a vast self-service portal. This will act as an open database and help people find the right answers instantly. Despite the diverse range of features, the tool's interface can seem quite outdated.
Top Features of Deskero:
Automatically assign incoming emails, chat conversations, etc., to team members
Create feedback widgets and upload them on your website or help center
Simplify ticket searches by creating personalized filters
Customize the look and feel of your chat widget as per your website
Use the Deskpro app to offer support even when you're not at the workplace
Pricing:
Starts at $9/user/month
Isupport is an IT help desk software that can be deployed as it is or customized according to the unique needs of your educational institution. The tool allows you to peer-review articles before publishing them.
With the help of powerful reporting tools and analytics, you can communicate meaningful performance insights to your team members. In addition, you can assign different roles and permissions to team members to restrict their access to help desk dashboards.
Top Features of Isupport:
Track IT incidents from start to finish
Capture requests from the phone, email, discussion forums, chat, and website
Create time-based rules for automated notifications and escalations
Schedule surveys to be delivered when an incident is closed
Leverage the asset functionality to maintain records of all your assets
Pricing:
Get in touch with the company for a quote.
Solarwinds Web Help Desk allows students and teachers to request technology support no matter where they are. Moreover, IT staff members can stay updated about each ticket and offer round-the-clock assistance.
If you are tired of repetitive questions that take up valuable time, SolarWinds has the right solution for you. You can set up an easy-to-use knowledge base that includes a wide range of FAQ pages and help articles.
Top Features of SolarWinds Service Desk:
Create knowledge base articles directly from a support ticket
Assign different statuses to tickets – pending, open, closed, resolved, etc.
Monitor SLA violations and escalations
Stay up to date on complaints and requests with SMS alerts
Monitor the quality of service fulfillment with CSAT surveys
Pricing:
Get in touch with the company for a quote.
Read More: Best Solarwinds Service Desk Alternatives for 2023
Say Yes to Seamless Learning With School Help Desk Software!
If you wish to enhance the student learning experience, you must be able to support them with their queries and complaints 24×7. Any unanswered questions or unattended complaints can prevent students from reaching their full potential.
When finding help desk software for K-12 schools or universities, you should consider several factors before making the final investment. For example, ease of use, pricing, advanced automation, reporting, etc., are some essential aspects that deserve your attention.
If you are looking for an affordable solution combined with powerful features, ProProfs Help Desk can be your ideal option. The tool makes it easier for you to track student requests, encourage self-service, and capture feedback for continuous improvement.
Do you want a free Help Desk?
We have the #1 Online Help Desk Software for delightful customer support