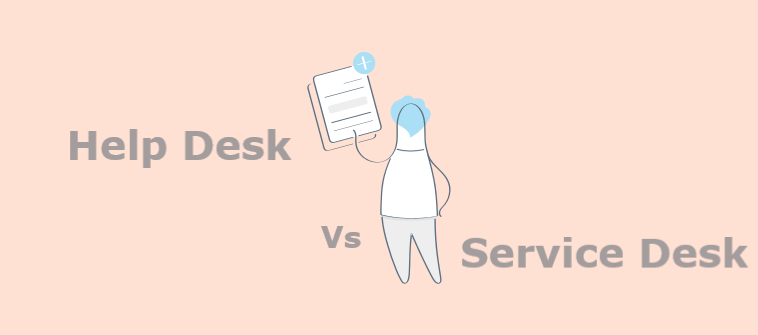 Every company wants to be #1. No matter which industry a company belongs to, each one of them thrive to be the best is the one thing that makes them work hard and smart every day.
But, what if I were to tell you the ticket to being the best is offering delightful customer service?
You can have the best product, high-quality services, and a beautiful website, but with bad customer support, your company will always fall behind.
So, how do you offer a delightful customer experience?
The most basic thing to do is have a set process in place. And, the best way is to adopt a tool that offers all the features needed to answer all customer queries instantly.
But, when we look for a tool for streamlining customer service, there are two very common tools in the market: helpdesk and service desk. These tools aim to offer companies the same thing, but work for very different principles. That's exactly what we cover in this blog post.
Here's a helpdesk vs. service desk definition and comparison of how they are different.
What is a Help Desk?
Business Dictionary gives a very accurate helpdesk definition:
"Help desk is a software that streamlines the entire process of customer support via a call center approach. This tool is operated by a set of trained support agents who cater to different customers in real-time."
So, according to the above helpdesk definition, one product has a dedicated help desk for it. For example, a college student who has a Dell laptop and needs to ask a question regarding the software configurations, they will contact Dell's help desk directly. The other way is that they might contact their university's IT department help desk.
How Does Help Desk Benefit a Company?
A help desk management system enables companies to:
Offer delightful customer service

Instantly resolve customer queries without any hassles

Reach out to customers and start proactive conversations

Increase ticket efficiency

Gain insight into the customer's perspective of the company

Improve customer service and experience
Help Desk Query Examples:
A few most common queries that a help desk management system helps solve include:
Product-specific customer issues

Service-specific customer issues

IT-related customer issues

Software-related customer issues

Hardware-related customer issues

Product/Service document related to customer service
What is a Service Desk?
WhatIs.com gives an in-depth service desk definition:
"Like a help desk, a service desk is also a communications center that offers a single point of contact between a company's support agents and their customers. But, a service desk is not only limited to customers, employees, stakeholders, and even clients can get their questions resolved by contacting a service desk."
So, to summarize the above service desk definition, the service desk aims to deal with both incident and service questions.
How Does Service Desk Benefit a Company?
A service desk enables companies to:
Offer a seamless issue resolution experience

Boost agent productivity

Efficient problem resolution

Deal with service and incident tickets in real-time
Service Desk Query Examples:
A few most common queries that a service desk helps solve include:
Administration queries

Change management queries

Problem management queries

Incident management queries

Customer queries

Employee queries
Help Desk VS Service Desk: The Key Differences
Help desk and service desk are used intechangeably, but they are definitely some differences between helpdesk and service desk. The table below gives you an insight into the key differences between helpdesk vs service desk.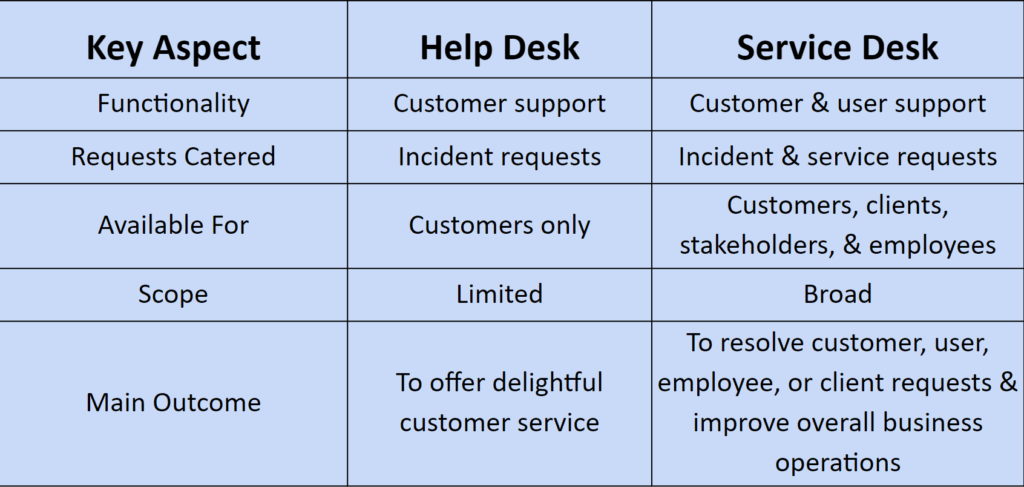 ProProfs Help Desk: A Combination of Both That's Ideal For Your Business!
ProProfs Help Desk is a tool that combines all the features of help desk and service desk software to make it a one-stop destination to issue resolution. Whether your customers need help or an employee has trouble working on a specific system, they can simply connect with a support agent via ProProfs Help Desk and get instant solutions. This is what makes it the best help desk software.
ProProfs Help Desk enables you to:
Monitor all customer and service requests on one dashboard

Connect on customer or service tickets using a shared inbox

Collaborate with other department's support agents using internal notes

Split complex tickets into sub tickets to ensure customer and service tickets are resolved completely
Other than these top features, this robust help desk software also comes with an insightful reporting feature and live chat & knowledge base integrations that help you deal with all requests efficiently.
Help Desk VS Service Desk: Which One is the Right Tool For You?
If you're in the business and are looking to simply cater to your customers, then a help desk software is the best option for you.
On the other hand, if you don't have a separate department taking care of your employee requests, it is a great option to deploy a service desk tool to merge all requests into one platform.
But, ideally, it is advisable to deploy a tool that offers the essential features of both tools. Because there are so many tools available in the market, it is difficult to finalize on one. That's where ProProfs Help Desk comes into the picture. This help desk tool comes with features that combine essential service desk features, making it the best tool to solve customer and business requests instantly!
HelpDesk VS Service Desk: The Final Word
Now that you know the key differences between the help desk and service desk, it is crucial you choose the one that best help desk software that meets the requirements of your company.
Know the features you need and research on the available software on the market. Always check the pricing plans and features offered according to the plans before choosing the right one.
Ideally, choose software like ProProfs Help Desk, that combines all the robust features of a helpdesk and service desk. This way, you can enjoy the benefits of both tools on one platform and be able to resolve incidents and service issues easily.
Do you want a free Help Desk?
We have the #1 Help Desk for delightful customer support starting at $0