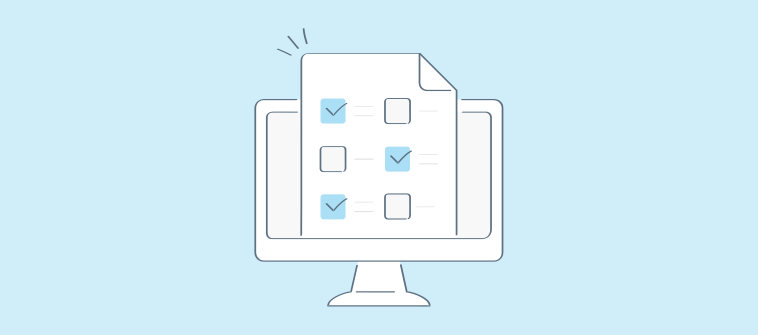 There are two kinds of support professionals in this world. First are the ones who argue that help desks and service desks are completely similar in their function. However, there are also those who would bet their life that there are stark differences between the two.
So in this battle of help desk vs. service desk, which one has the upper hand?
While a help desk's primary focus is on resolving incidents, a service desk adopts a broader approach and helps your business tackle both service requests as well as incidents. The truth is that despite the differences, the end goal of both remains the same – to improve the 'end-user support experience'.
In this blog, we will explore the definitions of help desk software and service desk, understand the benefits they bring to the table, and finally discuss the major differences between them. We will also explore some best practices for choosing your help desk/service desk tool.
What is a Help Desk?
The help desk acts as a single point of contact (SPOC) through which employees and customers can contact a business for support. The primary goal of every help desk is to resolve the end user's issues and incidents quickly.
Users can contact a company's help desk via multiple communication channels such as the phone, email, live chat, etc. A lot of customers even prefer to interact with support teams on their social media channels such as Facebook or Twitter.
So, according to the above help desk definition, every product or service needs to have a dedicated help desk team. For example, a college student who has a Dell laptop and has a question regarding the software configurations can contact Dell's help desk.
Help Desk Benefits
A help desk management system enables companies to:
Instantly resolve customer queries without any hassles
Reach out to end-users and start proactive conversations
Improve ticket tracking and prioritization
Gain insights into the user's perspective of the company
Offer delightful customer service
Help Desk Query Examples:
Let's look at some common queries that a help desk can solve:
Product-specific customer issues
Service-specific customer issues
IT-related customer issues
Software-related employee issues
Hardware-related employee issues
Read More: Why Help Desk Software Is Important for Your Business?
What is a Service Desk?
Just like a help desk, a service desk acts as a single point of contact between a company's support agents and its customers. However, the service desk is more strategic and takes both service requests as well as incidents into consideration.
In addition to customers and employees, the service desk caters to other stakeholders such as business investors, partners, etc. The broader goal is to deliver high-quality service to end-users.
The service desk encompasses multiple ITSM activities such as request fulfillment, incident management, user self-service, strategic decision-making, reporting, and more.
Service Desk Benefits
A service desk enables companies to:
Offer a seamless issue resolution experience
Boost agent productivity
Efficient problem resolution
Deal with service requests and incident tickets in real-time
Manage IT assets
Take long-term support decisions and implement changes
Service Desk Query Examples:
A few most common queries that a service desk helps solve include:
Administration queries
Change management queries
Problem management queries
Incident management queries
Customer queries
Employee queries
Read More: The 10 Best ITSM Tools in 2021
Service Desk vs. Help Desk: What's the Difference?
Although these two terms overlap each other when it comes to their function, there still are some significant differences between them. Let's discuss them right away:
The help desk was born out of IT-centricity to help businesses focus on the end-user and improve their support experience. On the other hand, the service desk is often considered an evolved version of the help desk that primarily focuses on meeting business objectives. The service desk is built around the ITSM best practice framework, also called, ITIL or IT Infrastructure Library.
A help desk works on the break-fix model (incident management); when an issue occurs, customers or employees can reach out to the support team for assistance. However, a service desk not only manages break-fix but also helps your business cater to all requests for news services or information. For example, a staff member can request a new laptop or printer for office work.
Most help desks are reactive in the sense that the support team can offer assistance only once the incident has taken place. For instance, when users complain that the website is down, the right technicians and developers can work together to resolve the issue. On the other hand, service desks adopt a proactive approach and help your business make long-term decisions to improve the quality of the IT services desk.
Now, it must be noted that despite the difference between help desk and service desk, many businesses use modern tools that serve both purposes. For example, modern help desk software can help your business handle both incidents as well as service requests right from the same dashboard.
What Are the Best Practices for Choosing Help Desk/Service Desk Tools?
Choosing the right tool for your business can be a daunting experience, especially when every vendor claims their product is the best. Here are five best practices you can follow while choosing your ideal service desk or help desk:
1. Understand Your Team's Goals and Needs
While choosing a help desk or service desk, there are a lot of factors you need to consider – the price, return on investment, scalability, user-friendliness, and more. However, most businesses overlook something very important – their team's unique objectives and goals.
Sit with your support professionals and explore questions such as:
What are the expectations of your users?
What support experience do you wish to offer to your employees and customers?
Which customer service metrics do you need to measure?
What is the most important feature the tool should have?
What are some features that you can live without?
The answers to these questions will take you one step closer to finding a help desk that perfectly matches your team's needs.
2. Test the Interface
The service desk or help desk tool's interface must be simple and easy to use. The time it takes for your team to adjust to the new tool could spell the difference between satisfied or dissatisfied customers.
Now, it is true that with every new tool comes a learning curve. However, the more intuitive the user interface (UI), the less time it will take for agents to feel confident resolving user issues and requests.
To help your team better interact with the tool, make sure they get proper training beforehand. Furthermore, if they have any questions or concerns, you can resolve them together as a team. You can even go to the vendor's help pages to find the right answers or contact their support team for help.
3. Focus on Scalability
Every business out there operates to be in a better position and cater to a large audience in the future. When your business grows, you will need a solution that can easily scale with your growing needs and demands.
Contact the sales and customer success teams of your vendor and ask them if the tool will be able to handle an increase in support cases over the years. You can even review customer success stories on their website and see how big those companies are.
There is no point in investing your time and money in a service desk software that fails to cope up with your future needs. At the same time, you will also not want to pay heavy prices for the features you don't need.
4. Explore Reporting Features
This is the favorite aspect of every support manager – reports and analytics. Timely reports can help you measure agent performance, user satisfaction, and team productivity.
Before selecting any help desk or service desk, look for what reporting features are available. It is also important to review the tool's capabilities to ​customize those reports to your specifications. Here are some important metrics and KPIs you can consider:
Average first response time
Customer/employee satisfaction
Ticket resolution time
Unresolved tickets
Capturing metrics that are relevant to your support process will help you stay ahead of problems and improve the user experience.
Read More: 15 Help Desk Metrics to Improve Customer Support
5. Check Vendor's Reliability and Support
Today, there are more companies selling service desk or help desk solutions than ever before. How do you judge which vendor is reliable and will be available whenever you need help?
Whenever there is a software outage or data loss, your end-users have to suffer. Now, these aspects are not a hundred percent avoidable, however, with the right vendor you can stay assured that they are ready to resolve any issue at the earliest.
Go for vendors who offer 24×7 support to their clients via multiple communication channels. If a vendor is only available via email, your team will never get the right solution at the right time.
Read More: 15 Help Desk Best Practices & Principles 
Help Desk VS Service Desk: The Final Word
Now that you know the key differences between the help desk and the service desk, it is crucial you choose the one that best meets the requirements of your company.
If you are a small to mid-size company looking to improve the support experience of your customers as well as employees, help desk software can be your best bet. However, if you are an enterprise with a large IT infrastructure, you can go for dedicated service desk software. Before going all in, know the features you need and research the available software in the market.
If you are looking for the ideal help desk solution but aren't sure where to start, ProProfs Help Desk offers an all-in-one solution that will allow you to hit the ground running. Our powerful ticketing software grows with you, allowing you to start in minutes and scale up at your pace. Simply enjoy the benefits of both a help desk and a service desk, all on one platform, and offer delightful customer support.
Q. Does the Difference Between a Help Desk and a Service Desk Matter? Why?
Although, there is not much difference between a help desk and a service desk, there still lies an evident difference between the two. If your business wants to manage incidents, you can go for a help desk. However, if you want to manage both incidents as well as service requests, investing in a service desk software can be the right option.
Q How are help desk and service desk different from ITSM?
ITSM (IT service Management) refers to the various activities involved in designing, creating, and managing IT services in an organization. Service desks are based upon multiple ITSM activities such as incident management, knowledge management, reporting etc. In simpler terms, while ITSM lists the various activities, a service desk or a help desk give you the platform to achieve them.
Do you want a free Help Desk?
We have the #1 Online Help Desk Software for delightful customer support