Choosing the ideal customer service tool is definitely not the easiest of decisions your business will ever make.
While on one hand, you have to scroll through multiple comparison websites, online reviews, etc. On the other hand, you need to be careful about the various needs and requirements of your support team.
While there is an abundance of help desk tools available out there, only a few get the fervour when it comes to value for money.
If you have landed on this blog, it means that you have already identified the best help desk software available in the market– Zendesk, Intercom, and ProProfs Help Desk. Now, you want to know which tool can give you the best bang for your buck!
In this help desk software comparison blog, we will see what these tools can bring to the table. We will compare their overall potential, features, as well as prices to help you see which software can fit perfectly into your business like a jigsaw puzzle.
| Features | Zendesk | Intercom | ProProfs Help Desk |
| --- | --- | --- | --- |
| Free Trial | 30 days | 14 days | 15 days |
| Price | Starts at $49 | Starts at $59 | Starts at $20 |
| Ideal Users | Large enterprises | Medium-to-large businesses | Small-to-medium businesses |
| Live Chat | Available | Available | Available |
| In-app Messenger | Not Available | Available | Not Available |
| Knowledge Base | Available | Available | Available |
| IT Help Desk | Available | Not Available | Available |
| Chatbot | Available | Available | Available |
| Real-Time Analytics | Available | Not Available | Available |
Introduction to the Tools
Here is a short overview of how these tools started, where they stand today, and what they can bring to your business.
Zendesk Introduction
Zendesk is a leading SaaS company that started as a customer support tool and has now evolved into a service-first customer relationship management (CRM) company that helps you effectively communicate with and support your customers.
Zendesk Service offers the right platform for tracking, prioritizing, and solving customer support tickets. Support agents can easily view all ongoing and past conversations in a central location so that communication between your business and customers is fast as well as personal.
With Zendesk, businesses can build a dedicated help center and a community forum to encourage customers to resolve issues at their own pace- while reducing the ticket volume. Moreover, agents can collaborate with other members or teams and get real-time updates about who is viewing a ticket at any given moment.
Recommended Read: Zendesk Alternative
Intercom Introduction
Intercom is another SaaS company that was founded in 2011 with the aim to help businesses build better customer relationships through personalized, messenger-based experiences. The company caters to businesses across the globe and has offices in San Francisco, Dublin, Sydney, etc.
With the Team Inbox, your support agents can manage and reply to conversations, wherever they're happening- Email, live chat, Twitter, Facebook, and more.
In addition to this, Intercom provides your business the right platform to offer proactive support. You can use targeted messages to suggest quick tips to new customers or to simply update them about scheduled outages or changes in business hours.
ProProfs Help Desk Introduction
ProProfs Help Desk is a decade-old SaaS company that offers an array of customer service and learning tools for businesses across the globe. Right from managing your support tickets to training your employees, you can take your support operations to the next level.
With AI-powered reports, you can track key customer service metrics and improve your ticket response time. Chatbots help you assist customers with their basic queries and generate more leads. Moreover, with collaboration features such as internal notes, parent-child ticketing, and canned responses, your team can delight customers together.
ProProfs makes it easier for you to get a pulse on what your customers want. You can share automated surveys to allow them to rate their support experience instantly. With CSAT and NPS surveys you can monitor and improve your customer experience.
Criteria of Comparison
Help desk tools come in different shapes and sizes- while one may offer a great user interface, the other may lead the way in affordability. Therefore, in order to carry a fair comparison, it is important to first figure out the criteria on which we can weigh the different tools. But, don't worry as we have done the heavy lifting for you.
Here are the 4 broad and carefully chosen parameters that we will use to compare the various pros of our chosen tools:
Zendesk vs Intercom vs ProProfs: Type of Users
Let us kickstart the comparison with our first parameter- types of users. This section will help us understand whether the software is made for your business or not.
As a leading cloud-based help desk software, Zendesk is home to many popular businesses such as Siemens, Mailchimp, Tesco, GrubHub, and more. The tool is extremely scalable and can be used to match your growing business needs.
To cater to the needs of different businesses and teams, Zendesk offers multiple integration options. To customize your Zendesk experience, you can integrate the tool with third-party business applications such as Trello, Salesforce, Shopify, Aircall, etc.
However, if you look at Zendesk's high pricing and complicated features, the tool doesn't work well for small businesses that have limited needs. It can be the right option for big enterprises that have global customers and big support teams.
Intercom has been marketing itself as a business messaging platform right from the start. The years of experience in business messaging have helped Intercom develop features that address nearly all the problems that employees have to face while interacting with customers.
Intercom can be a good choice for medium to large businesses that wish to go for aesthetics/user experience over pricing as the tool is quite heavily priced.
In terms of usability, ProProfs Help Desk has been diligently designed to meet the needs of customer service teams of any size, business. or industry. Right from small startups to large enterprises, all businesses can manage their ticketing needs and stay available to their customers 24×7.
ProProfs Help Desk offers all the necessary ticket management and reporting features that any help desk manager will find useful. No matter if your team receives just 10 customer requests via live chat or a thousand customer issues via email, you can easily manage an influx of customer conversations over multiple channels.
Zendesk vs Intercom vs ProProfs: Interface
For any help desk software to succeed, the dashboard interface is extremely crucial. Whether it is about organizing customer issues or communicating with team members, dashboards can make an impactful difference.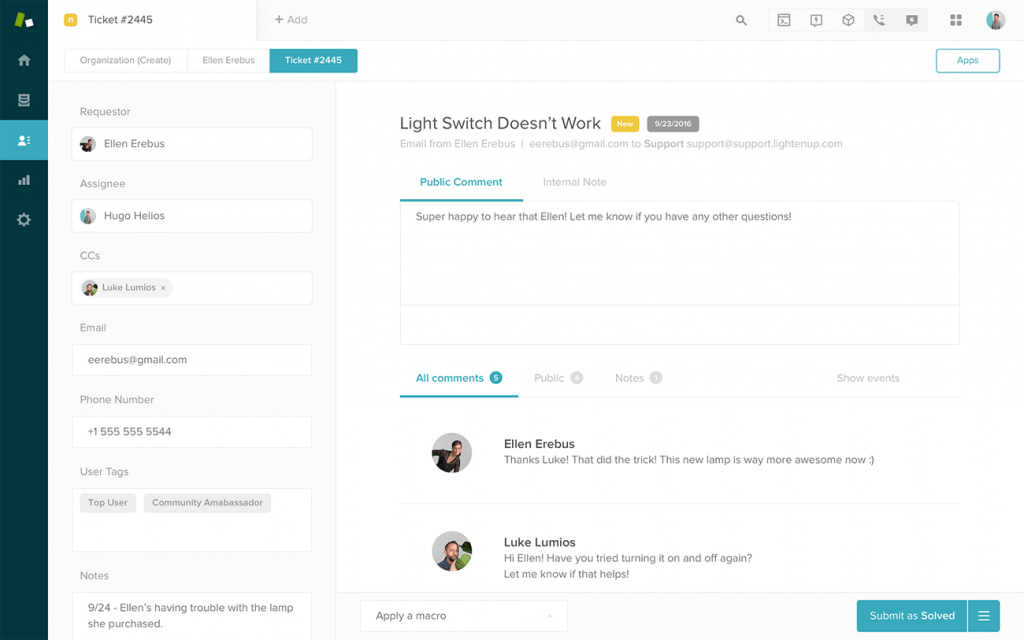 Zendesk's interface is not the most modern interface out there and appears quite outdated. While using Zendesk for more than a couple of hours, you can easily get tired and feel there is a lot of room for improvement.
With Zendesk, you can easily sort or filter your tickets using parameters such as date, ticket priority, tags, source, and more. Now, when it comes to customizing your dashboard and making it suitable for your unique needs, Zendesk does a good job. The tool can be integrated with 500+ business apps including Zendesk Explore, which offers you relevant omnichannel analytics and customer engagement metrics.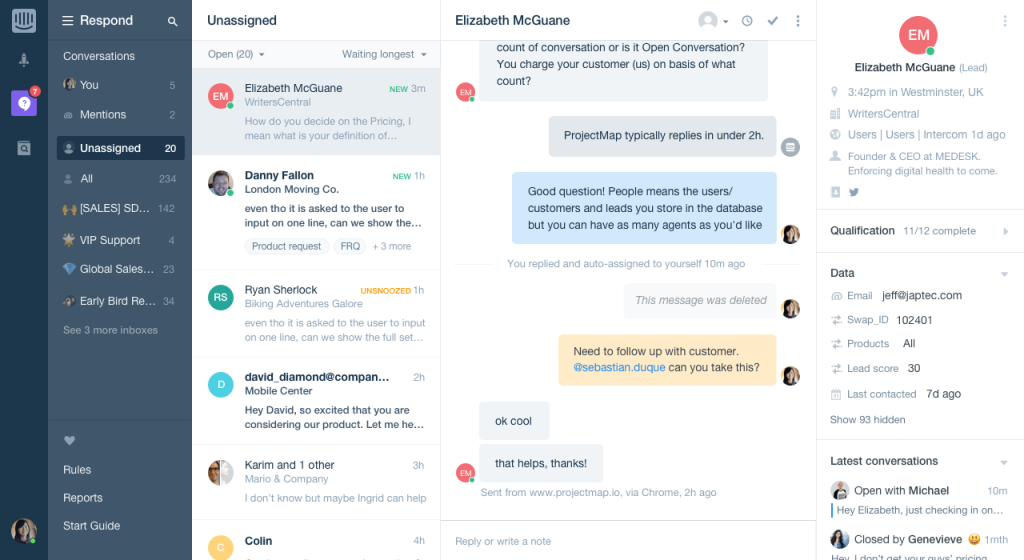 Intercom's design and overall user-interface feel modern, intuitive, and quite easy on the eyes. Their custom-made illustrations are beautifully crafted and their attention-to-detail is evident in almost every aspect of the tool.
Through the main dashboard, agents can track their mentions, view unassigned tickets, and manage customer conversations on multiple inboxes.
The interface of Intercom's native apps for iOS and Android is equally impressive. Agents can use the app to support customers who need help, even while they are away from their desk or working remotely. Moreover, internal collaboration feels a bit more engaging and effortless with notes and mentions.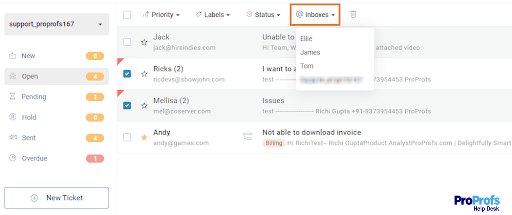 On the first impression, ProProfs Help Desk feels as simple as using Gmail or just any other email client. You can view customer conversations under multiple inboxes, check pending tickets, set the priority of issues, add labels- all from an intuitive dashboard.
ProProfs help desk tool starting at $0, Try any plan free for 15 days
The interface appears modern, easier to set up, and your agents can dive right into it. ProProfs claims that their tool does not require any heavy training or coding skills and can be easily set up in minutes. Besides this, ProProfs has done a tremendous job when it comes to creating relevant support content for its users. They have an extensive help center, video tutorials, and articles to help your agents use the tool to its full potential.
Zendesk vs Intercom vs ProProfs: Features
In this section, we will be doing an in-depth analysis of the various help desk, live chat, and knowledge base features of these tools.
1. Help Desk Features
As discussed above, Zendesk started as a ticketing tool and, therefore, has one of the best ticket management workflows in place.
Once, the ticket is created, customers get a notification that their issue or request has been received and registered. Meanwhile, robust ticketing features such as ticket routing, time tracking, CSAT ratings, service level agreements, etc. ensure your agents are always a step ahead.
Most help desk systems offer complementary features such as chat, and knowledge base. For Intercom, it's the opposite as ticket management appears to be a complementary feature.
Managers can choose to automatically route tickets and agents can prioritize conversations that need immediate attention. You can create different inboxes for support and sales, add permissions, and use mentions to collaborate on challenging customer questions. In short, nothing fancy, just the usual features.
Ticket management can be a complicated process. However, ProProfs does a great job at making it easier for support agents and managers to track the complete ticket lifecycle- right from the time a customer submits an issue through to the time when the resolution is shared.
You can add agents, create teams, and set agent roles & permissions to decide their level of access to the tool. Automated ticket routing ensures that all tickets have an owner and are shared with the most capable agents. You can also choose their Round-robin ticket assignment feature to equally distribute tickets among your agents. Moreover, you can keep your dashboard tidy with ticket organization features such as ticket prioritization, labels, and filters.
2. Live Chat Features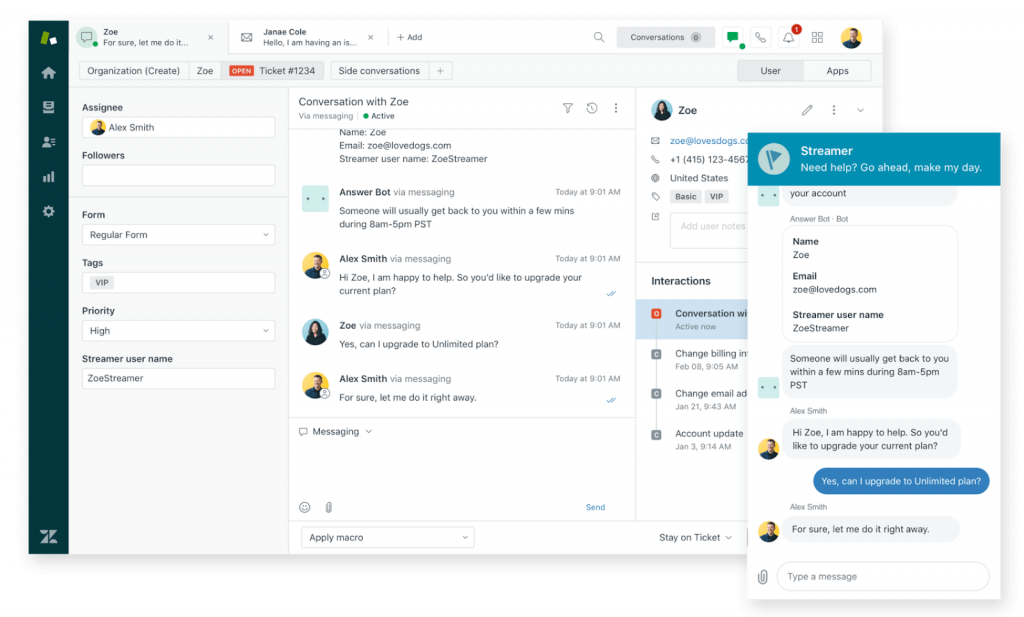 The overall design of Zendesk's chat widget looks outdated and offers very limited customization options.
However, with Zendesk, agents can gain relevant context by viewing a customer's profile and past interactions. This helps them offer fast and more personalized chat responses. Moreover, features such as typing indicators, delivery events, and rich message types like emojis, GIFs, etc. can give life to any conversation.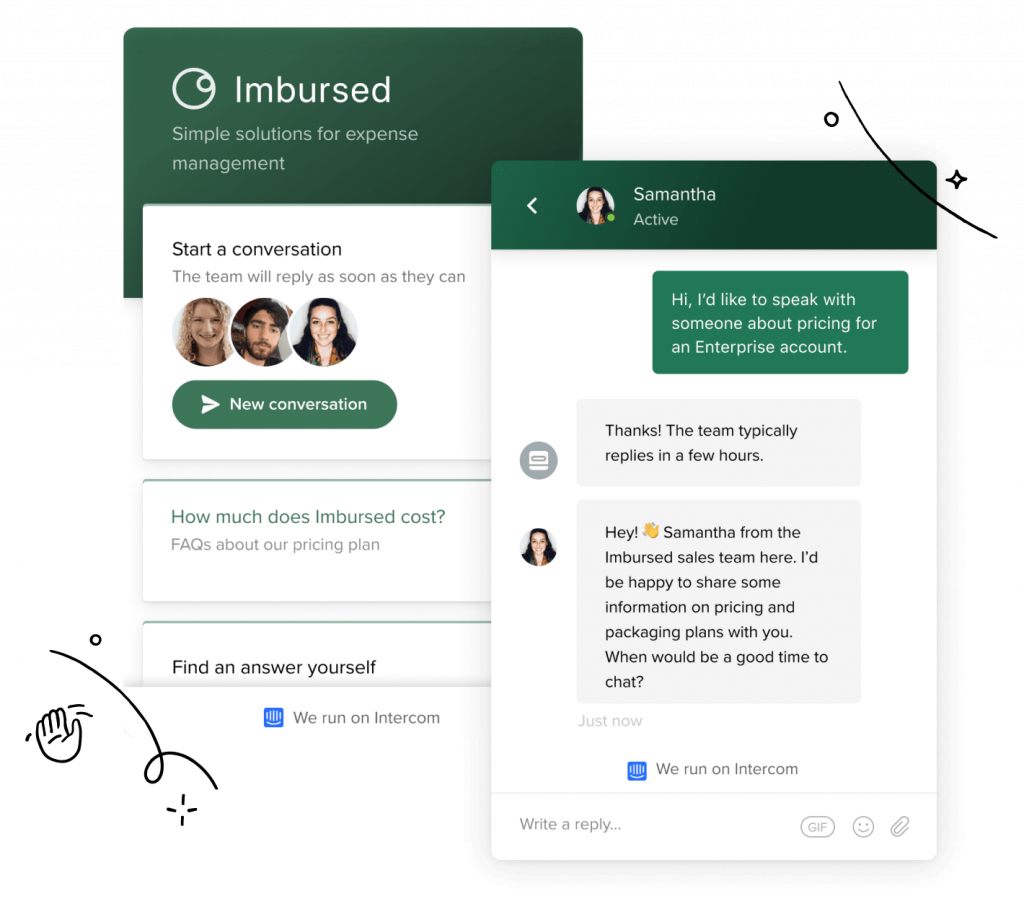 Intercom's chat tool, also called the Intercom Messenger, looks quite modern and offers advanced features that many chat tools don't have.
It sets the perfect platform for collaboration between your sales and support teams. For instance, you can automatically assign sales inquiries and support requests to the right teams or individual team members. Moreover, you can view in-depth information about who you're chatting with right alongside conversations.
ProProfs offers incredible live chat features that help you offer 24×7 assistance and close more sales. You can leverage chatbots to handle basic customer queries and reduce the burden on your support team.
Moreover, your customer service operators can anticipate what a visitor or customer is going to type next and accordingly transfer chats to relevant members to reduce the resolution time. You can add individual operator greetings, create canned responses, and engage potential leads by giving them product tours.
3. Knowledge Base Features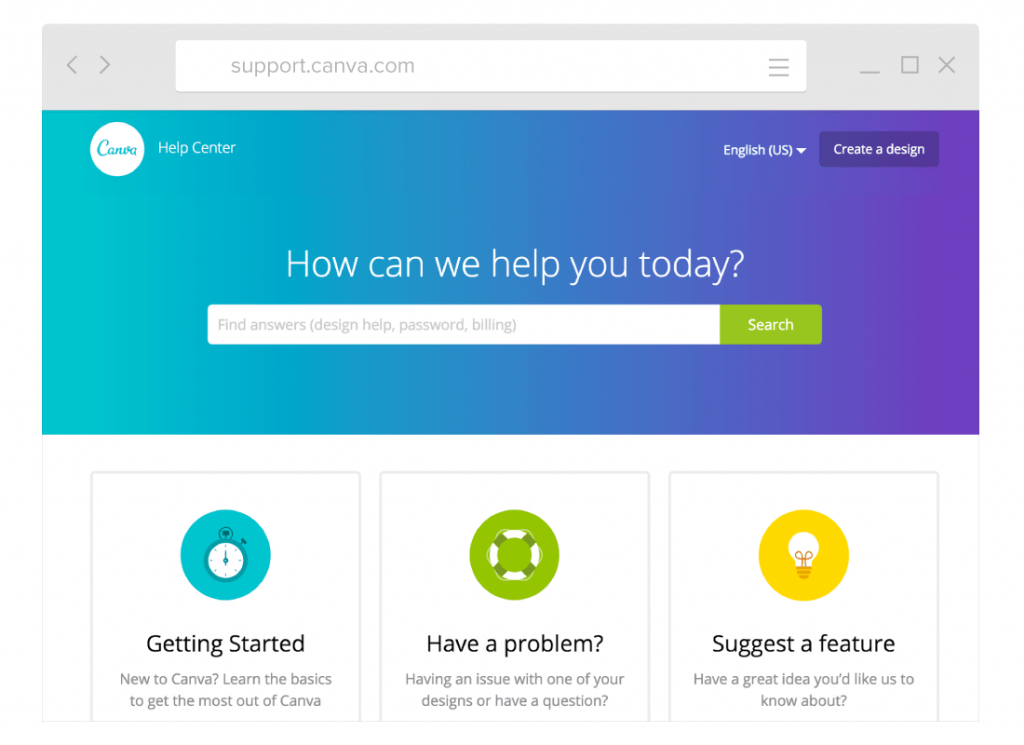 Zendesk's help center is feature-rich and helps you organize and store knowledge in a central location. You can enjoy the complete freedom to organize content to make it easier for customers to find the right solutions to their problems.
You can even create multiple help centers that cater to different audiences, regions, brands and create content in multiple languages. Zendesk also offers an Answer Bot that can help you eliminate wait times. It can automatically suggest necessary help articles to customers and connect them to an agent if the need arises.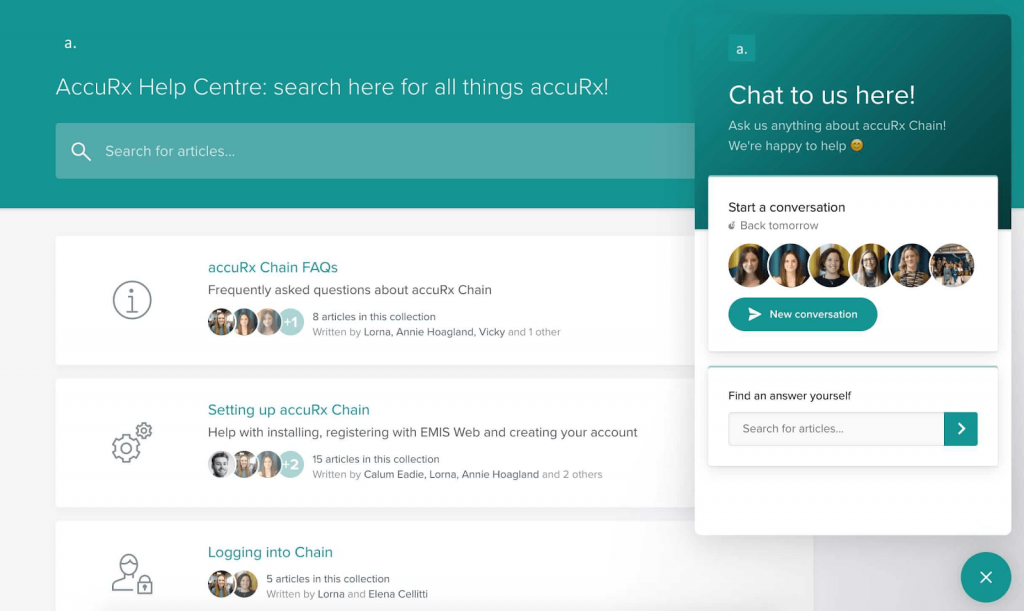 Intercom's help center allows you to create and publish engaging articles around help topics. You can use its editor to effortlessly add images, videos, and call-to-action-buttons, wherever necessary.
Moreover, you can tailor your content to different audiences such as visitors or paid customers. Customization options for color, logo, header, domain, etc. can also come in handy. With the Intercom Messenger widget on every article, your customers can instantly connect with an agent if they need further help.
ProProfs takes knowledge management to a whole different level by allowing you to create an online knowledge base, user manuals, documentation, and more.
To create help articles, you can choose a template or create one from scratch, customize the template, import files or docs, and publish within minutes. Simply allow customers to find relevant help by themselves and reduce your ticket volume by up to 80%. You can even create an internal knowledge base to keep your agents well-trained and ready to delight customers.
Zendesk vs Intercom vs ProProfs: Pricing
Now, the discussion of features brings us to the question of the hour- How much do these tools cost?
Based on the number of customer service agents you need to accommodate, you could be paying thousands of dollars every single month for the right customer support platform. Therefore, it becomes all the more important to review your options carefully.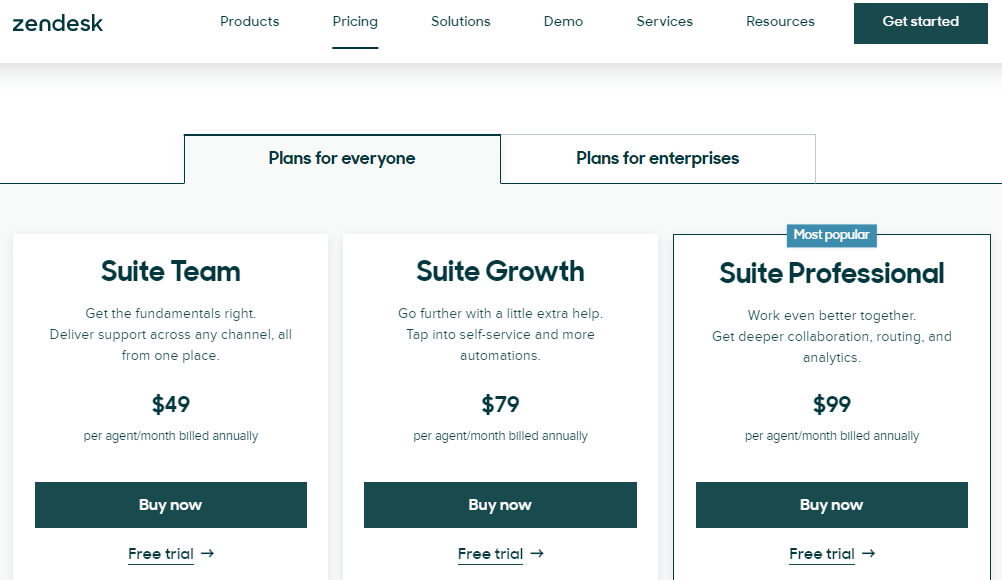 Suite Team ($49/agent/month)
Suite Growth ($79/agent/month)
Suite Professional ($99/agent/month)
Suite Enterprise ($150/agent/month)
Zendesk Suite includes all features for email, live chat, voice, and social media support. There are four options available— Team ($49/agent/month), Growth ($79/agent/month), Professional ($99/agent/month), and Enterprise ($150/agent/month).
Although priced at $49/month/agent, the Suite Team plan lacks important features such as self-service customer portal, knowledge management, SLA management, multilingual support, etc. On the other hand, for plans that offer necessary help desk features, Zendesk costs a fortune. Therefore, businesses that have small customer service teams and are on a budget, will struggle with Zendesk's high pricing.
All Zendesk plans come with a free trial. When you sign up for your trial of Zendesk Suite, you will get access to all features of the Zendesk Suite Professional plan.

Start: $59/month (1 Seat)
Grow: $119/month (5 seats)
Accelerate: $499/month
Scale: $999/month
Honestly, on the first look, Intercom's pricing structure is confusing and can leave anyone scratching their heads. It's a big task predicting what you're going to pay for Intercom at the end of the day.
Intercom's pricing can be divided into basic messaging and messaging with automation. For businesses looking for basic chat and messaging features, Intercom charges a flat fee of $59 per month for its Start plan with one user and $119 per month for its Grow plan with up to 5 users.
For automation and messaging at scale, you can choose from two plans- Accelerate ($499) or Scale ($999) per month for up to ten users, depending on your business needs. Intercom costs can go even higher with custom add-ons such as Product Tours (from $199/month, Advanced lead generation (from $499/month), Advanced customer engagement (from $499/month), etc.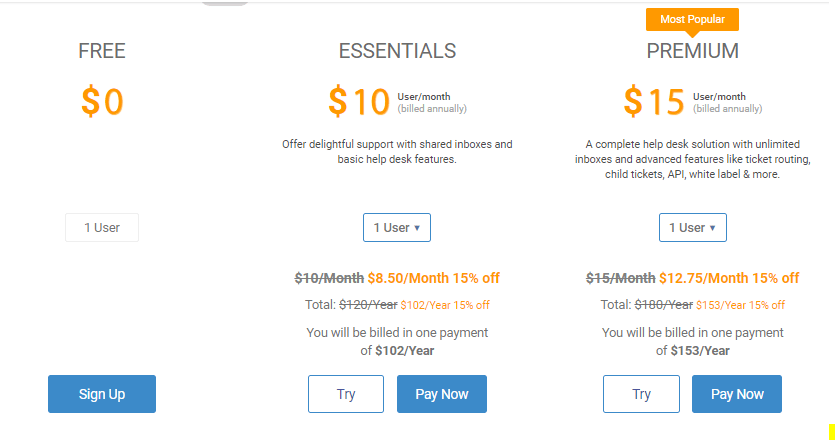 Free: Forever Free Plan
Essentials: $10/agent/month
Premium: $15/agent/month
ProProfs Help Desk is known in the market for its honest, and simple pricing. Just a quick glance at the pricing plans and you can easily calculate how much your team will spend upfront as there are no hidden costs.
The forever free plan comes with basic features such as a single inbox, file attachments, and can be used to handle upto 100 tickets/month. On the other hand, the Essentials and Premium plans come with multiple inboxes, AI-powered reporting, live chat, knowledge base, survey maker, quiz maker, and most importantly- 24×7 premium support from ProProfs.
You can try any plan free for 15 days and get the look and feel of the tool before making any commitments. Considering its affordable pricing, ProProfs can be a great option for small to medium-scale businesses.
Final Verdict: Which One's the Best?
Each tool discussed in this blog comes with its own pros and cons. Before you jump to any conclusions, we suggest you take a free trial to get a better look and feel of the product.
When we compare Intercom and Zendesk, we realize that both the tools are quite expensive and may not be the right option for startups or small businesses, or for that matter, any business on a budget.
If you're looking for the best messaging option or a tool that offers the best interface, choose Intercom. If you wish to strengthen both your sales and customer support teams and enjoy plenty of integrated features, go for Zendesk. On the other hand, if you are looking for a feature-rich tool that comes at less than half the cost of Zendesk and Intercom, then ProProfs can be your ideal support partner.
How ProProfs Puts You in a Better Position?
In this battle of Intercom vs Zendesk, take a different route and choose ProProfs Help Desk to deliver a better customer experience. Let's see how ProProfs puts your team in a better position:
AI-Powered Ticket Management: Rise above your manual processes with our AI-powered help desk workflow. Automatically route tickets to agents and use automated alerts to notify agents and customers about the ticket progress.
Chatbots: Even when your team is unavailable to take chats, bots can be used to provide basic assistance, qualify leads, book meetings, and hold one-to-one, human-like conversations.
CSAT & NPS Surveys: With our smart reports, you can measure individual and team performance. To capture customer feedback, simply share CSAT & NPS surveys and improve the customer experience.
24X7 Human Assistance: Whether you are a first-time visitor or a paid customer, you can contact our support team 24×7 via phone, email, or chat.
We hope this help desk comparison blog will help you make the best decision for your customer service team. Remember, before you opt for a full-fledged plan, it's always better to go for a free trial to see how the solution really works.
Do you want a free Help Desk?
We have the #1 Online Help Desk Software for delightful customer support