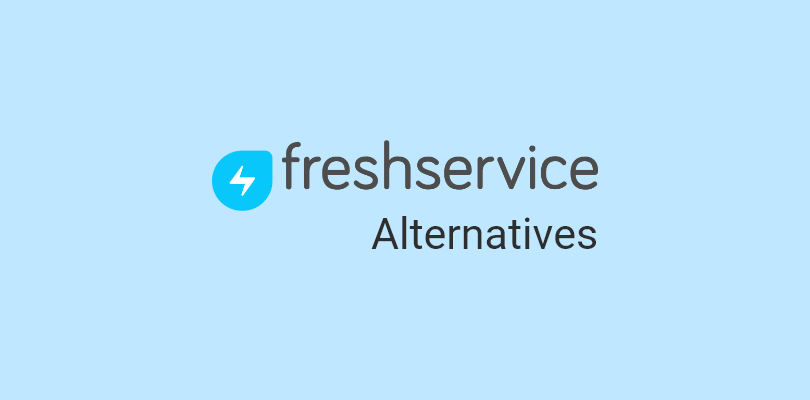 Freshservice is one of the popular support solutions used by world-class businesses. Despite this, the platform falls short in some areas.
Users are usually frustrated by Freshservice's high pricing and complex features, and with so many Freshservice alternatives available, finding the best one can be daunting.
Just when I got to know that many others are also searching for the right alternatives, I was curious yet inspired. I decided to do the heavy lifting for you and create a list that includes Freshservice competitors.
10 Best Freshservice Alternatives for 2023
I have used Freshervice for a good number of years and feel it lacks the power punch. Allow me to recommend some other tools I have used for IT support. Most of the tools have been used by me over the last 8-9 years, while others are recommended by my work colleagues.
Let's quickly check them out.
1. ProProfs Help Desk – Best for multichannel ticketing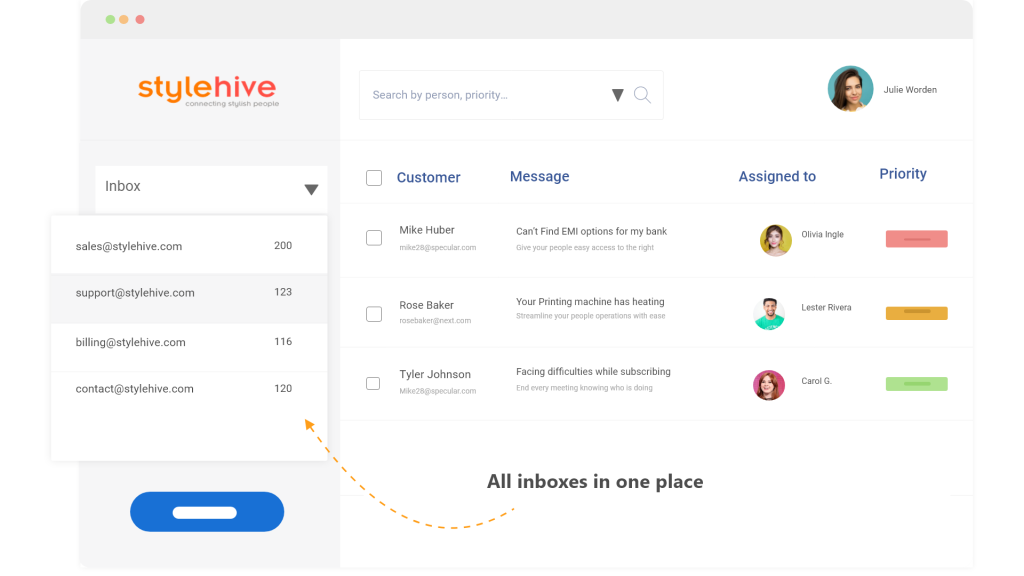 I think ProProfs Help Desk takes multi-channel ticketing to a whole new level, and this is precisely why it deserves the top spot on my list.
Whenever end-users encounter an issue, they can write an email, drop a live chat message, raise a ticket via web form, or interact with a powerful chatbot to get the desired solution. This enables my team to capture all support communications in one place, irrespective of the channel used.
ProProfs helped us bring our development and IT support team on one platform. I can easily create tickets about feature requests, bugs, etc., and assign them to the development team for faster resolution.
What you'll like:
Incidents and requests can easily be prioritized based on urgency
Private notes to collaborate with other team members or departments
Managers can monitor help desk metrics like ticket response time, ticket resolution time, CSAT, etc.
ProProfs Help Desk integrates with some leading CRM tools like Salesforce and MS Dynamics, helping agents view relevant customer information
What you won't like:
The tool does not offer asset management capabilities
Frequent product updates can be confusing for some users
Pricing: FREE for a single user. Plans start at $19.99/user/month for 2 or more users. No hidden fees. A 15-day money-back guarantee.
2 SysAid – Best for employee self-service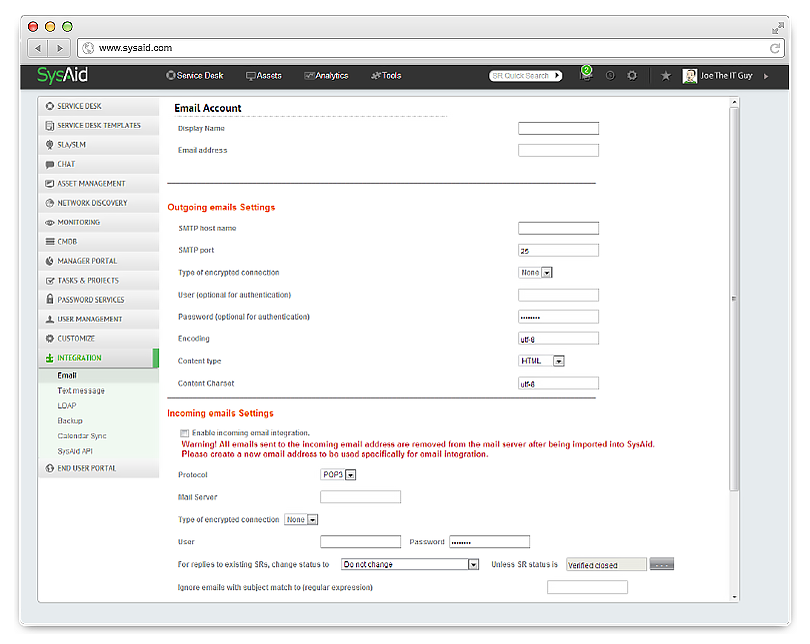 SysAid is another Freshservice competitor that is designed for modern IT support teams.
I think the best part is that you can empower your employees by providing them with all the tools they need to solve IT issues or requests on their own. Now, that's true empowerment!
Even if your staff members work round-the-clock, they can use the knowledge base to access FAQs (frequently asked questions) or simply search for articles to resolve technical issues 24/x7.
Overall, I think SysAid's change, asset, request, and problem management capabilities will help your business stay on top of every technical disruption or downtime.
What you'll like:
Custom fields to generate reports on information that is relevant to your business
Customizable forms to capture relevant details on incidents and requests
SLAs can be configured based on your specific IT and business needs
SysAid Workflow Designer to automate manual workflows
What you won't like:
The remote-control feature can lag at times
SysAid's interface seems quite outdated and lacks a modern appeal
Pricing: Custom pricing
3. Zendesk – Best for online community forum
Zendesk's popularity is soaring, but does that mean it's the right support solution for you?
Let's find out!
While using Zendesk what appealed to me the most was its powerful community forum feature that allowed me to keep my customers engaged. Customers could view the most popular queries, post their own questions, and take part in community discussions. This single feature helped me reduce up to 30% of support tickets.
I'm sure your support agents will find it easy to tag tickets and use pre-defined responses called macros to solve common end-user problems. That being said, Zendesk's expensive pricing can be one thing that will make anyone think multiple times before choosing it.
What you'll like:
An online knowledge base to deflect common IT issues
Your team can capture IT requests and issues via email, web forms, chat, phone, and mobile
Zendesk seamlessly integrates with other IT tools such as Myndbend, Okta, LogMeIn, etc.
AI-powered answer bots to support employees and customers 24/×7
What you won't like:
Zendesk's expensive pricing makes it an unsuitable option for startups or small businesses
The tool comes with a steep learning curve
Pricing Starts at $49/user/month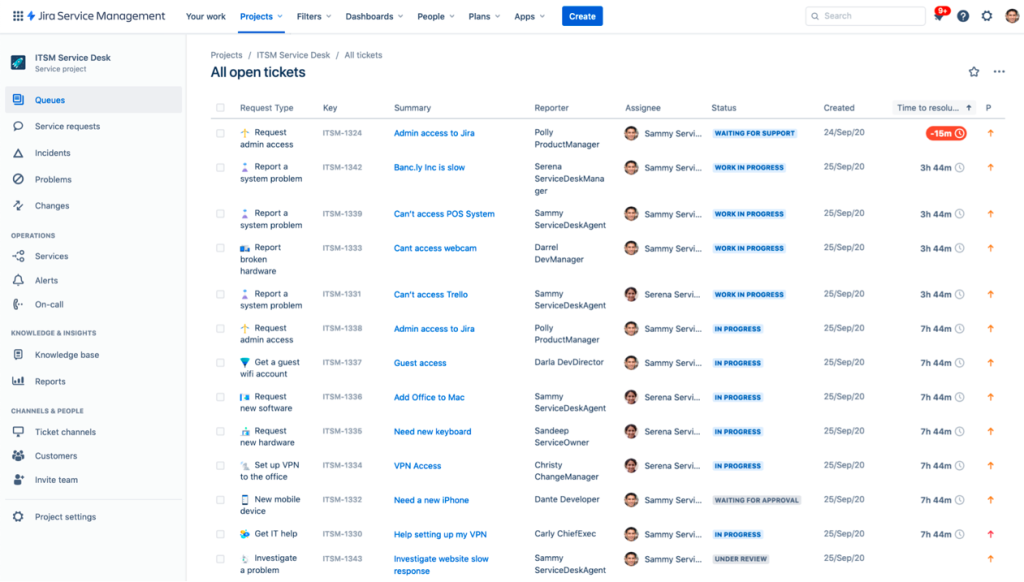 If your IT support reps are struggling to collaborate and always stepping on each other's toes, I recommend you use Jira Service Management.
The platform makes it easier for multiple departments, such as IT support, customer service, HR, logistics, admin, etc., to collaborate in real time. For instance, agents can quickly create Slack or Microsoft Teams channels to seek help from different departments.
I'm also impressed by Jira's no-code form builder, which offers more than 300+ form templates. This will surely help add relevant fields to your ticket forms and capture all the information you need.
What you'll like:
SLA rules to keep track of ticket deadlines
IT asset management to track all your IT inventory in one place
Android and iOS mobile apps to resolve issues on the move
Knowledge base with ML algorithm will help deliver accurate search results to end-users
What you won't like:
The Standard Plan comes with limited file storage
It is difficult to retrieve accidentally deleted tickets or files
Pricing Starts at $21/user/month
Whether you run a week-old startup or a multinational company, I'm sure your business has made some or the other investments in software and hardware.
This is where SolarWinds Service Desk can help you stay on top of your IT assets. With its asset management capabilities, SolarWinds helps you monitor all your technology assets, their functionality, and usage for any given time period.
For me, the most interesting aspect is the AI-powered article-sharing feature. The moment an end-user is creating a support ticket, AI can automatically suggest relevant articles. I'm certain this will help you deflect a lot of low-priority issues.
What you'll like:
Support managers can track IT hardware inventory and software license updates
Service catalog to standardize the service request and fulfillment process
Reports can be easily scheduled for consistent performance monitoring
Change management features to plan and implement changes in your organization
What you won't like:
An overwhelming number of features can be confusing for some users
Customer support is slow to respond at times
Pricing Starts at $39/user/month
6. TOPdesk – Best for ticket management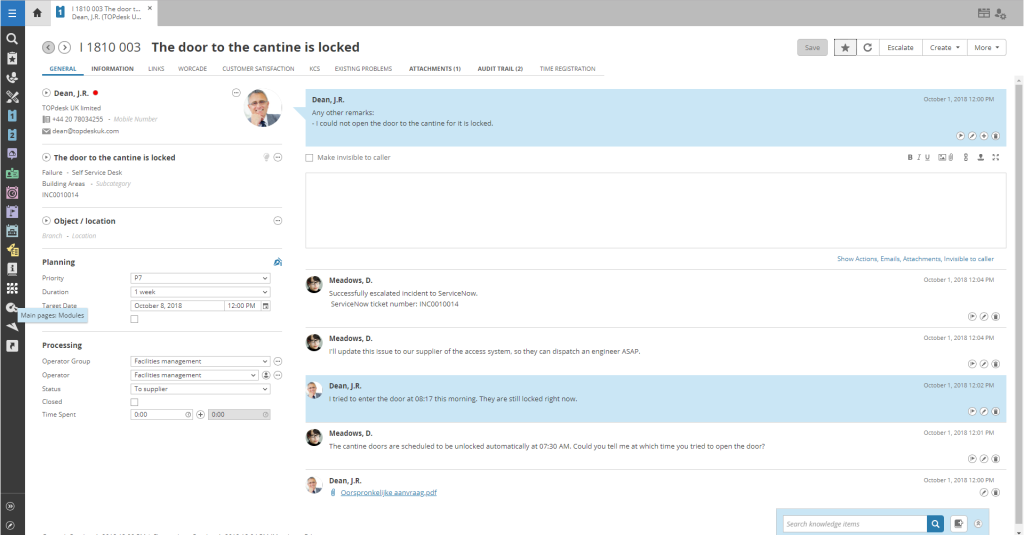 Is a pile of unanswered and unresolved tickets taking a toll on your team? I'm positive TOPdesk will help you turn the situation around.
I like how every incoming issue is converted into a card and can be assigned to the most appropriate agent. In turn, the agent can quickly view all the information pertaining to the issue and start working quickly.
With robust incident management, you can track all incoming requests, assign tickets to the right members of your team, and learn about your progress with automated reports.
What you'll like:
Automated ticket assignments for enhanced work efficiency
Self-service portal to allow end-users to track the progress of their tickets
Extensive graphs and colorful pie charts to make better sense of reporting data
Feedback surveys to identify improvement areas
What you won't like:
The user interface has been the same for many years and deserves a facelift
Whenever there is a temporary network disconnect, some changes are not automatically saved
Pricing Custom pricing
7. Zoho Desk – Best for personalized service
Zoho Desk claims itself to be a "context-aware" help desk software. I couldn't see a single reason to disagree with them as the tool helped me deliver personalized service experiences.
I know you must be thinking, "How did Zoho pull this off?" Well, Zoho Desk seamlessly integrates with Zoho CRM, providing all the customer information (conversation history, ongoing tickets, account details, etc.) I needed to offer personalized assistance.
With the help of robust automation and streamlined workflows, this tool helped my team enhance productivity, encourage self-service, and save time to focus on more pressing issues.
What you'll like:
Multiple templates for ticket forms, emails, or other notifications
Customizable help center to match your unique brand
Live chat to respond to customers in an instant
Time tracking to calculate the time spent resolving each ticket
What you won't like:
The footer menu should have bigger icons as some are unrecognizable
A lot of users have complained about slow and unresponsive customer support
Pricing: Starts at $14/user/month
8. TeamSupport – Best for powerful reporting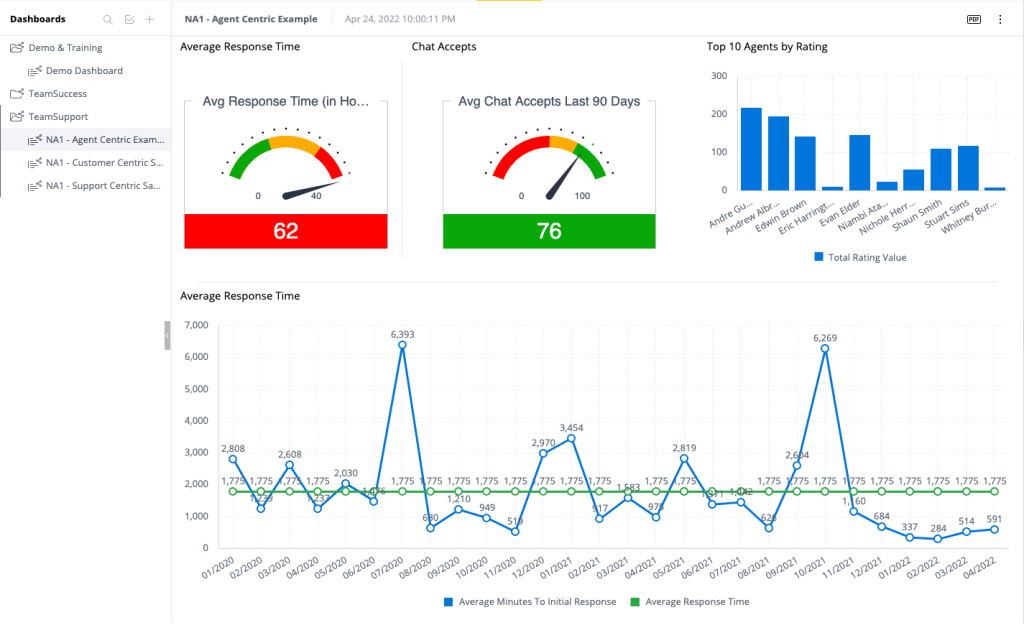 Whenever someone talks of data and analytics, it reminds me of a famous quote by W. Edwards Deming – "Without data, you are just another person with an opinion."
TeamSupport is one such platform that will never let you be clueless about data. With best-in-class reports and analytics at your fingertips, customer service teams and help desk managers can track performance and focus on improvement areas.
I think the best part is that you will get all the metrics you need to make the best decisions for your team and end-users. For instance, you can monitor changes in customer satisfaction scores, track customer health scores, and identify churn risks.
What you'll like:
Customizable reporting dashboard to filter metrics relevant to your team
Customer Distress Index to make necessary changes to avoid customer churn
Live chat and chatbots to reduce time-to-resolution
Custom fields to supply more information about issues or requests
What you won't like:
TeamSupport's subscription plans are quite expensive
Frequent cases of outages can be frustrating for users
Pricing: Starts at $49/user/month
9. Intercom – Best for proactive support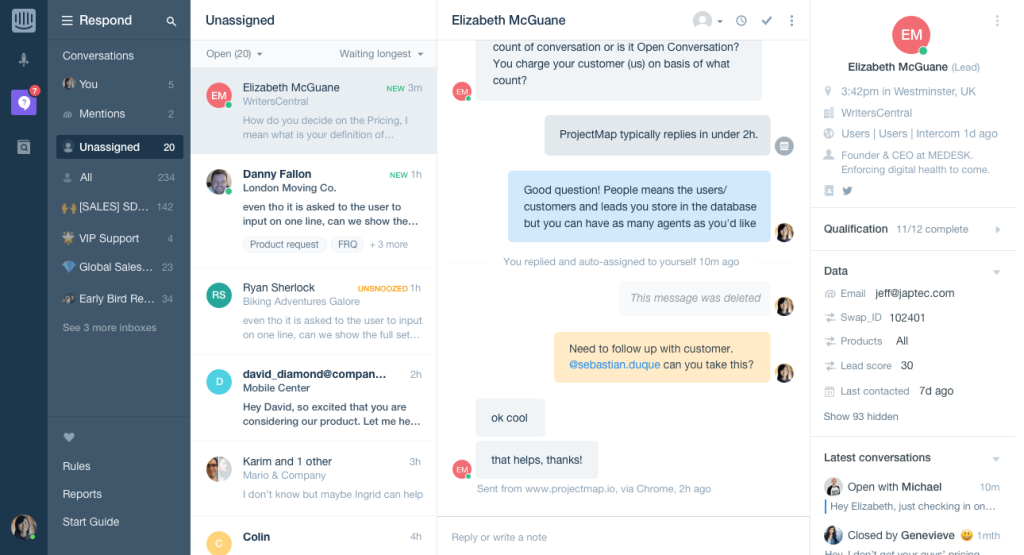 Intercom's proactive outreach capabilities enable your team to reach out to customers quickly and easily when something goes wrong.
For instance, agents can share proactive emails, SMSs, in-product messages, banners, etc., to alert customers and employees about service outages or downtimes. I think this will surely help you avoid unnecessary contact.
I like how Intercom has divided its approach into three levels: proactive, self-serve, and human support. Using this funnel method, I'm sure customers will be empowered to resolve their basic concerns on their own during the initial stages and connect to a human agent when the need arises.
What you'll like:
Knowledge base articles can be shared via the chat widget, mobile app, or product
Interactive product tours to keep new customers engaged
AI-powered bots to automate customer support
Intercom seamlessly connects with apps, such as Shopify, Aircall, Stripe, etc.
What you won't like:
The Starter Plan is limited to a thousand people reached per month
More ready-to-use live chat templates should be added
Pricing: Starts at $74/month
10. LiveAgent – Best for call monitoring and recording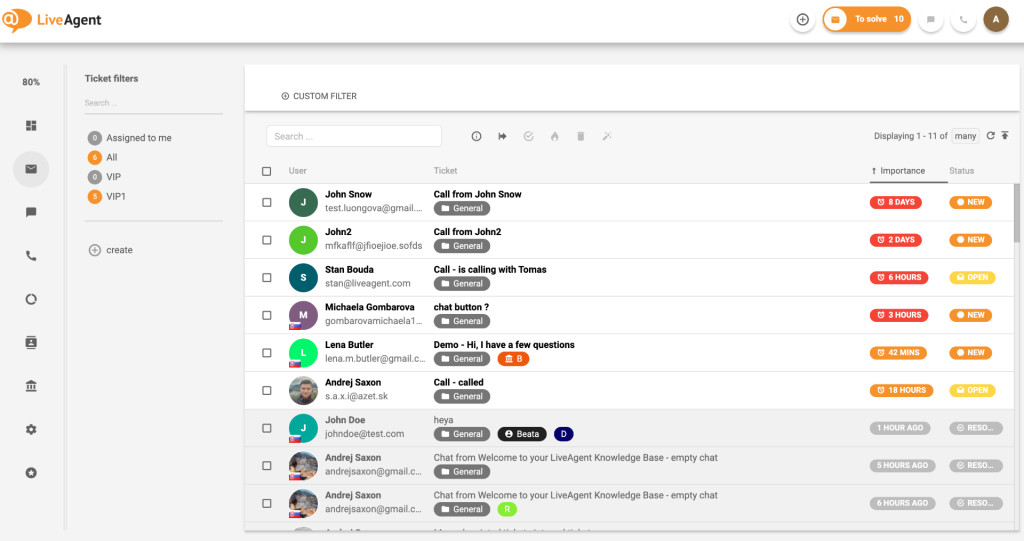 Believe it or not, phone support hasn't lost its charm yet. I think a lot of customers still prefer this channel as it gives them the comfort and familiarity of speaking to a human agent in real-time.
This is exactly where LiveAgent can help your team stay on top of every customer service call. I was really impressed by features such as Interactive Voice Response (IVR), smart call routing, unlimited call recording, HD video calls, and more.
Also, with the help of an intuitive chat widget, you can enhance engagement and invite prospects or customers to chat for a faster support experience.
What you'll like:
Inbound and outbound calls can be tracked in one place
Canned responses or macros to improve your average response time
Drag-and-drop functionality to add files, docs, images, videos, etc., to tickets
Proactive chat invitations to grab the attention of people browsing your website
What you won't like:
The Small Business plan allows users to create only a single knowledge base
LiveAgent does not offer the chatbot feature yet
Pricing: Starts at $9/user/month
Which Is the Best Freshservice Alternative?
It's time to address the elephant in the room, "Which is the best Freshservice alternative?"
Well, honestly, I don't think there is a one-word answer to this question. Your ideal tool will depend on multiple factors, such as your team size, unique requirements, budget, and a dozen other factors.
But don't worry yet. I'm here to rescue!
I have narrowed down this list to just three options to help you make a safe and sound decision. Here are my top 3 picks:
Option A: ProProfs Help Desk
For multichannel ticketing, ProProfs Help Desk is the ideal solution. Your IT support agents can capture requests and incidents on multiple channels, such as email, live chat, web forms, chatbots, etc., and work on them in one place. I'm sure a simple interface and powerful automation features will be an added advantage.
Option B: Zendesk
If price is not a concern for your small or medium-sized business, I think you can go for Zendesk. The tool will surely help your team encourage self-service through help centers and online community forums. With an online forum, your end-users can raise questions, participate in discussions, and get their problems solved without getting in touch with your team. Sounds awesome, right?
Option C: TeamSupport
If you are a support manager looking to take a deep dive into a sea of reports and analytics, I think TeamSupport can be an ideal option for you. With the help of metrics such as customer satisfaction scores, customer health scores, customer churn, etc., you can make data-backed decisions for your team and business.
In the end, I would recommend ProProfs Help Desk as the best Freshservice alternative. A simple interface, multi-channel ticketing, powerful automation, and affordable pricing make this the best IT help desk software available in the market. No matter which tool you choose for your team, I would suggest you take a free trial to explore all the features firsthand before making any heavy investment. Good luck!
Do you want a free Help Desk?
We have the #1 Online Help Desk Software for delightful customer support