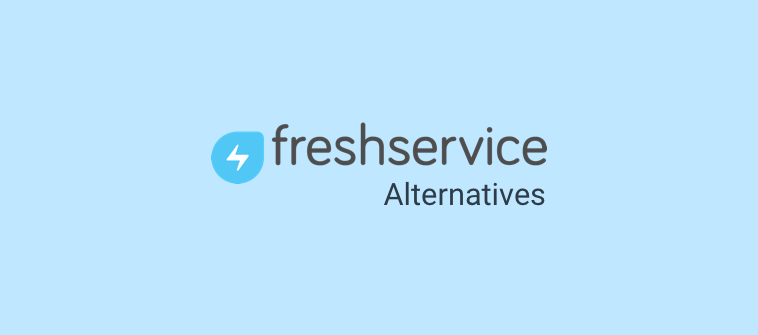 Are you looking for the right Freshservice alternatives? In that case, you have come to the right place.
Freshservice is one of the most renowned service desk solutions that can help your business manage IT support services with ease. But, as they say, nothing is perfect.
Right from expensive pricing plans to complicated features and functionalities, existing users are not happy. Moreover, with so many options available, finding the best Freshservice alternative can feel like finding your way out of a maze.
To help you rise above this challenge, we have done the heavy lifting for you. In this Freshservice comparison blog, we have handpicked 10 alternatives that offer similar features and can get the job done for you.
Here we go!
Freshservice Features & Price Table
Software
Key Features
Price
ProProfs Help Desk
Capture incidents and requests
Collaborate with other departments
Use pre-defined templates
Share feedback surveys
Monitor ticket resolution time
Try it free for 15 days
Essentials: $10/agent/month
Premium: $15/agent/month
Enterprise: Available on request
SysAid
Create custom fields
Leverage customizable templates
Create and track SLAs
Digitize your manual workflows
Track service desk KPIs
Price available on request
Zendesk
Leverage AI-powered bots
Create a dedicated help center
Use collaboration features
Use pre-built integrations
Easily escalate issues
Suite Team: $49/agent/month
Suite Growth: $79/agent/month
Suite Professional: $99/agent/month
Jira Service Management
Collaborate across departments
Keep track of SLA deadlines
Integrate with other tools
Track ownership of IT assets
Jira mobile apps
Standard: $20/agent/month
Premium: $40/agent/month
Enterprise: Not mentioned
Solarwinds
Automated ticket creation
Monitor agent performance
Track all IT asset requests
Escalate issues to senior reps
Receive notifications via SMS
Team: $19/agent/month
Business: $39/agent/month
Professional: $69/agent/month
Enterprise: $89/agent/month
TOPdesk
Automated ticket assignment
View your organization's assets
Automate workflows
Create a self-service portal
Get an overview of team performance
Price available on request
Zoho Desk
Create a multi-brand help center
Customer sentiment analysis
Create an online community
Integrate with Zoho CRM
Use templates for emails & web forms
Standard: $12/agent/month
Professional: $20/agent/month
Enterprise: $35/agent/month
TeamSupport
Create automation rules
Find support articles quickly
Leverage real-time sentiment analysis
Collaborate across departments
Stay updated with mobile apps
Support Desk:$50/agent/month
Enterprise: $69/agent/month
Intercom
Share targeted messages
Share relevant help articles
Create interactive product tours
Monitor and improve performance
Integrate with other apps
Start: $59/month
Grow: $119/month
Accelerate: $499/month
Scale: $999/month
LiveAgent
Track time spent by agents
Access ticket history to get context
Set up chat widgets in multiple languages
Use gamification features
Leverage channel reports
Ticket: $15/agent/month
Ticket + Chat: $29/agent/month
All-Inclusive: $39/agent/month
Freshservice
Create a service catalog
Easily tag team members
Create knowledge base articles
Generate reports for incidents
Whitelist specific IP addresses
Starter: $19/agent/month
Growth: $49/agent/month
Pro: $89/agent/month
Enterprise: $109/agent/month
What is Freshservice?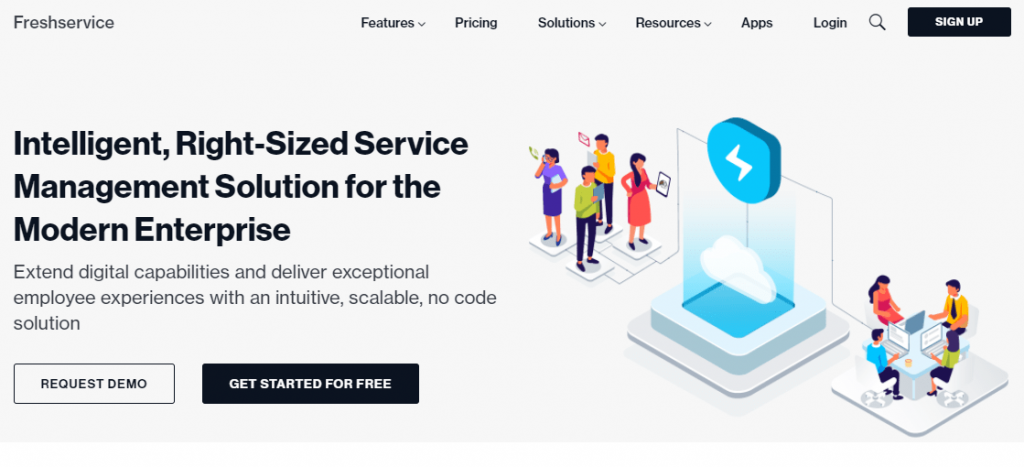 Freshservice offers an IT service management system that is easy to set up and helps you customize it to your company's unique needs. IT users can raise tickets via email, phone, your self-service portal, or by directly giving your team a visit.
You can create a service catalog and set multiple SLA policies to make sure all tasks are completed well in time. In addition to this, agents can track incidents, prioritize tickets, create knowledge base articles, collaborate with other teams, manage IT assets, and manage project tasks.
So how much does Freshservice cost? Freshservice offers four plans: Starter ($19/agent/month), Growth ($49/agent/month), Pro ( $89/agent/month), and Enterpsie ($109/agent/month).
Why Look for Freshservice Alternatives?
Now that we have discussed some features of Freshservice, it's time to explore some cons. There is no doubt that there are multiple limitations that make people search for the best alternatives to Freshservice. Let's discuss these drawbacks in detail:
Expensive Plans: Just one look at the pricing page and you will know that Freshservice seems to be overly priced. Even the Starter plan with basic features can cost you $19/agent/month. In fact, the most expensive plan can go up as high as $109/agent/month that too if billed annually. Considering there are many other Freshservice alternatives that are more affordable, you must explore your options.
Complicated Features: Freshservice offers extensive and complicated features that might not be even required by your team. To master a vast range of features and functionalities, you will have to invest in lengthy training sessions for your team. This can result in your IT support team spending more time understanding the tool than supporting end-users.
May not be the best option for some businesses: If you see the overall features and the price tag, Freshservice is targeted towards large enterprises. Therefore, it might not be suitable for small to mid-size businesses that want simple help desk and ticketing system features that too at an affordable price point.
Below-Average Reporting: When businesses choose Freshservice they expect the tool to offer robust reporting capabilities. However, many users have complained online that the tool does not provide adequate reporting data. There are not many options to customize reports and monitoring the time spent by agents on tasks/projects can be a significant challenge too.
The Features Freshservice Alternatives Must Have
To get your hands over the best Freshservice alternative, it is important to know what features to look for. Here are the top four features that every alternative should have:
Incident management: The right alternative should allow you to convert IT incidents and requests into unique tickets. With robust ticket management, support agents can track the complete lifecycle of every ticket and ensure no conversation is lost.
Knowledge management: Freshservice alternatives should also allow you to store knowledge and create help articles, FAQs, how-to guides, etc.
Multi-channel communication: End-users can contact your business on a variety of channels. Therefore, the tool must allow you to address their concerns on multiple channels.
Reports & analytics: The right alternative should also offer great reporting capabilities. With the right data at hand, managers can gauge their team's performance.
Our Selection Criteria for Freshservice Alternatives
When we talk about service desk or help desk software, there are endless options available in the market. One google search and a dozen advertisements pop up. So how do you decide which ones are worthy of your attention?
Don't worry as we have done the heavy research for you. Every alternative to Freshservice must meet the following criteria for it to make it to our list.
Core Service Desk Features: All Freshservice competitors must offer core service desk features such as incident management, knowledge management, multichannel communication, rich data and reports, etc.
Listed on Top Software Review Websites: The product alternatives should be listed on the top software comparison websites such as Getapp, SoftwareWorld, and Capterra.
Minimum 10 User Reviews: All the tools should have a minimum of 10 online reviews on these above-mentioned websites. Their overall rating should also be above 3.5 or above average.
What Are the Best Freshservice Alternatives?
Now, it's time to explore the tools that matter. Here are the top ten Freshservice alternatives to consider in 2021.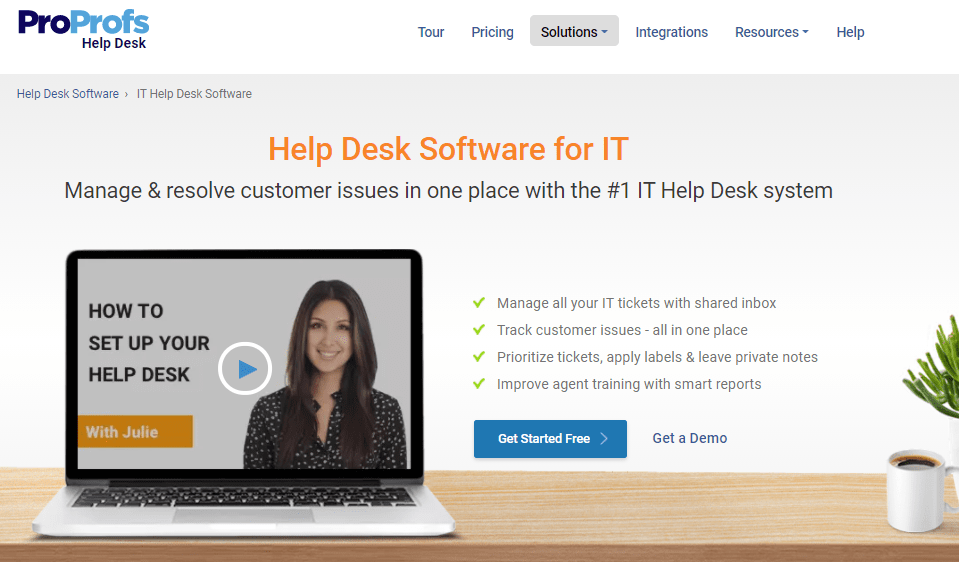 ProProfs Help Desk is one of the best alternatives to Freshservice tool that allows you to capture IT incidents and requests from multiple channels. The tool helps you improve your operational efficiency by creating an internal knowledge base that can be used by all the employees to find relevant answers and also for training purposes.
As a software cheaper than Freshservice, ProProfs helps you bring your development and IT, support team, on one platform. Agents can convert tickets about feature requests, bugs, etc. into tasks and assign them to the development team for faster resolution. Furthermore, you can even develop AI-powered chatbots to assist employees and customers 24×7.
You Can Use ProProfs Help Desk To:
Capture incidents and requests via email, live chat, web forms, help center, and more
Collaborate with other team members or departments using private notes
Use pre-defined templates for email notifications
Share feedback surveys with end-users right after their support interaction
Monitor and improve the ticket resolution time a delightful end-user experience
ProProfs Help Desk Plans Include:
Try it free for 15 days
Starts at $20/agent/month (billed annually).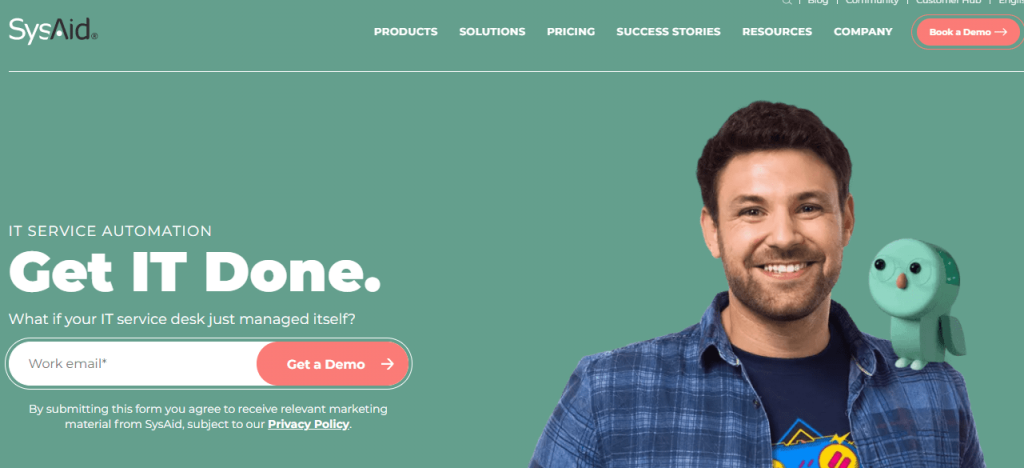 SysAid is another product similar to Freshservice that is designed for mature IT teams. Agents can handle service desk operations, manage assets, and meet end-user demands using a single tool. Besides this, you can empower your employees by providing them with all the tools they need to self-solve their own IT issues or requests.
With SysAid's change, asset, request, and problem management capabilities, your team can provide real-time service across the organization. The tool can be integrated with several popular business apps. Such important integrations can help you enhance the value of your service desk and get more done.
You Can Use SysAid To:
Create custom fields and add information that is relevant to your business
Leverage customizable templates and forms
Create your own SLAs based on your specific IT and business requirements
Digitize and improve your manual workflows with SysAid's Workflow Designer
Track service desk KPIs and metrics to improve your performance
SysAid Plans Include:
SysAid offers three plans: Help Desk, ITSM, and ITSM+. For pricing details, you need to request a quote on their website.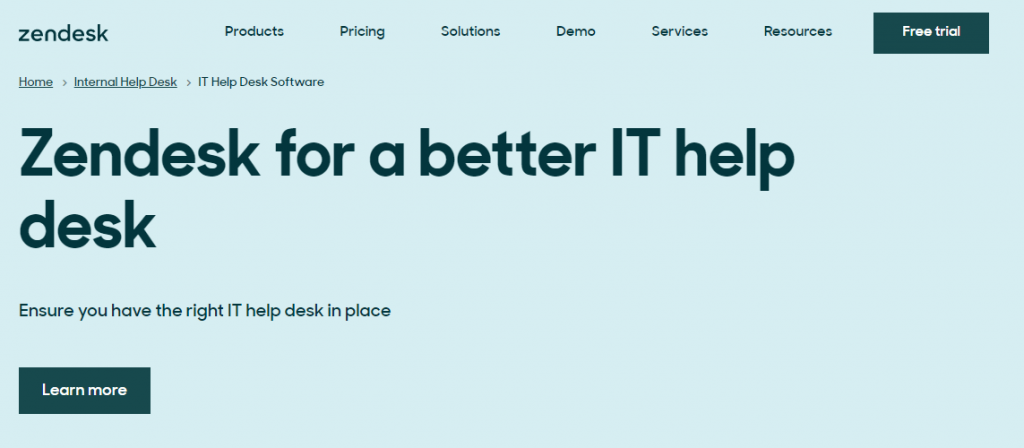 Zendesk is one of the most popular Freshservice alternatives that has been the top choice for a lot of organizations. Now, we all know how ITIL processes can be full of complexities. To tackle this problem, Zendesk has simplified ITIL processes so that your business can function without any obstacles.
With powerful automation features, your IT team can easily manage IT incidents, events, changes, problems, and service requests. Your support agents can tag tickets and use pre-defined responses called macros to solve common end-user problems faster. You can even track IT assets such as phones, computers, monitors, and more in one place.
You Can Use Zendesk To:
Create an intuitive self-service employee knowledge portal for basic queries
Capture IT requests and issues via email, web forms, chat, phone, and mobile
Monitor crucial help desk metrics such as the first response time and more
Easily integrate Zendesk with other IT tools such as Myndbend, Okta, LogMeIn, etc.
Use AI-powered answer bots to support employees and customers 24×7
Zendesk Plans Include:
Suite Team: $49/agent/month
Suite Growth: $79/agent/month
Suite Professional: $99/agent/month
Recommended Read: Zendesk Alternative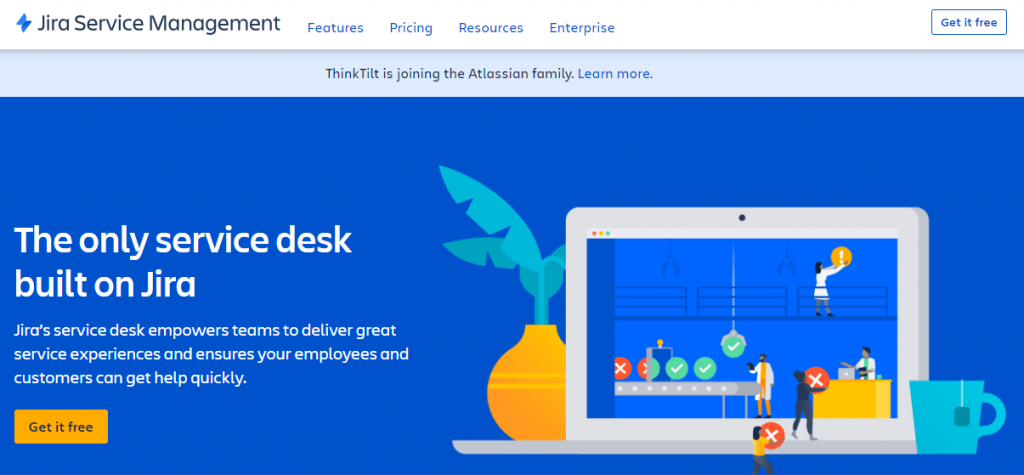 Jira Service Management is a remarkable tool that empowers you to deliver delightful service experiences and makes sure end-users can receive help quickly. Support agents can organize, track, and assign incoming requests from multiple channels with the help of queues and SLAs.
Jira Service Management has made it easier for multiple departments to collaborate. For instance, agents can seek help from other departments using Slack and track all relevant information to better assist customers. Furthermore, to get productive teams, you can configure an intuitive help portal where employees can find all the help they need.
You Can Use Jira Service Management To:
Collaborate across departments and rapidly address end-user concerns
Keep track of deadlines by creating as many SLA policies as needed
Integrate with your favorite software tools and improve performance
Track usage, ownership of IT assets and manage all inventory in one place
Resolve issues quickly from wherever you are using the Jira mobile apps
Jira Service Management Plans Include:
Free: Forever free plan with limited features
Standard: $20/agent/month
Premium: $40/agent/month
Enterprise: You need to contact their sales team to receive the pricing details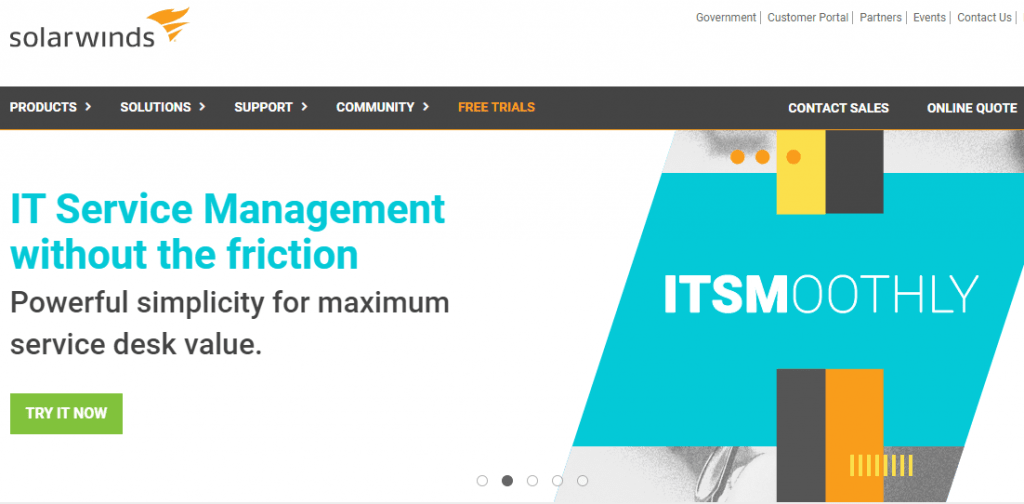 SolarWinds is another software like Freshservice that allows your business to eliminate barriers to employee support services. The tool offers an intuitive dashboard that gives support agents real-time updates about the service desk's performance. You can even choose from a robust collection of widgets or create your own custom widget to build the best interface.
With its IT asset management capabilities, SolarWinds helps you monitor your technology assets, their functionality, and their role in your server. You can even empower employees to resolve issues on their own using the knowledge base. You can include a vast number of step-by-step articles, tutorials, and other resources that address a wide range of questions and concerns.
You Can Use SolarWinds To:
Organize, track, and prioritize incoming incidents or requests
Easily manage IT hardware inventory and software license updates
Create a service catalog to standardize service request and fulfillment process
Schedule reports and monitor the performance of your team
Change management features to plan and implement changes quickly in your organization
SolarWinds Plans Include:
Team: $19/agent/month
Business: $39/agent/month
Professional: $69/agent/month
Enterprise: $89/agent/month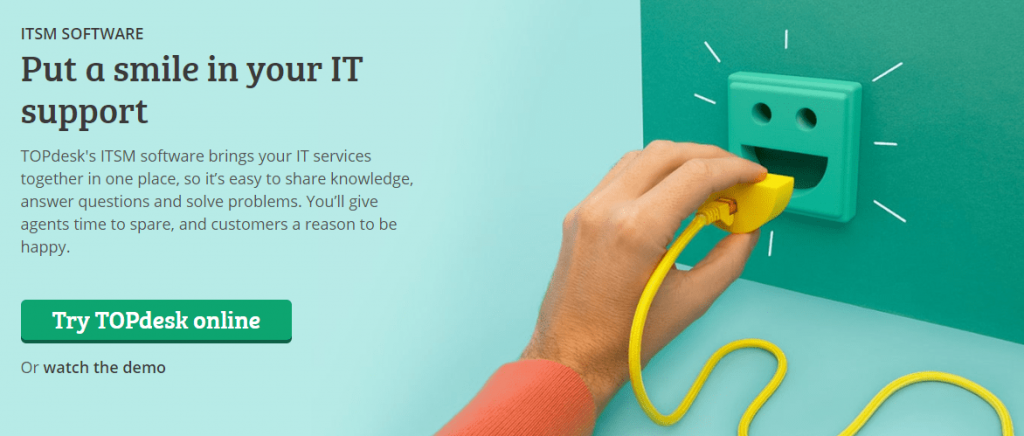 TOPdesk is an intuitive alternative to Freshservice that helps businesses bring their IT services together in one place. You can empower your support agents to do a multitude of tasks – share knowledge, answer end-user questions, and solve problems as and when they come.
With robust incident management, you can track all incoming requests, assign tickets to the right members of your team, learn about your progress with automated reports. TOPdesk makes it easier for you to build a knowledge base for smarter employees and happier customers. With all the necessary information at hand, first-line or Tier-1 agents can answer tougher questions more quickly.
You Can Use TOPdesk To:
Automatically assign issues or requests to a specialized agent
View your organization's assets, who are using them, and how they're related
Automate workflows to make IT support effortless
Allow customers to find answers themselves in the self-service portal
Get an overview of your team's performance using extensive graphs or colorful pie charts
TOPdesk Plans Include:
TOPdesk offers three plans: Essential, Engaged, and Excellent. For pricing details to need to make a request on their website.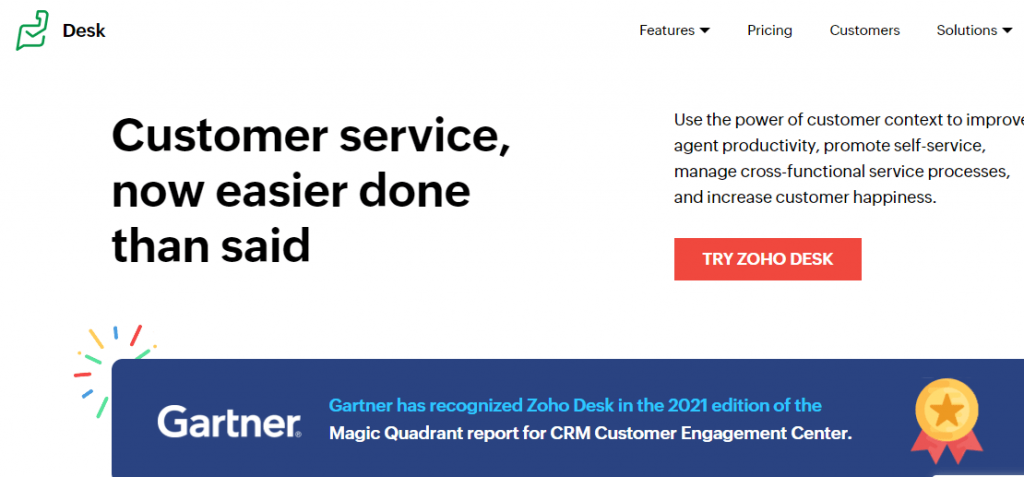 Zoho Desk is another popular free Freshservice alternative that helps organizations from across the globe use customer context to personalize interactions. With the help of robust automation and streamlined workflows, you can enhance agent productivity, encourage self-service, and provide a better support experience every single time.
To unleash the power of your help desk, you can easily connect Zoho Desk with other tools your team uses and add custom functions through APIs. The tool even offers an AI-powered assistant called Zia that can help you organize support tickets, monitor ticket traffic, and most importantly analyze customer sentiments.
You Can Use Zoho Desk To:
Customize templates for ticket forms, emails, or other notifications
Design and configure your help center to match your unique brand
Inform employees and customers about each stage of the ticket lifecycle
Integrate with Zoho CRM to get complete customer information
Be available to your customers in an instant using live chat
Zoho Desk Plans Include:
Free: Forever free plan, limited to 3 agents
Standard: $12/agent/month
Professional: $20/agent/month
Enterprise: $35/agent/month
Read More – Zoho Desk Alternatives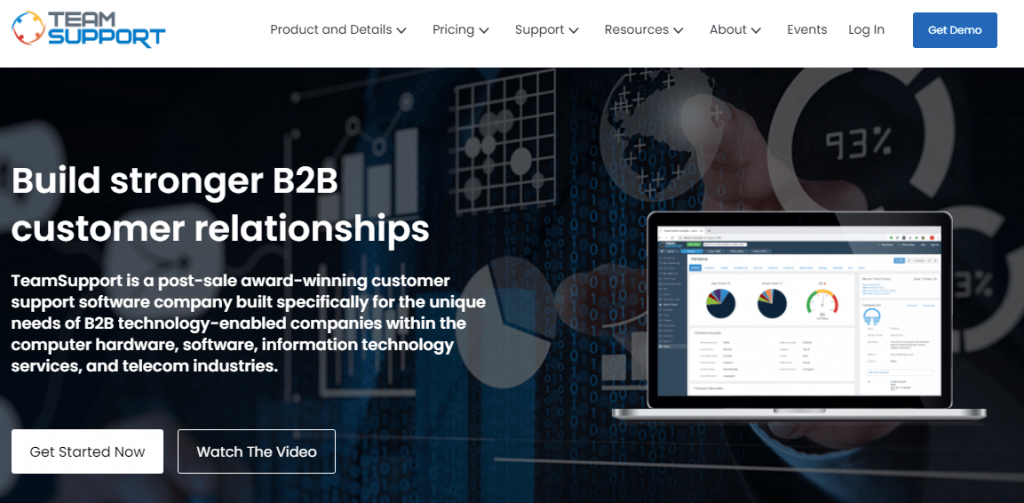 TeamSupport is specifically designed to meet the growing needs of B2B companies. Now, providing reliable support to your customers 24×7 might require the involvement of multiple departments. No matter if you are working remotely or from the office, TeamSupport helps you resolve help desk tickets together and reduce your support costs.
With best-in-class reports and analytics at your fingertips, customer service teams and help desk managers can track performance and focus on improvement areas. Moreover, rather than observing end-users as a collection of tickets, you can store additional information about them and determine trends using the ticket history.
You Can Use TeamSupport To:
Track and view ticket history and other customer details in one place
View the Customer Distress Index and make necessary changes to avoid churn
Leverage custom fields to supply more information about issues or requests
Link feature requests and bug complaints to tickets for faster resolution
Get detailed metrics and create unlimited custom reports
TeamSupport Plans Include:
Support Desk: $50/agent/month
Enterprise: $69/agent/month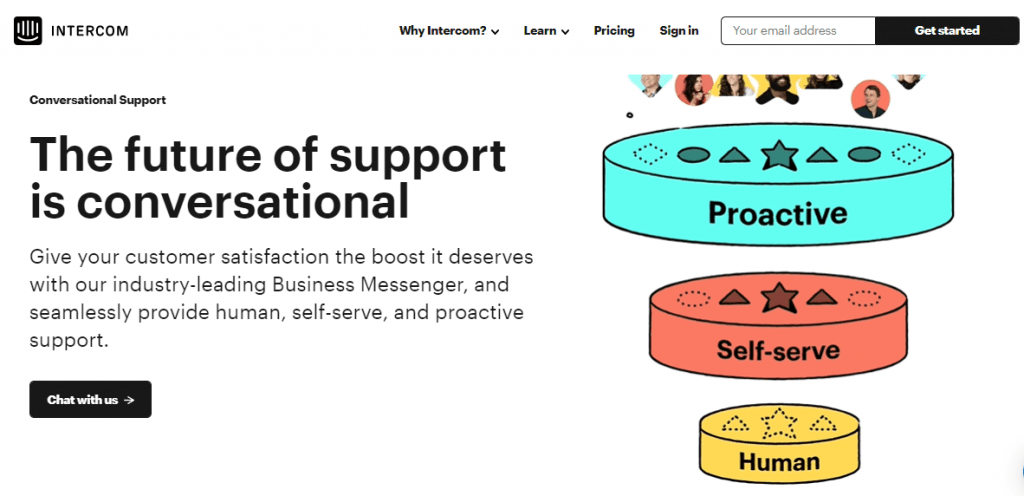 Intercom is another Freshservice competitor that helps you manage both support and some aspects of marketing communications. Intercom has divided its approach into three levels: proactive, self-serve, and human support. Using this funnel method, customers can be empowered to resolve their basic concerns on their own during the initial stages and connect to a human agent when the need arises.
Your agents can automatically route and prioritize customer messages with the help of assignment rules, SLAs, ticketing workflows, and more. You can even develop Custom Bots that can help your team a great deal. For instance, these bots can capture valuable customer information, help you prioritizing urgent conversations, and route customers to the right people or departments.
You Can Use Intercom To:
Share targeted messages to inform end-users about scheduled outages
Share relevant knowledge base articles via the website, mobile app, and product
Create interactive product tours for new customers and keep them engaged
Monitor and improve your bot performance with the help of resolution reports
Integrate Intercom with apps such as Shopify and Stripe for better performance
Intercom Plans Include:
Start: $59/month (includes 1 seat)
Grow: $119/month (includes 5 seats)
Accelerate: $499/month (includes 10 seats)
Scale: $999/month (includes 10 seats)
LiveAgent takes omnichannel communications to a whole new level. Your business can manage conversations on channels such as the phone, email, live chat, forum, video calls, contact forms, social media, and more. With the help of the chat widget, you can enhance engagement and invite prospects or customers to chat for a real-time support experience.
LiveAgent offers intelligent automation to make your team's work easier. By creating automation rules, you can automatically distribute work among agents and ensure no time gets wasted. You can even create a self-service portal with how-to guides, step-by-step articles, etc. to offer support to your audience 24×7.
You Can Use LiveAgent To:
Easily assign and forward tickets between agents and other business departments
Use ticket tags to better organize your customers and support tickets
Leverage canned responses or macros to improve your average response time
Drag and drop files, docs, images, videos, etc. to tickets
Share proactive chat invitations with people who are browsing your website
LiveAgent Plans Include:
Free: Forever free plan with some limitations
Ticket: $15/agent/month
Ticket + Chat: $29/agent/month
All-Inclusive: $39/agent/month
Freshservice Alternatives Comparison Table
| Software | Price | Shared Inbox | Multi-channel Communication | Alerts & Escalations | Live Chat | Self-Service Portal | IT Help Desk |
| --- | --- | --- | --- | --- | --- | --- | --- |
| ProProfs Help Desk | $10/month | Y | Y | Y | Y | Y | Y |
| SysAid | Not Mentioned | N | Y | Y | Y | Y | Y |
| Zendesk | $49/month | Y | Y | Y | Y | Y | Y |
| Jira Service Management | $20/month | N | Y | Y | Y | Y | Y |
| SolarWinds Service Desk | $15/month | N | Y | Y | Y | Y | Y |
| TOPdesk | Not Mentioned | N | Y | Y | Y | Y | Y |
| Zoho Desk | $12/month | N | Y | Y | Y | Y | N |
| TeamSupport | $50/month | N | Y | Y | N | Y | N |
| Intercom | $59/month | Y | Y | Y | Y | Y | N |
| LiveAgent | $15/month | Y | Y | Y | Y | Y | N |
| Freshservice | $19/month | Y | Y | Y | Y | Y | Y |
Final Verdict: Which Freshservice Alternative Should You Go For?
Over the years Freshservice has become one of the most popular service desk tools. It allows you to:
Track incidents, requests, and changes
Communicate with end-users on multiple channels
Offer self-service options to customers
Monitor user satisfaction and team performance
Despite all the appealing features, the negatives such as expensive plans, complicated features, poor report customizations, etc. make people search for the right alternatives to Freshservice. All the tools mentioned in this blog are worthy of your attention and can help you achieve your goals.
If you are looking for IT help desk software that is inexpensive and can help you communicate with your end-users on multiple channels, you must go for ProProfs Help Desk. If budget is not a big concern, then Zendesk can be a good option too.
Do you want a free Help Desk?
We have the #1 Online Help Desk Software for delightful customer support