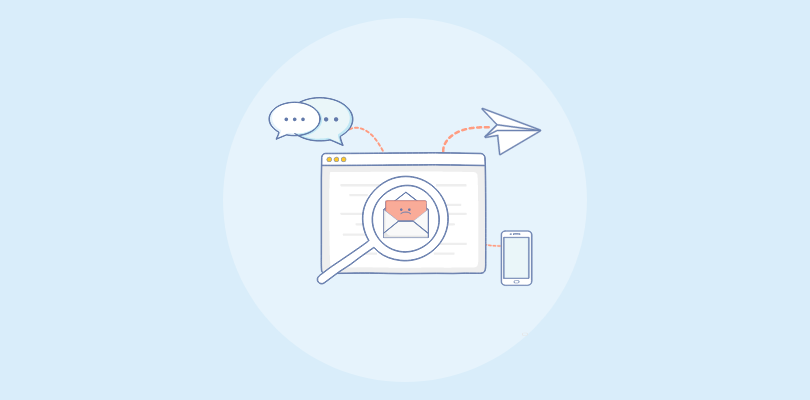 I think email has become such an inclusive part of our lives that it is now difficult to imagine life without it.
But despite it being the "king" of business communications, there is a significant rise in the demand for the best email alternatives.
Is email dead?
It's not that email is dead – it's limited. I'm sorry to be the messenger here (pun intended), but email is not built for team collaboration or customer service.
Over the years, I have used multiple alternatives in the form of shared inbox software, team collaboration tools, video conferencing apps, etc., for faster communication. In this blog, I will share 12 awesome tools that will help you rise above a slow and sluggish email management process.
| Email Alternative | Best For | Pricing |
| --- | --- | --- |
| ProProfs Help Desk | Automated multi-channel communication | Starts at $20/user/month (Single plan with all premium features) |
| Hiver | Gmail-based help desk | Starts at $12/user/month |
| ProofHub | Team collaboration | Starts at $45/month |
| ThriveDesk | Managing customer conversations | Starts at $25/month |
| Slack | Internal communication | Starts at $8.75/user/month |
| Mail.com | Creating free email addresses | Starts at $9.99 for three months |
| Zoho Mail | Email security | Starts at $1/user/month |
| Microsoft Teams | Video conferencing | Starts at $4/user/month |
| Groove | Tracking social media conversations | Starts at $12/user/month |
| Fastmail | Data privacy | Starts at $3/user/month |
| Tidio | Live chat conversations | Starts at $29/month |
| Help Scout | Shared inbox creation | Starts at $20/user/month |
List of 12 Best Email Alternatives
Did you know that around 306.4 billion emails are sent and received each day?
This simply means there is no doing away with email anytime soon.
To help you improve your email game, I have jotted down the top alternatives. These tools are not designed to replace email 100% but to help you make the most of your email accounts and adopt a multi-channel approach.
1. ProProfs Help Desk – Best for multi-channel communication
I was always looking for a tool that helped my team manage emails and other important channels. My search was over when I found ProProfs Help Desk – a customer service all-rounder!
If you have multiple customer-facing email accounts such as help@, billing@, contact@, etc., I suggest you try the shared inbox feature. Multiple team members can access and respond to emails simultaneously without stepping on each others' toes.
I feel the best part is that in addition to email, you can capture customer messages via live chat, web forms, help center, and other channels. This simply means all your conversations are in one place, and you don't have to hop from one tool to another.
What you'll like:
Create canned responses for common situations and save everyone's time
Mark the priority of incoming emails as High, Low, or Normal
Encourage self-service and reduce email volume with a knowledge base
Customize email signatures to share professional messages
What you won't like:
Currently, there is no way to track social media conversations
More integrations should be added for improved collaboration and efficiency
Pricing: FREE for a single user. Plans start at $19.99/user/month for 2 or more users. No hidden fees. A 15-day money-back guarantee.
2. Hiver – Best Gmail-based help desk
Just like most of you reading this blog, I have used Gmail for several years. And I always felt that it isn't sufficient for customer service.
That's when someone recommended Hiver, which helped me transform Gmail into a full-fledged help desk.
With this simple tool, you can assign emails to team members with a single click and track which emails are open, pending, or closed.
The best part is that Hiver offers a shared drafts feature that helps your team collaborate in real time. For instance, you can share an email draft for a refund request with your colleagues and ask them for suggestions before sending it.
What you'll like:
Enable automation to assign certain emails to specific team members
Receive collision alerts when another team member is viewing an email
Leverage dedicated mobile apps for Android and iOS
Create a vast collection of email templates and respond faster
What you won't like:
The platform is only compatible with Gmail and not other email clients
The Chrome extension can slow down your browser
Pricing: Starts at $12/user/month
3. ProofHub – Best email alternative for team collaboration
Are you sick of the endless back-and-forth that comes with email?
I have some good news for you! ProofHub is a powerful project management tool that can help you avoid messy email threads and encourage team collaboration.
With the help of ProofHub, you can easily store and search for important docs whenever you need them. When it comes to team collaboration, multiple team members can use this tool to create tasks, add comments, share files, and do multiple other things without needing to log in to their respective email accounts.
What you'll like:
Prioritize tasks with the help of deadlines and labels
Integrate with Outlook, Google Drive, Dropbox, and other tools
Upload multiple file formats and share them with your team members
Stay updated with real-time in-app and desktop notifications
What you won't like:
More background templates should be added
The mobile app lags at times
Pricing: Starts at $45/month
4. ThriveDesk – Best for tracking customer emails
With a powerful shared inbox feature, ThriveDesk helps you track all customer emails in one place without switching between different email accounts. Trust me, that's a lot of hours saved!
Using ThriveDesk, team members can communicate and update about emails' progress using private notes. These notes are only visible to internal staff members and not to customers. Moreover, you can even receive collision alerts when someone else views or replies to an email.
What you'll like:
Create a collection of saved replies for common email queries or complaints
Easily move a conversation from one inbox to another
Share customer satisfaction surveys as soon as a ticket is closed
Automatically detect spam messages and move them to the spam folder
What you won't like:
The tool does not offer some important features, such as text autocorrect, custom fields, knowledge base, etc.
It is difficult to search past customer conversations
Pricing: Starts at $25/month
5. Slack – Best for internal communication
Slack is often called the "WhatsApp for office," and rightly so! No matter where I work, I love interacting with my work colleagues on this sleek platform.
Slack is a popular alternative to email that is used by thousands of organizations across the globe for internal and external communications. You can create different channels for different tasks or topics that you are currently working on.
The channels include all the people, files, and messages related to that topic in one place. As soon as you create your Slack workspace, you can invite your colleagues and kickstart the conversations that matter.
What you'll like:
Use emojis to respond faster and keep the conversation more engaging
Use the conversation history to easily find any relevant information you need
Receive notifications on the go with a dedicated mobile app
Connect Slack with tools such as Google Drive, Office 365, and many more
What you won't like:
Currently, there is no way to know when a coworker was last active (last seen)
The mobile version isn't as good as the desktop version
Pricing: Starts at $8.75/user/month
6. Mail.com – Best for creating free email addresses
"toocool4you@" This was my first email address, and yes, I'm not proud of it.
Whether you are a freelancer or run a small business, you need to have a professional email address. One that helps you build trust and credibility.
This is where Mail.com can be a lifesaver! The tool allows users to create a free email account from over 100+ domains, such as engineer.com, dr.com, musician.org, etc. So, if you own a small clinic, you can create an address, such as – jakeroy@dr.com. In addition, built-in antivirus protection helps protect your system against viruses and malware embedded in spam emails.
What you'll like:
Create filter rules to automatically sort incoming messages
Monitor your emails on the go with free mobile apps for Android and iOS
Protect your email accounts by enabling two-factor authentication
Enjoy 65GB of online storage for your email accounts
What you won't like:
The ads in the free version can seem intrusive
Customer support isn't much responsive
Pricing: Starts at $9.99 for three months.
7. Zoho Mail – Best for email security
Here is an eye-opening statistic for you – roughly 3.4 billion phishing emails are sent every day.
I believe security is paramount regarding online messaging and data exchange. Zoho Mail offers secure email hosting with data encryption. The company has dedicated compliance and privacy teams, meaning your customer data is in safe hands.
Besides this, Zoho promises 99.9% uptime so that your business can always stay connected with the people who matter. Admins can use the control panel to explore different settings, configurations, and customizations.
What you'll like:
Access calendar, tasks, contacts, notes, and bookmarks right within your inbox
Collaborate internally by sharing notes or creating events
Share email drafts to get them reviewed by fellow teammates
View attachments or upload them to the cloud in just a few clicks
What you won't like:
Sent and received emails are not always visible in the CRM
You: roughly paying more for more storage space
Pricing: Starts at $1/user/month
8. Microsoft Teams – Best for video conferencing
Over the years, I have used multiple video conferencing tools to communicate with colleagues and clients. But none impressed me more than Microsoft Teams.
As a free email alternative, Microsoft Teams helps you video call and chat with your work colleagues, customers, and partners no matter where they are.
You can easily upload, create, and share files to exchange information and keep things moving forward. Microsoft Teams makes it easy to set up online meetings with high-quality audio and video. You can schedule these meetings or webinars ahead of time or start them instantly.
What you'll like:
Protect your sensitive information with data encryption
Create a better virtual meeting experience with the Together Mode
See live reactions during PowerPoint presentations
Merge calls to talk to everyone at once
What you won't like:
The application lags while downloading files at times
A full-screen presentation mode should be added
Pricing: Starts at $4/user/month
9. Groove – Best for tracking social media conversations
Groove is considered a strong email competitor. Let me explain why.
With the shared inbox feature of Groove, you can organize all your mailboxes in one place, capture conversations from social media channels such as Twitter, Facebook, and Instagram and respond to customers quickly.
In addition to a shared inbox, Groove even allows you to create a dedicated knowledge base. You can edit articles, view the performance metrics of your help content, and enhance the self-service experience.
What you'll like:
Manage all social media conversations in one place
Optimize your knowledge base for multiple devices
Create greater accountability by assigning emails to relevant team members
Discuss emails using private notes
What you won't like:
New conversations take a lot of time to get displayed in your inbox
Customer support isn't up to the mark
Pricing: Starts at $12/user/month
10. Fastmail – Best for data privacy
If you are constantly worried about who has access to your data, I suggest it's high time you switch to a better email service provider like Fastmail.
Fastmail is an Australian-based email hosting company that safeguards your privacy. For instance, the company does not share any data with advertisers, and users are never targeted with intrusive advertisements.
As an email management tool, Fastmail allows your team to easily manage emails and contacts with the help of folders and labels. I love the fact that you can easily pin important email messages to the top to address them on high priority.
What you'll like:
Avoid irrelevant emails with superior spam blocking
Plan your tasks and schedule emails with a fully-functional calendar
Easily find the conversation you need with a powerful search bar
Turn email conversations into events
What you won't like:
The pricing is quite expensive given the features this tool offers
Data storage limit is quite low
Pricing: Starts at $3/user/month
11. Tidio – Best for live chat conversations
Here is another statistic for data geeks – 73% of US consumers find live chat the most satisfactory communication channel for contacting a company.
Tidio is another email alternative offering a live chat feature to save you from the potentially slower back-and-forth email communication. You can track your visitors' behavior on your website in real-time and initiate proactive chat sessions.
In addition, I suggest you build AI chatbots to automate customer communication and lead generation. This will ensure your team stays available for customers beyond the usual 9 to 5.
What you'll like:
Get started in no time with 35+ pre-designed chatbot templates
Customize live chat greetings for website visitors
Convert chat conversations into tickets and assign them to team members
Monitor first response time, average chat duration, and other key metrics
What you won't like:
Industry-specific chatbot templates should be added
The Starter Plan is limited to only 100 unique chats per month
Pricing: Starts at $29/month
12. Help Scout – Best for shared inbox creation
If you are looking for shared inbox software that is easy to use and light on the pocket, I recommend you try Help Scout.
The tool helps you centralize all your email conversations in one place, offering better visibility to team members and analytics to managers.
With intuitive features like automated workflows, collision detection, and tagging, Help Scout ensures organized and prompt responses. You can even add a live chat widget on your website and direct customers to other channels when no one is available to take chats.
What you'll like:
Collaborate using notes, assignments, and permissions
View customer profiles to personalize the conversation at hand
Automatically assign emails to team members
Stay connected with customers on the move with Android and iOS mobile apps
What you won't like:
Help Scout does not offer advanced reporting metrics and analytics
The Standard Plan is limited to only two mailboxes
Pricing: Starts at $20/user/month
How to Choose the Best Email Alternative
I have compiled some small tips that you can keep in mind while choosing an email alternative. Let's explore them in detail.
Assess Your Needs: Determine whether you require real-time messaging, video conferencing, task management, or collaborative document editing to meet your team's communication demands effectively.
Features: Ensure the email alternative offers easy integration with your existing tools, robust search capabilities, customizable notifications, and the ability to share files seamlessly.
Scalability: Choose a solution that can effortlessly accommodate your current team size and potential future expansion without causing slowdowns or requiring constant adjustments.
Security: Prioritize options that provide end-to-end encryption, compliance with data protection regulations, and proactive measures against phishing and malware attacks.
Trial Period: Utilize free trials to explore the alternative's functionalities in real-world scenarios and evaluate its compatibility with your team's workflow.
Which Is the Best Email Alternative?
All the tools that I have shared above can be used to meet specific communication needs. If you are still confused about which ones to pick, allow me to make it easier for you.
Here are my top 3 picks that will revolutionize the way you communicate with customers, staff members, and business partners:
Option A: ProProfs Help Desk
ProProfs Help Desk lets you go beyond email by consolidating email, live chat, web forms, and help center into a single platform. The tool will surely help you streamline all your communication channels, never lose an important message, and deliver personalized responses at scale. Features such as email prioritization, automated assignments, collision alerts, etc., make this tool a safe bet.
Option B: Slack
If you wish to make internal communication more fun and engaging for your team, you can go for Slack without a second thought. You can create Slack Channels for different topics and encourage participants to hold meaningful conversations.
Option C: Groove
Groove is an excellent choice if you want to combine the sophistication of email with the charm of social media. You can easily access customer messages shared via Instagram, Facebook, and Twitter. Moreover, I think you will even love its simple shared inbox feature.
If I still have to pick one, I would pick ProProfs Help Desk. As I said before, it's a customer service all-rounder that comes loaded with email management and ticketing automation features. You can experiment with the different tools mentioned in this list and settle for the right combination. Take a free trial, make sure there are no hidden charges, and enhance your communication quality.
Do you want a free Help Desk?
We have the #1 Online Help Desk Software for delightful customer support