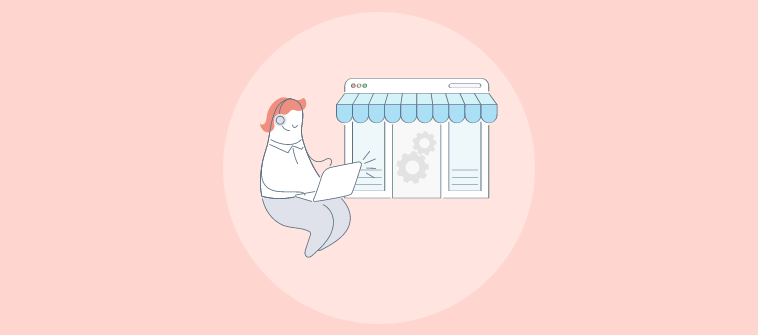 When scaling a company, small business owners face hundreds of challenges – tight budgets, limited human resources, high rent, rising competition, and so on.
The real problem starts when customers come rushing with their endless complaints and inquiries. Amidst all this chaos, how do you manage your unhappy customers?
Customer service software for small businesses can help you automate ticket creation, assignment, and tracking for top-notch support. You can empower customers to resolve their basic concerns using an online knowledge base and reduce agent workload.
Just because a business is small in size doesn't mean it has to compromise on customer service. With affordable customer service support software available in the market, you can easily enhance your support process, retain customers, and boost business revenue.
In this blog, we will explore the benefits of the best customer service software for small businesses and explore 10 tools that you must check out for your team.
What Is Customer Service Software for Small Businesses?
Customer service software for small business is a tool designed to help small businesses manage and improve their customer service operations. This type of software typically includes tools and features that enable businesses to streamline their customer service processes, track customer interactions, and respond to customer inquiries and issues in a timely and effective manner.
The tool offers a robust ticketing system to help businesses keep track of customer inquiries and requests and assign them to appropriate team members for resolution. In addition to this, customer service managers can keep a firm track of how well service agents are performing their tasks with the help of real-time reports and analytics.
Overall, customer service software for small businesses helps them deliver better customer service, increase customer satisfaction, and ultimately, drive growth and success.
Read More: 20 Best Customer Service Tips for Small Business
Benefits of Customer Service Software
Customer service software offers a range of benefits for businesses of all sizes. Here are some of the key benefits:
Improved customer satisfaction: The best customer service software can help businesses provide faster and more efficient support, which can lead to higher customer satisfaction levels.
Increased efficiency: The tool helps your business streamline the support process by automating many tasks, such as ticket routing, response templates, and report creation. Robust automation capabilities can help agents work more efficiently and respond to customer inquiries more quickly.
Better customer insights: A customer service system capture and analyze customer data, allowing businesses to gain insights into customer behavior, preferences, and needs. This information can help businesses improve their products, services, and overall support.
Cost savings: The tool can help small businesses automate multiple tasks, reducing the need for hiring additional staff members. This can also help businesses avoid costly errors and improve productivity.
Improved internal collaboration: Customer service software can facilitate collaboration among team members, allowing agents to share information and work together to solve customer issues. For example, agents can use private notes to discuss challenging issues with each other.
Increased scalability: A customer service ticketing system can help businesses scale their support operations as they grow without adding significant overhead. With a cloud-based tool, you can choose a higher-priced subscription plan as your team and customer base grow.
10 Best Customer Service Software for Small Business in 2023
Not sure which tool to pick for your small business? We have curated a comprehensive list of the 10 best customer service software for small businesses that deserve your attention this year. We have listed each tool's features and pricing for better comparison.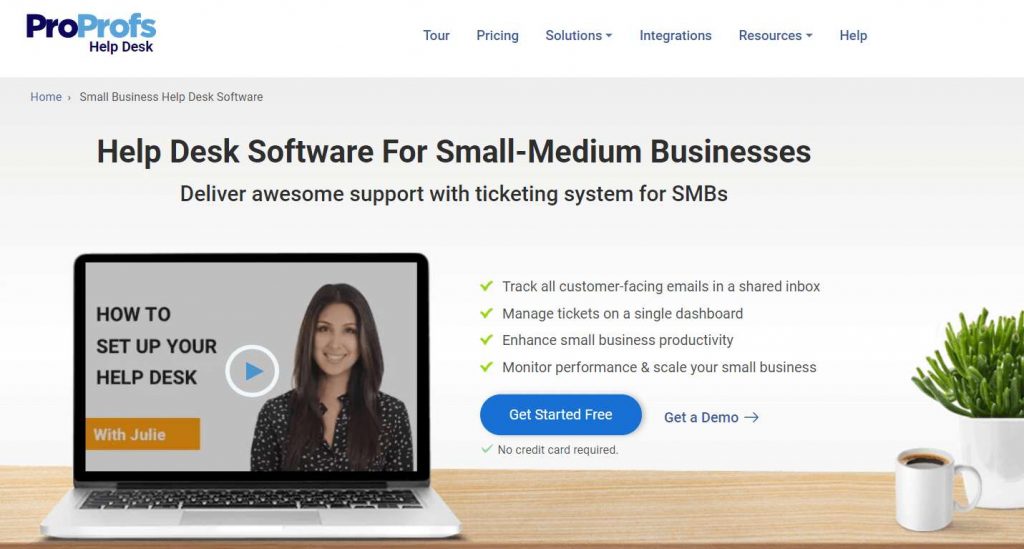 ProProfs Help Desk is an affordable yet powerful customer service support software used by thousands of startups and small businesses. The tool helps you offer reliable support via email, live chat, web forms, help center, chatbots, and multiple other channels.
In addition to a powerful ticketing system, you get a knowledge base, live chat tool, and survey platform to offer 360-degree support experiences. The best part is that you can automate your customer service with the help of website chatbots. Bots can be built for lead generation, customer service, appointment bookings, and other purposes.
Top Features of ProProfs Help Desk:
Automatically route tickets with the round-robin assignment algorithm
Manage all your support emails in one place with the shared inbox feature
Engage website visitors with proactive chat invitations
Organize your support tickets with labels, priorities, and statuses
Monitor help desk metrics like response times, customer satisfaction, NPS, etc.
Pricing:
Starts at $20/agent/month (billed annually).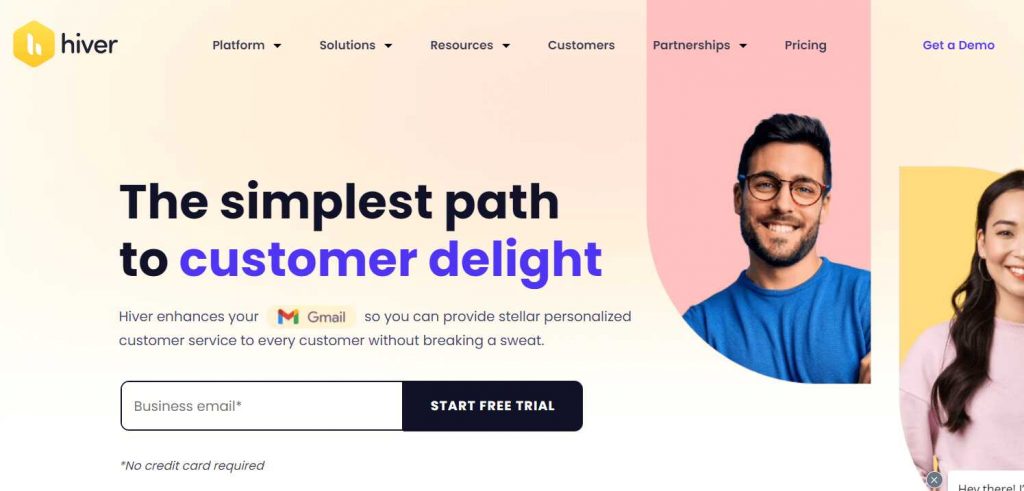 Hiver offers a simple, Gmail-based help desk for small businesses. The tool helps you convert your Gmail inbox into a full-fledged help desk system. The best is that it is quite simple to use, and your team will not have to spend time learning a new solution.
Hiver makes it easier for your team to manage shared email accounts, such as support@ and info@, in one place. With just a quick glance, you can track the unique status (open, pending, or closed) of each email conversation.
Top Features of Hiver:
Organize email and chat conversations right inside Gmail
Offer contextual information to other agents using private notes
Leverage round-robin ticket assignments to encourage fair task distribution
Manage customer service conversations on WhatsApp
Track SLA violations to enhance the customer experience
Pricing:
Starts at $12/user/month
Read More – Hiver alternatives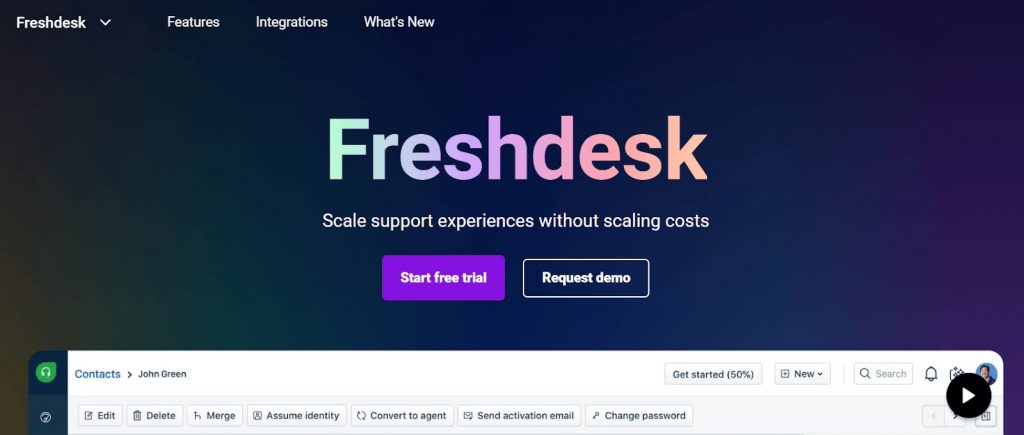 Freshdesk is an affordable omnichannel help desk solution used by thousands of small to mid-sized businesses across the globe. Support agents can easily assign, prioritize, and categorize issues to streamline the process.
Encourage team discussions right inside help desk tickets to deliver faster and more consistent customer support. In addition, you can monitor the performance of your knowledge base articles. For instance, you can view the number of article views, likes, dislikes, etc.
Top Features of Freshdesk:
Create a customer portal to allow customers to track the progress of tickets
Generate metrics on customer onboarding, subscription renewals, and more
Avoid sharing duplicate replies with collision alerts
Deliver consistent and smart replies with AI-powered chatbots
Automatically track the time spent on resolving support tickets
Pricing:
Starts at $19/user/month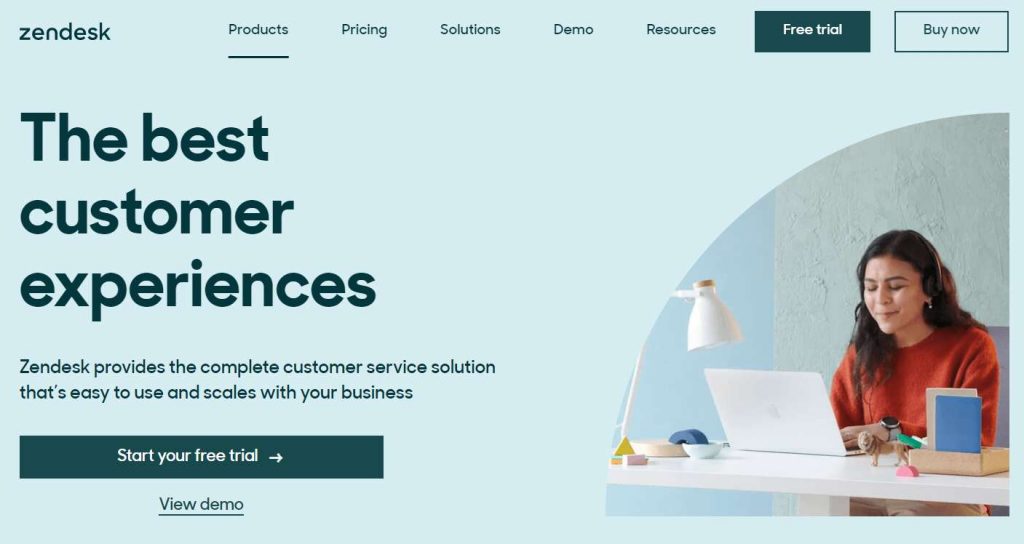 Zendesk is another impactful tool that is used by thousands of businesses and enterprises. You can meet your customers on the channels they love the most – messaging, email, social, live chat, and voice.
Zendesk helps you set up smart answer bots to tackle common customer service queries. Moreover, its AI offers agents key insights and suggestions to speed up the issue resolution process.
Top Features of Zendesk:
Enhance productivity with built-in intelligent routing
Integrate with hundreds of business tools and applications
Let bots collect important customer information like name, email, issue type, etc.
Built an integrated help center to encourage self-service
Monitor customer service requests and complaints by different channels
Pricing:
Starts at $49/user/month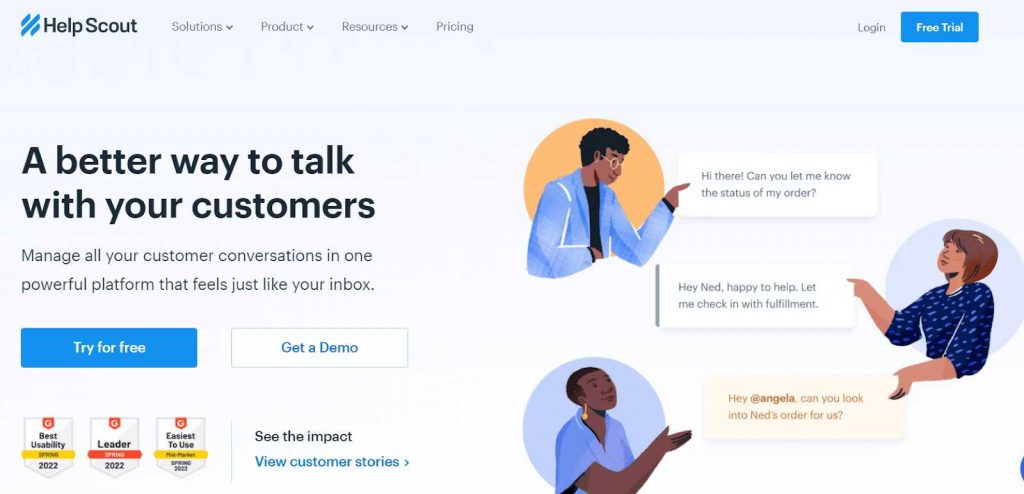 Help Scout comes with a simple user interface (UI), more like a standard email inbox. You can automate mundane and repetitive tasks to enhance your team's productivity by up to 52%.
Help Scout helps you create knowledge base articles in simple steps. It's easy to add text, images, hyperlinks, tables, and videos to articles and customize your SEO details.
Top Features of Help Scout:
Tag customer conversations to never miss an important message again
Identify your top-performing knowledge base articles
Create a searchable library of saved email templates
View a customer's past conversations, contact information, etc., in real-time
Leverage native mobile apps for Android and iOS
Pricing:
Starts at $20/user/month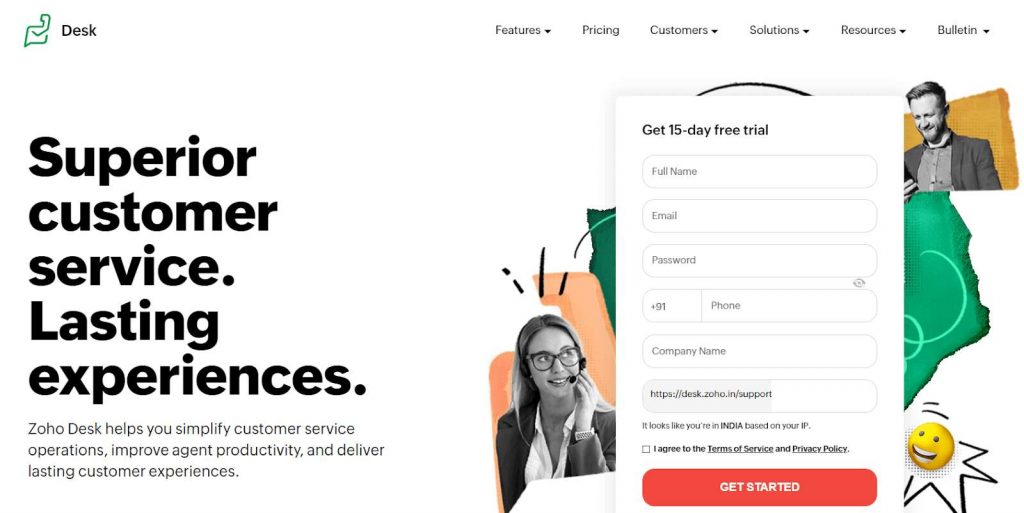 Zoho Desk is a cloud-based customer support software that allows businesses to manage customer requests and issues across multiple channels, such as email, social media, chat, phone, and web forms.
The software is highly customizable and can be integrated with other Zoho apps and third-party tools to streamline workflows and enhance customer experience. Zoho Desk is designed for businesses of all sizes and industries and offers flexible pricing plans to fit different needs and budgets.
Top Features of Zoho Desk:
Interact with customers in an instant with live chat
Resolve tickets on the move with Android and iOS mobile apps
Understand the emotions behind every message with sentiment analysis
Integrate Zoho Desk with Zoho CRM for personalized support
Create agent roles and permissions for better distribution of work
Pricing:
Starts at $12/user/month
Read More – Zoho Desk Alternatives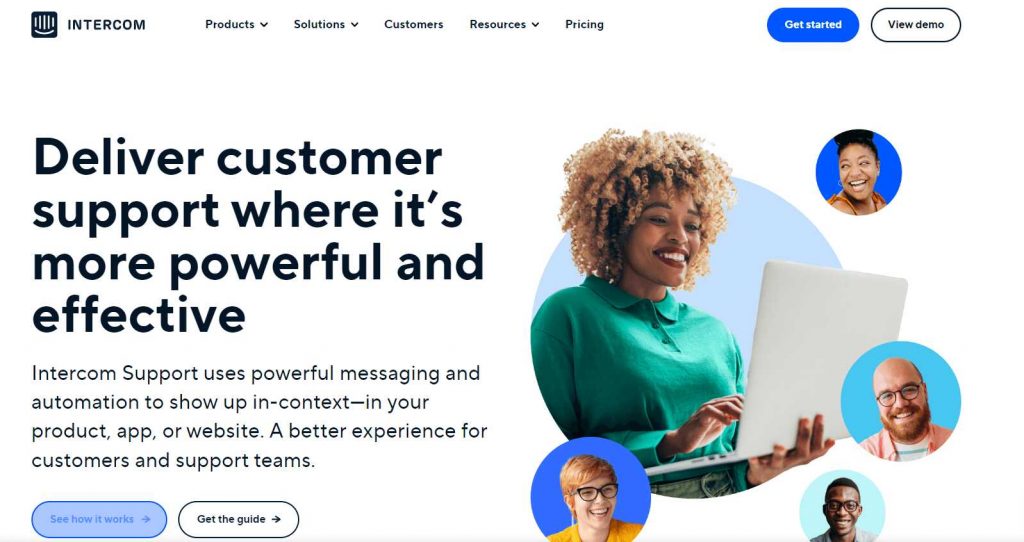 Intercom is a popular customer support software that allows small business owners to communicate with their customers in a personalized and efficient manner. To enhance the customer journey, the tool offers features such as live chat, a knowledge base, a ticketing system, and marketing automation capabilities.
With Intercom, businesses can manage customer conversations, automate routine tasks, and analyze customer data to provide a seamless customer experience. Moreover, multiple customization options help you mold the software according to your needs.
Top Features of Intercom:
Give customers the option of self-service or live human support
Promote self-service with an integrated knowledge base
Track the impact of your support team with relevant metrics
Support your audience across WhatsApp and Instagram
Integrate with your favorite CRM, social channels, and reporting tools
Pricing:
Get in touch with the company for a quote.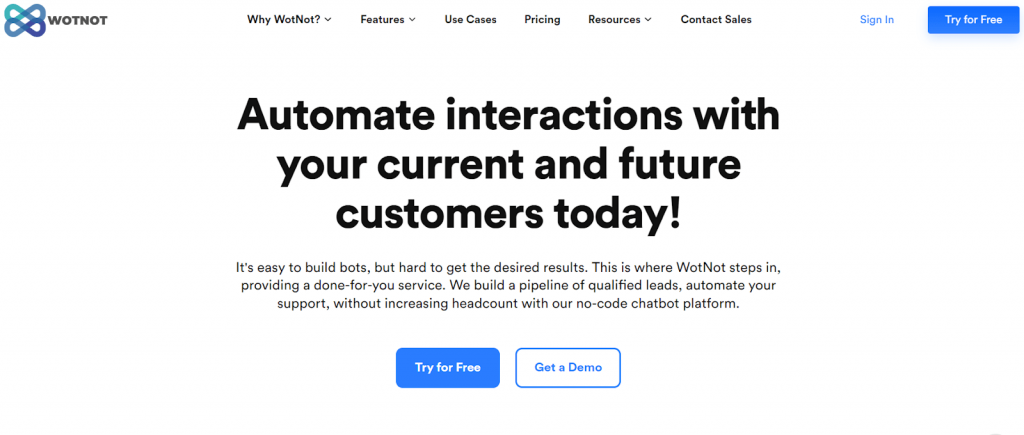 WotNot is an interesting tool that can help your business build powerful customer service chatbots. With this no-code platform, you can create bots to assist customers 24×7.
By creating FAQ bots, your team can eliminate the burden of answering repetitive customer service queries. In addition, you can use WotNot to proactively collect feedback from your audience to monitor the customer experience.
Top Features of WotNot:
Proactively start conversations with prospects and existing customers
Develop chatbots for appointment booking
Reduce agent workload by automatically creating tickets from chat conversations
Build a WhatsApp chatbot to reach out to thousands of customers
Monitor the average conversation duration, engagement rate, and other metrics
Pricing:
Get in touch with the company for a quote.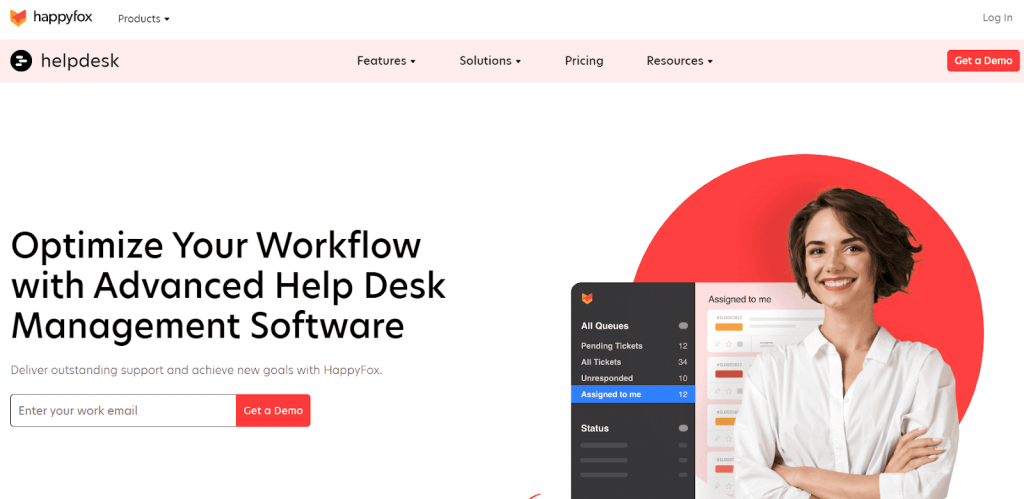 HappyFox can be used to enhance customer service for small business owners. With powerful automation features, you can increase productivity and bring order to your support process.
HappyFox helps you build an online help center to put your customers in the driving seat. Customers can access FAQ pages, help articles, guides, etc., at their own convenience and resolve their primary concerns on their own.
Top Features of HappyFox:
Main support standards by configuring service level agreements
Trigger surveys at the right time to capture customer insights
Share your knowledge base content over social media
Support your global audience in over 30+ languages
Integrate HappyFox with Jira, Salesforce, and Shopify
Pricing:
Starts at $26/user/month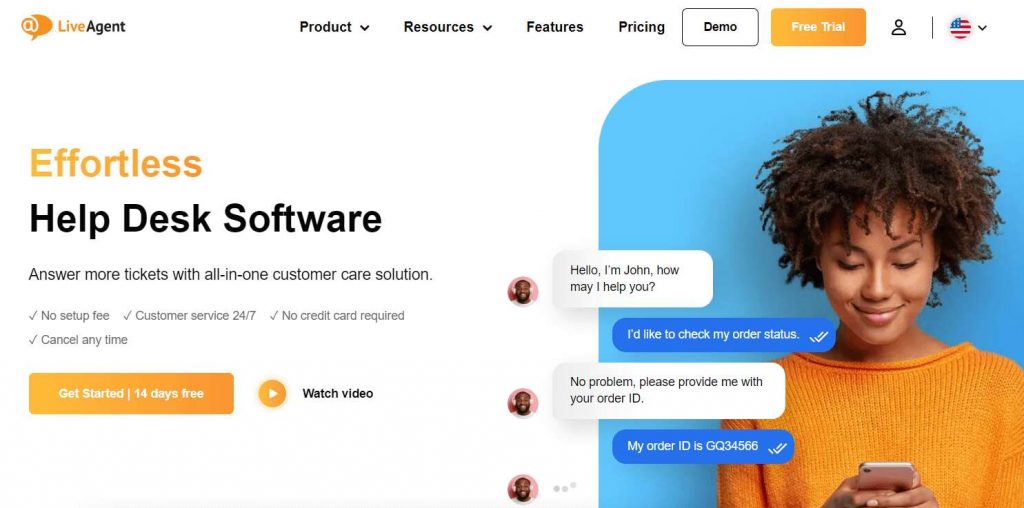 LiveAgent is an all-in-one customer service platform that can help your team support customers via email, live chat, web forms, social media, and other channels.
As a free customer service software, LiveAgent can be easily connected to your social media channels, such as Instagram, Facebook, Twitter, and Viber. Moreover, you can create a collection of pre-written answers for common customer service scenarios and speed up your response times.
Top Features of LiveAgent:
Use internal notes to write down important information about tickets
Capture important ticket details with contact forms
Grab website visitors' attention with proactive chat invitations
Enhance user engagement with a customer portal and online forums
Create SLAs for ticket response and resolution times
Pricing:
Starts at $9/user/month
Read More: Best Live Agent Alternatives for 2023
The Different Types of Customer Service Software for Small Business
There are different types of customer service support software in the market that work with one common goal – to help businesses deliver delightful customer service. Let's check them out right away.
1. Help Desk Software
Help desk software is a business tool for managing customer service and technical support conversations. Help desk software typically includes features such as ticket tracking, live chat, chatbots, and reporting/analytics. These tools help support agents manage customer inquiries and resolve issues in an efficient and timely manner.
Key features of help desk software:
Ticket prioritization
Omnichannel communication
Parent-child ticketing
Ticket labels
Read More: 10 Benefits of Help Desk Software & Ticketing System
2. Shared Inbox Software
A shared inbox software is a tool that enables multiple team members to manage group email accounts simultaneously. This type of software is commonly used by customer service teams to manage incoming customer emails, as well as by sales teams to manage leads and client communication.
Key features of shared inbox software:
Email management
Agent collision detection
Canned responses
Internal notes
Read More: 10 Shared Inbox Best Practices For Email Success
3. Phone Support Software
Phone support software, also known as call center software, is a type of software application that is designed to help businesses and organizations manage their telephone-based customer support operations. Phone support software may also integrate with other customer support tools, such as CRM, help desk software, and live chat, to provide a unified view of customer communication across multiple channels.
Key features of phone support software:
Skill-based call routing
Call monitoring
Call recording
Interactive voice response (IVR)
Read More: How to Improve Customer Experience in Call Centers
4. Knowledge Base Software
Knowledge base software provides a centralized repository of information that can be easily accessed by employees, customers, or any other user who needs to find answers to specific questions or problems. The software typically allows customer service professionals to create articles, tutorials, FAQs, and other types of content and categorize them for easy navigation and search.
Key features of knowledge base software:
Help center templates
Multilingual capabilities
Seach engine optimization (SEO)
Text editor
Small Business + Better Support = Big Growth!
Every small business deserves to make it to the Fortune 100 list. But with average customer service, this can seem like a far-fetched dream. So how do you take your support to the next level?
With the right customer service solution, your small and growing business can provide better, faster, and more efficient support, leading to improved customer satisfaction, increased revenue, and greater operational efficiency.
You can look to invest in any one of the tools mentioned in this guide. However, if you wish to go for an affordable yet powerful solution, ProProfs Help Desk can be a safe bet. The tool is a popular choice among small business owners due to its easy user interface and features such as automated ticket routing, shared inbox, chatbots, CSAT surveys, and in-depth reports. Ready to delight your audience and grow your business?
Do you want a free Help Desk?
We have the #1 Online Help Desk Software for delightful customer support