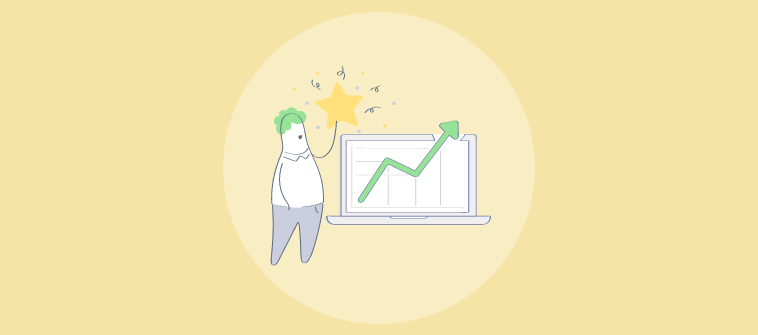 Customer success experts are always full of ideas to acquire new customers, retain existing ones, and create other strategies to drive growth and value.
But sometimes, ideas are not sufficient. You need innovation in the form of the best customer success software. A tool that can help you overcome the various challenges of the customer journey – from onboarding to exit.
As your team grows, it becomes all the more important to adopt customer support software to ensure everyone is on the same page. Such a tool will help you gain a 360-degree view of your customers and paint a clear picture of the customer journey.
In this blog, we will explore the leading customer success tools that will help you reduce effort and build meaningful relationships.
Let's go!
What is Customer Success Software?
Customer success software is a business tool that offers a 360-degree view of customer communications, feedback, behaviors, product-usage patterns, health scores, and other relevant data points.
You can easily integrate your customer success management software with your CRM, email accounts, project management tool, survey platform, etc., to get one unified view of your customers. Furthermore, your customer success team can understand which strategies are working and where they need to make relevant adjustments.
Benefits of Customer Success Software
Without a robust tool to monitor customer communications and behavior, all your customer success efforts can seem like a drop in the ocean.
Let's explore the top benefits of customer success software to understand how it can lead to a transformative impact on your business.
1. Manage All Customer Communications
Customer communications can come from all directions. While some prospects can inquire about your product via the live chat window on your website, others might simply drop an email.
In such a case, you need to solid tool to manage all your customer communications in one place. Your team members can track every message, assign it to relevant staff, prioritize urgent issues, and share quick responses.
Moreover, you can even view the complete conversation history of every customer and attempt to predict the reason for present contact.
2. Keep Team Members on the Same Page
If there is no centralized system to monitor customer messages, health, or behavior, everything can go haywire. Your customer success team will have no idea what strategies they need to retain customers or check the success of existing strategies.
However, with the best software for customer success, your team members can quickly see what actions they need to take to delight customers. They can respond to customer queries, capture their feedback, see who is working on which client, and collaborate across the organization.
3. Monitor the Customer Experience
Companies that adopt a customer experience mindset attract 4-8% higher revenue than their competitors in the industry.
Customer success software allows you to monitor the leading customer experience metrics such as CSAT (customer satisfaction), NPS ( net promoter score), CES (customer effort score), and so on. Thorough and regular tracking of these metrics will help you identify the aspects that customers hate and what can be done to enhance the CX.
Every brand is obsessed with customer experience. In fact, it is more common to receive a survey from a brand than a text message from an old friend.
4. Reduce Customer Churn
According to a 2020 Statista report, the general retail industry witnessed a customer churn rate of 24%. Whereas, the online retail industry had a churn rate of 22%.
Although churn is inevitable, there are a lot of "right" things a business can do to reduce this number. One such strategy is using the best customer success software. This tool can offer you information about the overall customer health and product or process-related feedback.
With the right data at your fingertips, you can identify at-risk customers, take necessary steps to win them back, and increase customer retention rate.
Read More: What is Customer Churn? Learn About Types & Effects of Churn
Top Features of Best Customer Success Software
Every customer success tool is known for its unique feature set. However, there are some fundamental features that you should consider.
Health Scores: Health score is a metric used by customer success experts to understand whether customers are at-risk or healthy. This gives your team better visibility so that they can take the necessary steps to curb customer churn and upsell to healthy customers.
Automation Capabilities: Powerful automation features can help you save time and enhance productivity. For instance, you can automatically assign tasks to team members who are the best suited for the job. Similarly, you can even share automated alerts or notifications with staff to keep them updated about the customer journey.
Chatbots: Chatbots is another remarkable feature that you will find in the best customer success platforms. You can customize your chatbots according to your needs and make them available 24×7 on your website. Bots can help you generate leads and assist customers with their common queries such as appointment confirmations.
Self-Service Knowledge Base: For optimum customer success, you need to build the right platform for self-service. A great example of this is a dedicated knowledge base that can empower your customers to resolve their common problems using a collection of FAQs, articles, videos, and other resources.
CSAT, NPS Surveys: To monitor your customer experience, you must share relevant surveys with customers. For instance, you can share the CSAT survey to gauge customer satisfaction pertaining to your service agent, product, onboarding experience, etc. Similarly, NPS can help you identify your most loyal customers.
Customer Engagement Analytics: The best CSM software provides customer engagement analytics to monitor the engagement levels of your audience. For instance, you can monitor their engagement on different communication channels (social media, email, live chat, etc.) and see how often they use your product or service.
List of 15 Best Customer Success Tools
With hundreds of options available in the market, choosing "the perfect tool" can prove to be an uphill battle. Here are 15 customer success software options to build stronger customer relationships.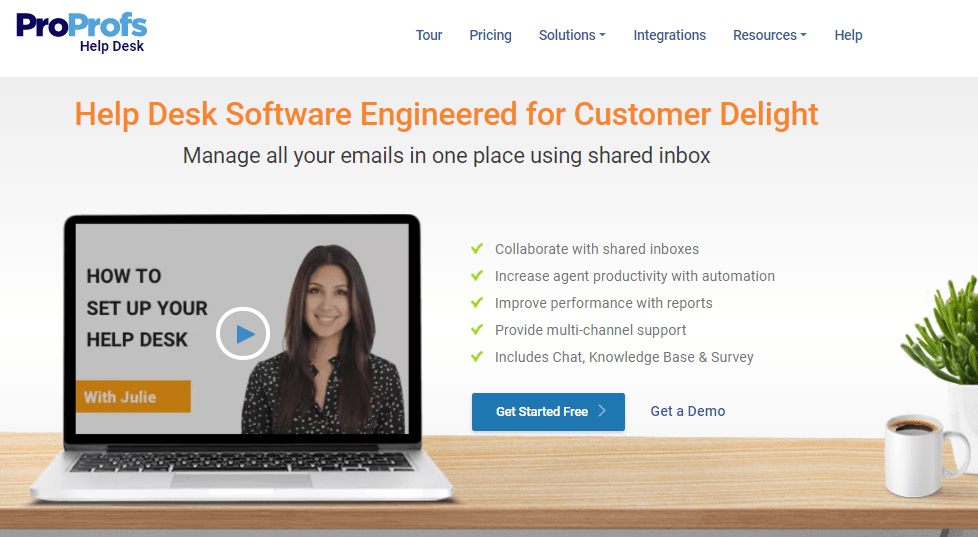 ProProfs Desk is the best free customer success software that helps you keep a firm track of all customer communications. You can interact with customers via email, live chat, web forms, help center, and develop powerful chatbots to offer round-the-clock assistance.
Moreover, ProProfs Help Desk allows your team to monitor the CX at every stage of the customer journey. Right from nurturing to onboarding to brand advocacy, you can collect feedback with insightful surveys. You can use their pre-design templates to monitor CSAT, NPS, customer engagement, and other relevant metrics.
Top Features of ProProfs Help Desk:
Attract the attention of website visitors with proactive chat invitations
Create a knowledge base and upload onboarding videos, guides, documentation
Collaborate across the organization with private notes
Monitor the customer experience using CSAT, CES, and NPS surveys
Integrate with popular CRM tools such as Salesforce and MS Dynamics
ProProfs Help Desk Plans Include:
Free Trial: 15 days (premium trial)
Starts at $20/agent/month (billed annually).
What we liked: ProProfs Desk is quite easy to use; your team can get up and running in no time.
What could be better: The tool lacks integrations to social media platforms.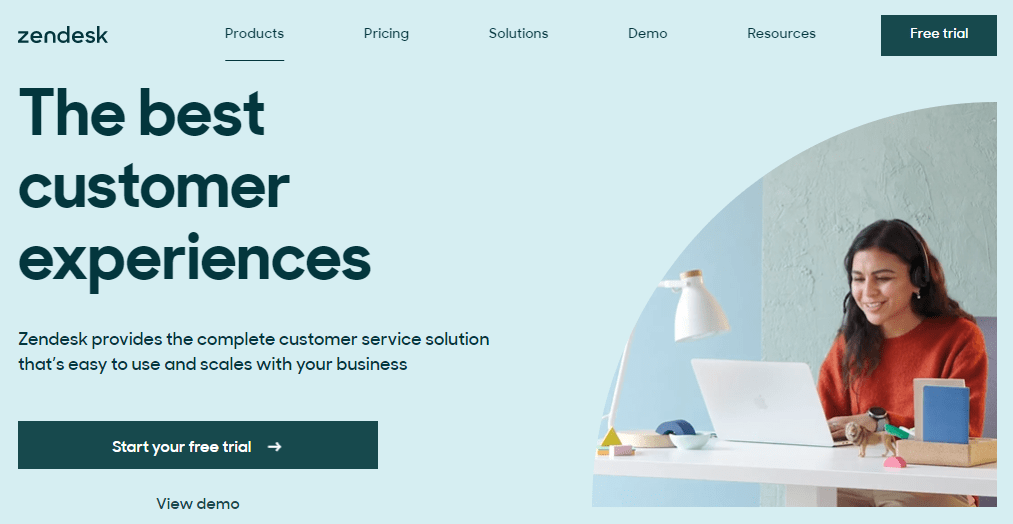 Zendesk is a popular customer success solution that makes it easier to communicate with customers and assist them with their problems. With the help of powerful automation tools and reporting capabilities, you can set your team up for success.
For ultimate customer success, self-service is really essential and Zendesk has worked on this area. For instance, you can create a dedicated help center for your audience and ensure relevant support content is available 24×7. Moreover, you can even create a dedicated community forum where customers can interact with each other and answer questions.
Top Features of Zendesk:
Create powerful answer bots and assist customers with their basic queries
Leverage customer data to deliver personalized solutions that are tailored to their needs
Get insights into team performance with reports and analytics
See when a customer is typing a live chat message and respond faster
Allow multiple agents to contribute to knowledge base articles
Zendesk Plans Include:
Suite Team: $49/agent/month
Suite Growth: $79/agent/month
Suite Professional: $99/agent/month
What we liked: You can easily integrate your help desk with hundreds of apps available in the Zendesk app marketplace.
What could be better: Zendesk is overly priced and may not be the best bet for startups or small businesses.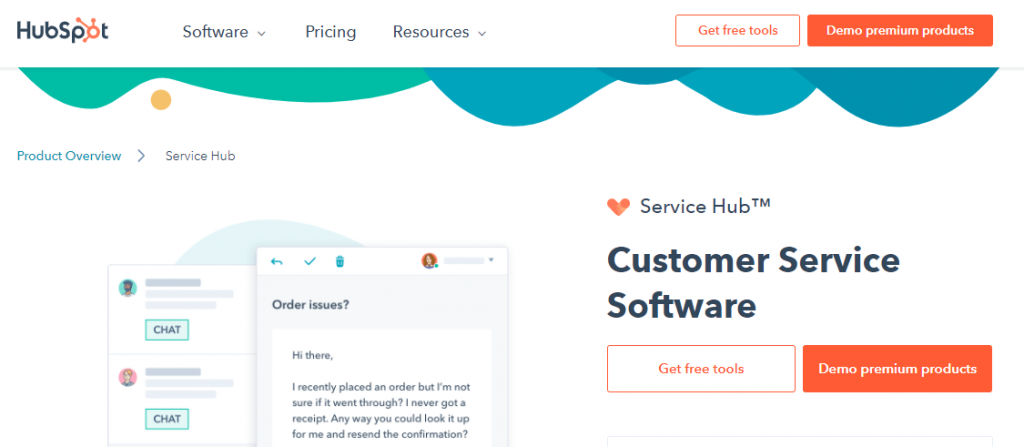 As one of the best cloud customer success management software, HubSpot helps you streamline customer-centric processes such as onboarding, support, and retention. You can easily convert commonly asked questions into an online library of help articles, videos, and guides.
For effortless customer onboarding and assistance, you can use HubSpot to design interactive videos. For instance, you can create personalized support videos for customers and upload them to email replies or tickets.
Top Features of HubSpot Service Hub:
Create a customer portal and allow customers to track the progress of their tickets
Prioritize critical issues first and delight customers
Assign scores to contacts to monitor your customers' health
Deploy CSAT, CES, and NPS surveys to monitor the customer experience
Access free educational content to make the most of your customer support tool
HubSpot Service Hub Plans Include:
Free: Forever free plan
Starter: $45/month (2 users)
Professional: $360/month (5 users)
Enterprise: $1200/month (10 users)
What we liked: You can integrate your help desk with the HubSpot CRM tool and get a complete picture of all customer interactions with your brand.
What could be better: HubSpot's pricing can be quite confusing for new users.
Strikedeck is another renowned customer success platform that offers a unified dashboard to track each and every customer. The tool allows you to connect with customers on popular communication channels such as emails, surveys, and Slack.
Now, every expert will tell you that for optimum customer success, you need to segment your audience. Strikedeck has banked on this idea as it allows your business to segment customers based on attributes such as geography, profitability, utilization, vertical, and more.
Top Features of Strikedeck:
Share reports with key stakeholders, executives, and even customers
Assign different health scores to customers based on different insights
Integrate with Salesforce, Zendesk, and multiple other tools
Create trigger-based automation so that your team is prepared for critical situations
Export reports in PDT, PPT, Word, and other formats
Strikedeck Plans Include:
The pricing details are not mentioned for this tool.
What we liked: The tool offers great resources for users in the form of customer success guides, templates, training materials, and more.
What could be better: Strikedeck should offer clear and transparent pricing details on its website to win the trust of prospective customers.

HelpScout is an all-in-one communication platform that helps you build better customer relationships. Your business can interact with your audience through email, help centers, live chat, proactive messages, and more.
With the shared inbox feature, HelpScout allows you to handle multiple inboxes for different teams and brands. Agents can see who is working on which issue and avoid sharing duplicate replies with customers. In addition to this, you can enhance productivity by creating saved email replies for common situations.
Top Features of HelpScout:
Recommend help articles based on the page a visitor is viewing
Tag conversations for better visibility and improved ticket organization
Share bulk replies to customer issues or requests that are similar in nature
Receive real-time notifications via email, browser, or mobile device
Monitor customer satisfaction ratings to improve your service
HelpScout Plans Include:
Standard: $20/user/month
Plus: $35/user/month
Company: $60/user/month
What we liked: The tool comes with over 75+ keyboard shortcuts that will help your team perform quick actions.
What could be better: The Standard plan is limited to only 3 mailboxes and you will have to pay extra for additional mailboxes.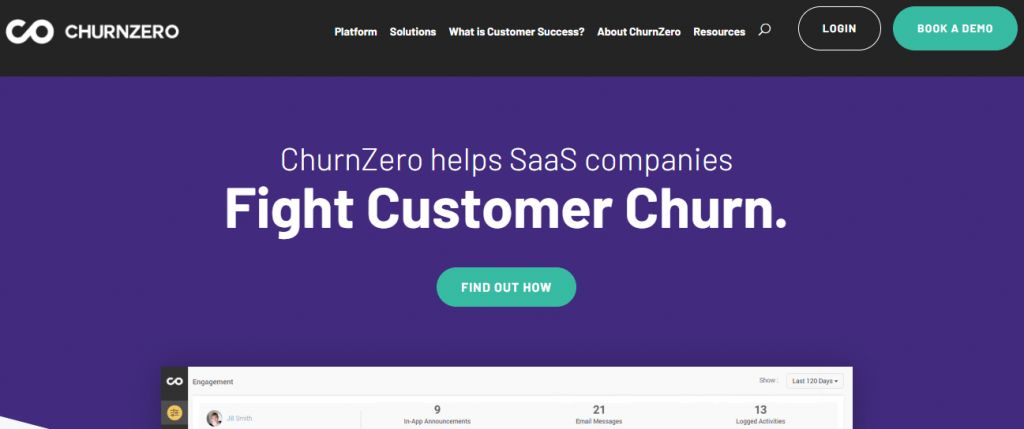 ChurnZero helps SaaS businesses put customer success at the center of everything they do. You can gain a holistic view of every customer associated with your brand and monitor the entire customer lifecycle.
As a leading client success software, ChurnZero provides your team with all the insights needed to forecast renewals. In addition to this, your customer success team can easily identify accounts that present great upsell and cross-sell opportunities.
Top Features of ChurnZero:
Get a complete picture of your customers' health and renewal likelihood
Leverage in-app messaging to share targetted messages with customers
Gauge customer sentiments and satisfaction levels with the help of surveys
Generate reports to understand SaaS product usage
Integrate with the leading CRM tools such as Salesforce, Zoho CRM, and HubSpot
ChurnZero Plans Include:
The pricing details of this tool are not available.
What we liked: You can create walkthroughs for your free trial users and convert them into paid customers using targeted in-app messages.
What could be better: ChurnZero is designed to meet the needs of SaaS companies. So if you are not a SaaS brand, you might want to skip this tool.
InMoment is another remarkable tool that can help your business monitor user feedback, customer experience, employee experience, and other relevant experience metrics. Your team can easily identify high-impact moments to connect and grow the most valued customers.
InMoment helps your business realize what users think about your product. You can share fast, hyper-targeted NPS and CES surveys with customers to monitor the product experience. You can even prioritize the fixes and features that customers demand and improve your products.
Top Features of InMoment:
Collect customer feedback on multiple channels and at multiple touchpoints
Monitor your social media reviews as well as brand mentions
Integrate with CRM tools such Salesforce and MS Dynamics
Create, schedule, and share reports with key stakeholders
Run employee engagement campaigns and reduce employee churn
InMoment Plans Include:
InMoment offers three plans Core CX, Enterprise, and Custom. For pricing details, you need to make a request on their website.
What we liked: The tool is quite easy to use and you can easily pull up reports from your surveys.
What could be better: The tool does not offer transparent pricing information on its website.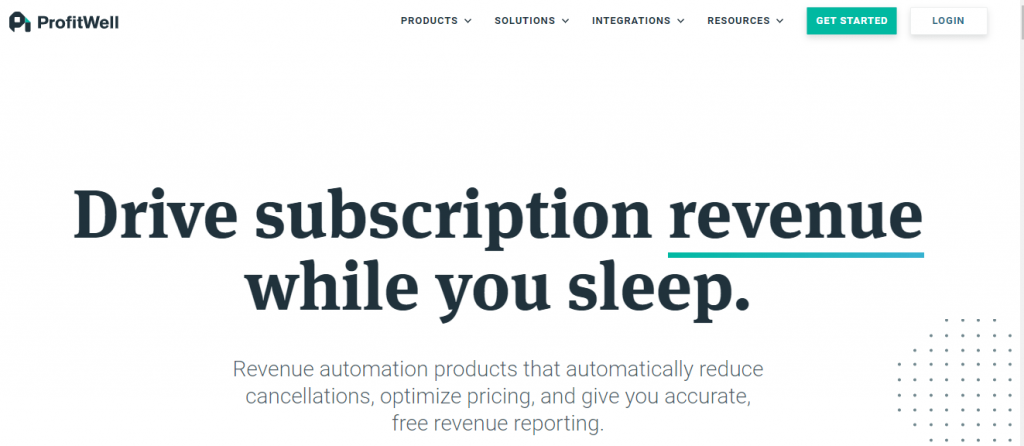 Planhat is one of the best customer success tools that offers a 360-degree view of your customers. You can manage all your customer conversations, product usage trends, health scores, billing details, and other information in one place.
Planhat also makes customer onboarding an effortless process. For example, during the onboarding process, you can collaborate with customers and share playbooks, success plans, and other helpful material.
Top Features of Planhat:
Spot negative usage trends and prevent customer churn
Monitor changes in customer health scores and take necessary actions
Educate your customers by sharing usage dashboards with them directly
Track product issues and feature requests shared by customers
Easily customize your NPS and CSAT surveys
Planhat Plans Include:
Planhat offers three plans – Basic, Professional, and Enterprise. You need to contact their sales team for the exact quote.
What we liked: Planhat allows you to send reminders to customers who did not respond to your survey. This is a great way to increase your survey response rates.
What could be better: This tool comes with a steep learning curve.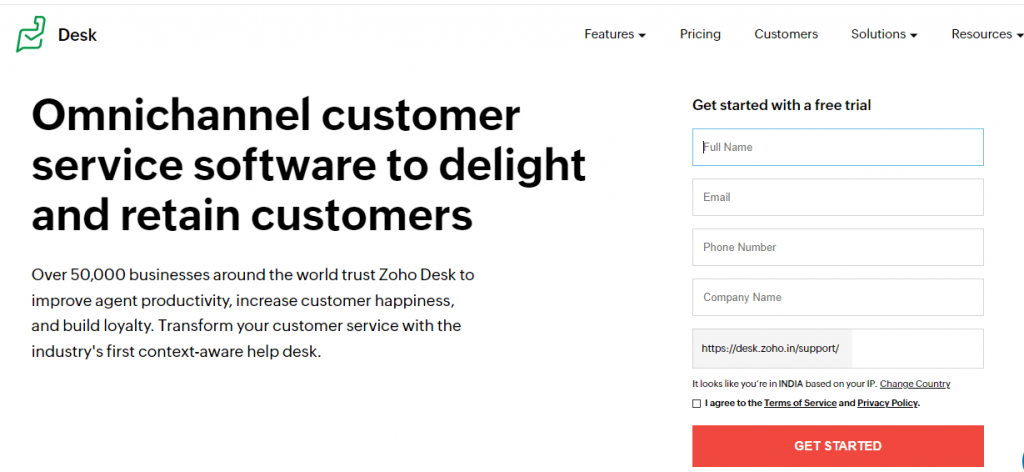 Zoho Desk is a free customer success tool that can help you enhance team productivity and increase customer happiness. You can connect with customers on their favorite channels, whether they reach out to you via email, live chat, phone, or social media.
The tool allows you to create a sophisticated knowledge base for your website, SaaS product, or mobile app. This is a great way to ensure customers can resolve basic queries at their own pace and reduce support call volumes.
Top Features of Zoho Desk:
Create an online community forum and allow customers to engage in QnA
Keep agents informed with the help of automated notifications
Integrate with Zoho CRM and gain complete customer information in one place
Manage SLAs and escalate issues when SLAs are not met
Customize your help center to match your brand
Zoho Desk Plans Include:
Free: Forever free plan, limited to 3 agents
Standard: $12/agent/month
Professional: $20/agent/month
Enterprise: $35/agent/month
What you will like:
Zoho Desk helps you create a distinct help center for your different brands. This will help your business support a larger audience.
What could be better: The Standard plan lacks crucial features such as round-robin ticket assignment, agent collision, and more.
Read More – Zoho Desk Alternatives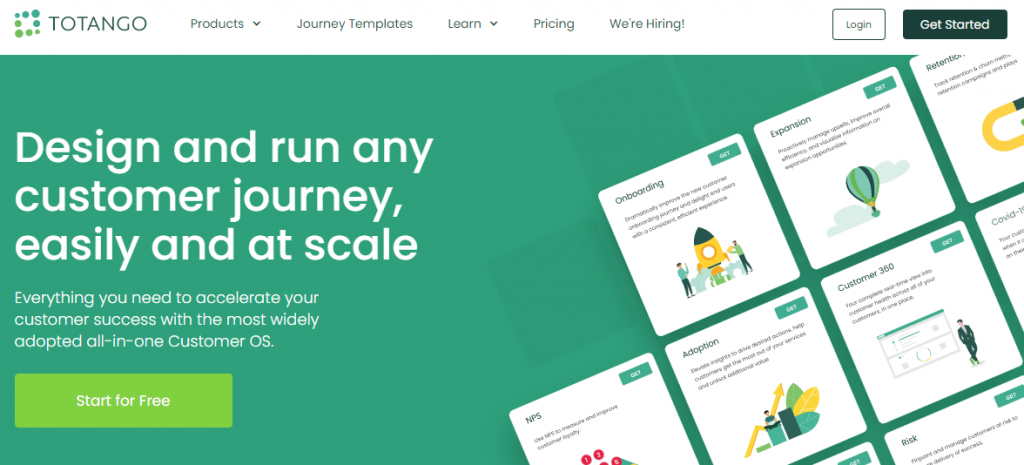 Totango helps you visualize and build customer journeys for your diverse audience. For instance, your team can leverage their ready-to-use journey templates or even choose to build one from scratch.
As an essential customer success software, Totango helps you automate workflows and deliver hyper-personalized communications with each and every customer. You can even segment your customers by attribute, and further sort each grouping by health distribution or other columns.
Top Features of Totango:
Monitor customer health scores to understand consumer engagement
Track the percentage of health improved or declined for a given period
Allow customers to track their progress or goals using a customer portal
Engage with customers based on their stage in the journey
Integrate with tools such as Dropbox, Jira, Zendesk, and more
Totango Plans Include:
Community: Forever free
Starter: $199/month (2 users)
Growth: $899/month (10 users)
Enterprise: Custom plan
What we liked: The tool offers customer journey templates for multiple stages such as onboarding, adoption, renewal, expansion, etc.
What could be better: The Growth plan is offered for a minimum of ten users. So if you have a small team, you will have to settle for lower-priced plans.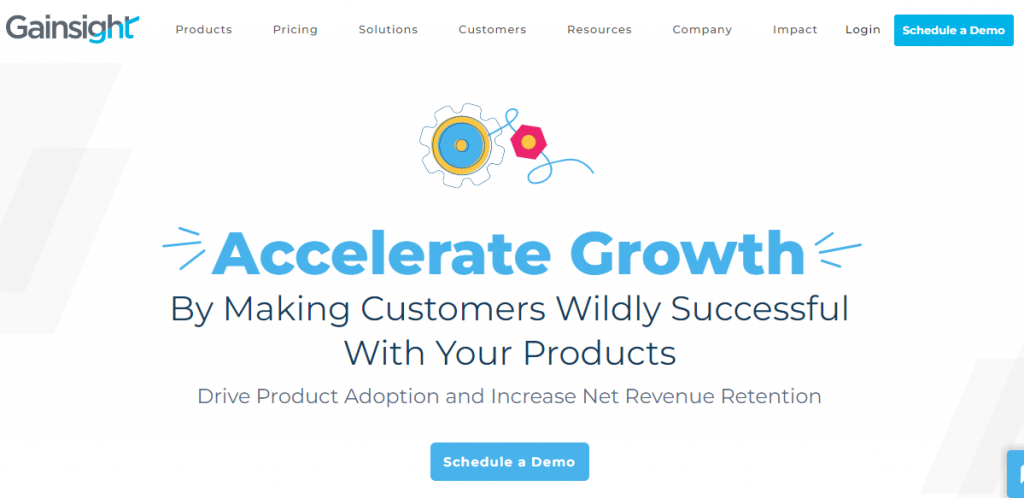 If you are looking to enhance customer onboarding and product experience, Gainsight is a tool that deserves to be on your list. You can get a holistic view of your customers, understand trends and risks, and empower your team members to perform actions that drive results.
In addition to this, you can monitor your customer's health with the help of a robust health scoring framework. This framework helps your team spot at-risk customers and prevent churn. You can also realize which customers present the best opportunities and grow your revenue.
Top Features of Gainsight:
Leverage powerful analytics to uncover customer insights and trends
Share proactive alerts and step-by-step playbooks with customers
Gather feedback using CSAT, NPS, and other customer surveys
Accurately predict your renewals and revenue
View all the contacts within a customer and their influence
Gainsight Plans Include:
Pricing information is not available for this tool.
What we liked: You can make the most of a survey question library and templates that fit seamlessly into your user experience
What could be better: Gainsight does not offer clear pricing details on its website.
Accelo is another customer success management software that is designed for service businesses. You can easily convert your email requests into tickets using a shared inbox and allow support staff to quickly resolve client issues.
With in-built project management tools, you can easily plan, track, manage, and deliver client work on time and within budget. You can clearly communicate with your clients, share accurate budget details, and maintain proper resource utilization.
Top Features of Accelo:
Access client projects and communications in real-time
Share detailed invoices with clients and conduct accurate billing
Create insightful reports to understand budget usage, profit margins, and more
Identify your most important and profitable clients
Integrate with Salesforce, HubSpot, MailChimp, PayPal, and other tools
Accelo Plans Include:
Plus: $24/user/month
Premium: $39/user/month
What we liked: A great aspect about Accelo is that you can automatically log the time spent of client emails or meetings and calculate billable hours.
What could be better: Managing your emails can be challenging as you might encounter a lot of missed emails.
Intercom offers an intuitive platform to engage your customers no matter where they are based. Right from one-off personalized messages to entire marketing campaigns that help you generate reliable leads – you can achieve a lot with this tool.
To improve the onboarding experience, you can share proactive messages with customers and develop engaging product tours. In addition to this, you can make the most of targetted announcements to inform customers about new features, product updates, sign-up benefits, and other crucial details.
Top Features of Intercom:
Develop powerful chatbots that can assist customers with their basic questions
Create customizable banners for the top or bottom of your website
Test messaging series to understand which campaigns perform better
Share proactive messages with customers during problems or unanticipated events
Monitor customer experience and loyalty via NPS surveys
Intercom Plans Include:
Intercom does not offer pricing information on its website.
What we liked: This tool can work wonders for you if you wish to create product tours or share targeted messages with your app users.
What could be better: Intercom offers multiple feature add-ons that can make its pricing all the more complicated.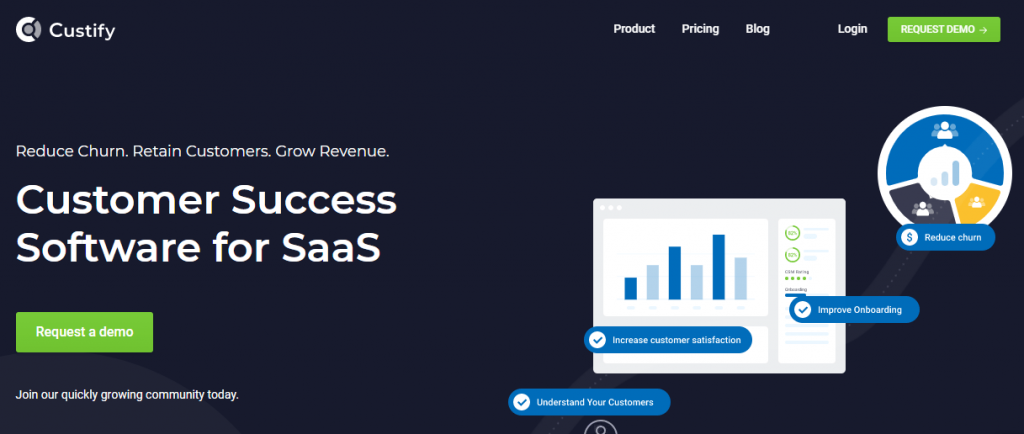 Custify is one of the best customer success software platforms that is designed for SaaS businesses. Now, we all know that SaaS companies are heavily dependent on customer signups and smooth onboardings. Custify helps you monitor your signups and enhance customer satisfaction during the onboarding process.
With the help of this tool, you can identify your top-performing accounts, explore upsell opportunities, and grow your business. Moreover, with the help of automated tasks, your team members will know what tasks they need to complete to attain customer success.
Top Features of Custify:
Monitor customer engagement with the help of accurate health scores
Connect Custify with the leading support, CRM, and analytics tools
Receive notifications in the form of Slack messages, email, or in-app messages
Monitor product usage and see when customers have reduced their usage
Customize your survey questions based on your research needs
Custify Plans Include:
The pricing information isn't available for Custify.
What we liked: You can identify clients whose trial is about to expire and connect with them right away.
What could be better: The tool lacks a global revenue dashboard. This means you will not be able to track revenue from international clients.
ProfitWell offers all the data you need to grow your subscription business. You can segment your customers based on their location, gender, usage, and multiple other pre-designed segments. Easily understand which segments are driving growth or detracting from your business.
ProfitWell also does a great job of offering insights related to customer churn. You can easily track relevant metrics such as revenue retention, MRR churn, delinquent churn, etc., to enhance retention and make customers stay for a long time.
Top Features of ProfitWell:
Identify areas where you can increase customer retention
Use ProfitWell's mobile app for iOS and Android when on the move
Conduct a pricing audit to optimize the price of your products
Integrate with Braintree, Chargebee, Intercom, and other business tools
Monitor your trial users and increase your conversion rate
ProfitWell Plans Include:
ProftWell Metrics: Forever free
Retain: based on revenue recorded
Recognized: Starts at $1k/month
Price Intelligently: Starts at $15k/month
What we liked: With this tool, you can proactively engage with users who are most likely to downgrade.
What could be better: Their pricing model is expensive, confusing, and needs improvement.
Choose the Best Customer Support Software
Globally, customer success teams are adopting rapid automation to speed up work, track customer experience, as well as product usage patterns. A customer success tool can prove to be a handy partner that helps your team achieve these goals and become more customer-centric.
The 15 tools shared in this blog will surely help you realize what features or capabilities to look for. But, how do you decide which one is the best? Well, that depends on a number of factors. Before committing to a tool, make sure it offers all the features you need and falls within the budget. Reporting, automation, user interface, integrations, etc., are other important aspects you should consider.
If you are looking for an easy-to-use yet powerful customer support platform, you can try ProProfs Help Desk. A single tool to manage all customer communications and capture rich insights into customer behavior.
FAQs on Customer Success Software
What is customer success in B2B SaaS?
For B2B SaaS companies, customer success is all about understanding the challenges faced by businesses, focusing on growth opportunities, assisting with product adoption, and facilitating proactive and consistent communication.
Why is customer success important in SaaS?
Earlier, software companies could simply sell a product and make a profit. However, businesses that follow the Saas model, need to ensure the consistent satisfaction of all customers for rapid growth. Customers need to keep getting value out of your SaaS product otherwise they will cancel the monthly/annual subscription and switch to a competitor.
What tools does a customer success manager use?
A customer success manager can use multiple tools to achieve their set targets or goals. For instance, they can use a customer support software to track customer complaints or feedback tools to capture customer feedback in real-time.
Do you want a free Help Desk?
We have the #1 Online Help Desk Software for delightful customer support