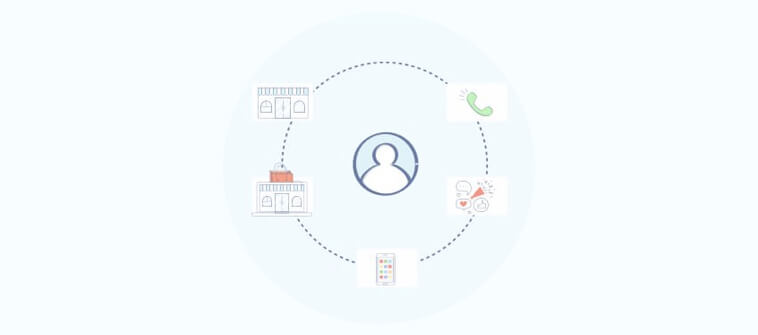 There is only one boss: the customer. He can fire everybody in the company, from the chairman on down, simply by spending his money somewhere else. – Sam Walton
This statement by Sam Walton is probably one of the best descriptions of the modern market conditions. It pretty much explains the value of customers and gives a strong hint of having a customer-oriented culture.
So, where do you start?
We will address some related questions in this article. So, read on and get to know how to develop a genuine customer-responsive culture, reduce customer churn rate, and take customer retention to a higher level.
What Is Customer-Oriented Culture?
Simply put, a customer-oriented culture makes customer experience an essential part of business strategy, values, and vision. More precisely, a customer-oriented business is primarily fueled by customers' satisfaction, loyalty, and positive feedback.
No business can stay in business without customers. How you treat or mistreat them determines how long your doors stay open – Businessman and Author, Harvey Mackay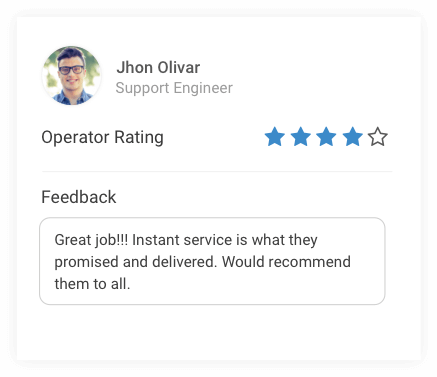 Now, while we usually relate a customer-responsive culture with well-developed customer service and the use of adequate customer support software. However, the truth is your business culture orientation is built in a more complex way. In other words, it represents the consequence of all your ways of doing business.
So, apart from a support strategy, it's also impacted by:
the conscience and responsibility of all your employees,

your management style,

the flexibility of your internal structure, etc.
To keep your business based on customer-oriented culture, make your customers the main focus not only for your support staff but also for all other departments. And in the following sections, we will discuss why you should build a customer-oriented culture and how to do it successfully.
The Importance of Customer-Oriented Culture
To be genuinely motivated while building a customer service culture, you should be aware of all the benefits and efficiencies that this process leads to. So, let's check some of the most important positive effects of building a customer-responsive culture:
#1: It Does Magic for Your Customer Retention
If your way of doing business is all about catering to your customers' needs and keeping them satisfied, they are more likely to stay with you and ignore other brands.
So, strive to provide customers impeccable service experience, so they don't even have to think about your competitors' products or services. In addition, be mindful of customer orientation, as it helps you put brakes on rising customer turnover rates and strengthens your customer base.
---
Recommended Read: 50+ Customer Retention Statistics You Should Know
---
#2: It Helps You Attract New Customers by Increasing Referrals
By means of a customer-oriented approach, you can keep your customers happy. And when you have a myriad of satisfied customers, the odds of positive WOM is likely to go up. This way, your business reputation improves among potential customers and also enhances your brand visibility in the market. As a result, your business performance improves significantly.
#3: It Increases Your Profits
A company nurturing customer-responsive culture has better chances of increasing profits, as it positively impacts customers' interest in your brand on a large scale and boosts the CSAT score.
So, yes, a customer-oriented culture is the key to selling your products or services to a large extent. And that's not all: people who love your brand don't only will recommend your business in their circle and rule out all available shopping options.
#4: It Facilitates Your Further Business Growth and Development
The collection of reliable feedback is another great way to build customer orientation for your business. And this is an especially important aspect if you're planning on growing and developing your business.
Customers' honest feedback can help you find improvement areas and pave the way for persistent business growth. In addition, you can make a distance with the negative consequences of making bad strategic decisions, which is equally important, isn't it?

#5: It Speeds up the Adoption of Your New Products
A well-developed customer-oriented culture promises a high retention rate, which, in turn, signals to unprecedented sales growth.
Practically speaking, with a loyal audience, you obtain a base of people willing to test your new products, provide the first feedback, become early adopters, spread the word about it, and increase your brand credibility and product visibility.
#6: It Makes Your Customers More Tolerant in Case of Mishaps
If your customers have already had numerous positive experiences with your brand, they are more likely to forgive you if something unpredicted or problematic happens.
They will be interested in giving you a second chance, and if you offer them some kind of compensation, they are more likely to accept it. So, you prevent churn rate from rising by developing a customer-oriented culture.
How to Create Customer-Oriented Culture
Here 8 Essential Steps for the Creation of Customer-Oriented Culture
The creation of customer-oriented culture requires a well-defined action plan that will help you undergo a thorough transformation. So, in order to ensure that your business is on the right track, you should bear the below-listed steps in mind:
#1: Put the Serious Effort Into Defining Your Target Market Thoroughly
Many companies struggle when changing their business orientation because of a poorly defined target market. But for a customer-oriented culture, you should pay a lot of attention while defining people you want to reach out to. Here's what you should do:
Analyze your current customer structure and look for similarities in different profiles;

Check the structure of your competitors' customers and try to target an overlooked or neglected niche;

List all the benefits that your products or services provide and then focus on prospects accordingly

Focus on factors like age, gender, education, income, location, etc. to categorize potential customers in a group-wise manner

Before creating an official market definition, double-check if the audience you're targeting is large enough to do business profitably.
#2: Recognize and Precisely Define Your Customers' Needs and Preferences
This step is exceptionally important, as it not only helps you know your customers better but also aids in increasing USPs of your products. This way, you're facilitating the establishment of a long-term relationship. Two best ways of getting to know your target audience and (potential) customers are:
Conduct timely group meetings

Monitor online activities (posts, comments, impressions, reactions…)
#3: Design and Produce Products That Meet Their Expectations
To offer such products or services that meet your customers' expectations, the design process should go through certain phases. So, after you've collected their feedback via group meetings or online, you should discuss your ideas with the departments in charge.
This way, all departments will give their own contributions to the creation of an impeccable, customer-driven product. Once the product is designed and produced, you should reach out to your loyal customers again for evaluation. After getting their feedback, you can decide if you should launch it or make some additional adjustments.
#4: Determine a Fair-Deal Price That Will Show That Your Business Really Is Customer-Oriented
Although there are different pricing strategies that you may rely on, the best way of showing that your business represents a customer-responsive culture is to follow the customer-driven pricing strategy.
In other words, when building your product price, you should primarily consider your customers' perceived value of the benefits your product offers. The core of this strategy rests on the belief that customers are ready to pay a specific price if the value you provide (from their point of view) exceeds expectations.
#5: Keep Building Stable and Trust-Based Relationships With Your Customers in the Long Run
While building a long-lasting relationship with customers, you have to put in a lot of effort. There are several tested strategies that you may want to rely on, to make this process easier for your employees:
Pay attention to your customers' journey and work on its improvement by predicting potential questions, which customers generally have in each phase of the conversion funnel.

Increase brand loyalty by avoiding strictly promotional tone, and offering engaging, educational, and information-rich content, preferably in different formats (videos, blog posts, graphics…), having customers' preferences in mind.

Attract your customers by branding your business as a thought leader: organize educations, testing meetings, conferences, offer e-books, instructional videos, Q&A sessions, etc.
#6: Keep Them Well Informed
No matter what means of communication you use to get in touch with your customers, it's highly important to keep them updated on everything relevant for them on time. And there shouldn't be any excuse for this if you want to develop a customer-oriented culture. For this purpose, you can use:
your business social media accounts,

customer service software with proactive chat notifications on your website,

special website areas that will serve as flash news feeds,

newsletters that will help you share some more detailed and thorough information, etc.
#7: Take Care of Them in the Long Run
Showing that you care about your customers, in the long run, is probably the most complex part of the creation of a customer-oriented culture. Practically speaking, you have to look for different ways of keeping them happy and satisfied, and this may require investing extra-time, money, and efforts. So, here's what suggestions you should take into consideration to keep building a high-quality long-term relationship:
Show that you care about their needs and preferences

by providing different groups of customers with relevant offers and promotions

Don't promise what you cannot do

. Remember that it's always better to underpromise and then surprise them with services that are better than their expectations

Show them that you are grateful.

You can do so in diverse ways, depending on possibilities. Start with sending them a

thank-you

email and surprising them with a special loyalty voucher, or providing them an exclusive offer.
#8: Treat Them as Your Most Reliable Business Consultants and Partners
Making your customers feel like they are more than just customers is one of the central tasks for every customer-oriented culture. And this premise is not only important for your customers' satisfaction and happiness but also your business strategy and growth.
Practically speaking, if you succeed in making them feel comfortable enough to share their opinions and suggestions without restraint, you're increasing your chances of improving your product so that it fits their needs even better.
Inspiring Customer-Responsive Culture Examples
Now, we've gone through the major tasks that you must complete to develop a customer-oriented culture. Let's check some real-life business examples with a great customer service culture.
(i) McDonald's
The essence of the customer-oriented culture established by this worldwide fast-food chain lies in the efforts they put into collecting their customers' impressions.
With a thoroughly planned and developed system for feedback collection, McDonald's actively relies on its customers' opinions and suggestions to make changes in the critical areas.
For instance, thanks to their customers' feedback, they introduced healthier meals and changed working hours for some of their restaurants.
(ii) Hilton
What makes Hilton an inspiring customer-oriented structure is its point-based loyalty program. Their reward system is currently based on letting the clients earn extra points each time they stay in one of their hotels, and it keeps evolving due to its members' reactions.
Once the clients obtain a specific number of points, they become Elite members of their loyalty club and get a chance to use rollover nights.
(iii) Zappos
Another great example of a customer-oriented culture; this online shoe and clothing retailer also uses several methods to get feedback from their customers.
Their strategy includes a special approach to their internal organization, as they think that organizational silos may negatively impact their customer orientation. Accordingly, to create a satisfying customer experience, they rely on a flexible business structure that allows their employees to do those tasks that they're passionate about.
They've also implemented a thorough methodology that offers a direct insight into their customers' impressions based on the combination of surveys, usability testing, in-depth interviews, etc.
(iv) Sephora
Considered one of the customer-friendliest beauty brands, Sephora enhances customer satisfaction by means of advanced technology. Thanks to this approach, they provide an impeccable customer experience.
Their customers enjoy a fully personalized experience, which includes virtual testing of diverse makeup products. Plus, nurturing a strong online community gets easier.
(v) ProProfs
When it comes to business software providers, ProProfs is the name you are likely to come across. Its tools help you build customer-oriented culture.
Rather than simply selling their flawless solutions, ProProfs ensures a delightful experience for its customers. And with 15 million users each month in more than 150 countries, ProProfs seems to be doing things right.
Apart from providing a set of smart and convenient tools for all types of businesses, ProProfs also delights its customers with affordable pricing plans (including a free plan). In addition, assistance can be availed through various support channels, and a knowledge base also facilitates self-help for independent customers.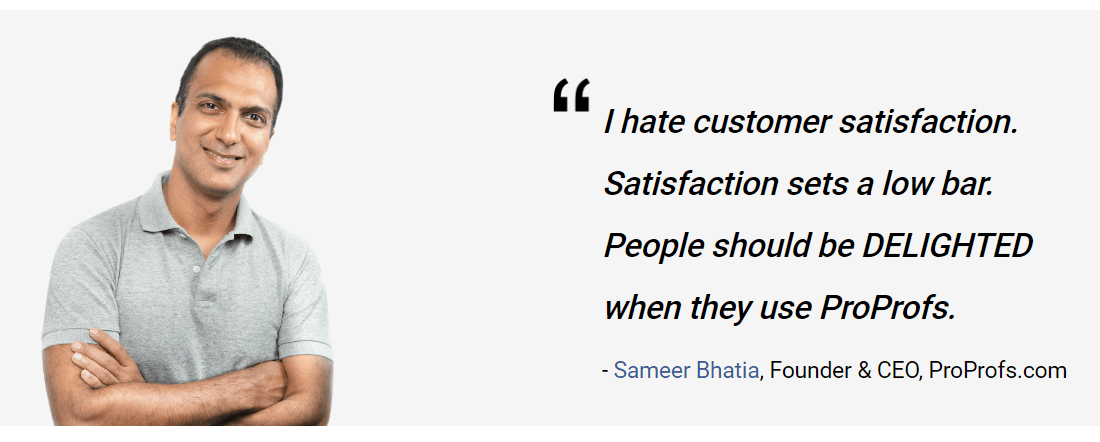 (vi) USAA
Even though people normally don't really relate financial service providers with customer-responsive practices, USAA represents a great example of a customer-oriented culture.
This company is well-known for its outstanding approach to providing financial services and attracts potential customers by creating the best individual offers, depending on their needs, preferences, and possibilities.
Apart from that, at USAA, they keep motivating employees to provide personalized recommendations and collect customers' feedback, which then helps them improve the existing practice. They're also known as a financial service brand that highly values innovations when it comes to providing customers optimal service.
Summing Up: How to Build a CSAT Score by Establishing a Customer-Oriented Culture
Apparently, building a customer-oriented culture requires more than just buying a high-quality customer service software. Moreover, a customer-oriented culture goes far beyond the creation of a customer support strategy. It is the business approach that requires a complete turn away from the traditional views of doing business, and it impacts your entire organization.
Practically speaking, to develop a sustainable and meaningful customer-oriented culture, your business management has to:
Define your target market and analyze its current conditions

Recognize and address the needs of your target audience

Develop a product by keeping customers' preferences in mind to fulfill the needs of your target audience

Keep a customer-driven price for your product to achieve optimum sales growth

Work on establishing a long-term relationship with customers, keeping them informed on all changes that are relevant for them;

Treat your customers like your partners and have in mind their feedback and suggestions.
Placing your customers in the center of your attention is instrumental. And the customer-based approach helps you uplift CX levels and brings numerous advantages to your business, such as:
A significant increase in referrals, retention rates, and profits,

Improved conditions for business expansion and development,

Improved relationships with customers even when they aren't happy, etc.
As you can see, shifting from traditional to a customer-oriented culture can open the door of success. This way, you not only increase the number of loyal customers and expand your business but also enjoy numerous advantages that unwavering customer loyalty brings to your business.
---
Recommended Read: Top 20 Customer service Software of 2020
---
Now that we have understood how to create a customer-oriented culture, let's take a look at some of the frequently asked questions below.
---
Q1. What Does Excellent Customer Service Mean to You?
For us, excellent customer service means that you help your customers reach your brand hassle-free and provide them instant answers and resolution to their troubles. We also try our best to make sure that the customer feels heard. That's why we send them surveys to express how their experience was with the operator and the brand. And we also make sure that their feedback is implemented to improve our services and products.
Q2: How do you Create a customer-oriented Culture?
In four simple steps, you can create a customer-oriented culture at your workplace.
Create great conversation experiences for your customers

Hire people who can help your brand create a great customer experience

Make sure you get all your teams involved

Always stay on top of all issues that your customers have reported
Q3. Is customer-oriented a Skill?
Well, it is a skill that an organization should strive to acquire. You need to make sure that your operators are trained in a way that enables them to think from the customer's point of view and make the best possible use of available resources.
Q4. Why Should a Company be customer-oriented?
To make sure your customer base stays loyal to your brand and always looks up to your services in times of need, you need to ensure that all your products and services sare customer-oriented. It helps your business boom in a competitive market and, at the same time, helps you become more trustworthy for your customers.
Do you want a free Help Desk?
We have the #1 Online Help Desk Software for delightful customer support