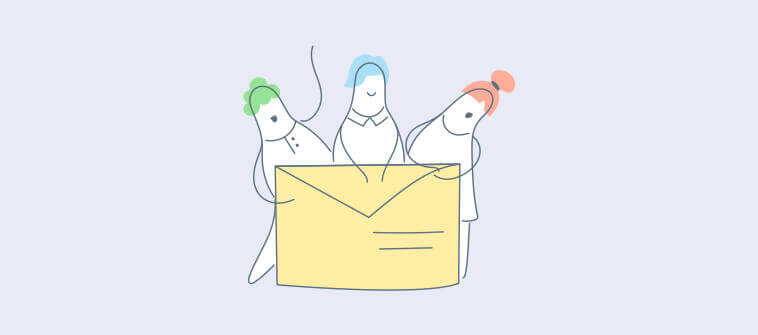 Did you know that around 306.4 Billion emails are sent and received worldwide every single day?
By the time you finish reading this blog, around a billion emails would have been shared.
Let that sink in…
It's without a doubt that within the last couple of decades, the 'digital inbox' has opened doors to improved communication.
However, there is more to sharing emails than simply hitting the send button. Andrea Mignolo of Movable Ink, explains – "I want to do business with a company that treats emailing me as a privilege, not a transaction."
But as an entrepreneur, when you have a mammoth quantity of emails, how do you ensure that you keep an empathetic and personal tone in every conversation?
Well, email management software can be the right solution. Let us find out how.
The Need to Break Through the Noise
Remember the time you first opened your brand new email account? You only had a couple of welcome emails and life never seemed more peaceful.
From a couple of emails to several thousand, the journey has taken a drastic turn. By the time you complete reading and responding to existing emails, you are bombarded with a new lot. You're stuck in a vicious, never-ending loop.
Are too many emails giving you chills down your spine?
According to a study by Adobe, working Americans, on average, spend over 5 hours checking their emails every day.
Now, can that really be counted as being productive? Food for thought!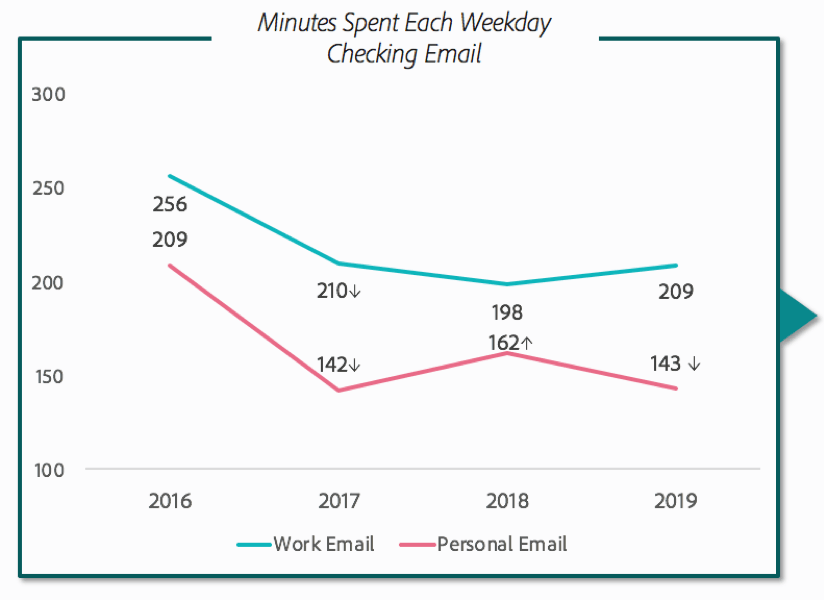 Source: Adobe
It's evident that clearing up an over-crowded inbox can be a serious challenge. However, an Email Management Software (EMS) can come to the rescue and keep communications afloat.
An email management software helps in managing the high volumes of emails that are received by an organization. The tool lets you effectively organize, prioritize, and respond to emails leading to saved time and increased productivity.
The right EMS can help you get out of that vicious loop, but there are some crucial factors you need to consider before committing to an email management platform.
Factors to Consider when Choosing the Best Email Management Software
Since an email management system would be able to sync all your customer contact information, your business just cannot afford to compromise on data security. In addition to this, you need to be extra careful about the departments that will have access to this data.
Look for a tool that offers optimum security to protect your sensitive data. Security features like data encryption and two-factor authentication can help you strengthen your data protection policies.
A rampant increase in smartphone usage and internet availability has made more and more people use their phones to check emails instead of a traditional desktop. According to a report by Vision6, 46% of people use a mobile device to check their emails.
While choosing a customer email management tool, look for one that offers mobile-optimized templates. If your target users receive important emails from your end and are unable to view them on their respective mobile devices, then all your efforts become redundant.
Most businesses operate with the sole intention of becoming more profitable and expanding operations in the process. There might be many free email management software in the market; however, the paid versions can offer you a range of higher plans to suit your scaling needs.
Prioritizing scalability from the start will lead to higher agility, lower investment, and quick decision-making. We suggest seeking out software that offers features like multiple domain integration and higher storage limits.
No matter what business you are into, there is a great chance that you are already using a CRM (Customer Relationship Management) software. Now, you would not want your EMS to work in isolation and defy the very purpose of being an inclusive tool.
An email management solution must seamlessly integrate with your CRM, help desk, and other important business tools. Proper integration ensures that customer data and large volume emails can be managed hassle-free.
Recommended Read: 10 Best Email Management Software of 2021
Top Reasons Why Your Business Needs an Email Management Software
#1. Shared Inboxes to Keep Your Inboxes Close & Your Customers Closer
Today, businesses no longer operate with a single email account. It is natural for modern businesses to have multiple customer-facing email accounts like support@, info@, billing@, etc.
However, managing too many accounts simultaneously can leave your customer service professionals frustrated and your customers itching for a response.
If you look closely, popular email platforms like Gmail or Outlook were not built for team collaboration. You are never sure about who's working on what and therefore, end up sharing multiple replies to a single email.
A tool that offers the shared inboxes feature can allow you to combine multiple email accounts into a single platform. With this in place, your team can collaborate better to avoid multiple replies, missed messages, and above all- unhappy customers.

#2. Customer Information is Just a Click Away
Many companies ask their support professionals to resolve customer requests, with little to no customer knowledge.
Can you really offer the best assistance without knowing the 'why, what, when, and how' of any issue?
An email management software can work as a consolidator of customer information and help you paint a vivid picture of their unique challenges. Here are some data points you can view in your EMS portal:
Account type: If your company has a few different kinds of accounts, you'll want to know which services they use.

Recent support conversations: Learn whether this problem is new or connected to a longstanding unresolved issue.

Recent order information: See what other products your customer has recently purchased and see other general order details.

Time spent with your business: Understand the lifetime value and loyalty of the customer, and their experiences.
With an influx of such important information, support pros can help every customer without having to share subsequent emails asking for additional information.
---
Recommended Read: 60+ Customer Loyalty Statistics for 2020
---
#3. Save More Time With Canned Responses
Does your business receive similar requests from customers asking about top product features or any available discounts?
The truth is that customers are often sharing similar issues or requests. There is absolutely no reason for support professionals to keep on typing out the same reply repeatedly.
Now, there are certain common situations where a canned response can work like magic and save you valuable time.
Case 1: Your issue has been fixed/resolved.

Case 2: We would like to request some additional time.

Case 3: Here is a link to a help article for additional information.

Case 4: Your refund will be processed in 'X' business days.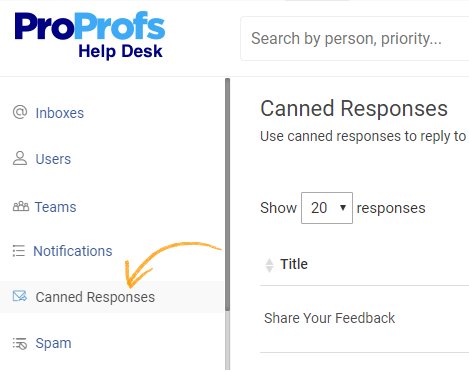 When it comes to saved replies, the possibility is endless. You can create as many as you like based on the types of requests your business receives on a day-to-day basis. When used right, canned responses can help you offer a fast yet personal support experience.
ProProfs help desk is one such tool that comes packed with ready-to-use canned responses and also gives you the option to create more.

#4. Achieve More With an Automated Workflow
Does your team manually assign support tickets amongst themselves?
Well, it's time to rise above a sluggish support process and declutter your inbox. An email management tool can help you create a flawless workflow where your agents can work in complete sync and achieve more.
With an automated email ticketing system, you can convert every customer email into a ticket (with a unique ticket ID) and track incidents right from the moment they are captured through to the time they get resolved.
Most tools come with an auto-ticket assignment feature that ensures tickets are evenly distributed among agents and don't pile up. Additional features like ticket prioritization, internal notes, and labels, make your team work together like a well-oiled machine.
#5. See the Bigger Picture With Reports & Analytics
Your customer service team might be doing great and delivering delightful customer experiences; however, there is always room for improvement.
Your business must have stumbled upon crucial questions like- How long does it take to resolve an issue? Or How many tickets can be managed by my team?
Well, in-depth reports and analytics can help you find answers to every question and improve the overall team performance.
An Email management tool can empower your managers to track and manage ticket load on your support team easily. You can quickly gauge the turnaround time and ticket resolution rate of each agent. Moreover, this tool lets you effectively measure SLAs and stay on top of every critical email that you receive.
Watch: How to improve customer support with powerful reporting & tracking
Make Email Your Superpower!
Not all heroes wear capes. The right customer email management platform can empower your customer service heroes to deliver memorable experiences- right from your inbox.
The perfect email management tool for your team is out there—and there's a good chance that we have covered all the features your business would need. But first, you need to sit with your team, especially those who directly engage with your customers and figure out your requirements.
If you are looking for a feature-packed EMS that comes at an unbelievable price, we might have the right solution for you. Thousands like you trust ProProfs Help Desk to offer experiences that are effortless, fast, and personal.
Never miss a support opportunity again, with ProProfs Help Desk
---
Q. What does email management mean?
Email management refers to a systematic approach for managing your ever-growing volume of inbound emails. The goal is to maximize the efficiency of email best practices and improve response time.

Q. How do I monitor multiple email accounts?
Your business might have multiple email accounts, for instance, support@, contact@, or info@. An email management software can help you monitor and manage all your email accounts in a single platform.
Read this article to learn more about a shared inbox.

Q. How to choose email management software?
Before choosing an EMS, you must try to understand your requirements and needs. You can consider the following factors before going all-in for the ideal email management tool.
Availability on mobile platforms

Plans and pricing options offered by the tool

Security features

Ability to sync multiple email accounts

Analytics and reports
Watch this video to choose the best help desk software today.
Do you want a free Help Desk?
We have the #1 Online Help Desk Software for delightful customer support