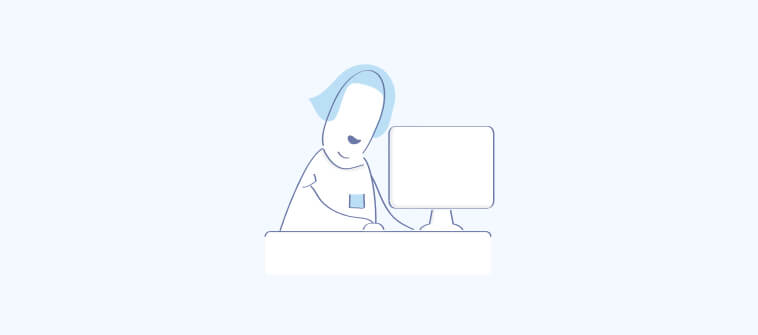 Technology is no more limited to Sci-Fi movies. Just look around yourself, and you will find you are surrounded more by technology- your computer, smartphone, internet, etc., than actual human beings.
One great gift of technology has been Information technology- or IT as we normally call it. The fabric of modern businesses is connected by Information Technology and it dictates how companies operate and interact with their employees, customers, or partners.
Now, the merits of IT may seem quite promising at first, but does it always deliver? Remember, the time when you had an issue with your laptop and you emailed your 'IT guy' only to get a response days later?
According to a survey by Robert Half Technology, American professionals waste 22 minutes each day, on average, dealing with IT-related issues.
To make your business rise above such challenges and offer the best IT support, all you need is an IT Service Desk. Read this blog to learn more.
What Is IT Service Desk?
IT Service Desk has become one of the top catchphrases in the current IT business environment, and companies want it more than ever before.
But what is IT service desk? More importantly what roles does it play?
The IT service desk acts as Single Point of Contact (SPOC) between IT users and an organization's IT department. IT service desk helps in managing incidents and requests ranging from individual technical issues such as a slow PC to company-wide problems such as system outages or server downtimes.
Let's understand what is an IT service desk with the help of an example:
So it's Monday morning and you have an important meeting to attend. You try to transfer your presentation on a pen drive but you are unable to locate the local storage on your system. Goodness, gracious! The central servers are down again.
A service desk can come into the picture here and help you register an issue and seek real-time assistance. You can also check whether this issue is being faced by the entire company, specific department or it's just the case with you. Simple.
Where Did IT Service Desk Come From?
During the late 1980s personal computers were introduced into the workplace and were quite limited to developed countries. However, even before this period, IT help desks existed to cater to IT systems other than computers such as telephones, fax machines, etc.
In the 1980s, the UK Government's Central Computer and Telecommunications Agency (CCTA) developed recommendations to standardize IT management practices. These recommendations were built around the process model-based view of controlling and managing operations as formulated by W. Edwards Deming.
ITIL that presents the best practices of delivering IT services was born in the late 1980s.
It was ITIL only that gave life and structure to the service desk that we know today to help organizations manage and fix IT issues.
The major focus during those days was on enabling technology and did not include aspects such as end-user satisfaction, feedback, etc.
So what does the future of the IT service desk hold?
Now that we know the past and the present, let's shift our focus to the future of the IT service desk. Right from the increased adoption of self-service and knowledge management functions to the involvement of AI-powered capabilities, the future does look promising.
Considering the ongoing COVID-19 situation, a lot of support teams are forced to work from their homes. Therefore, in the coming years, there will be more focus on enabling features that ease the work of remote IT support teams.
Types of Service Desk
Based on the size and location of an organization and its end-users, there are mainly 4 types of service desk. Let's see how they are different from each other.
Local Desk: As the name suggests, a local service desk is located within or near an organization's premises. It can help an organization in addressing the requirements of country-wise or location-wise IT issues or requests. However, this service desk is not sufficient to handle large volumes of calls or service requests.
Centralized Desk: A centralized service desk is a more cost-effective solution that helps businesses manage a large volume of tickets or customer calls with fewer support agents. It is stored in a central location and may help you address language, cultural, or time-zone challenges.
Virtual Service Desk– A virtual service desk is the most popular type of service desk among enterprises, corporates, and IT companies. It allows organizations to virtually deploy IT support staff on-demand to support end-users experiencing technical issues. End-users can raise tickets through the internet using multiple devices and can be managed by support agents from any part of the world.
Follow the Sun: This type of service desk can help organizations support customers from across the globe. Considering the time zone differences across various countries, the service desk staff are available 24×7 to offer round-the-clock support.
How Does an IT Ticketing System Work?
An IT ticketing system operates by creating a unique "ticket" that records all interactions pertaining to a user issue or request. This ticket is shared between both the support agent and the user and can be used as a reference in case of any confusion.
After the ticket is created, a support rep is assigned who can take the necessary steps to resolve the problem at hand. The ticket can be prioritized or escalated to a higher rep depending on the nature of the case.
Once necessary actions have been taken and the issue is resolved, either the agent or the user can mark the ticket as closed. If users have any additional questions or encounter the same issue again, they can reopen the ticket. Most, IT help desks give you the option to share automated surveys with your employees or customers after their issue has been resolved. This allows them to instantly rate your service or their overall experience.
What Is the Difference Between an IT Service Desk and Help Desk or Call Center?
Most individuals use the terms service desk, help desk, and call center interchangeably. But are they really the same or are they different? Let's find out.
Help desks are concerned with day-to-day customer issues or requests that may or may not be technical in nature. For instance, a customer might drop an email inquiring about the features of a newly launched product or about the new returns and refund policy. Help desk agents can successfully convert such hundreds of requests/issues into tickets using help desk software
and collaborate across departments to resolve issues faster.
What Are the Key Attributes of Help Desk Software?
So, Who Should Go for a Help Desk Software?
Small to medium-sized businesses can go for a SaaS help desk. In addition to being a cost-effective option, it lets your agents manage all support conversations from a shared dashboard.
Read More: 20 Best Help Desk Software of 2021
A service desk, on the other hand, is used to manage issues that are technical in nature and revolve around your IT department. Such issues can be related to the email configuration of newly joined employees or installing a new CRM for the sales team.
What Are the Key Attributes of a Service Desk?
Serves as a single point of contact (SPOC)
Incident management
Change management
Asset management
Improve IT operations and processes
A call center is a customer service department that acts as a central point for managing customer complaints and issues. As the name suggests, call centers interact with customers over the popular customer service channel- phone support. Call centers are mainly of two types- outbound call centers (where customers receive calls from sales or support reps) and inbound call centers (where agents are at the receiving end of a call).
It should be noted that call centers are different from contact centers. While call centers are limited to phone calls, contact centers support customers on a variety of channels such as chat, email, text message, social media, and more.
Recommended Read: Best Issue Tracking Software
What Are the Key Attributes of a Call Center?
Manage customer complaints
Inbound phone support
Outbound phone support
Offer service and sell to customers
What Are the Benefits of an IT Service Desk?
An IT Service Desk can benefit your business in ways that can help professionals collaborate better and deliver exceptional results. Let's skim through a few benefits of these below:
#1. Incident Management
The entire process of Incident Management is focused on returning the performance of your company's service back to normal in the shortest amount of time.
With an IT service desk in place, your professionals can work together to spot problems even before they occur. They can identify the root cause of recurring incidents or issues and protect your business from external threats like viruses, prevent issues from taking a bigger shape, and completely eliminate repetitive issues.
#2. Acts as a Single Point of Communication (SPOC)
When it comes to communications related to IT, a service desk acts as a single point of contact between the business and an IT department. Now, you might think that a major proportion of these communications are related to service requests or managing incidents that have already occurred. However, there is more to a service desk in this regard.
There are certain situations, for instance, the installation of new servers in a company, that can lead to service outages and affect employee productivity. However, with an IT service desk software, all end users can be given advance notice so that they can stay prepared.
#3. Leads to Significant Cost Reductions
Imagine if there was no central system in place to track and resolve the day-to-day issues faced by your employees. That would simply result in wasted time, lower productivity, late deliverables, and in some cases, even bigger complications.
Without the service desk, all the additional time and money spent to solve such simple issues can actually add to your operating costs. A single software downtime of just a couple of hours can potentially cost your business thousands of dollars and let's not forget- a bad reputation. However, with a service desk in place, you can seamlessly manage technical issues and in most cases predict them, such that your business operations never come to a halt.
#4. Better Visibility & Reporting
Online service desks offer an easy-to-use dashboard for tracking every incident from start to finish. With comprehensive reports and analytics, you can always take a deep dive into the performance of your IT support professionals.
The management can leverage useful information via reports that can be used for resource planning, identifying problems with the services, and tracking individuals, as well as team performance against key Service Level Agreements (SLAs). Leaders can also track the productivity of agents by checking metrics like the average ticket resolution time, or the total number of issues resolved.
IT Service Desk Best Practices for Increased Efficiency
Now, let's take a look at the best practices that can make the addition of an IT service desk a game-changer for your business.
1.Target First Contact Resolution (FCR)
First contact resolution (FCR) refers to the ability of your support staff to resolve user issues when they are registered for the first time with no follow-ups required. To significantly reduce both downtime as well as costs, your IT professionals must focus on resolving support tickets at first contact.
FCR reduces the impact of IT problems on your day-to-day business operations. In addition to this, it significantly improves the user support experience and builds long-term trust.
2. Train Your Support Staff
Rapid technological disruptions have made the IT sector evolve at an unprecedented rate. Now, in such a fast-paced environment, you would not want your agents to have limited skills or knowledge.
Consistent training programs or workshops are a great way to expand your support staff's existing knowledge and improve their skill sets. Certain issues that had to be escalated to the senior reps can be avoided when there are no evident skill gaps.
In addition to rigorous training, you must prevent fatigue and stress from affecting your employees. Ensure tickets are evenly distributed and enough agents are available to handle user requests.
3. Avoid Common Issues With a Knowledge Base
If your IT support members are busy all day responding to simple user requests, are they really being productive?
Every business must strive to reduce the distance between users and available knowledge. One fantastic way to achieve this is by enabling a self-help portal that can offer the right solutions in the form of how-to videos, self-help articles, or FAQs.
A dedicated knowledge base will help your customers in finding all the help they need without having to open a support ticket. Moreover, you should even create a comprehensive internal knowledge base to train new agents and allow easy access to knowledge for your team.
4. Track Key Metrics
To make the most of your IT service desk, you must measure and monitor performance across key metrics such as:
Average ticket resolution time
Ticket resolution rate
Number of open/unresolved tickets
Tickets resolved at FCR
Number of escalations to Level 2 and Level 3 support
By obtaining deep insights into the above areas, your business will be able to identify flaws in the IT support process and fix any evident performance gaps.
Read More: Ten Tips on How to Improve Your IT Service Desk
Which Software Supports an IT Service Desk?
There are different elements of an IT service desk that allow support agents to address user concerns in a timely and effective manner. Let's discuss them in this section:
A robust ticketing system forms the core of any successful IT service desk. It helps you capture both incidents as well as service requests and converts them into unique tickets. Some other key functions are:
Ticket tracking
Ticket escalation/prioritization
Agent roles & permissions
SLA management
Knowledge Management System
For any modern business, knowledge is one of the most critical assets. For any service desk to perform to its full potential, it needs to store knowledge in a safe, central location and make sure the right stakeholders can easily access it. The key functions of a knowledge management system include:
Central knowledge database
Internal knowledge base
External knowledge base
Advanced search capabilities
In order to make key IT decisions pertaining to IT costs, purchasing, resource hiring, training, etc., you will have to rely upon the reporting functionalities of an IT service desk. This will help you not only make better strategic decisions but also measure user satisfaction from time to time. Some more service desk reporting functions are:
Real-time analytics
User satisfaction surveys
SLA reports
Key performance indicators (KPIs) overview
Say Goodbye to the Old Way of Managing IT Issues!
We understand that no one likes it when things go wrong. Yet, problems are inevitable. However, how quickly you resolve such problems is what matters in the end.
A service desk can help you rise above a sluggish IT support process and ensure your team always delivers top-notch service. To excel at IT support, remember to target first contact resolution and important metrics. Create training programs for your employees and ensure they are aware of the latest product features and technology trends.
A majority of service desk functionalities can be obtained with a robust IT help desk at less than half its cost. You can easily track all IT-related issues and requests in a central place and delight both your internal employees as well as external customers.
Do you want a free Help Desk?
We have the #1 Online Help Desk Software for delightful customer support