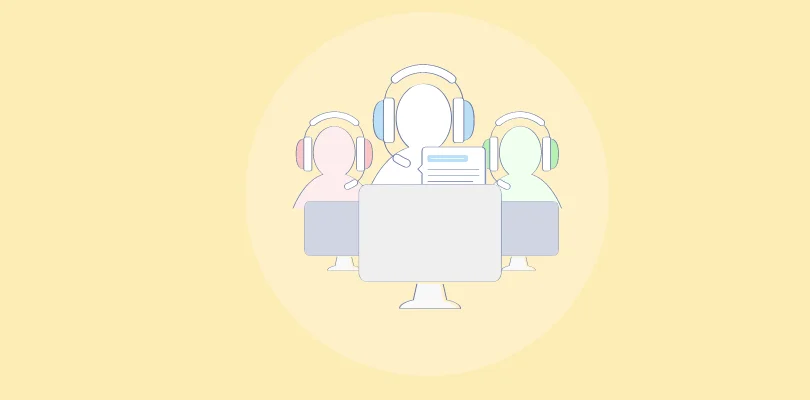 Building a customer support team isn't as easy as Lego nor as intricate as Roman architecture. So what's the secret sauce?
To build your dream support team, you need to have clarity around your vision, create a solid team structure, and hire people who believe in what you stand for.
But there is more to it than what meets the eye!
If you are looking to create an army of customer service professionals who can face challenging situations head-on and deliver personalized experiences, you have come to the right place.
Whether you wish to hire interns fresh out of college or highly experienced managers, we have some useful tips and tricks in store.
In this guide, we will learn about the customer service team structure, their roles and responsibilities, and what the ideal interview process looks like. But most importantly, we will explore 8 actionable strategies for building a high-performance team.
Let's get started!
What Is Customer Support?
Customer support refers to a range of services provided by a company to assist and address customer requests, inquiries, and complaints.
The main objective is to help customers have a stress-free experience using your products or services and build positive relationships with them.
It is an essential part of any business that aims to deliver excellent experiences and retain loyal customers. Support agents can interact with customers in person, via the phone, or through digital channels, such as email, live chat, and social media, to resolve their concerns.
Customer Service Team Responsibilities
Customer service team members have a lot of tasks on their plates. Let's take a look at some of their key responsibility areas (KRAs):
1. Responding to Customer Inquiries
Customer service teams are responsible for responding to customer inquiries and issues promptly. This involves providing accurate information, offering solutions, and addressing any issues or complaints raised by customers.
2. Providing Product/Service Support
Customer service teams assist customers in understanding and using products or services effectively. They offer guidance, troubleshooting, and step-by-step instructions to ensure customers have a positive experience with the offerings.
3. Proactive Support
Customer service teams deliver proactive support by reaching out to customers before they encounter issues or reach a dead-end. This could include sharing knowledge base articles, offering tips and best practices, or conducting check-ins to ensure everything is running smoothly.
Read More: Proactive vs. Reactive Customer Service: Which One Should You Choose?
4. Maintaining Customer Records
Customer service teams keep detailed records of customer interactions, inquiries, and complaints. This information is valuable for future reference, analysis, and improving customer support processes.
5. Ensuring Customer Satisfaction
Ultimately, the customer service team's main goal is to ensure customer satisfaction. They work to build positive relationships with customers, understand their needs, and go the extra mile to meet their expectations and provide exceptional service. Through personalized, fast, and proactive support, you can resolve issues in time and enhance customer satisfaction.
Read More: 10 Important Customer Satisfaction Metrics 
How to Build a Customer Support Team From Scratch
Getting your customer service team up and running requires consistent efforts and some right decision-making. Here
1. Formulate Your Customer Service Vision
Guess what makes any support team work like a well-oiled machine? It's the team vision that binds them together and gives them a sense of meaning.
The customer service vision is of utmost importance as it provides a clear and inspiring direction for the team, guiding their actions toward customer-centric goals.
If you do not have a vision in place, don't worry. Here are some questions you can ask yourself to get the ball rolling:
What does delightful customer service mean to our business?
How do we wish to treat our customers?
If we achieve all our goals, where will we reach 10 years from now?
Once you have a clear understanding of your vision, mold it into formal statements for clear communication. Share your vision statements with team members, the leadership, customers, investors, and other key stakeholders. This will allow everyone to be on the same page and help you build a solid foundation for your team.
Read More: What Are Help Desk Mission and Vision Statements?
2. Avoid Hiring Mistakes
Hiring just one wrong person can lead to a lot of time and energy drainage. But that's not all. It can prove to be exorbitantly costly for your business.
Did you know the average cost of a bad hire can range anywhere from $17,000 to $240,000?
So how do you hire the right support heroes and avoid throwing money down the drain? Here are some strategies that will help you avoid hiring blunders:
Improve Job Descriptions: If you are receiving a lot of applications from unsuitable candidates, you might want to revisit your job description. Make sure the description involves a concise and accurate representation of the role, responsibilities, and required qualifications.
Consider Cultural Fitment: It's important to assess a candidate's compatibility with the organization's values, beliefs, and work environment. This will help you foster a workplace where customer service employees share common goals, collaborate effectively, and align with the company's culture.
Involve Senior Members: During the interview process, involve senior members from your customer service team. Give them the authority to assess the candidate's resume and ask relevant questions during the interview. Their expertise will help you filter out unsuitable candidates and build an ideal team.
3. Identify Team Structure & Roles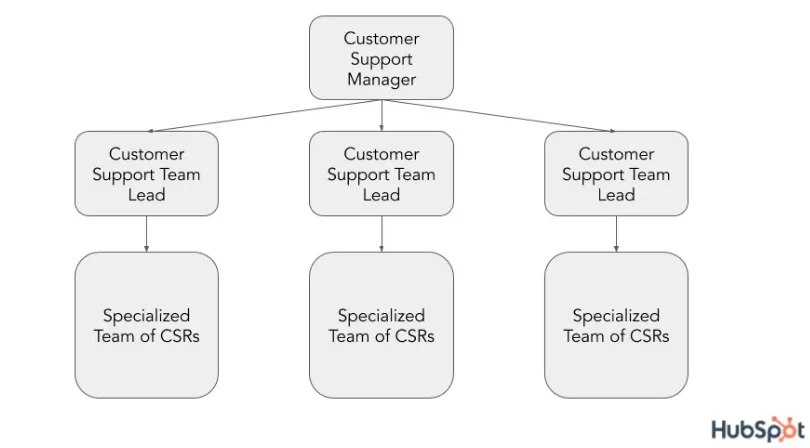 Just like sales or marketing, customer service departments should have a structure or hierarchy to demonstrate who reports to whom.
A well-structured customer service team with clearly defined roles will help you avoid confusion and improve internal collaboration.
Decide on the structure of the customer support team, including the number of tiers and the specific roles needed, such as frontline representatives, technical specialists, or customer service managers.
Right at the beginning, clearly communicate each member's unique roles and responsibilities. When team members know their roles, they can showcase greater accountability and effective teamwork. It ensures everyone understands their responsibilities, avoids duplication of efforts, and contributes to organizational goals.
Read More: 8 Ways to Excel at Customer Service Team Collaboration
4. Clearly Communicate Expectations & Performance Metrics
Before someone becomes a part of your team, they may be clueless about what is expected of them. Moreover, during the initial days, employees might find it difficult to approach you for the same.
Communicating expectations to employees is crucial for several reasons. It ensures clarity about job responsibilities, performance standards, and objectives.
During the initial onboarding and training processes, ensure team members have a fair idea about what the company and the management expect of them.
For example, you can communicate the behavioral best practices they are expected to follow while communicating with customers.
Similarly, you can communicate the various service level agreements (SLAs) being followed by your team. Let new joiners understand the different metrics (such as first response time, CSAT ratings, total tickets handled, etc.) that will be used to gauge their performance and how it might influence their periodic appraisals.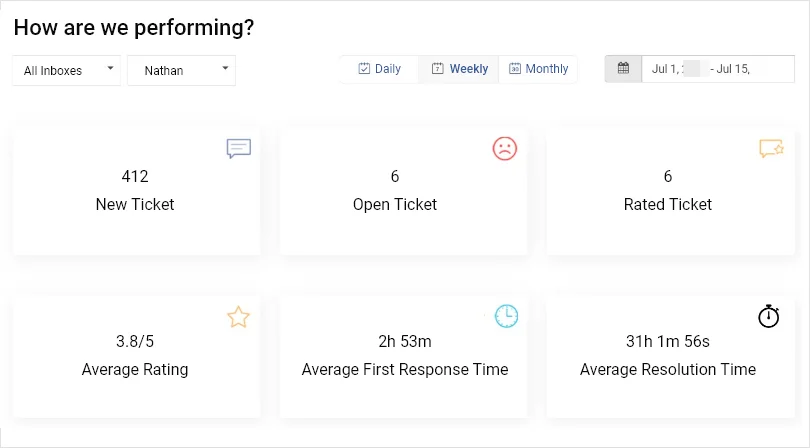 Read More: 15 Help Desk Metrics to Improve Customer Support
5. Equip Your Team With the Right Tools
Many people think that customer service is solely about understanding human emotions and showing care and empathy. While it's true, it is only one side of the coin.
Your team needs the right customer service tools in their arsenal to automate tasks, organize customer complaints, gain better visibility into day-to-day operations, and enhance efficiency.
Cloud-based help desk software, such as ProProfs Help Desk, can be an all-in-one solution that can help you centralize all customer communications taking place over email, phone, web forms, and live chat.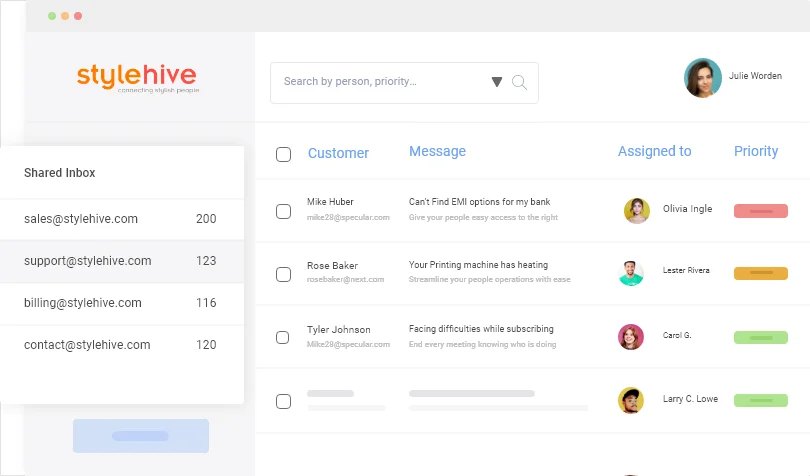 You can also use this tool to automate your customer service process with chatbots and capture feedback instantly via customizable surveys.
In addition to a ticketing system, you can use an AI-powered tool like ChatGPT to generate email response templates or create help articles for your knowledge base. Grammarly can also help your agents share accurate and error-free information with customers.
Read More: 20 Best Customer Service Software for Any Support
6. Prioritize Training & Development
Training and development play a crucial role in building a skilled and competent customer service team.
According to 62% of respondents, service insight and knowledge are key to a good service experience.
Here are some areas that you can target in your training programs and modules:
Skill Enhancement: Through training, customer service representatives can develop essential skills such as effective communication, technical troubleshooting, and conflict resolution. These skills are crucial for understanding customer needs and resolving issues with professionalism.
Product and Service Knowledge: Customer service teams need a deep understanding of the products or services they support. Regular training ensures they stay up-to-date with the latest product features, updates, and changes. This knowledge empowers them to provide accurate and relevant information to customers.
Empathy Training: Empathy forms an integral part of every meaningful interaction. This customer service skill allows agents to connect with customers at an emotional level and better understand what they might be going through.
Read More: The Ultimate Guide to Customer Service Training & Onboarding
7. Lend an Ear to Voice of the Employee (VoE)
Is your support team facing the "Great Resignation"?
If you turn your back on your agents' pain points, opinions, and grievances, it can lead to disengagement, poor performance, and high attrition rates. And, in the end, the customers suffer.
So how do you overcome this?
Employee feedback is an essential tool for any organization that wants to create a positive and productive work environment. By prioritizing VoE, you can identify areas for improvement and build a culture of trust and respect.
A Gallup survey found that a highly engaged workforce (with scores in the highest quartile) was 18% more productive than disengaged employees.
It's important to capture individual and group feedback (qualitatively and quantitatively) to obtain a proper sense of employee voice across your support team. You can share regular surveys with team members that include both open and closed-ended questions.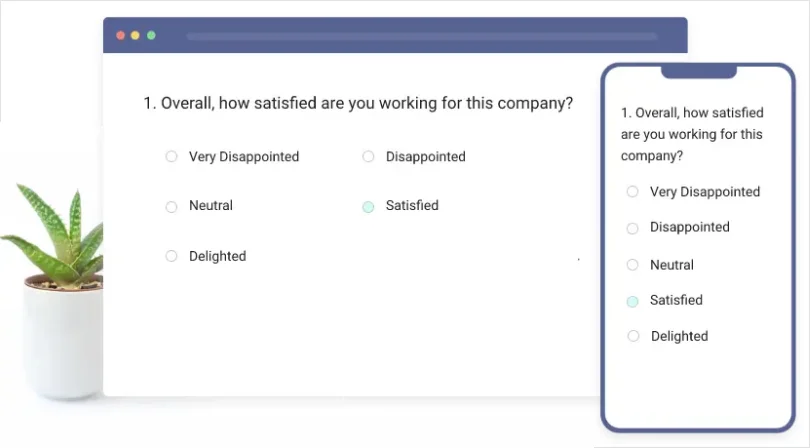 In addition, you can conduct one-on-one interviews with teammates to understand what they like about the workplace and what can be improved.
8. Appreciate, Recognize & Reward Top Performers
Imagine one minute you are dealing with an angry customer over a call, and the next minute, you are reading a long customer complaint in an email. Life can be hard for support agents.
Customer service professionals are humans, too, who need to feel appreciated and valued for their contributions. Create a culture of reward and recognition to motivate team members and retain your top talents.
"Always treat your employees exactly as you want them to treat your best customers." – Stephen R. Covey
Here are some steps you can take to appreciate your employees:
Recognize Top Performers: Recognize team members for their achievements and exceptional customer service. Whenever an agent receives a positive customer review or rating, share it with other team members to boost motivation and promote the right culture.
Incentives: You can give incentives to customer service employees on achieving or exceeding their targets. This can be monetary in the form of bonuses or non-monetary in the form of discount coupons or gifts.
Encourage Collaboration: Foster a collaborative environment within the team and encourage knowledge sharing. This allows team members to learn from each other's experiences and improve their skills.
Read More: Ten Tips to Motivate Your Customer Support Team
What Should the Customer Service Interview Process Look Like?
The customer service interview process should be designed to assess a candidate's skills, experience, and fit for the role. It typically consists of several stages to gather comprehensive information about the candidate and their ability to handle challenging scenarios.
Here's a step-by-step guide on what the customer service interview process should look like:
Resume Screening: The process begins with reviewing the candidates' resumes to shortlist those who meet the basic qualifications and have relevant customer service experience.
Initial Phone Screening: A brief phone call is conducted with the shortlisted candidates to assess their communication skills and enthusiasm for the role.
F2F or Virtual Interview: This interview focuses on the candidate's past experiences and behavior in various customer service situations. The interviewer may ask questions about handling difficult customers, resolving complaints, and multitasking.
Technical Skills Assessment: Depending on the nature of the customer service role, candidates may be tested on specific skills, such as typing speed, language proficiency, or help desk software proficiency.
Role-play Scenarios: Conducting role-play exercises allows the interviewer to observe how candidates handle real-life customer service situations. This could include handling an irate customer, providing product information, or addressing a service inquiry.
Cultural Fit Assessment: It's essential to evaluate how well the candidate aligns with the company's values and work culture to ensure a good fit within the team.
Background & Reference Checks: Verify the candidate's employment history, qualifications, and contact references to gain insights into their previous work performance.
Offer & Onboarding: Once a suitable candidate is selected, you can go ahead and make the job offer. Share the offer letter mentioning salary details and company terms. Conduct a smooth onboarding process and communicate expectations.
How Do You Structure a Customer Service Team
The customer service team structure can vary depending on the size of the organization, the industry, and the types of customer interactions required. However, here is a common customer service team structure that includes different tiers and roles:
Frontline Customer Service Representatives
Role: The frontline team is the first point of contact for customers and handles basic inquiries, product information, order processing, and general support.
Responsibilities: Respond to customer inquiries via various channels (phone, email, live chat, social media), troubleshoot common issues, and escalate complex problems to higher tiers if needed.
Skills: Strong communication, problem-solving, and empathy skills.
Technical Support Specialists
Role: Technical support specialists are responsible for addressing complex technical issues that frontline representatives may not be able to handle.
Responsibilities: Troubleshoot technical problems, guide customers through technical processes, and provide in-depth product knowledge.
Skills: Technical expertise, ability to convey technical information clearly, and patience.
Product Experts
Role: Product experts have an in-depth understanding of the company's products and services.
Responsibilities: Assist customers with specific product-related questions, provide recommendations, and suggest appropriate solutions.
Skills: Comprehensive product knowledge, excellent communication skills, and ability to understand customer needs.
Customer Success Managers
Role: Customer success managers focus on building strong relationships with key clients and ensuring their long-term success and satisfaction with the company's products or services.
Responsibilities: Act as the main point of contact for designated customers, conduct regular check-ins, handle escalations, and identify upselling or cross-selling opportunities.
Skills: Relationship-building, strategic thinking, and customer retention skills.
Quality Assurance Analysts
Role: Quality assurance analysts monitor and evaluate customer interactions to ensure that team members adhere to company policies and provide high-quality service.
Responsibilities: Review and assess customer interactions (calls, emails, chat sessions) to identify areas for improvement and provide feedback to team members.
Skills: Attention to detail, analytical mindset, and knowledge of customer service best practices.
Team Leaders/Supervisors
Role: Team leaders oversee the day-to-day operations of the customer service team and provide support to team members.
Responsibilities: Manage team schedules, monitor performance metrics, conduct coaching sessions, and handle escalated customer issues.
Skills: Leadership, coaching, and problem-solving skills.
It is necessary to review your team structure regularly and make necessary tweaks to meet changing customer demands and business needs.
Ready to Build Your Dream Support Squad?
Building a customer support team is a strategic process that requires careful planning, thoughtful recruitment, comprehensive training, and ongoing development. A well-structured team with defined roles ensures efficient problem-solving, personalized assistance, and proactive engagement with customers.
To build your support team, formulate a vision that will act as a beacon of light for team members. Hire people who resonate with this vision and offer consistent training for continuous improvement. Recognizing and rewarding your top performers will also go a long way in keeping team spirits high.
Even if you have built your dream team, they need the right customer service tools to make magic happen. ProProfs Help Desk can enable your team to provide 24×7 continuous support, automate repetitive tasks, and gauge agent performance every step of the way.
Do you want a free Help Desk?
We have the #1 Online Help Desk Software for delightful customer support