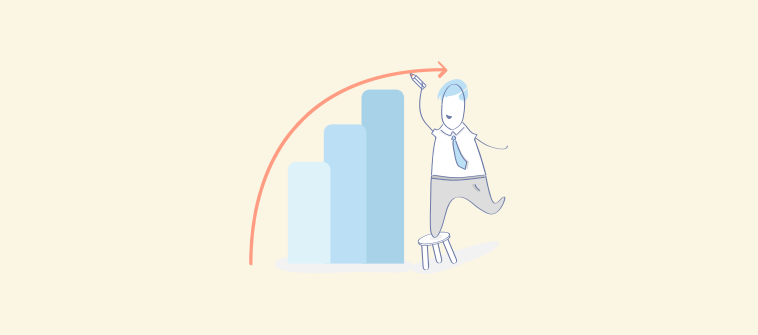 Put yourself in the customer's shoes for a second. Imagine you share a request with your favorite brand. What are your expectations? You want your request to be a priority, right?
This is true for every customer – they want their requests to be taken seriously. And for business owners, the only way to delight customers is through proper customer request tracking.
Modern businesses are flooded with customer requests – while one customer demands a refund for a recently purchased item, others request new features to be added to a product. When your customer service team is buried in a heap of requests, how do you ease their work?
A customer request and issue tracking system can help you track all tickets from live chat, email, help center, web forms, and social media in one place. Moreover, you can organize tickets based on their current status, priority, or nature to get a crystal clear view of tasks.
In this blog, we will help you learn how to handle difficult customer requests with ease. We will discuss solid ways to prioritize urgent requests and explore some actionable steps to track customer requests from start to finish.
Let's go!
What Is a Customer Request Tracking System?
A customer request tracking system is a tool that enables support teams to track every request and issue that comes in through different communication channels. The tool can help you centralize communication, automate workflows, and share personalized responses.
If you are a support manager, you can monitor request trends and performance metrics over time. For example, you can track metrics such as average ticket response time, ticket resolution time, open tickets, agent ratings, and more.
How to Prioritize Customer Service Requests
Request prioritization refers to an approach to handling support requests where the agents make an active decision about which requests are more important compared to others.
Here are some steps you can follow to prioritize customer requests:
Step 1: Avoid the First Come, First Serve Rule: If you are a small team with a low ticket volume, using this technique still makes sense. However, for bigger teams, prioritizing customer requests simply because they landed in your inbox first can prove to be disastrous. The fact is that all requests are not equal and differ in their possible impact on the business.
Step 2: Evaluate Impact on Business: You need to understand the potential impact of a customer request on your business. For example, if a customer request can lead to financial loss or jeopardize your brand reputation, it should be marked as high-priority. On the other hand, if a request has zero to low impact on the business, it can be marked as low-priority and be dealt with over a longer period of time.
Step 3: Prioritize Repeat Requests: Repeat requests (challenges impacting the customer more than once) can raise serious questions on your support team. It is a good indicator that the user might be thinking about not engaging with your brand anymore. Therefore, it's in the best interest of both the customer and your business to deal with repeat requests on high-priority.
Step 4: Mark Priorities Using Help Desk Software: Once you have understood how to prioritize customer requests, you must mark their priorities (Low, Normal, or High) on your help desk dashboard.
All high-priority tickets appear with a red flag and indicate to agents that they need to work on them first. This is a simple process to ensure high-priority tickets are always under your control.
What Is the Importance of Customer Request Tracking?
Efficient request tracking is important to ensure that customers don't have to keep waiting for a response. Let's read about more such benefits.
1. Never Let a Request Slip Through the Cracks
Customer requests can come in from multiple channels – email, phone, live chat, community forums, or social media. Without a centralized system to manage these requests, you can lose important messages, leading to lost trust and poor customer experience.
With a proper tracking system in place, you can ensure not a single message can slip through the cracks. Support agents can track the progress of every request ticket from start to finish and share speedy replies.
2. Improve Your Response Times
Customer request tracking also helps you improve your team's response time. When agents can organize requests using Labels and filters, prioritize urgent requests, and view all requests in one place, they are in a much better position to share faster responses.
Moreover, if the request is taking longer than usual to be resolved, you can update the customer. This will help them adjust their expectations and avoid contacting your team multiple times.
3. Understand What Customers Want
Every customer has a voice, and the requests they make are often a reflection of that. As a growing business, you need to carefully monitor requests to understand what customers really want.
For example, product feature requests can help you build the best products. You can capture feature ideas from people who actually use the product and incorporate them to make your product a hit among your audience.
4. Encourage Self-Service
A lot of customer requests are so common that they do not demand agent intervention. For example, a customer requesting your team to change or update their account password.
In such a scenario, the agent can simply share the link to the help article (How to Reset Account Password) and empower customers to find solutions on their own. Moreover, this will help your team deflect routine requests and instead focus on urgent tasks.
10 Actionable Tips to Track Customer Requests Efficiently
Do you want to learn how to track customer requests successfully? These 10 tips and best practices will offer all the help you need.
1. Sort Request Tickets Using Statuses
In order to track customer requests, you need to organize them in one place. When the number of request tickets runs in the hundreds or thousands, you must sort them using different statuses.
Help desk software offers many default ticket statuses such as Open, Unassigned, Overdue, Sent, Hold, etc. These statuses can keep your inbox looking neat and tidy.
In addition, you can create multiple custom statuses, such as "waiting on a response from logistics" or "duplicate ticket," etc., to customize your workflow according to your needs.
2. Add Additional Labels
While Ticket Statuses are important, they are not enough. You also need to be able to assign unique Labels to requests to organize them into meaningful groups further.
Labels are like tags that can help you create different categories for customer requests. For example, you can create a Label such as "Billing" and assign it to a ticket that is related to billing.
Similarly, you can create a Label such as "Feature Request" to categorize all product feature requests in one place. The best part is that all the Labels appear along with the ticket preview so that agents can instantly identify the nature of a request ticket without the need to open it.
Read More: How to Manage or Categorize Tickets in Bulk
3. Prioritize Urgent Customer Requests
Customer expectations with response times are at an all-time high. Irrespective of the channel they choose, customers demand an immediate answer.
According to a Statista report, 77% of customers expect an instant response over live chat, and 62% expect a response within 24 hours over email.
Now even though every request is important to your business, you must look to prioritize those that demand immediate attention. For example, a product installation request is more urgent than a request to register for a future online webinar.
To make your agents' lives easy, you can organize request tickets by their respective priorities. You can mark customer requests as High, Low, or Normal, depending on their severity. This will help support agents in planning their days better and meeting deadlines.
4. Avoid Complicating Things
When it comes to handling customer requests, most support teams tend to overdo things. They use complicated terms or technical jargon to sort tickets, which can confuse new agents or the management team.
Managing customer service requests isn't rocket science. However, if you do not keep it simple, it can hamper the customer experience.
In addition, if you use fancy fonts, long sentences, or technical terms in your customer response, it can confuse them. This, in turn, will push them to re-contact your support team and create subsequent tickets unless they find the right solution.
5. Use Live Chat & Chatbots to Reduce Request Tickets
Is your help desk inbox always flooded with customer requests? Are agents tired of responding to routine queries and requests?
Live chat and chatbots are great ways to resolve requests instantly so that agents can focus on other important work. Instead of creating a new ticket, you can respond to product return, exchange, or refund requests in seconds.
For example, imagine a customer wishing to make a refund request for a defective item they purchased. Now, instead of creating a new help desk ticket, the agent can simply interact with the customer, check order details, and initiate the refund in minutes.
Similarly, you can deploy chatbots to share information with customers related to product features, pricing, or availability requests. This will ensure customers get a prompt response, and you can reduce your ticket volume.
Read More: What Is Automated Customer Service & Why Is It Important?
6. Assign Request Tickets to Other Departments
More often than not, customer service teams are dependent on other departments to fulfill customer requests. Therefore, such situations demand real-time internal collaboration.
With the parent-child ticketing feature of help desk software, you can break a ticket into multiple sub-tickets and assign them to different departments.
For example, imagine a customer making a request to ship their product to a different delivery address. Now, the support team can use the parent-child ticketing feature to assign this task to the logistics team.
Furthermore, customer feature requests can be shared with the product or design team in a similar fashion. A well-streamlined internal collaboration not only keeps you organized, it will help you speed up the ticket resolution process.
7. Escalate Overdue Customer Requests
When requests are not resolved within a certain time frame, they are automatically assigned the "Overdue" status. You can decide when a request ticket is marked as overdue (after 12 hours, 1 day, or 2 days).
For proper customer request tracking and timely resolution, you must escalate requests to senior reps or management.
Create an escalation hierarchy where Tier-1 agents know who to escalate an issue to for faster resolution. For example, if a customer request has been lying unattended for days and breached the SLA, it can be escalated to the manager.
Similarly, all overdue customer requests can be escalated to senior reps or the manager, both of whom have better knowledge and experience in handling them.
8. Restrict Access With Agent Roles & Permissions
Some customer requests can be sensitive in nature, and you won't want everyone on your team to access them. So what can you do to restrict access?
On your help desk system, you can assign different roles to your team members, such as Admin, Manager, Staff, or Watcher. These roles determine what staff members can and can't access.
For instance, the manager can access team performance reports, whereas the individual agents cannot. This is a great way to build the right team structure and ensure everyone is well-aware of their roles, responsibilities, and permissions.
9. Monitor Request Trends With Insightful Reports
You need well-defined and visually-enriching reports to understand how well your support team is managing customer requests.
Reports offer you a bird-eye-view of your customer service performance. You can track metrics such as average ticket response time, ticket resolution time, open tickets, agent ratings, and more.
Help desk reports can help you find answers to questions such as:
How many customer requests are pending?
What is the total number of requests received this month?
What is the average time taken to respond to a customer request?
What is the average time taken to resolve a customer request?
How happy are customers after their support interaction?
Support managers can easily customize reports to check their team's daily, weekly, and monthly performance. In addition, you can share reports with key stakeholders to maintain transparency.
Read More: 15 Help Desk Metrics to Improve Customer Support
10. Integrate With CRM
Help desk and CRM integration will help your business bridge the gap between customer service and sales teams. You can transfer request tickets to your CRM tool, and from there the sales team can engage with the leads and nurture them into loyal customers.
Imagine these two customer requests:
I saw an ad for product X. When will the product be available in my area?
Can I get a discount coupon? The product seems a little expensive to me.
Now, even though the customer service professional can offer the desired answer, such requests are best to be shared with the sales team. For example, in the first request, a sales representative can share exact details of product availability and even recommend higher-priced products.
Similarly, in the second request, the sales rep can offer a discount coupon or other similar products that falls within the customer's budget.
Stay on Top of Customer Service Requests!
When it comes to customer request tracking, your business cannot afford to drop the ball. If you miss responding to a single request, you stand a chance of losing the customer forever.
In order to track customer requests efficiently, you must organize them using statuses, labels, and priorities. Avoid using long sentences or jargon in your response messages. Assign requests to relevant departments and escalate those that have not been attended to for a long time.
With powerful help desk software such as ProProfs Help Desk, your team can stay on top of customer service requests. You can prioritize urgent requests, track your team's response metrics, and automate your process to delight customers.
Do you want a free Help Desk?
We have the #1 Online Help Desk Software for delightful customer support