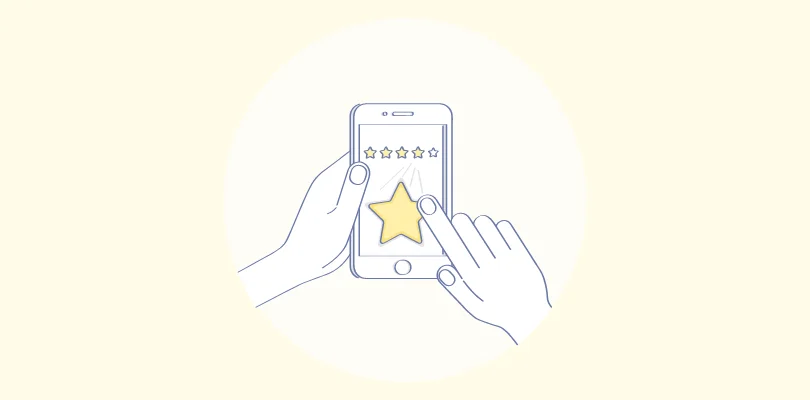 Good customer service seems to be an endangered species in today's business landscape.
Just take a quick scroll through social media, and you'll find a barrage of complaints and frustrated customers airing their grievances. It's no wonder that businesses are waking up to the realization that exceptional customer service is the key to survival.
For ages, businesses believed that product quality and price are the deciding factors for a loyal customer base. But that is hardly the reality today.
For many customers, the answer is good customer service.
A 2021 survey report says that 77% of customers believe that excellent customer service plays a decisive role in fostering brand loyalty and driving business growth.
High-quality customer service is the key to making your customers happy, loyal, and willing to recommend your company to others. But how do you make sure you deliver excellent customer service every time?
That's what we're going to talk about in this blog. So, let's get started.
What Is Good Customer Service?
Good customer service is the ability to meet or exceed customer expectations in a timely, efficient, and friendly manner. It means building relationships with your customers by listening to their feedback and responding to their needs and preferences through different communication channels like email, social media, live chat, or self-service options.
However, do understand that –
"Customers don't expect you to be perfect. They do expect you to fix things when they go wrong." – Donald Porter, former VP at British Airways.
Therefore, providing quality customer service is not always about being the best in whatever domain your business works in. It is rather about how many extra miles you are ready to go to exceed your customers' expectations and deliver more than what they asked for.
The Top 10 Ways to Deliver Excellent Customer Service
How do you go out of your way to make your customers happy? How do you ensure they don't switch to a competitor tomorrow?
Finding answers to these questions is tricky. So, we have curated the top 10 ways to deliver high-quality customer service that can help you win over your customers.
#1 Be Friendly With Your Customers
Think about your last amazing customer service interaction (maybe at your local convenience store). Now, think about the worst service interaction you encountered.
There is a good chance that the difference between the two interactions had nothing to do with the product but was about how friendly and polite the customer service rep was.
Here are some points that highlight the importance of friendly customer service:
✅ Greeting customers with a smile and a warm welcome makes them feel valued and appreciated.
✅ Courteous and respectful customer service agents show your customers that you respect their time, opinions, and preferences.
✅ Being proactive lets you anticipate customers' needs and offer solutions before they ask. This saves them time and hassle and shows them that you care about their satisfaction.
So, how can you be friendly with your customers? What are the things to avoid and what to implement? Here are some tips for you to get started:
✅ Use positive language and a consistent tone. Avoid negative words like "can't," "won't," or "don't."
✅ Use the customer's name to personalize your interactions. Remember details about their previous purchases, preferences, or feedback. This makes them feel special and recognized.
✅ Express gratitude and appreciation to your consumers at every part of the customer journey. This shows them that you value their support and loyalty.
Read More: How to Handle Difficult Customers, with Ease!
#2 Deliver Prompt & Speedy Responses
When a customer reaches out to you with a question or a problem, they want to feel heard and helped. Prompt and speedy responses show that you value their time and care about resolving their issues quickly.
However, speed is not everything. You also need to provide quality and accuracy in your responses. Customers will not appreciate incomplete or incorrect information.
So how can you balance speed and quality in your customer service?
📌 Use the Right Channel for the Right Query: Some channels, like phone, are better for urgent or complex issues. Others, like email or social media, are more suitable for less time-sensitive issues.
📌 Automate & Streamline Your Workflow: Use a chatbot tool to assist prospects and customers with their basic queries. Moreover, you can also use customer service email templates and canned responses to handle frequently asked questions.
📌 Train & Empower Your Agents: Make sure your agents have the skills, knowledge, and tools to provide fast and accurate answers. With the help of the right training software, agents can train themselves to take authority and solve problems without escalating them unnecessarily.
📌 Follow up & Close the Loop: Don't leave your customers hanging after you've answered their questions. Ask them for feedback, thank them for their business, and confirm that their issue is resolved.
#3 Automate Customer Support With Help Desk Software
Sometimes, customer support can be time-consuming, costly, and stressful for your in-house support team. As hundreds of customer queries accumulate daily, it becomes harder for you to deliver prompt and speedy responses.
So, how can you make your team more efficient and effective without compromising quality?
The answer lies in automating your customer support process with help desk software.
Help desk software is a tool that helps you manage all customer queries, issues, and feedback in one place. It streamlines the communication between your staff and customers and automates various tasks that would otherwise require manual intervention.
Using professional software like ProProfs' help desk, you can reply to your customers quickly and solve their issues faster. Here are some ways how –
💠 Auto-Reply to Tickets Before Agent Intervention
Set up automated responses that acknowledge the receipt of customer tickets and provide basic information or instructions. This way, you can reassure your customers that their issue is being resolved and reduce their frustration.
💠 Send Instant Email Notifications on Ticket Changes
Help desk software also allows you to send automated email notifications to your customers whenever there is a change in the status of a ticket. This helps you keep customers updated on the progress of the issue and avoid confusion or delays.
💠 Use Round-Robin Algorithm to Assign Tickets Automatically
Distribute the workload among your agents evenly and fairly. You can use the round-robin algorithm to assign tickets automatically to agents based on their availability and expertise. This way, you can ensure that every ticket is handled by the right person and avoid overloading or underutilizing your staff.
💠 Auto-Send Surveys After Ticket Resolution
With help desk software, you can collect feedback from customers once their issue is resolved. Create and share automated surveys via email and ask them to rate their recent experience. This way, you can measure your customer satisfaction and identify areas for improvement.
💠Save Time With Canned Responses
Creating pre-formatted replies that contain answers to frequently asked questions can save time and effort for your agents and provide faster and more consistent responses to your customers. You can save these replies as templates and use them whenever you encounter a similar query.
Read More: 11 Best Canned Response Templates for Customer Support Emails
#4 Know Your Product/Service Inside Out
Knowing your product or service is not just about memorizing facts and features. It's about understanding the value and benefits that it provides to your customers. It's also about being able to answer their questions, solve their problems, and show them how to use your products or services effectively.
In a nutshell –
✅ Knowing your product creates a positive impression on your customers. They are more likely to trust and buy from you if you demonstrate your confidence about it.
✅ It boosts customer satisfaction and loyalty. Customers are likelier to be loyal if you can help them get the most out of their purchase.
✅ Satisfied buyers are likelier to recommend you to others, boosting word-of-mouth marketing.
Now, you may ask –
How can I know about my product thoroughly? How do I ensure my customer support team has a comprehensive understanding of the product?
Here are some tips that can help you get started –
💠 Use It Yourself
The best way to learn about your product or service is to experience it firsthand. Try it out, test it, explore its features and functions, and see how it works in different scenarios. Also, you should encourage your customer support team to do the same.
💠 Keep Up With the Updates
Stay on top of any changes or improvements that are made to your product or service. Read the release notes, watch the tutorials, attend training sessions, and try the new features yourself.
💠 Research the Market
Know your target customers, their needs and pain points, how they use your product or service to solve their problems, and what other alternatives they have. Compare your product or service with your competitors to identify and work more on your unique selling points.
#5 Listen Actively & Empathize With Customer Problems
Listening actively to pain points or product issues and showing empathy can take the customer-company relationship to new heights. But, in order to do that, you need to relate to your customers' problems. So, how do you do that?
Here are some examples for you to understand it better.
First, you need to show your customers that you care about their feedback and emotions when dealing with a problem. Don't interrupt them or jump to conclusions. For example, you can say –
"I'm sorry to hear that you had a bad experience with our product. That must have been frustrating."
Second, you need to ensure that you understand their problem and their perspective. Repeat what they said in your own words and ask clarifying questions if needed. For example, you can say –
"So, what I'm hearing is that the product didn't work as expected, and you couldn't get a refund. Is that correct?"
Third, you must offer a solution that matches their needs and expectations. Explain how you can help them and why you think it will work. For example, you can say –
"I appreciate your patience and honesty. I'm going to escalate this issue to our manager and see if we can process a refund for you. I think this will be the best way to resolve this situation."
Read More: Customer Pain Points: What Are They, How to Identify & Their Solutions
#6 Leverage Customer Feedback to Make Improvements
Customer feedback is not just a nice-to-have but a must-have for any business that wants to improve its customer service. Why? Because feedback tells you what your customers think of you, what they need from you, and how you can serve them better.
But how do you get feedback from your customers? And how do you use it to improve your customer service process?
There are many ways to ask for feedback from your customers. You can use automated emails for ticket ratings, CSAT, NPS, and custom surveys. By making specific changes based on the responses, you can show your customers that you value their voice.
#7 Fix Mistakes & Follow up With Customers
As a business executive, you know customer satisfaction is the key to success. But sometimes, things don't go as planned, and you end up disappointing your customers.
So, how do you overcome such situations? Are there ways to fix mistakes and turn them into opportunities?
Yes, there is one – the art of apologizing and following up with customers. Let's take a closer look at what it means and the steps of doing it.
✅ Embrace Your Mistake and Apologize Sincerely
Imagine this scenario: You have a travel agency, and you have booked a flight and a hotel for your customer. However, due to a technical error, you have booked the wrong dates, and the customer arrives at the airport only to find out that their flight is not until next week.
💡 What is the pro way to handle such a situation?
You need to embrace your mistake and apologize sincerely. Instead of hiding or denying your responsibility, show compassion by explaining what went wrong and how you are going to make it right.
For example, you can say something like this –
"We're so sorry for this inconvenience. We understand how frustrating this must be for you. You were looking forward to your trip, and now you have to deal with this hassle. We're going to do everything we can to fix this problem and get you on the next available flight."
✅ Deliver a Solution That Delights Your Customer's Expectations
The second step is to deliver a solution that exceeds your customer's expectations. Go above and beyond and provide something extra that will make your customer delighted.
Continuing from the previous scenario, let's assume you have found a flight for your customer that leaves in two hours. However, the flight is more expensive than the original one, and the customer is not pleased about that.
💡 What is the pro way to handle such a situation?
Well, you can say something like this –
"We understand your frustration and agree that you deserve compensation for this inconvenience. We're going to refund you the difference between the original and the new flight.
Also, as a gesture of goodwill, we'd like to give you a $100 voucher that you can use for any of our services in the future. I hope this will make up for the trouble and make your trip more enjoyable."
✅ Follow up With Your Customer & Ask for Their Opinion
Fixing your mistake doesn't end here. You need to follow up with your customer.
You shouldn't assume that everything is fine. Contact your customer and ask for their opinion. Find out if they are happy with the result and if they have any further feedback. You can also thank them for their cooperation and loyalty.
Doing this ensures that your customer understands how their satisfaction is essential to your business. In most cases, delighted customers will likely describe the whole experience to their friends and family, making way for word-of-mouth marketing.
Read More: What are Customer Expectations? How to Meet & Exceed Them?
#8 Deliver Context-Based & Channel-Specific Support
Customers today expect more than just a quick answer to their queries. They want personalized, relevant, and timely support that matches their requirements. That's why delivering context-based and channel-specific support is essential for a great customer experience.
Context-based support means understanding the customer's situation, history, and goals before offering a solution.
Channel-specific support means adapting the tone, style, and format of the communication to suit the medium of interaction – whether email, live chat, social media, or self-service.
Now the question is – How can you deliver context-based and channel-specific support? Well, we have some suggestions for you.
Use a CRM system that collects and stores customer data across all touchpoints and channels. This will help you access the customer's profile, preferences, history, and feedback in real-time.
Segment your customers based on their behavior, needs, and expectations. This will help you tailor your support strategies and messages to different customer groups.
Train your support agents to use the appropriate language and tone for each channel. For example, social media support requires faster responses and empathy, while chat support requires more clarity and brevity.
Monitor your support performance across all channels. This will help you identify the strengths and weaknesses of your support team and improve your service quality.
#9 Focus on Building Long-Term Relationships
Long-term relationships are beneficial not only for your customers but also for your business. They help you retain more customers, save money on acquiring new customers, leverage word-of-mouth marketing, improve your brand image and trustworthiness, and sell more products and services to existing customers.
So how do you build long-term relationships with your customers? Is it only about creating more exclusive products? Or does the secret lie in the effectiveness of your after-sales customer service?
A 2021 survey report suggests that –
Over 96% of American consumers emphasize the significance of having good customer service. Among them, a staggering 82% rate it as either extremely important.
(Source)
Therefore, it can be concluded that customer service has a significant role to play in satisfying your customers and retaining them.
Here are some best practices that can help you build long-term relationships with your customers –
Communicate with your customers regularly and consistently
Listen to their feedback and act on it
Provide value-added services and solutions
Reward their loyalty with discounts and incentives
Personalize your interactions and offers
Surprise and delight them with unexpected gestures
Read More: Top 7 Ways to Build Long-Lasting Customer Relationships
#10 Innovate the Customer Journey
Customers today expect more than just a product or service. They want a personalized, seamless, and memorable experience that meets their needs and preferences. That's why you need to innovate your customer journey and deliver value at every touchpoint.
But then you reach the same question – "How can I do that?"
One way is to use data and analytics to understand your customers better. You can segment your audience based on their behavior, interests, and goals and then tailor your messages and offers accordingly.
Another way is to leverage technology and automation to streamline processes and enhance your interactions. You can use chatbots, help desk systems, and CRM tools to provide faster and smarter support.
You can also use social media, email, and mobile apps to communicate with your customers in real time across different channels.
Good Customer Service: Methodology
To achieve good customer service, you need to adopt a methodology that guides your interactions with customers and ensures consistent quality. In simpler words, you need to know about the key elements and the qualities of good customer service.
So, what are those? Let's find out.
The 3 Critical Elements of Good Customer Service
#1 Responsiveness
Nearly 44% of US consumers consider slow response times as a major source of frustration while waiting for a resolution.
(Source)
What is it: Responsiveness is a key element of excellent customer service. Being responsive means answering your customers' queries and complaints quickly and effectively. It helps you to resolve issues before they escalate and damage your brand image.
How to be responsive: You need a clear communication strategy covering all the channels and platforms where your customers interact with you. You must also train your staff to handle customer inquiries more professionally and empathetically.
---
🔥 Quick Tip: You can excel at responsiveness by automating your workforce using different automation tools simultaneously, like ProProfs' knowledge base, chatbot, help desk, etc.
---
#2 Competency
What is it: Competency is the ability to deliver what your customers expect. It's the foundation of good customer service and the key to making your customers come back for more.
How to be competent: How can you be competent as a business? How to ensure that your employees have the knowledge, skills, and attitude to meet the needs and wants of your customers?
The answer is simple: training. Training is the best way to develop and maintain competency in your business. It helps you to –
Stay up-to-date with the latest trends and technologies in your industry
Identify and address the gaps in your service delivery
Enhance the performance and productivity of your employees
Improve the satisfaction and retention of your customers
However, it is not a one-time event but a continuous process. You need to regularly assess and update your training programs to keep up with the changing demands of your customers.
Read More: 10 Best Employee Training Methods & Their Biggest Benefits
#3 Personalization
Around 76% of customers are more likely to consider brands that personalize communications, while 78% will recommend the brand to acquaintances or repurchase in the future.
(Source)
What is it: Personalization is no more just a buzzword. It is a powerful strategy to connect with your customers and make them feel valued. Personalized customer service means tailoring your interactions and offerings to the individual needs, preferences, and expectations of each customer.
How to personalize: How can you deliver personalized experiences as a business? Here are some tips –
Use customer data to understand their behavior, interests, and pain points.
Segment customers based on their characteristics and needs.
Customize your communication channels, messages, and tone to suit each customer.
Offer personalized recommendations, solutions, and incentives based on their purchase history and feedback.
Ask for feedback and act on it to improve your service.
The Top 7 Qualities of Good Customer Service
#1 Empathy
Empathy is not just a nice-to-have quality in customer service. It's a must-have. Why? Because it helps you connect with your customers on a deeper level and earn their trust and loyalty.
Empathy means you don't just hear what your customers say, but you also understand how they feel. By understanding their problems, frustrations, and emotions, you offer genuine solutions that meet their needs and expectations.
Read More: Importance of Empathy in Customer Service
#2 Communication
Communication is the key to delivering excellent customer service. It's not just about telling customers what they want to hear but also listening to their needs and expectations.
Communication helps you solve problems faster, prevent misunderstandings, and improve your product or service. It is a skill that every customer service professional should master.
Read More: 21 Best Customer Communication Tools in [2023]
#3 Problem-Solving
Customers don't just want their problems solved. They want them solved quickly, efficiently, and with empathy. They want to feel valued and respected by the companies they do business with. That's why problem-solving is a crucial skill for customer service agents.
It enables them to understand the customer's needs, find the best solution, and deliver it in a way that satisfies the customer and builds trust.
Problem-solving is not just about following a script or a procedure. It's about being flexible, creative, and resourceful. It's about going the extra mile to make the customer happy.
#4 Professionalism
Customers expect to be treated with respect, courtesy, and competence by the companies they interact with. They want to feel that their concerns are taken seriously and handled professionally. That's why professionalism is an essential quality for your customer service agents.
Professionalism is not just about following the rules or wearing a uniform. It's about having a positive attitude, a high standard of ethics, and a commitment to excellence.
#5 Knowledge
Your customers want to get accurate, relevant, and timely information from your company. They want to get answers to their questions and solutions to their problems. That's why knowledge is a crucial attribute to providing excellent customer service.
Knowledge is about staying updated on the latest trends, developments, and innovations in your product/service domain. It enables you to provide helpful, informative, and trustworthy advice to your customers and handle complex or challenging situations with confidence and ease.
#6 Feedback
With feedback, you can tailor your solutions to fit your customers' needs and delight them. Feedback helps you understand areas that need improvement.
By paying attention to your customers and responding to their feedback, you'll demonstrate that you care and respect their views. You can collect feedback from all sources: surveys, interviews, reviews, social media, etc., to enhance your products, improve your customer experience, and boost retention.
Read More: 21+ Best Customer Feedback Tools You Should Try In 2023
#7 Customer-Centricity
Customer-centricity means putting your customers at the heart of everything you do. It means listening to their feedback, understanding their pain points, and delivering solutions that delight them.
When you adopt customer-centricity as a quality of great customer service, you will not only make your customers happy but also turn them into loyal fans.
Read More: How to Build Customer Centric Organization: 10 Ways to Customer Centric Culture
Growing Your Business by Providing Excellent Customer Service
Good customer service is the foundation of any successful business. But it's not enough to just be good. You need to wow your consumers with every interaction and make them feel valued and appreciated throughout the customer journey.
How can you achieve that? That's precisely what you have read so far in the blog. You need to listen to your customers and meet their needs by building a team that shares your vision of customer service excellence.
You also need a promising tool to help you deliver better customer service. A great option in this aspect would be the ProProfs Help Desk. If you are looking for a tool that can help you manage your tickets, track your issues, and collaborate with your team, this is the one.
The software lets you create a shared inbox for your support emails, assign tickets to agents, set priorities and deadlines, and monitor your performance. When you do these things, you'll stand out from the crowd and grow your business in today's competitive environment.
Do you want a free Help Desk?
We have the #1 Online Help Desk Software for delightful customer support