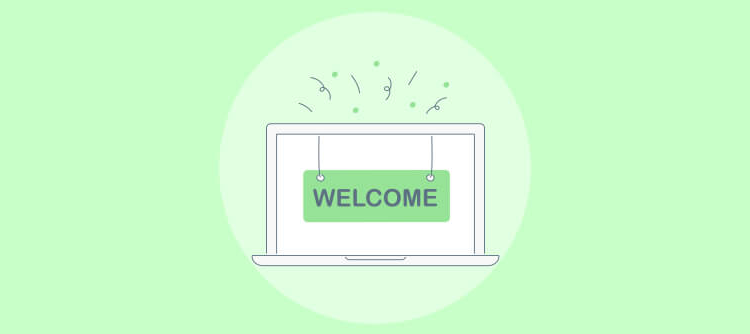 Making your customers feel welcome is an important component of a positive customer experience. After all, every new customer wants to be the center of your attention.
To welcome your customers with a bang, you don't have to blow horns. Sometimes, a new customer welcome email template can do the job perfectly.
With a well-designed welcome email template, you can kickstart your onboarding process, introduce customers to your brand, appreciate them for joining you, and begin their journey on a positive note.
But here is a challenge. How do you draft the best welcome emails?
Well, don't worry, as we have done the heavy lifting for you. In this blog, you will find 10 ready-to-use welcome email templates that will help you strengthen your bond with new customers.
Whether you wish to simply welcome customers, make them sign up for your newsletters, or upgrade to a premium plan, we have covered all the possible scenarios. But before we proceed, let's learn the art of crafting the best customer welcome emails.
How to Write the Best Customer Welcome Emails
Automated, poorly-drafted, or impersonal welcome emails can lead to a negative customer experience and hamper your reputation. So what's the way out?
Here are some tips you can follow to make sure your welcome emails are read by customers:
1. Create an Appropriate Subject Line
A subject line can make or break your communication efforts. It determines if people will open your email or they will simply ignore it.
In fact, According to a recent report, 33.90% of recipients open an email based on the subject line.
While writing a catchy and engaging subject line is important, make sure it also comes across as warm and welcoming. Feel free to show some excitement for your new customers but do not make things too casual. A well-written welcome email subject line will help you grab the attention of your new customers.
2. Use an Email Management Software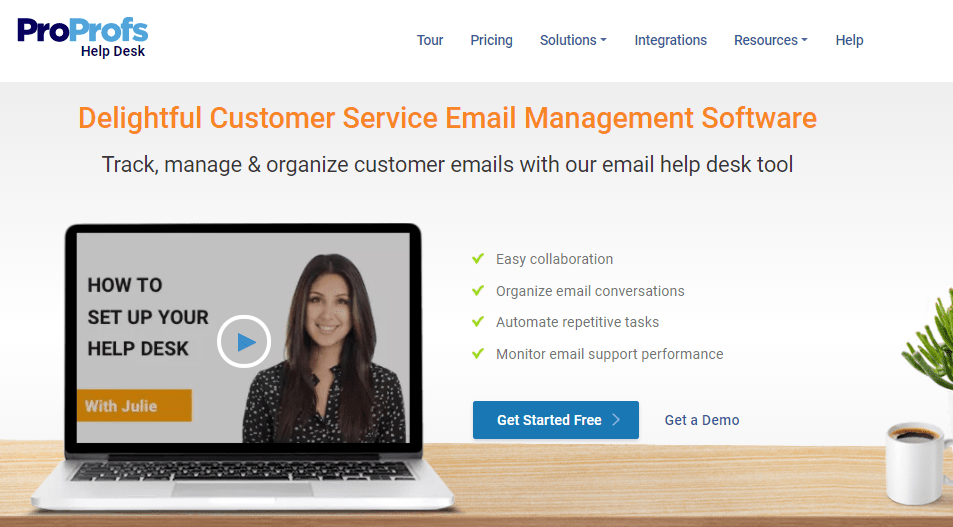 Using email management technology will improve how you communicate with customers, colleagues, as well as prospects.
With the best email management software, you can create, edit, share and store hundreds of email templates in one place. Right from welcoming new customers to business clients, you can create templates for different situations and reuse them.
Moreover, before hitting the send button, you can collaborate with internal team members using Private Notes. You can even see who is working or replying to which email and avoid sharing duplicate responses.
Read More: Effective Email Management Tips You Should Know
3. Add a Touch of Personalization
To leave a lasting impression, make sure your email does not seem impersonal or automated. It's no surprise that personalized emails have higher click-through and open rates.
According to a study, emails with personalized content and subject lines are 26% more likely to be opened.
To personalize emails, include the customer's name and add relevant details about their purchase. You can also share personalized product and plan recommendations. While you can always refer to welcome email templates, do not copy & paste them entirely. Make necessary tweaks according to the situation and delight new customers with a personalized welcome email.
4. Include Relevant "Call to Action" Buttons
While it is important to appreciate your new customers, it is equally important to make them perform relevant actions.
Strategically placed Call to Action buttons will help your business increase engagement and achieve upselling targets.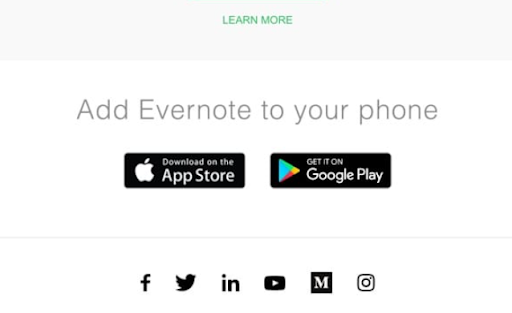 For instance, you can include a "Subscribe to our newsletter" CTA button and make sure customers receive relevant content about your products/services. Similarly, you can encourage them to download your mobile app or ask them to complete a short onboarding guide.
Benefits of Using Customer Welcome Email Templates
While some organizations leave employees to handle emails, others have been smart enough to incorporate the right templates. Here are some of the top benefits of using new customer welcome email templates:
Reduce Employee Stress: Your customer service or sales teams are always under some stress when it comes to responding to important emails. Using templates for customer welcome emails simplifies inbox management and reduces stress. Your team members can respond faster and focus on urgent tasks.
Ensure Brand Consistency: If every team member writes a welcome email from scratch, they will end up sharing inconsistent messages. On the contrary, when you create welcome email templates that represent your brand, you will ensure that every single message sent is consistent. This will also ensure that every outgoing email includes a consistent tone as well as language.
Speed Up Your Onboarding Process: Customer onboarding is the process of getting customers acquainted with your business, products/services, and features. Your team can use an appropriate welcome template and kickstart the onboarding process. By sharing the right welcome email at the right time, customers will not have to contact you to get their issues resolved.
Reduce Human Errors: Imagine sharing a welcome email full of errors. It will only make your company appear less credible and not-so-professional. When you manually type long emails, grammatical errors are bound to happen. You might also forget to add important customer details or make spelling errors. With the right templates up your sleeves, you can avoid such silly mistakes.
10 Customer Welcome Email Templates for Every Situation
Here are the best ten customer welcome email templates:
1. The "Product-Focused" Welcome Email
A lot of times customers buy a product simply because a friend or family member recommended it to them. In such a case, they do not have much information about the product.
With this product introduction welcome email template, you can highlight the various features and other aspects that can create value for new customers. Make sure you include important links in your email body, such as getting started videos, step-by-step guides, FAQ section, tutorials, etc. This will allow new customers to master your product in the shortest amount of time.

Your Issue/Request Has Been Registered

Hi [CUSTOMER NAME],
We would like to take this moment to thank you for choosing [PRODUCT NAME]. Welcome on board! We believe our [PRODUCT] will help you achieve your desired objectives.
To help you get started and reap the maximum benefits from our products, we have included important links below:
To set up and launch your product, you can watch this short video: [VIDEO LINK]If you have any doubts, you can go through our intensive FAQ section: [FAQ LINK]To achieve your goals in the shortest amount of time, here is our step-by-step guide: [GUIDE LINK]
We are sure, all these resources will help you get started quickly without much trouble. However, if you still have questions, please feel free to contact us on our Toll-Free number:[CONTACT NUMBER]. We hope you have a delightful experience with us!
Thanks, [SIGNATURE]

2. Welcome Email Template for Free Trial
Everyone loves free trials! On the one hand, customers can see what your SaaS product is all about; on the other; your business can get a chance to acquire more paid customers. When any customer opts for a free trial, they should feel welcomed.
With this new customer welcome email template, you can onboard your free trial users with ease. It is important to give them an overview of what to expect during their trial – the start date, the expiry date, the available features, and other details. Share your contact information to make it easier for users to get in touch with you. Moreover, you can even promote the benefits of upgrading a free trial to paid plans.

Your Issue/Request Has Been Registered

Hi [CUSTOMER NAME],
Welcome to [COMPANY NAME]. I am [EXECUTIVE NAME], and I will guide you through your XX-day free trial that starts today.
So what's the good news? During your trial, you can access all our premium features for absolutely free!
I'm here to help you get up and running with our product as quickly as possible. Here is a small getting started video that you will find useful: [ADD VIDEO LINK]
Also, keep an eye on your inbox as we will be sharing some amazing tips to make the most of your trial period. If you have any confusion or wish to upgrade to a paid plan, I will be more than happy to assist you. Have a great day ahead!
Best Wishes,[SIGNATURE]

3. Introducing a New Customer to Your Company
What do successful brands like Amazon, Disney, and Apple have in common? Their target audience knows about them inside-out. Similarly, your customer base should have a fair idea about what your business does.
When customers buy from your online or offline store, they may not know much about your business or what it stands for. By introducing new customers to your company, you can start the relationship on the right foot. With this welcome email template, you can tell new customers about your company's experience, industry, product/service offerings, etc. With the right information and knowledge, customers will be willing to buy more from your brand.

Your Issue/Request Has Been Registered

Hi [CUSTOMER NAME],
Thanks for choosing [PRODUCT NAME]. We are thrilled to have you onboard and look forward to serving you for the years to come.
However, before we move ahead, I would like to introduce you to our company [COMPANY NAME].
We have been in the industry for over XX years, and our objective is to deliver customer delight through best-in-class products and services. We have customers from all across the globe and offices located in X+ countries. We believe in customer empowerment, and for that reason, our support team is working round-the-clock to help you get better at solving problems.
We highly appreciate you for choosing our brand. If you have any questions, feel free to reach out to me on my contact details mentioned below. Good luck!
Thanks, [SIGNATURE]

4. Welcoming an Ex-Customer Back
So your sales team did repetitive follow-ups and worked hard to get that ex-customer back. Now what? How do you welcome them back and provide a memorable experience?
With this customer welcome proposal email template, you can welcome customers who left you at some point but wish to engage with your business again. It's important to let them know what exactly has changed and how you have improved your overall products/services. You can share the new features or benefits that you have introduced and try to win their confidence. Lastly, appreciate them for giving you another opportunity.

Your Issue/Request Has Been Registered

Hi [CUSTOMER NAME],
Welcome to [COMPANY NAME] once again. We really missed you, and we hope you did too!
A lot has changed while you were away. We have made our pricing even more competitive and introduced some highly impactful features. Here are the new product features that you can start enjoying right away:
Product Feature 1Product Feature 2Product Feature 3
I'm sure our product will help you solve your major problems. Thanks for giving us another opportunity to serve you. We look forward to a healthy and long-term relationship.
Can we connect tomorrow for a quick 10-minute call to discuss more features and their potential benefits for your team? Looking forward to your response.
Thanks, [SIGNATURE]

5. Welcome Email Template for a New Business Client
If you are a B2B company, the welcome letter template becomes all the more important. After all, even a single client can give you their business worth thousands of dollars. When important business clients are respected and valued, they will buy from you again and again.
Using this template, you can communicate with clients directly and inform them about your products or services while providing value. You can introduce what your business does, the types of clients you have onboard, your industry, and more. You can even share links to case studies or testimonials to win your client's trust and build a strong relationship.

Your Issue/Request Has Been Registered

Hi [CUSTOMER NAME],
Welcome on board! Thanks for giving your valuable business to [COMPANY NAME].
We started out in the [YEAR] to help [SMALL/MID-SIZE/BIG] businesses grow and hope to achieve the same for you. We are sure our wide range of products/services will help your business achieve your goals faster and rise above any roadblocks.
Here are some case study links of businesses from your industry [ADD LINKS]. I'm sure this will help you get started quickly and offer a healthy dose of inspiration.
Moreover, we would also love to hear about what you think of our product/service pricing. Is there anything we should work on or improve? Let us know!
Thanks, [SIGNATURE]

6. Welcoming a Customer Who Has Subscribed to Your Newsletters
In contemporary times, email has become one of the most cost-effective marketing channels. No wonder marketers from across the globe are looking for creative ways to make people subscribe to their newsletters. But what happens after someone clicks on the "subscribe now" button? How do you welcome them?
With this free customer welcome email template, you can appreciate customers for showing interest in your business. Make sure your subscribers know what exactly to expect – the types of content, how frequently they will receive it, and what benefits they can get. To convert subscribers to customers, you need to take their feedback and improve your newsletter content regularly.

Your Issue/Request Has Been Registered

Hi [CUSTOMER NAME],
Thanks for subscribing to our newsletter. Welcome to the club!
As promised, here is the link for your free [OFFER NAME]. We hope you will enjoy it.
[INSERT LINK ]
Wondering what to expect? You will receive our newsletters once every week. The topics will cover expert tips, best practices, interviews, industry trends, and a lot more.
You can always rate the content offered in our newsletters and help us deliver more personalized content to you. Please feel free to contact us if you have any questions. Have an amazing day ahead!
Best Wishes[SIGNATURE]

7. Introducing a New Customer to the Account Manager
Are you looking to introduce new customers to an account manager? This customer welcome introduction email template will offer all the help you need. The account manager can keep customers up to date with all the right information and acts as a single point of contact when something goes wrong.
This template lets you set a collaborative tone with your customers and lets them know they are in safe hands. The account managers can share their experience with the company as well as their contact details. This allows new customers to build rapport with their account managers quickly.

Your Issue/Request Has Been Registered

Hello [CUSTOMER NAME],
It's great to have you on board. I am [YOUR NAME], and I'll be your new account manager. I have 5+ years of experience in this field and have managed the accounts of over 100+ clients. I'm thrilled to work with you and can't wait to help you get the most out of our [PRODUCT NAME].
I would like to learn about the challenges you are currently facing and how you plan to use our product.
If you have any doubts or questions, I shall be your go-to person. I would love to have an introductory call with you to discuss how to help you achieve your goals faster. Can we connect for a 10-minute call tomorrow? Feel free to book a call in [LINK].
Thanks, [SIGNATURE]

8. Welcome Email Template for Sharing Premium Plans/Features
If a customer has opted for a free trial or a basic plan, it's important to share information about your premium plans as well as their features. In fact, there is no harm in introducing this information right in your welcome email, as a lot of new customers have no idea what to expect from your brand.
In addition to welcoming customers, you can use this customer welcome email template to convince them to upgrade from free to paid accounts or higher premium plans. Make sure you highlight all the additional benefits a customer will get when they spend more money. Moreover, you can even make them aware of the limitations of free plans.

Your Issue/Request Has Been Registered

Hi [CUSTOMER NAME],
Thanks for choosing [COMPANY NAME]. We are really excited to have you join us. I'm sure we will help you get closer to your goals and dreams.
However, it looks like you have opted for our [BASIC/FREE] plan that comes with certain limitations. I would recommend you try our premium plan that comes at the cost of [PRICE]/month. By upgrading today, you'll ensure you can take full advantage of these great premium features:
[Premium Feature 1][Premium Feature 2][Premium Feature 3][Premium Feature 4]
If you are unsure or have any doubts, let's get in touch and talk about the challenges you're facing. Let me know when would be a good time to contact you?
Best,[SIGNATURE]

9. Welcoming a Customer With "Getting Started" Instructions
A well-drafted "getting started" email can guide new customers through your onboarding process and prevent them from bombarding your support team with unnecessary requests or issues. For a seamless onboarding process, you can walk your customers through various steps and best practices.
With this template, you can go beyond a simple and mundane welcome email. You can use this opportunity to welcome your new customers and introduce them to your product. Share a small step-by-step guide on how customers can get started with your product easily. Include visuals and graphics to make a great first impression.

Your Issue/Request Has Been Registered

Hi [CUSTOMER NAME],
We would like to offer a warm welcome for joining [COMPANY NAME]. We hope you have a delightful experience with [PRODUCT NAME].
In this welcome email, we have included a few key things you can do to get started instantly. Without further ado, here is a small step-by-step guide that will help you achieve [MENTION GOALS]
[STEP 1][STEP 2][STEP 3]
Do you wish to learn more and explore some advanced features? Here is a link to our help center: [ADD LINK]. You can go through our detailed getting started blogs as well as videos to kickstart your journey with us.
If you have any questions, you can reach out to us via email, live chat, or phone. Our customer success team operates 24×7 and will be more than happy to assist you. Good luck!
Best,[SIGNATURE]

10. Welcome Email Template to Share a Gift or Exclusive Offer
Got a new customer? Why not go out of your way and surprise them? Sharing gifts, discount coupons, and other perks with new customers is a great way to start the customer journey on a delightful note. However, these lucrative offers do not mean you drag your business towards losses. You must offer things that are reasonable and do not burn a hole in your pocket.
You can use this template for customer welcome email to thank customers for choosing your brand over others. Even a small 10-15% discount coupon (on next purchase) will help you keep customers happy and achieve your upselling objectives. Remember, to include the code or gift details and also mention the expiry date of the coupon. This small yet sweet gesture will lead to a memorable experience for your new customers.

Your Issue/Request Has Been Registered

Hi [CUSTOMER NAME],
Thanks for choosing [COMPANY NAME]. We are extremely thrilled to see you join us!
I have some good news to share with you. As a token of appreciation, I am sharing a 25% discount coupon that you can use when you opt for any premium plan. Here is the coupon code: [MENTION DISCOUNT CODE].
You can simply use the coupon any time during checkout. It will be valid for the next 3 months starting today.
I would like to inform you that this small gift has only been shared with you since we consider you a valuable addition to our business. I hope we can start this relationship on a vibrant and positive note. Looking forward to hearing from you soon. Have an awesome day!
Regards, [SIGNATURE]

Create a Lasting First Impression With Welcome Email Templates
Modern customers want to see a business make genuine efforts to acknowledge and welcome them. If customers feel ignored and think their time is wasted, they will not think twice before moving to another brand.
Even if customers have decided to buy from you, that does not mean the job is over. With the best customer welcome email template, you can leave a lasting impression on the minds of your new customers and make them feel at home.
To draft the best welcome emails, create an appropriate subject line and add a healthy dose of personalization. You can also use email management software to create and store hundreds of customer email templates. Ready to welcome new customers with a bang?
Do you want a free Help Desk?
We have the #1 Online Help Desk Software for delightful customer support