Businesses are investing so much time, money, and effort in talking to customers. But why do customers find the mere thought of contacting a business painful?
The truth is that communication is an ongoing process and works for those who work at it. You don't need an encyclopedia-sized guide to master the art of communications. By just investing in the right customer communication tools you can make every conversation count.
If you are not sure which tools to pick or what features to look for, you have come to the right place. After careful research, we have handpicked 20+ customer communication tools for your team that will help you manage multiple channels, provide 24×7 service, and deliver personalized experiences to your global audience.
But before we proceed, let's first explore what customer communication tools are.
What Are Customer Communication Tools?
Customer communication tools refer to business software systems that are used by organizations to manage all incoming and outgoing customer communications in one place. Your team members can refer to past customer conversations, use context to interact with customers, and keep them engaged.
Since customer communications can take place on a variety of channels, communication tools can be divided into categories such as help desk software, live chat software, call center software, customer review platforms, survey tools, and more.
Why Does Your Business Need Customer Communication Tools?
The right communication tools can significantly improve the quality of your internal as well as external communications. Here are some of the top benefits of using customer communication tools:
Manage Multiple Communication Channels: Manually managing communication channels such as live chat, email, or phone can lead to confusion and drain productivity. However, with the best customer communication solution, you can get control of all the communication channels that are important for your business.
Offer 24×7 Self-Service: A lot of customers or prospects might not directly reach out to your support team and instead, search for answers to their problems online. By creating a dedicated collection of FAQs, help articles, guides, etc., you can reduce supports costs as well as your ticket volume.
Collaborate Across the Organization: Customer communication management software can also help you enhance the quality of internal communications. For instance, team members can chat with each other in real-time, or discuss support tickets using private notes and mentions.
Personalize Interactions With Customer Context: Modern customers demand a personalized experience every time they interact with you. With the right tool, your customer-facing employees can easily view the interaction history at a glance. This way, they can gain insights into customer activities, interests and delight them with personalized responses.
Track Team Performance: So are you able to delight customers whenever they contact you? Well, there is only one way to find out. With the best tools for communication, you can get rich insights into how well your team is handling customer conversations. You can even share instant surveys, capture feedback, and measure customer satisfaction.
Tips When Choosing Tools for Customer Communication
Going for any tool in the market without proper research is ultimately rolling the dice. To avoid regrets, here are a few important tips to choose the best customer communication software:
Understand what "delightful customer communications" means for your business
Take suggestions from the members of different departments
Check the quality of support offered by the tool vendor
Check the reviews, ratings shared by users on the leading software comparison platforms
Ask if there are any hidden or overhead charges involved
Choose a tool that offers high-data security so that you can work stress-free
Go for a communication suite that comes with a free premium trial
Read More: How to Communicate with Customers Effectively
List of Best Customer Communication Tools
Right from help desk software to survey tools, here are 20+ different types of communication software that will help you nail every customer interaction.
Help Desk Software
Help desk software is the most popular type of customer communication tool that allows your team to manage all customer-facing conversations in one place. Whether a customer contacts your team via live chat for product information or registers a complaint via email, your support agents can track the complete lifecycle of support tickets.
ProProfs Help Desk is one of the best customer communication tools that can help you get started for free. You can interact with customers via email, live chat, chatbots, web forms, help center, and other communication channels.
When it comes to internal communications, ProProfs does a great job of keeping all your teams in sync. Agents can discuss tickets via internal notes, see who is working on which case in real-time, and assign a customer issue to multiple departments. You can create a dedicated knowledge base and make sure your support team is operational 24×7.
Top Features of ProProfs Help Desk:
Create hundreds of canned responses for chat or email and share faster replies
Develop powerful chatbots and engage with your audience 24×7
Monitor the customer experience by sharing CSAT, NPS surveys
Track total tickets, ticket response time, resolution time, and other metrics
Sort customer communications using Labels, filters, and priorities
ProProfs Help Desk Plans Include:
Try it free for 15 days
Starts at $20/agent/month (billed annually).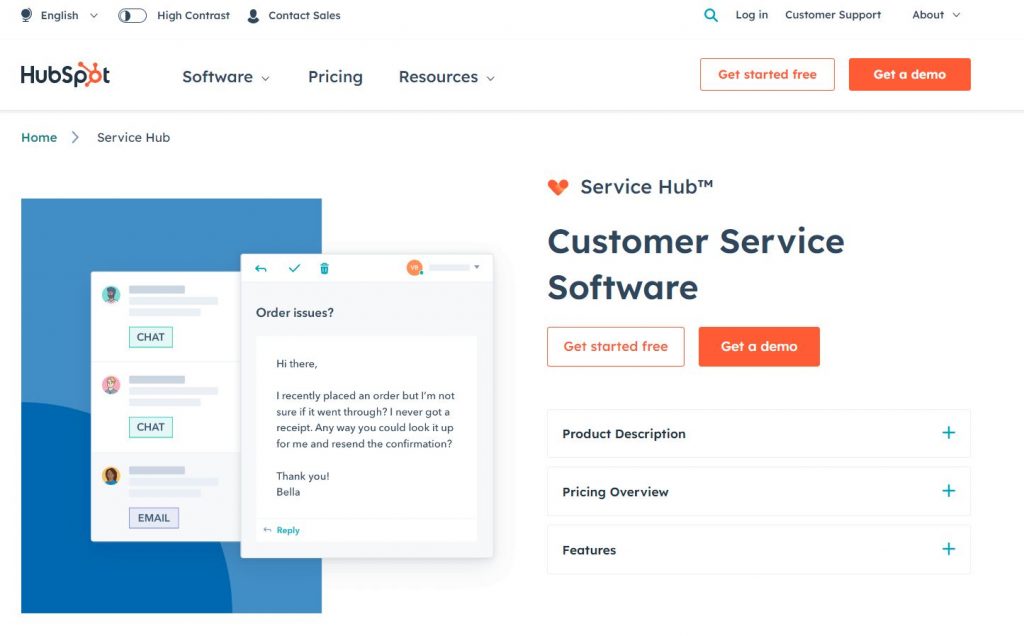 For a robust customer service platform with countless innovative features, HubSpot's Service Hub is an excellent choice for businesses small and large. HubSpot increases your customer service productivity with a simple user experience that puts all contacts by phone, email, and chat in one convenient inbox the team can share. Leaders can quickly see how reps are performing and guide them when needed.
With its access to extensive CRM data, HubSpot grants your team deeper insights about your customers, ensuring a fantastic customer service experience. Use automation to create authentic interactions with your customers at scale, and set up a self-service portal so customers can always access the information they need immediately.
Top Features of HubSpot Service Hub:
Keep track of requests through ticketing, using data to route to the right rep
Improve productivity with analytics, data, and AI
Empower customers through a self-service portal
Create knowledge base articles to improve the chat experience
Use seamless multichannel communication for maximum productivity
HubSpot Service Plans Include:
Free: Core features
Starter: $45/month
Professional: $300/monthEnterprise: $1,200/month
Zendesk is one of the most popular customer communication tools that is designed to meet the needs of small-scale businesses to large enterprises. To encourage self-service, you can build a dedicated help center as well as a community forum. This way customers can resolve their issues at their own pace and give your team more time to focus on urgent issues.
With this omnichannel communica tion software, you can reach your customers no matter where they are. You can hold meaningful conversations on popular communication channels such as messaging, live chat, social, email, or voice.
Top Features of Zendesk:
Keep everyone on the same page with real-time notifications
Enhance team productivity and collaboration with Slack & Microsoft Teams integration
Route and escalate issues to agents who are the most well-suited for a case
Allow agents to contribute to knowledge base help articles or other content
Give agents context with the help of intelligent AI-powered bots
Zendesk Plans Include:
Suite Team: $49/agent/month
Suite Growth: $79/agent/month
Suite Professional: $99/agent/month
If you wish to take your communication management to the next level then Freshdesk should always be on your list. You can easily convert your phone, email, live chat, and social media communications into support tickets and track them in one place.
Freshdesk allows your teams to collaborate effectively and deliver better support experiences. For instance, you can share the ownership of a ticket with multiple agents. Similarly, agents can loop in other teammates for a discussion right inside the ticket and collect expert opinions.
Top Features of Freshdesk:
Engage, assist, and support customers in real-time via live chat
Manage your company's social media handles from within the helpdesk
Share automated email notifications and keep everyone updated about ticket progress
Allow relevant solutions to pop up for customers and save your agents' time
Schedule customer communication reports to receive them automatically in your inbox
Freshdesk Plans Include:
Sprout: Forever free plan
Blossom: $15/user/month
Garden: $35/user/month
Estate: $49/user/month
Forest: $99/user/month
Zoho Desk is a robust communication management system that can be used to enhance productivity and customer happiness. With omnichannel capabilities, you can manage customer communications across multiple channels such as email, chat, phone, social media, and your website.
Zoho Desk also allows your team to easily embed a customizable web form widget directly on your website. This way, customers can visit your website, fill out a small form, share their concerns, and your team can track web form tickets in one place. You can even embed a knowledge base on your website, mobile app, or SaaS product.
Top Features of Zoho Desk:
Connect with other business apps and add custom capabilities through APIs
Create a distinct help center for all your different brands
Track the time spent on each support ticket and help desk task
Create templates for email responses and notifications to save agent's time
Monitor service level agreements and automatically escalate SLA violations
Zoho Desk Plans Include:
Free: Forever free plan, limited to 3 agents
Standard: $12/agent/month
Professional: $20/agent/month
Enterprise: $35/agent/month
Read More – Zoho Desk Alternatives
Live Chat Software
Live chat has become a favorite channel for customers to communicate with a business. With real-time chat interactions, your business can provide information related to product availability, price, delivery, returns, discounts, and more. Chat operators can send automated greetings and refer to past chat conversations for a personalized experience.
ProProfs Chat is an instant chat communication tool that helps your team offer real-time support to customers. In addition to this, you can grab the attention of your online website visitors and generate more reliable leads. You can track a visitor's online browsing experience and start a conversation at the right time.
ProProfs also offers powerful chatbot functionality that helps you reduce your support costs, ticket volume, as well as agent stress. Besides the automation and proactive chat features, you can automatically route chats to relevant members of your team. This will help you turn your prospects into paying customers.
Top Features of ProProfs Chat:
See what the visitor is typing and anticipate customer questions in advance
Share self-help articles from within the chat widget and reduce agent intervention
Create chat canned responses and delight customers with faster replies
Set individual operator greetings and personalize every interaction
Add announcements to notify visitors about upcoming products, features, and service updates
ProProfs Chat Plans Include:
Essential: $10/user/month
Premium: $15/user/month
Enterprise: Request a quote
Over the years, LiveChat has emerged as one of the most important tools to communicate with customers. With the message sneak-peek feature, you can see what customers are typing before they even hit the send button.
To automate your communication process, you can create powerful chatbots that can be used to generate leads, create support tickets, and interact with customers over multiple channels. You can even automatically segment your website visitors based on what they do on your site, so you can better meet their needs.
Top Features of LiveChat:
Easily share files over chat with the drag and drop feature
Automatically assign chats to relevant team members
Share proactive announcements and introduce new products to customers
Integrate with apps such as Salesforce, MailChimp, Twilio, and more
Gather feedback to know if your customers are happy with their live chat experience
LiveChat Plans Include:
Starter: $16/agent/month
Team: $33/agent/month
Business: $50/agent/month
Enterprise: You need to make a request to get pricing details (customizable plan).
To manage communication in customer service, you can use a tool like LiveAgent. Their interface is quick, reliable, and helps your customer support teams be more productive. With proactive live chat invitations, you can convert prospects into paying customers.
With the help of smart chat routing options, your customers or prospects can chat with agents that are best equipped to provide them with the right type of assistance. When a single agent can handle multiple chats simultaneously, your team can look to save support costs.
Top Features of LiveAgent:
Choose a relevant chat button and grab the attention of website visitors
Customize the look and feel of your chat window
Watch visitors as they move through your website and interact with them at the right time
View the sneak-peak of the messages as the customers are typing them
Choose from around 43 languages to set your multilingual chat widget
LiveAgent Plans Include:
Free: Forever free plan with limitations
Ticket: $15/agent/month
Ticket + Chat: $29/agent/month
All-Inclusive: $39/agent/month
Read More: Best Live Agent Alternatives for 2023
Call Center Software
Phone support is a traditional yet most widely used customer communication method. However, despite its popularity, this channel is often criticized for low agent productivity, long hold or wait times, etc. With the right call center software at your disposal, you can break all these barriers and hold meaningful conversations over the phone.
CallHippo is another popular business communication tool that helps you set up your phone system in easy steps. With robust call center features such as Interactive Voice Response (IVR), live call monitoring, smart call routing, etc., you can enhance the phone support experience of your customers.
When it comes to outbound calls, CallHippo has a lot in store for you too. For instance, sales agents can use the Power Dialer feature to deliver their daily calling commitments. You can even receive voicemails directly by email in your inbox, and agents can play them from their email inbox.
Top Features of CallHippo:
Add more people to a 2-way phone call and get expert advice
Record customer calls to monitor team performance and call quality
Know the right time to call your international customers with the Global Connect feature
Track call metrics such as % of missed calls and calls attended
Keep your callers engaged and happy with on-hold music
CallHippo Plans Include:
Bronze: $16/user/month
Silver: $24/user/month
Platinum: $40/user/month
Enterprise: You need to make a request to get pricing details (customizable plan).
Aavaz is a full-fledged call center suite that can help your team manage communications over the phone. The tool is available in three versions: cloud, hybrid, and on-premise, so that you can choose the one that best suits your budget and needs.
With Aavaz, you can track your outbound campaigns for marketing, sales, payment collections, polls, and more in one place. With IVR, queue monitoring, etc., your customers can reach out to you like never before, and you can monitor all your inbound calls.
Top Features of Aavaz:
Place outbound calls only when agents are available to talk to a customer
Configure multiple IVR options and enhance the self-service experience
Track support tickets based on their status (open, closed, pending, solved)
Monitor KPIs and metrics related to call queues, agents, campaigns, and lists
Integrate with CRM solutions such as Salesforce, SugarCRM, Zoho, etc.
Aavaz Plans Include:
Aavaz offers three pricing plans: Professional, Enterprise, and Advanced. You need to contact their sales team to know about the exact pricing details.
CloudTalk is one of the leading cloud-based call center software that is used by over 2,500 call centers across the globe. Due to cloud capabilities, you can run your virtual call center from anywhere in the world and build better customer relationships.
This client communication software offers native integrations with leading CRM solutions and helpdesks such as Pipedrive, Hubspot, Salesforce, Zendesk, and more. Moreover, all your team members can make and receive calls from their desktop browser or use dedicated mobile apps, no matter where they are.
Top Features of CloudTalk:
Leverage internal call features to reach team members or other departments
Track the performance of your agents with real-time analytics
Enhance the CX with high-quality calls that offer guaranteed latency and minimal jitter
Create personalized greetings or group voicemail messages
Avoid sharing your phone number with the Call Masking feature
CloudTalk Plans Include:
Starter: $25/user/month
Essential: $30/user/month
Expert: $50/user/month
Custom: You need to contact their sales team to get a tailor-made offer.
Customer Survey Software
As a customer yourself, you must have answered multiple surveys in the past few months. But why are entrepreneurs running after customer feedback? Well, customer feedback is essential to make informed decisions, identify churning customers, and help you improve your product or service.
Qualaroo is one of the best customer and user-feedback tools that helps you ask the right questions to your audience. You can take real-time feedback from your app users as well as website visitors and learn what they think about your platform.
With Qualaroo, you can run exit surveys and uncover insights into why potential customers aren't converting. In addition to this, IBM Watson-powered sentiment analysis can help you identify keywords across responses and understand customer moods. Advanced reporting options also help you take deep dives into your customer feedback data.
Top Features of Qualaroo:
Share and embed surveys without any coding expertise
Capture maximum responses with Qualaroo's Nudge technology
Share surveys inside your web app, SaaS product, digital product, mobile, and more
Choose delightful templates based on your needs and save time
Capture user insights at every stage of the design process
Qualaroo Plans Include:
Essentials: $80/month
Premium: $80/month
Enterprise: You need to contact their sales team to get the best offer.
ProProfs Survey Maker is an easy-to-use yet feature-rich customer feedback software. From customer satisfaction, employee engagement, training feedback, to post-event surveys, you can choose from over 100+ ready-to-use templates.
To communicate with customers and take their feedback, you can share surveys, polls, popups, quizzes, forms, assessments, and more. In addition to this, a plethora of customization options will allow you to create successful market research campaigns. For instance, you can choose from 20+ questions types, select images, themes, and add your company logo to make every survey your own.
Top Features of ProProfs Survey Maker:
Choose from 20+ question types, including multiple-choice, rating scale, text box, etc.
Add scoring and branching to questions to save respondent's time
Share as a link via email, text message, or embed on your website
Create interesting polls and surveys for your social media audience
Reduce your website bounce rates with pop-up surveys
ProProfs Survey Maker Plans Include:
Free: Forever free plan
Essentials: $0.05/response/month
Premium: $0.10/response/month
When we talk about customer communication management and feedback tools, it's hard to ignore SurveyMonkey. This popular tool helps businesses monitor and understand feedback so they can drive growth and innovation.
SurveyMonkey makes survey analysis fairly simple. For instance, you can analyze text responses with Word Cloud and Sentiment Analysis and understand what customers really want. Once you measure your responses, you can also compare them against industry standards.
Top Features of SurveyMonkey:
Easily create surveys, quizzes, and polls for your target audience
Export survey data or integrate with your CRM, marketing, and other business tools
Collaborate with team members on the complete survey process – from creation to analysis
Leverage a vast gallery of 150+ expert-written survey templates
Score your surveys to estimate their success rates with SurveyMonkey Genius
SurveyMonkey Plans Include:
Team Advantage: $25/user/month
Team Premier: $75/user/month
Enterprise: You need to contact their team for pricing details.

As the name suggests, Outgrow's Survey Maker is a no-code interactive content tool that creates interactive surveys online in just a few minutes. It is a cloud-based online tool that caters to businesses across various industries, be it marketing, healthcare, technology, beauty and wellness, product or market research, or human resource, and can be used across various devices. From job satisfaction surveys, employee exit surveys, brand performance surveys, and customer feedback surveys to market research surveys and more, Outgrow's Survey Maker tool provides a plethora of survey options.
In addition to this, it offers 100+ customizable and professionally build templates and layouts where one needs to just drag and drop the elements. It allows you to automate everything including instantaneous email follow-ups to the user, and immediate data transfer to over 1000+ integrations including HubSpot, Mailchimp, and Slack.
Top Features of Outgrow:
Variety of easy-to-create interactive content tools
10 different types of questions like multiple choice, single select, text input, drop-down, etc.
Showcase your brand – logo, colors, assets, font, style, etc.
Powerful analytics further helps segment the audience for personalized and effective retargeting
Conditional messaging – add images/videos, and customized messages for different results
Outgrow Plans Include:
You can sign up for a 7-day free trial. The paid plan starts from $14 per month. If you have a specific requirement, you can also get a custom plan.
Customer Review Platform
Communication does not always happen directly between the customer and the business. A lot of customers communicate via online product review platforms to help similar customers make informed decisions. Therefore, as a business, you need to carefully watch reviews on these platforms, identify trends or common pain points, and fix them at the earliest.
Capterra is an online software review and comparison platform that helps you find the right business tools for your team. You can read reviews shared by your customers, check ratings, and compare them with your business competitors.
Some of the leading software categories are CRM, Email Marketing, Human Resource Help Desk, Project Management, etc. Capterra even offers in-depth research and guides for a number of software verticals. Therefore, no matter what type of applications you're looking for, Capterra's comparisons, and infographics will help you make faster and smarter purchase decisions.
Top Features of Capterra:
Find genuine customer reviews that are validated through a rigorous process
Find your ideal software among 50,000+ listed products
More than 800+ software categories
Browse hundreds of comparison blogs, guides, and other content
Allow users to share their pros about your product in every user review
Price: Capterra is free for all users. Even businesses can list their products for free.
G2 is another platform that can help you discover genuine reviews from real people for your SaaS products. Some of the most popular software categories on G2 include Video Conferencing, Marketing Automation, CRM, ERP Systems, Accounting, etc. So if your products fall in any of these categories, you can list them on the G2 platform and engage with your customers.
To get started quickly, you can create your profile, start capturing reviews and get your product or service listed in front of millions of potential customers who are active on G2.
Top Features of G2:
Over 5 million monthly users use G2 to make the right choice for their business
Use G2 Buyer Intent data to identify companies or users who are searching for you
Embed custom CTAs in your profile and get more sales opportunities
License published G2 category reports and grab the attention of users
See what users like the best or dislike about your product or service
Price: G2 is free for customers. However, for sellers, it offers 4 pricing plans: Free, Essential, Pro, and Power. For the exact prices of these plans, you need to contact their team.
Google Reviews is another platform to manage customer communication and feedback. With Google business reviews, you can provide useful information and help your business stand out. But where can customers or prospects see these reviews? Well, they show up next to your Business Profile in Maps as well as Search results.
The best part about Google reviews is that it offers 2-way communication. For instance, on the one hand, customers can leave reviews for your products or services. On the other hand, you can reply to poor or positive reviews and build trust with your audience with a verified profile.
Top Features of Google Reviews:
Verify your business and get listed on Map, Search, and other Google services
Respond to all your customer reviews and make up for a lost opportunity
Remind customers it's quick and easy to share reviews for your business
Request Google to remove a review if it does not follow posting guidelines
Share review links with customers via email or chat
Price: Google Reviews is absolutely free.
Customer Sentiment Tracking
In the past couple of years, sentiment tracking tools have gained tremendous popularity among businesses of all sizes. These communication tools will help you understand customer behavior and decode the sentiments or emotions behind customer messages.
Lexalytics is a popular communication tool and intelligence platform that helps you process high volumes of text data. Now, we all know that monitoring your social media data can be confusing due to complex abbreviations and emoticons. Lexalytics uses natural language processing (NLP) and machine learning to transform this complex data into structured data and useful insights.
With sentiment analysis, you can even convert mountains of unstructured Voice of Customer (VoC) data into useful information. The same goes for your employee data as well. You can analyze employee feedback and enhance employee engagement and satisfaction.
Top Features of Lexalytics:
Solve regulatory compliance problems that involve complex text documents
Process, analyze, and understand text-based employee feedback
Monitor your social media mentions, comments, and posts
Accelerate and automate back-end data processing
Analyze customer data in more than 24 languages and dialects
Price: You need to contact their sales team for pricing details.
Talkwalker is an AI-powered platform that helps you form a complete picture of your customer's needs and expectations. You can adapt to the changing customer needs, fine-tune your strategies, and make better business decisions.
With Talkwalker, you can integrate VoC insights from all stages of the customer journey and drive more confident decision-making. To make better sense of your data, you can leverage custom dashboards and ensure that each team member can get the right insights at the right time.
Top Features of Talkwalker:
Analyze customer and consumer data from any source in one place
Monitor every customer signal across text, video, audio, image, and other channels
Make sense of customer communications over social media platforms, blogs, & forums
Track over 40,000 company logos, objects, and scenes in social images & videos
Pinpoint emerging consumer trends in your target market
Price: You need to contact their sales team for pricing details.
Chatbot Software
Chatbot tools are used to create bots that can interact with your customers on your website or social media platforms such as Facebook Messenger, WhatsApp, or more. Chatbots are powerful enough to simulate a human-like conversation and assist customers with their basic queries. For instance, customers can confirm their hotel bookings by interacting with a bot even during non-working hours.
ProProfs offers an AI-powered chatbot that can help your business automate your customer communication process. You can customize your chatbots according to your unique needs to generate reliable leads and automate your customer service operations.
Allow your chatbot to instantly present relevant help articles from your knowledge base so that customers can find all the help they need without human intervention. The best part is that building a chatbot is fairly simple. You can simply drag and drop interactions to create a conversation flow for different situations.
Top Features of ProProfs Chatbot:
Leverage ready-to-use conversation templates and get started in minutes
Edit your built chatbots without any coding skills
Test the performance of your chatbot before you get it live
Enable prospects to book meetings or product demos and increase sales
Ask both multiple-choice or open-ended questions to visitors
Price: $499/year
Botsify is a customer communication platform that allows you to build your own chatbots. You can build dedicated and smart chatbots for social media platforms such as Instagram, WhatsApp, Facebook, Telegram, and even for your business website.
You can attract your website visitors, convert them into potential leads, track their activity across your website, and engage them accordingly. If your website is built on WordPress, then you can use their plugin to integrate chatbots on your WordPress websites or Woocommerce stores. In addition to this, you can even create SMS bots and offer automated customer support 24×7.
Top Features of Botsify:
Create conversational forms and generate leads without any additional costs
Allow humans to take over a human-to-bot interaction via live chat
Create your bot in one language and allow it to converse in multiple languages
Get a dedicated Account Manager for chatbot development
Share automated greetings on WhatsApp and other social media platforms
Botsify Plans Include:
Personal: $490/year
Professional: $1490/year
Custom: Available on request
White-Label: Available on request
Ready to Pick the Best Customer Communication Tools?
There is no doubt that effective communication lies at the heart of strong customer relationships. No matter if you're looking to share proactive notifications with customers, enhance your customer service, or market your product, there's a tool to help you do it better.
With the best customer communication tool, you can track conversations across channels, offer robust self-service options to customers, and track metrics to improve the quality of customer interactions.
Remember, picking the best tool for your team will require a deep understanding of your requirements as well as customer expectations. All the tools mentioned in this blog will help you respond fast and delight customers. Good luck!
Do you want a free Help Desk?
We have the #1 Online Help Desk Software for delightful customer support