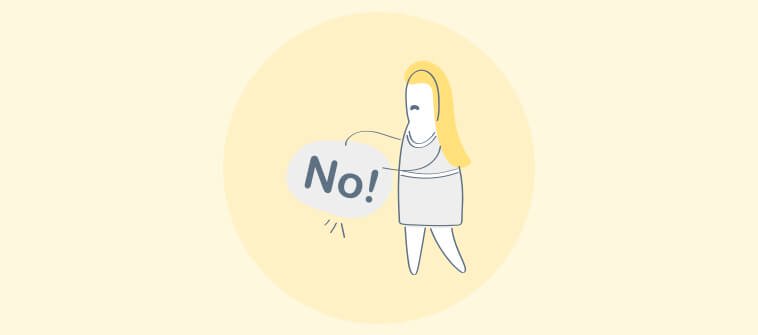 What is the most dreadful thing during customer interactions? Being in a situation where you have to say No to the customer- Isn't it?
There are times, and really often too, that a customer comes to you with a request that is just not possible for you to fulfill.
Like, imagine your company has a return policy that doesn't allow you to take return requests after 15 days of purchase.
Now, if a customer buys a product and comes to you after 20 days saying that this isn't what I expected I want to return it, what will you do?
Try to explain that you can't accept the return, right?
But, this makes you ask a question:
"How to politely decline a customer request?"
If the customer is adamant, what then?
You will have to politely say no and ensure they don't get offended by the act. Cause, let's face it, although they are in the wrong, you can still lose out on a customer just because you aren't doing what they say.
So, what's the way out here?
Let's find out!
How to Politely Decline a Customer Request: Ultimate Guide to Winning Over Your Customers
1. Listen to Your Customers
It is important to communicate with customers effectively, and proactive listening is the first step towards that. Let us take the cue from JetBlue Airways that has always shown its listening skills to the customers.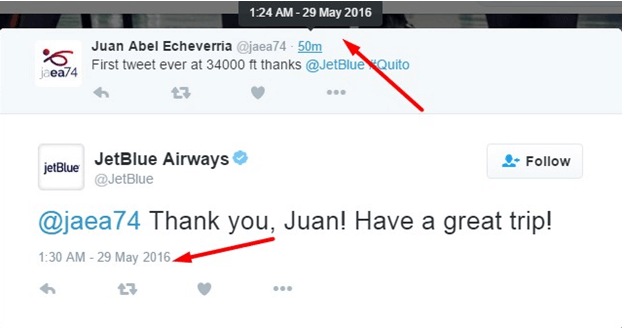 Image source: twitter.com
Social Media has an unparalleled power when it comes to enhancing the customer experience, and as per the Harvard Business Review (Umm..Yes! This one wields respect!), customer experience is the key to a successful business.
Here's another great example of showing your customers that you are listening to them: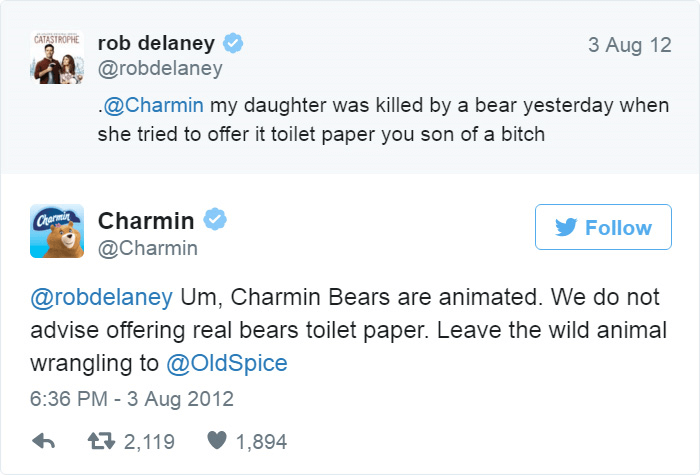 Image source: twitter.com
The brand responded to the sorrowful and negative tweet from a customer encountering a tragic accident in a dignified manner and earned a lot of positive feedback as well. It also shows how to turn down a client politely.
Another worthy example is: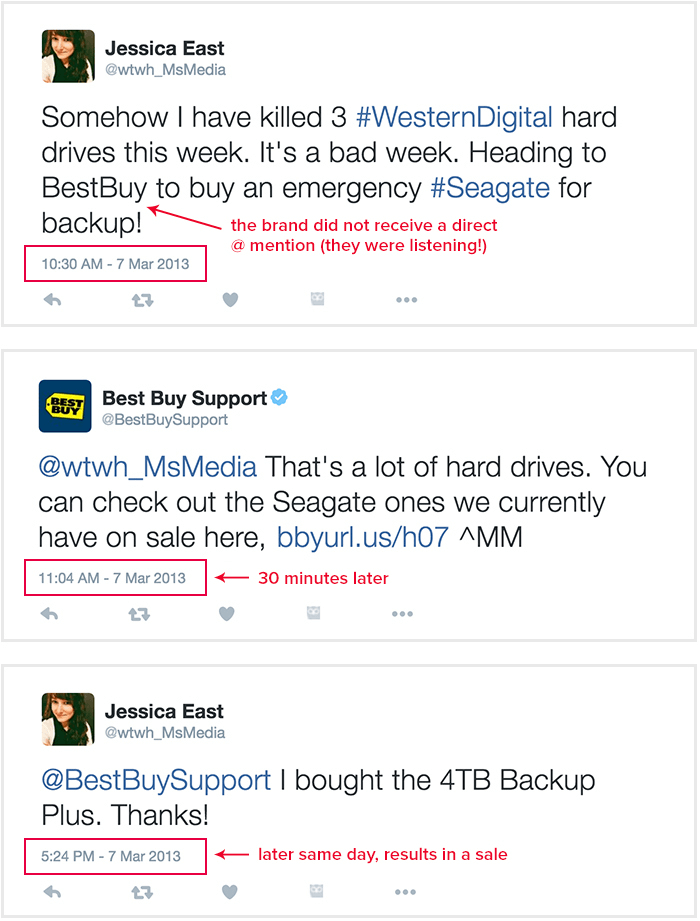 Image source: twitter.com
So, if you want to decline a request politely, then you have to start with listening to the customers so that you know the issue and the premise of demands in entirety. Always begin by asking for the reason for the request and then explain why the request cannot be met.
Takeaway:
Don't start rudely or with a curt denial. Always make sure that your customers feel that they are being heard, and offer well-processed replies. No matter what type of situation you are in, always bear in mind that the Customer is King. And, your loss starts with the first customer you lose.
2. Put Your Point Forward Politely
Being polite to your customers throughout the conversation is essential. Don't use words that can make your customers feel judged or insulted. No matter what their request is, you need to deal with it in a calm, respectful manner.
Here's an example of how Amazon did it: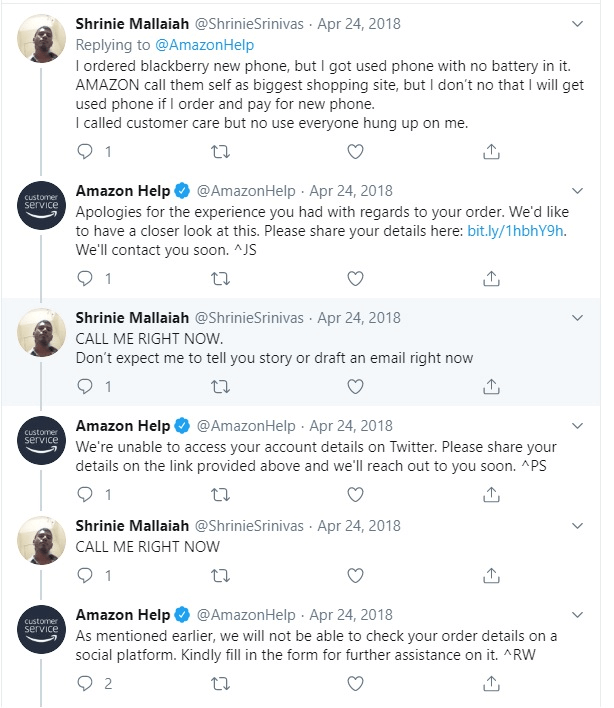 Image source: twitter.com
Amazon is one of the most reputed eRetailers on the market serves a customer base spanning over billions. Even then, being responsive to all communication and even the one mentioned above shows their work ethic.
So, being polite, yet firm is the best way to handle difficult customers.
Takeaway:
Be patient and turn down a client politely. All customers want to feel valued, so make sure you put your point forward completely and politely.
3. Offer Alternatives to The Issue
There can be situations when you are unable to meet your customer expectations. This, in turn, leaves a bad impression of your brand, leading to the loss of customers. A passenger on JetBlue Airways was not able to watch TV on her flight and reported the same on their official social media handle. Take a look at what happened next: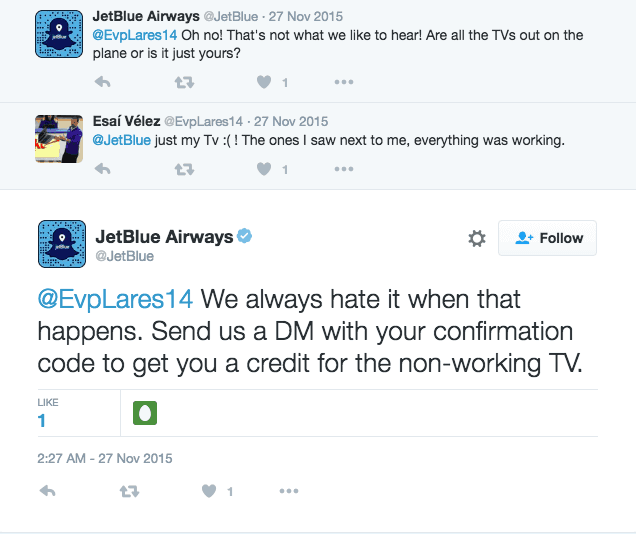 Image source: twitter.com
This is why the brand is an example to follow when it comes to customer experience and satisfaction. In fact, you can find countless stories on the internet featuring it in this regard.
Takeaway:
Offering alternatives and freebies always make customers feel valued. In the long run, it does give a great impression of your brand to your customers.
4. Give an Explanation
Giving a simple and straightforward explanation for the situation is yet another amazing piece of advice. But, don't be mundane and boring about it.
A customer complained of a glitch in the system with this post on the social media handle of Skyscanner. The team responded with a humorous reply: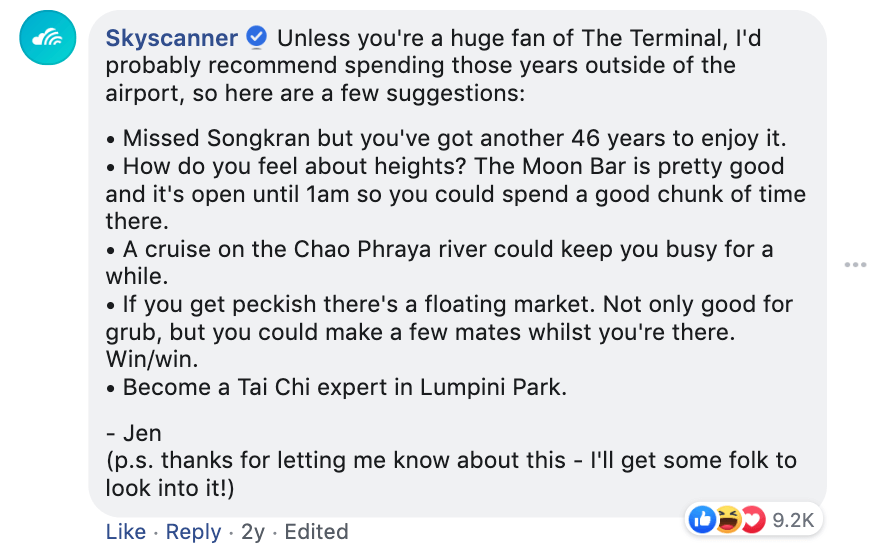 Image source: skyscanner
After that, many people got involved in the funny discussion and the situation was laughed-off. Someone even commented – "I have not used Skyscanner until now, but after seeing this, I will definitely give it a try!". This is the power of a positive and smart customer support team.
Takeaway:
When it comes to customers, it is essential to keep things simple and explain everything in detail. As a support agent, you need to make sure that the customer's query is resolved completely.
5. Follow Up
The last pointer covers the major fear factor of the question – How to say no to a customer. The wait to hear back from a customer after denial of service can be handled with this tip.
A follow-up not only helps you recognize the customer signals but also creates value in your business with customer experience, as stated in the customer experience stories covered in Mckinsey Quarterly.
Takeaway:
Being polite to your customers is important, but so is taking follow-ups. This not only helps you understand what your customers want but gives you all the information needed to improve your customer support process.
Take Control of Your Customer Support Process With ProProfs!
Use these pro tips and never make your refusals and denials turn into a loss of customers or profits. Make sure to use smart automation like ProProfs Help Desk and supplement your customer experiences.
Do you want a free Help Desk?
We have the #1 Online Help Desk Software for delightful customer support