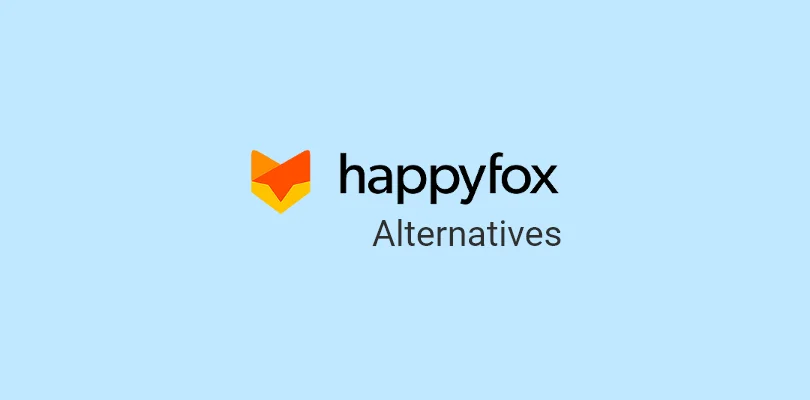 Are you in search of a HappyFox alternative? If yes, you've come to the right place.
HappyFox is a customer service tool that helps you bring order to your support process with a powerful ticketing system, a self-service knowledge base, and community forums.
While HappyFox is a popular choice, you cannot afford to neglect the pain points faced by its users. Inefficiency, high costs, and limited customization options are just a few of the challenges organizations encounter.
Hence, it makes perfect sense to search for the top alternatives to HappyFox.
In this blog, we'll dive into top-notch HappyFox alternatives, offering you a comprehensive overview of their features as well as pricing.
Let's get started!
What Is HappyFox?
HappyFox is a leading customer support and help desk software designed to streamline communication and improve customer service efficiency. It offers a wide range of features to help businesses effectively manage their customer support operations, resolve issues promptly, and provide exceptional customer service.
With HappyFox, you can centralize all customer inquiries, requests, and tickets into a single, intuitive interface. The software enables efficient ticket management, automates repetitive tasks, and provides robust reporting and analytics to measure and improve performance. HappyFox empowers businesses to deliver timely, personalized, and seamless customer experiences.
Top Features of HappyFox:
Streamline ticket management with automated workflows and smart routing.
Automate repetitive tasks and save time with intelligent workflows.
Improve team collaboration through shared ticket views and internal notes.
Gain insights and make data-driven decisions with powerful analytics and reporting.
Seamlessly connect with other tools and systems through robust APIs and integrations.
Pricing: Starts from $26/agent/month.
G2 Rating: 4.5/5
Why Look for HappyFox Alternatives?
While HappyFox offers an impressive set of features, it's essential to consider alternatives that better align with your business requirements. Here are a few reasons why you might want to explore HappyFox alternatives:
Expensive Pricing: HappyFox may not fit within the budget of some businesses or individuals. Even though its pricing structure starts at $26/user/month, the basic plans lack key features, making users opt for expensive plans instead.
Lacks Scalability: Some businesses may have outgrown the capabilities of HappyFox and need a more scalable solution that can accommodate their growing customer support needs. As a result, alternative help desk systems may offer better scalability options.
User interface Needs Improvement: The interface and overall user experience of a software application can significantly impact productivity and efficiency. HappyFox's interface is not intuitive and lacks certain usability features, making users look for other alternatives that offer a better user experience.
Unresponsive Customer Support: The software vendor's level of customer support and responsiveness can significantly impact user satisfaction. Many HappyFox users are unsatisfied with HappyFox's customer support, which can be seen in a majority of online reviews.
These reasons are quite compelling for anyone looking to go beyond HappyFox.
What Were Our Selection Criteria for a HappyFox Alternative?
Following are the key factors that we considered while compiling the list of the best HappyFox alternatives for your business:
Ease of Use and User Interface: One of the primary factors we considered when evaluating HappyFox alternatives is the ease of use and intuitiveness of the user interface. A user-friendly ticketing system ensures your team can quickly adapt to the new platform, reducing the learning curve for your team members.
Ticket Management Features: Effective ticket management lies at the heart of any customer support system. When comparing alternatives to HappyFox, we considered the ticket management features provided by each option. We looked for features, such as automated ticket routing, SLA management, ticket prioritization, and ticket organization.
Integration Capabilities: Integration capabilities are crucial when evaluating HappyFox alternatives for seamless collaboration and enhanced productivity. We took into account the integrations available with other tools, such as CRM software, live chat platforms, knowledge bases, or project management tools.
Customization and Scalability: Every business is unique, and your customer support requirements may evolve over time. A flexible and scalable solution allows you to tailor the system to your needs and grow your business.
We looked for solutions that offer customization options, such as custom ticket statuses, custom fields, and personalized workflows. Additionally, scalability was also considered, as it ensures that the platform can accommodate your growing customer base without compromising performance.
Reporting and Analytics: Robust reporting and analytics features are essential to gain insights into your customer support operations and make data-driven decisions. When considering HappyFox competitors, we assessed the reporting capabilities provided by each option.
Features like real-time reporting, customizable dashboards, and metrics tracking were considered to monitor agent performance, identify bottlenecks, and measure customer satisfaction.
Pricing and Support: Last but not least, we evaluated the pricing plans and subscription options each tool offers. The pricing structure, including the cost per user, was carefully considered to ensure that it aligns with your budget and growth projections.
A Quick Comparison Table
Software Name
Key Features
Pricing
ProProfs Help Desk
Team Collaboration

Workflow Automation

Performance Reporting

Multichannel Support

Self-Service Options

Starts at $20/user/month
Help Scout
Self-Service Website

Collision Detection

Task Automation

Help Widget

Customer Insights

Starts at $20/user/month
Zendesk
Ticket Management

Performance Analytics

Self-Service Solutions

Customization Options

Apps and Integrations

Starts at $19/agent/month
Freshdesk
Live Chat

Multichannel Support

Automation Features

Self-Service Options

Data Insights

Starts at $15/agent/month
LiveAgent
Shared Inbox

Social Media Support

Ticketing Automation

Customer Portal

Performance Reporting

Starts at $9/agent/month
Kayako
View Customer History

Real-Time Engagement

Conversation Management

Knowledge Base

Ticketing System

N.A.
Zoho Desk
Multichannel Support

Customer Insights

Custom Response Design

Metrics Tracking

Process Streamlining

Starts at $14/user/month
Front
Ticketless Support

Shared Inboxes

App Integrations

Analytics Dashboard

Automation Rules

Starts at $19/seat/month
Salesforce Service Cloud
Generative AI

Self-Service Solutions

Field Service Operations

Agent Productivity Tools

Workflow Automation

Starts at $25/user/month
Kustomer
Multichannel Communication

View Customer History

Chatbot Support

Create Knowledge Bases

Analytics and Reporting

Starts at $89/user/month
10 Best Happy Fox Alternatives, at a Glance –
This brings us to the main section of this blog. Let's explore some industry-leading tools that will surely help you rise above any challenges you faced with HappyFox.
Best For: team collaboration, email-like interface, AI-powered chatbots, advanced reporting, etc.
ProProfs Help Desk is a cloud-based software that helps you manage all your customer inquiries and issues in one place. You can use shared inbox, automation, reports, and multi-channel support to improve your team's productivity and delight customers.
The software also integrates with live chat, knowledge base, and survey tools to provide a complete customer support solution. With ProProfs Help Desk, you can deliver a delightful customer experience and boost your retention and loyalty rates.
Key Features:
Collaborate with your team members using shared inboxes and assign tickets to the right agents.
Set up workflows, rules, and alerts to automate repetitive tasks and speed up ticket resolution.
Track and measure your team's performance using real-time reports and analytics.
Provide support to your customers via email, web forms, chat, phone, and chatbots.
Reduce ticket volume by creating a knowledge base and a FAQ section for your customers to find answers on their own.
Pricing: Starts from $20/user/month (Single plan that includes all premium features).
Best For: Customer support, shared inbox, help center.
Help Scout is a cloud-based help desk platform that allows you to manage all your customer conversations in one powerful platform that feels just like your inbox.
You can create shared inboxes, knowledge bases, live chat widgets, and customer data reports to delight your customers and increase productivity. Help Scout is easy to use, scalable, and secure, with businesses globally trusting it to support their customers.
Key Features:
Reduce ticket volume with a self-service knowledge base that works across different devices and is optimized for search engines.
Avoid sending duplicate replies to the same customer by seeing who else is viewing or replying to a conversation in real time.
Automate repetitive tasks, such as assigning conversations, adding tags, sending replies, and more based on custom rules and triggers.
Engage your customers in real-time using the help widget that offers relevant articles and contact options.
Gain insights into your customer satisfaction, team performance, and knowledge base effectiveness with actionable reports and analytics.
Pricing: Starts from $20/user/month (if billed annually).
Best For: Personalized customer service, reporting, and analytics.
A cloud-based help desk software, Zendesk helps you provide seamless and personalized customer service across multiple channels. It lets you manage, track, and resolve customer issues using automation, collaboration, and reporting features.
The software also offers self-service options, AI-powered chatbots, and integrations with popular tools like Slack, Salesforce, and Shopify. It can help you deliver better experiences and build lasting customer relationships.
Key Features:
Organize and prioritize your tickets with views, macros, triggers, and automation.
Measure and improve your performance with dashboards, reports, and customer feedback.
Empower your customers to find answers on their own with knowledge-base articles, community forums, and chatbots.
White-label Zendesk to your needs with custom fields, forms, branding, and workflows.
Extend Zendesk's functionality with hundreds of apps and integrations available in the marketplace.
Pricing: Starts from $19/agent/month (if billed annually).
Best For: Self-service, remote customer service, and proactive support.
Freshdesk's helpdesk solution lets you solve inquiries faster and personalize conversations with intuitive and collaborative features. You can automate workflows, collaborate with your team, and provide self-service options.
You can also integrate this HappyFox alternative with other apps to extend your helpdesk functionality. Freshdesk supports multiple channels and scales with your business needs to deliver effortless service across different channels.
Key Features:
Chat with customers in real-time, transfer chats to other agents, and convert chats into tickets.
Manage and track customer inquiries from multiple channels in one place.
Automate repetitive tasks and common issues with rules, scenarios, and bots.
Empower your customers to find answers on their own with a support portal and a knowledge base.
Make data-driven decisions with insights from detailed reports and dashboards.
Pricing: Free plan available. Starts from $15/agent/month (if billed annually).
Best For: Ticketing and omnichannel customer support.
LiveAgent, another help desk software, enables you to manage and organize customer communication from various channels in a single dashboard.
It aims to improve customer service efficiency and convenience by enabling users to access all customer messages from one account and ensuring data security and privacy. With LiveAgent, you can easily handle customer inquiries and issues across multiple channels.
Key Features:
Manage all customer messages and turn them into tickets with a universal inbox.
Get in touch with customers on social media platforms such as Facebook, Twitter, Instagram, Messenger, Viber, WhatsApp, etc.
Automate your ticketing system with rules, SLA management, time tracking, tags, and custom fields.
Enable customers to access their tickets, chat history, knowledge base articles, and feedback forms with a customer portal.
Analyze your customer service performance and satisfaction with reporting and analytics.
Pricing: Starts from $9/agent/month (if billed annually).
Best For: Customer support, ticketing software, shared inbox, and internal IT support desk.
Kayako is another help desk software option that helps you provide personal and connected customer service. With Kayako, you can manage customer conversations from live chat, email, social media, and phone in a single inbox.
You can also automate workflows, collaborate with your team, and see the whole customer journey from a single view. Kayako helps you deliver exceptional customer experiences that boost loyalty and retention.
Key Features:
See all customer interactions with your business in one place, including purchases, returns, support queries, and more.
Engage with your customers on your website, iOS, and Android apps in real-time, and provide fast and helpful support.
Organize and assign customer conversations to the best agents, and use custom views and tags to stay on top of open issues.
Create a fully customizable knowledge base that's available 24/7, and provide instant suggestions as customers type their questions.
Manage customer requests and conversations across multiple channels with a robust ticketing system that's easy to use and personalize.
Pricing: Contact the company for a quote.
Best For: Omnichannel capabilities and contextual support.
Zoho Desk helps you simplify customer service operations, improve agent productivity, and deliver lasting customer experiences. Using it, you can manage customer requests and conversations from email, web, live chat, phone, and social media in a single platform.
The software integrates with different third-party and native apps to extend your desk's capabilities and streamline workflows.
Key Features:
Connect with your customers across multiple channels such as email, phone, chat, social media, and web forms.
Acquire relevant information and insights about your customers, their issues, and their history to provide personalized and effective solutions.
Design professional and engaging responses with rich formatting, canned replies, templates, attachments, and emojis.
Track and measure key metrics such as ticket volume, resolution time, agent performance, and customer happiness.
Streamline your customer service processes with rules, macros, blueprints, and notifications.
Pricing: Starts from $14/user/month (if billed annually).
Best For: Improving customer experience and driving operational efficiency.
Front is a help desk software alternative that helps you streamline customer communication and deliver exceptional service at scale. With its help, you can manage customer requests and conversations from email, live chat, SMS, phone, and social media in a single collaborative hub. Front lets you manage support without the ticket numbers, so every customer gets a personal reply.
Key Features:
Manage support without ticket numbers for a personalized customer experience.
Access support requests from any channel in shared inboxes for a single view of every customer.
Integrate with Salesforce, Nicereply, and other apps for easy access to customer data.
Measure team performance, track response metrics, and gather customer insights with Front's analytics.
Build rules in Front to automate routing or triage, trigger SLA alerts, and organize messages instantly.
Pricing: Starts from $19/seat/month (if billed annually).
Best For: Customer service management by leveraging AI capabilities.
Salesforce's cloud-based customer service platform provides easy access to information that your agents need and automation features to minimize repetitive tasks. It is a comprehensive ticket and service desk portal that integrates easily with different software systems.
Whether by phone, web, chat, or email, this customer support software enables your agents and customers to quickly connect and solve customer problems.
Key Features:
Leverage the power of generative AI to scale support faster and do more with less.
Lower ticket volumes by helping customers find critical answers quickly on their own.
Deliver efficient field service operations and cut costs with mobile apps and scheduling.
Empower your agents to solve cases faster with productivity tools and real-time data.
Scale your service with automation and increase productivity with AI-powered workflows and service catalogs.
Pricing: Starts from $25/user/month.
Best For: Omnichannel customer service and support.
Kustomer is a customer service CRM platform that enables you to deliver faster, richer, and more personalized customer experiences.
With Kustomer, you can unify data from multiple channels and systems, automate routine tasks, deploy AI-powered chatbots, and provide proactive support. It's a customer service platform that helps you build lasting relationships with your customers and grow your business.
Key Features:
Connect with your customers via email, chat, SMS, social media, WhatsApp, and more.
Check the complete history and context of every customer interaction in a single timeline.
Scale your support with code-free, multilingual chatbots that can handle common queries and tasks.
Create and manage internal and public knowledge bases to empower your agents and customers with self-service options.
Track and measure your team's performance, customer satisfaction, and business outcomes with real-time dashboards and custom reports.
Pricing: Starts from $89/user/month.
Which HappyFox Alternative Should You Go For?
HappyFox is a great help desk software that brings excellent features to the table, such as –
Multichannel communication
Ticket management
Enhanced internal collaboration
Knowledge base creation
Workflow automation capabilities
Reports and analytics
However, certain drawbacks like expensive pricing, unresponsive customer support, and poor user interface are some of the reasons why people actively search for the best HappyFox alternatives.
The substitutes we showed you in this blog are not just feature-rich options but are also popular choices among businesses in the market.
If you are looking for help desk software that offers an intuitive interface, a powerful ticketing system, and robust reporting capabilities, ProProfs Help Desk might prove to be an excellent alternative. If budget isn't a concern, Zendesk can be a good option too. If you are looking for a help desk with CRM capabilities, you can opt for Salesforce Service Cloud.
Choose the best HappyFox alternative for your business and delight your customers today!
Do you want a free Help Desk?
We have the #1 Online Help Desk Software for delightful customer support