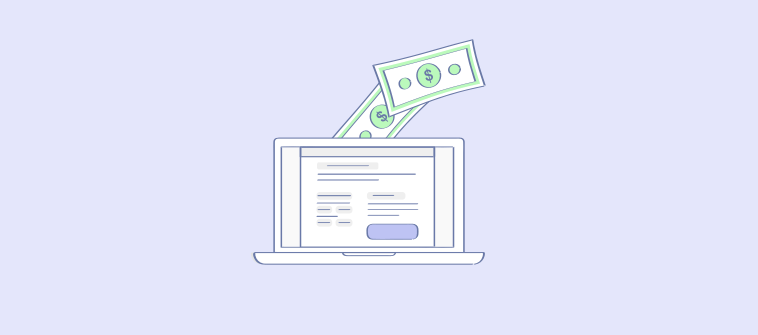 Dimensional Research conducted a survey among various customers. They asked them about the one factor that affects their loyalty towards the company the most.
Their answer?
Customer support.
Customers prefer to talk to a support representative to resolve an issue. This not only ensures issues are resolved instantly but also results in customer delight.
That being said, there are various ways a company can go about offering instant customer support. But, the ideal and best way is to adopt a help desk software. Let's first cover the basics of a help desk to understand why it is essential to have.
What is a Help Desk Software?
A help desk software, also known as a services desk software, is a one-stop point of contact to tackle a company's internal and external issues. It helps to offer centralized information and support management services.
The role of a Saas Help Desk Ticketing Software broadly is to help you resolve customer questions instantly. It equips your support team with the must have features and benefits to provide delightful customer support.
---
Recommended Read: Best Issue Tracking software for 2020
---
What Are the Benefits of Help Desk Software?
1. Ensures Customer Delight
Your customers always seek faster resolution for their problems, and they hate running after your support team to resolve them. Ensure that you keep your customers informed about the status of their support ticket by emailing them timely updates.
Send them canned responses when you fail to have an instant resolution to their issue. Keep the First Response Time (FRT) as low as possible. Most importantly, allow your customers to reach out to you for support through any channel.
Remember, ticket management comes handy with a help desk. It helps operators to create a ticket for every customer interaction, irrespective of the channel.
2. Improved Business Operations
A help desk software allows you to streamline your business operations. You can meet the SLAs (Service Level Agreements) and prioritize certain actions as and when required.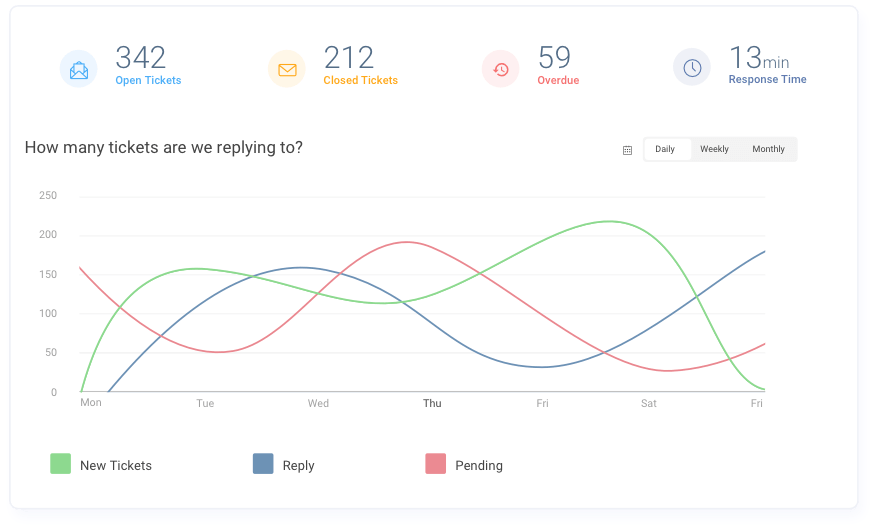 Managers and system administrators can effectively monitor the contact center functioning by viewing and analyzing data points and intuitive graphs. They can access these on the "reports" dashboard of the software. On the basis of these data points, they can gain valuable insights into the service experience of their customers and make informed decisions. Businesses can thus function productively.
Knowledge Base integration with a help desk software helps to lower the support costs by 80%.
Your business also runs efficiently with the minimized support costs.
3. Enhanced Agent Productivity
Customers prefer self-help more than seeking help from your customer support operators. When you employ a help desk software integrated with a knowledge base, your operators and customers can access the complete repository of information to resolve queries on their own.
A knowledge base ensures 24/7 help, and operators can save on their time answering the same question. Your customer support team can thus spend more time with the customers that need personal help.
4. Efficient Ticket Management
Ticket prioritization and management come handy with help desk support software. A help desk ticketing system is used to create a ticket, sort, prioritize, assign, and collaborate for faster resolution. Tickets can be prioritized to speed up the resolution process based on the urgency of the issue, how long the ticket is pending, and the customer availability.
5. Offer Customer Service on Multiple Channels
Help desk software like ProProfs Help Desk enables operators to address and resolve customer problems raised on different platforms. It supports multiple channels and helps to generate tickets for all possible customer interactions on email, chat, phone, or social media.
6. No Missed or Lost Tickets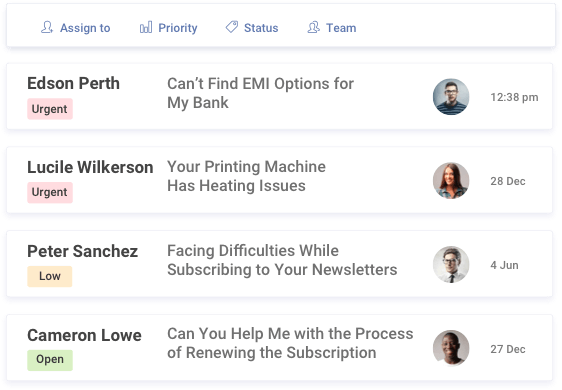 Help desk software tools act as simple issue trackers without the operator missing on any tickets. Creating tickets for customer interactions ensures that operators never miss out on customer problems and requests. There is no unattended interaction, and customers get timely responses to their problems.
7. Ensure Skill-Based Routing
Manually tackling the huge pile of customer tickets calls for investing time and monetary resources.
A smart ticketing system enables operators to create, sort, and assign tickets. Only then can the experienced, existing operators deal with more skilled work and extend personal help to customers. This leads to better business growth and improved customer support.
8. Improved Scalability
Help desk software needs to be scalable. This implies that it should be able to handle a large number of tickets, as and when the need arises.
Currently, you may have a small business with a workforce of 10-15 people, but you will surely expand in the near future.
That is when you need a help desk customer support tool that can be used by multiple agents, system administrators, and managers at the same time.
Employing a future-proof and scalable software enables different teams to collaborate efficiently and the customer support department to better manage interactions, ensuring the never miss out on any customer problems.
9. Easy Ticket Prioritization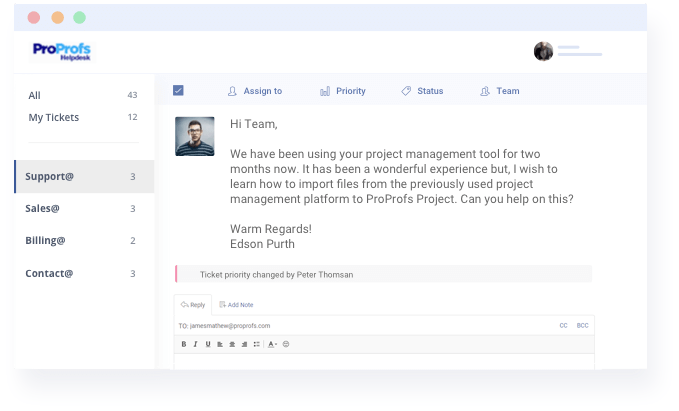 Operators can close tickets faster using help desk software, as it allows them to assign tickets according to priorities.
They can even mark and label tickets in need of immediate attention. A large number of people can see the ticket when it is assigned to a team or department.
Create notes and drop internal comments to speed up the ticket resolution process. Tickets resolve faster with prioritization, collaborative email, team commenting, and canned responses.
But, how do you choose the right help desk software?
By:
Understanding the types of help desk available on the market

Researching their features

Knowing the steps to follow for choosing the right help desk
Let's start with the types of help desk software.
Types of Help Desk: The Basic Categorization
A Help Desk system comes in four main types:
a. Enterprise Help Desk Software
Enterprise help desk software, as the name suggests, is a tool that offers help desk features for the entire enterprise. For instance, a simple enterprise help desk software will come with service request fulfillment, IT asset management, and account management.
An enterprise help desk software goes beyond customer queries; it also helps companies:
Enhance agent performance and productivity

Improve interdepartmental communication

Leverage real-time customer data for personalized interactions

Manage service costs efficiently

Improve company's overall efficiency
b. Open-Source Help Desk Software
Open-source help desk software comes with the feature of allowing developers to access its source code. This way, the software can be enhanced or modified on the basis of your requirement.
You can:
Add features

Adjust processes
Unlike proprietary software, open-source software allows your IT department to make changes and enhancements to the help desk software.
c. Web Help Desk Software
Web help desk software, or SaaS (software-as-a-service) or cloud-hosted help desk software is a tool that is hosted on the vendor's server.
What does that mean?
Simply put, customers subscribe to the software and use the tool from the vendor's server. So, all activities performed on a web help desk software are saved on the vendor's server.
Data such as:
Customer profiles

Tickets

Query generation

Customer support an analysis
Everything is saved on the vendor's server.
d. On-Premise Help Desk Software
On-premise help desk software is a licensed tool that a company purchases and installs on their own service. They activate the software with a 1-time free setup and run it on their system.
In case companies want to get an upgrade, they need to pay a specific fee.
Among many, the perks of choosing an on-premise help desk software include:
Sole software ownership

Easy and instant setup

Complete control over data privacy and security
Without a doubt, the most secure help desk software is the on-premise type.
Help Desk Software Key Features
a. Team Collaboration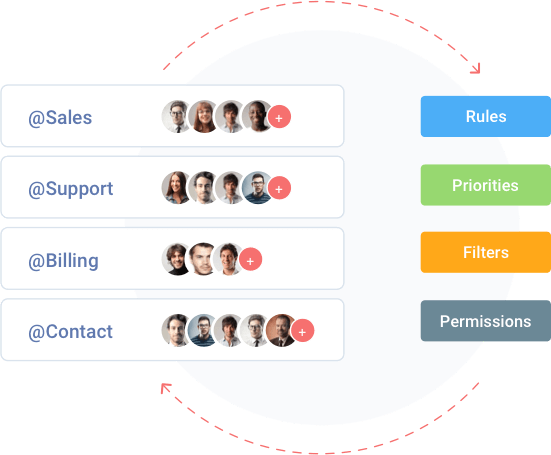 When you shop online, what is the first thing you do?
Browse your options, right? Now, there can be a number of questions you may have regarding products and the purchase process.
As a customer, you will need instant guidance in case of any confusion.
You can have a number of queries, such as:
Product/Service Costs

Shipping Details

Payment Issues
and many other things that you could have a question about and need instant answers.
So, how do you contact the same support agent for different queries?
That's the catch - you don't.
As your business employs help desk software, varteams and departments within the organization can see who is working on what. The resolution of a query needs inputs from various individuals, teams, and departments within the organization.
Here, the first ticket needs the input of the "product" department, whereas the other ticket falls under the "billing" department.
Takeaway:
Help desk management software enables you to track who is working on what, use labels, and prioritize tickets, send canned responses, and, most importantly, collaborate for faster resolution.
b. Ticket Tracking and Monitoring
Resolving a customer query is extremely important to not only maintain the brand image but also to enhance brand loyalty.
If you approach a company and they can't answer your question immediately, would you go back to them?
Would you purchase anything from their website again?
Simple answer - no.
Customers expect instant answers and resolutions. This way, their query is resolved instantly, and they are reassured that if they come up with any query, your support agents will make sure it gets resolved in time.
This helps in building a strong relationship between the brand and customers, which can attract potential customers through word-of-mouth recommendation.
Takeaway:
Employ robust help desk software, such as ProProfs Help Desk and monitor tickets from the point a customer asks a query till the time it is completely resolved.
c. Report & Analytics
Understanding how your agents are performing and how satisfied your customers really are with your service is crucial.
Ratings and surveys are two methods that give you insight into customer satisfaction.
But, with a robust help desk, you can keep track of all your support agents, what they are working on, and how accurately they resolve customer questions in time.
Takeaway:
A good help desk software has a report & analytics feature that helps you to:
Keep track of new, rated, and total open tickets

Learn about the average support rating

Check if the support rating is improving over time

Measure the first response time

Learn if the customer support team is getting busier with more tickets
d. Customer Feedback
A help desk ticketing system with an in-built survey enables managers to capture feedback through customer surveys and Net Promoter Score (NPS) surveys.
Customer service ratings give valuable insights into how agents are performing as individuals and in teams. Customers rate tickets, chats, help articles, and your knowledge base.
These insights help you track down where agent performance is lacking, and you can work towards improving customer support.
Takeaway:
Send out surveys before and after a customer makes a purchase from your company. This way, you'll gain insight into the efficiency of the entire purchasing process. You must also send surveys on a quarterly and yearly basis to know where you can improve your customer support services.
e. Canned Responses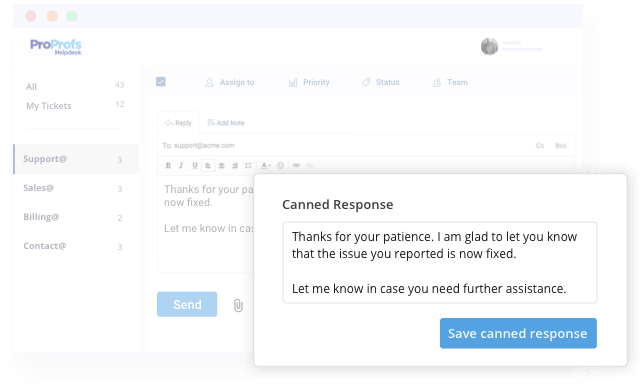 When it comes to customer support, one thing everybody expects is instant resolution. This can become difficult sometimes when you have a single person handling all your customer support.
But, if you use a help desk management software, you can track and monitor tickets, while guaranteeing all the tickets are resolved in time. In addition, customer problems and requests are converted into tickets when agents are not live on the chat.
Takeaway:
Choose a help desk that offers canned responses. This feature makes it really easy for your support agents to respond to customer questions instantly.
But, choosing the right help desk for your company can be tricky. That's why it is crucial you follow a series of steps.
Choosing the Right Help Desk Software: 9 Aspects to Consider
When on the hunt for the right help desk software for your company, there are a lot of considerations you need to keep in mind. A few things you need to consider include:
Service Level Agreement Features
Uncovering the Pricing Plans of Help Desk
Most help desk software offer a free trial for a limited period of time and then ask for switching to different pricing plans. Each pricing plan is divided into the features offered to the customers. Let's take the pricing plans of ProProfs Help Desk as an example:
Free Trial:

Available for 15-days, with all advanced features

Forever Free:

$0/year, billed annually

Team Plan:

$39/year, billed annually

Business Plan:

$79/year, billed annually

Enterprise Plan:

$399/year, billed annually
Check out the pricing plan details here.
Help Desk Latest Trends: What's New?
Deploying a help desk software is not enough; you must also know the latest trends and stay on top of your game to be ahead of your competitors. To get you started, we bring to you three key trends that everyone must know in 2020.
Employee Experience is Key to a Successful Business
Everyone knows customer experience is a prime focus for delight support, but a lot of companies don't pay heed to another important aspect - employee experience.
Imagine you are having a really bad day, and a customer calls up to get their query resolved.
But, the customer doesn't understand the solution in the first go. You keep trying to explain to them, but they still have doubts.
You lose it on the customer, and start yelling. Will the customer come back to you?
No, right?
An employee who isn't happy with the jobs cannot offer delightful customer service. So, it is essential to focus on employee experience and make sure employees are always satisfied with their job.
AI Will Gain Popularity in the Long Run
Automation has come a long way, and it is also gaining popularity in customer support.
But, no matter how many tasks you automate in customer support, it is essential to remember to maintain a human touch in all customer interactions. And, that's why AI is bound to gain popularity in the long run.
Right from sending automated personalized messages to your customers to ask about their query to giving resolutions to common queries - everything can be easily managed with AI.
One tool that uses AI for all the customer support processes and channels is a help desk software.
People Skills: Another Primary Focus For Efficient Customer Support
Employees must have exceptional people skills to offer delightful customer support.
It goes without saying that if you know how to talk to people, it is easy for you to ensure they feel delighted after every customer-agent interaction.
No matter what, companies need to offer adequate training for employees to understand the importance of people skills and get insight on how to implement it in real life.
A few people skills every customer support agent must possess are:
Empathy

Active Listening

Good Judgement

Patience

Strong Communication Skills
Why Use Help Desk Software? For Enhanced Customer Delight & Efficient Customer Support!
According to an AE study, 70% of customers choose or stay loyal to a company based on the quality of their customer service.
Good customer support and delightful customer experience go a long way in strengthening your brand equity.
That's precisely why it's extremely important to have help desk support software that offers all the needed features, right from keeping track of tickets to analyzing where are you lacking in terms of customer support.
---
Now that we have covered the basics of what a help desk software is, it's benefits, and the latest trends, let's answer a few frequently asked questions regarding this topic.
Q1. What is a help desk software used for?
A help desk software is used for streamlining the entire customer support process. Right from when a customer contacts a support agent to when an agent needs to resolve their query, a help desk software keeps track of everything and ensures all customer queries are resolved instantly.
Q2. How do ticketing systems work?
It's easy to understand. Ticketing systems work on the "tickets." A ticket is basically a small document that stores all interactions a customer has with a support agent. This ticket is shared with both the customer and the support agent. Right from when a customer contacts an agent to when an agent resolves their query - everything is stored in a ticket. Once the issue is resolved, the agent closes the ticket.
Q3. What are ticketing tools?
Ticketing tools can be defined as computer programs that are mainly used for ticket-based customer and incident management.
Q4. What is the job of a help desk?
The main job of a help desk is to provide troubleshooting services and technical support to customers and employees.
Q5. Why is a ticketing system important?
Ticketing systems are crucial for businesses to offer exceptional customer support. Such systems enable companies to capture, manage, and track customer issues from start to finish efficiently.
Do you want a free Help Desk?
We have the #1 Help Desk for delightful customer support starting at $0