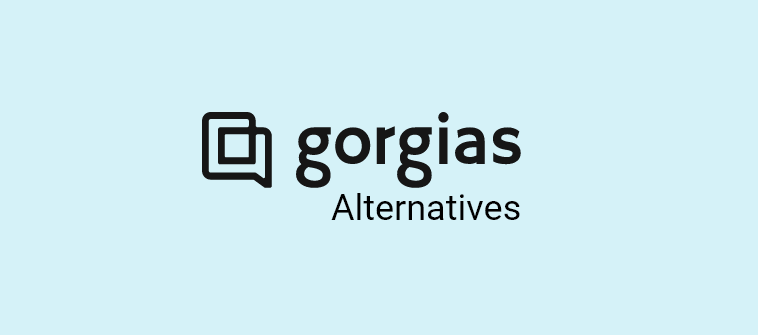 Are you wondering if Gorgias is worth your time and money? Do you wish to know which Gorgias alternatives can work best for your team?
Stay tuned, for you will surely have your answer.
Gorgias is a simple help desk software designed to meet the customer service needs of e-commerce businesses. Agents can use this tool to interact with customers on multiple channels, track social media orders, recommend online products, and much more.
But despite these benefits, many people are actively searching for the best alternatives to Gorgias. What could be the possible reasons?
Gorgias is mainly designed for e-commerce stores, so if you don't have a big online presence, this tool isn't for you. Similarly, users often complain about limited tickets that they can generate, inflexible plans, and poor-performing mobile apps.
Sounds familiar? Don't worry, we have some great alternatives in store for you. But before that, let's understand more about this tool's features and drawbacks.
What Is Gorgias?
Gorgias is a popular help desk tool designed to help e-commerce businesses delight online shoppers and boost sales. The tool allows agents to view complete customer information such as their name, contact history, recent orders, and much more.
Gorgias also helps you track your social media presence. For instance, when customers inquire about your products on social media ads or posts, agents can respond to them and increase sales.
So how much does Gorgias cost your business? There are five plans on offer: Starter ($10/month), Basic ($60/month), Pro ($360/month), Advanced ($900/month), and Enterprise (custom plan).
Why Look For Gorgias Alternatives?
Despite these features, why are Gorgias users searching for the best alternatives? What are those factors that make them switch to another tool?
We have jotted down some of the major drawbacks of this tool that deserve your undivided attention. Let's discuss them in detail.
Designed for e-commerce stores: If you are an e-commerce business, Gorgias has a lot to offer, such as Shopify and BigCommerce integrations, proactive messaging, and more. However, this tool might not be the best option for you if you do not run an online store.
You are charged for the number of support tickets: While most cloud-based help desk software charge customers based on the number of users and features they want, Gorgias has adopted a different approach. You are charged based on the number of tickets you receive and resolve. For example, the Starter plan is limited to only 50 tickets/month.
You will have to pay extra for automation features: Gorgias charges its customers extra bucks for automation features such as self-service and automated responses. Depending on your active plan, these add-ons can cost your business anywhere from $30/month to $450/month.
The mobile app needs improvements: The Gorgias app has a rating of just 2.3/5 on the Apple AppStore. No wonder there are multiple users who have complained about the app crashing quite often. Both Android and iOS app versions need significant improvements.
The Features Gorgias Alternatives Must Have
When you are searching for the best alternative to Gorgias, it is important to know what features you want for your team.
Here are some important ticketing system features that every alternative should have:
A simple and powerful shared inbox so your agents can view all customer conversations in one place and respond faster.
Robust help desk ticketing features to ensure every message can be tracked and isn't lost. For instance, ticket organization, prioritization, filters, etc.
Automation capabilities to help your team avoid repetitive tasks and get more done faster. For instance, automated ticket assignments to ensure smooth work distribution.
In-depth reports and analytics to help support managers gauge performance and track CX with the help of metrics such as CSAT, first response time, ticket resolution time, etc.
Our Selection Criteria for Gorgias Alternatives
There is no doubt that there are hundreds of help desk software available in the market. With so many options to choose from, selecting the right alternatives can be quite a struggle.
But don't worry, we have done the heavy lifting for you. All the help desk alternatives have been chosen after careful consideration. All the tools should meet the following criteria:
Primary Help Desk Features: All Gorgias alternatives should offer help desk features such as shared inbox, multichannel support, ticket prioritization, customer self-service, reports, etc.
Listed on Top Software Review Platforms: The Gorgias competitors should be listed on the top software reviews websites such as G2.com, SoftwareWorld, and Capterra.
Minimum 10 User Reviews: Every tool should include at least ten online reviews from genuine users. Reviews shared on software review platforms can help you understand the various pros of a product.
What Are the Best Gorgias Help Desk Alternatives?
Here is a list of ten Gorgias alternatives that you can consider for your customer service team:
ProProfs Help Desk is considered the best alternative to Gorgias due to multiple reasons. With this powerful tool, your customer service team can interact with customers on multiple channels, track every issue from start to finish, view customer details, and personalize every interaction.
ProProfs Help Desk allows you to share proactive chat invitations with customers based on their behavior on your website. This is a great way to assist customers with their queries, present ongoing offers, and convert visitors into leads.
Top Features of ProProfs Help Desk:
Prioritize issues and requests that need urgent attention
Use the round-robin method to automatically assign tickets to available agents
Create your online knowledge base in minutes with pre-designed templates
Monitor ticket resolution times, agent ratings, and other metrics
Resolve customer complaints on the move with a dedicated mobile app
Why We Picked It:
Automate support with easy-to-deploy chatbots
Simple, Gmail-like interface
Case Study:
Horse Saddle Shop is a famous US-based saddler that sells customers western saddles and boots. Established in 1986, the saddle business has assisted over 40,000 clients and sold over 37,000 saddles.
In the beginning, when customers had queries related to saddle fittings, they would use phone support to seek help. To save time and enhance efficiency, Horse Saddle Shop used ProProfs Help Desk's live chat feature to interact with customers and answer their questions in real-time.
Pricing:
Starts at $20/agent/month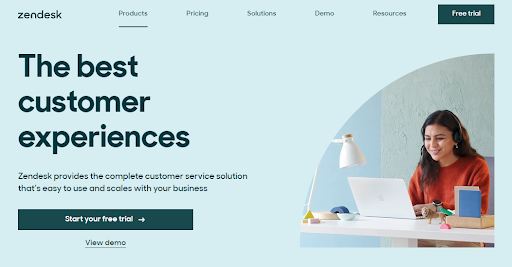 Zendesk is one of the top Gorgias competitors available in the market. This powerful help desk ticketing system is used by thousands of brands pertaining to various industries – from Automotive to SaaS to Education.
With Zendesk, you can manage customer complaints whether they contact you via live chat, messaging, or social media. In addition, you can develop AI-powered answer bots to automate your customer support process and allow agents to focus on other pressing issues.
Top Features of Zendesk:
Gather different types of information with custom ticket fields
Offer reliable support on the move with Zendesk's mobile apps
Built an integrated help center to offer round-the-clock service
Allow customers to discuss solutions on your community forum
Connect your help desk with Zendesk CRM
Why We Picked It:
Make the most of advanced reporting and analytics
Share knowledge base article links via chat
Choose it for: Automated ticket assignments, community forum, online help center
3rd party integrations allowed: Yes
Suited for: Large enterprises
Case Study:
GrubHub is an online food delivery app founded by Matt Maloney in the year 2004. Using their app, customers can locate nearby restaurants and order food in easy steps.
Due to the COVID-19 pandemic, GrubHub witnessed an unprecedented rise in orders as online food delivery was the only option for most customers. After switching to Zendesk, their customer service team could easily meet the demand and witnessed a 53% increase in knowledge base article views.
Pricing:
Starts at $49/agent/month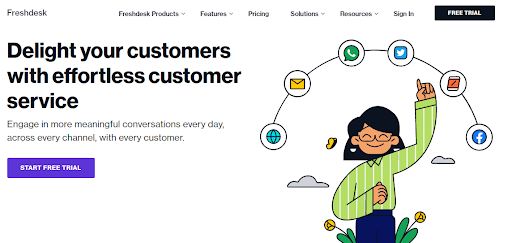 Freshdesk is a free Gorgias alternative that helps your business deliver memorable customer experiences. You can create knowledge base articles and ensure members from different departments can work together to publish the best content.
If you have a field service team, Freshdesk can be of great help. For example, you can route issues to field agents based on their availability, skillset, and proximity. Moreover, you can enhance the service experience via simplified appointment scheduling.
Top Features of Freshdesk:
Monitor customer satisfaction and help desk productivity
Automatically distribute incoming tickets among your team members
Create canned responses to deliver consistent replies
Split complex tickets into multiple child tickets
Convert ticket replies into knowledge base articles
Why We Picked It:
Manage requests over Facebook, Whatsapp, and Twitter
Monitor your field service team
Choose it for: Field service management, parent-child ticketing, email notifications
3rd party integrations allowed: Yes
Suited for: Startups, small to mid-sized businesses, large enterprises
Case Study:
Curefit, now known as Culfit, is a health and fitness company founded in 2016. The company offers customers Cultpasses that can be used to access various gyms across the country, at-home workouts, mental wellness programs, and more.
The fitness company knew from the start that customer experience would be a crucial factor in its success. Cultfit uses Freshdesk to track all email and app-based queries in one place. As a result, their support team is able to resolve around 95% of tickets within SLAs.
Pricing:
Starts at $15/agent/month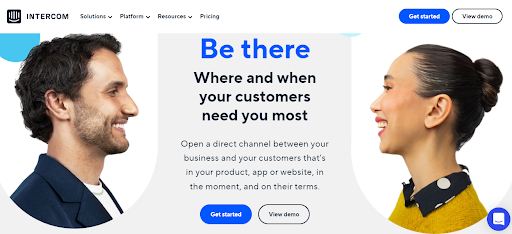 Intercom is a customer service tool that offers powerful automation and proactive messaging features. With the team inbox feature, agents can collaborate to resolve issues faster.
Intercom comes with a chatbot called the Resolution Bot which can be used to share knowledge base articles with customers. You can even use it to answer routine customer questions about product availability, pricing, etc., and reduce your team's workload.
Top Features of Intercom:
Track your customer service team's performance
Capture customer requests from Facebook and Instagram
Share help center articles with customers to encourage self-service
Create macros or canned responses for common questions
Integrate with your CRM, email, and other ticketing systems
Why We Picked It:
Access all communication channels from a single inbox
Use multiple keyboard shortcuts
Choose it for: Proactive messaging, chatbot, shared inbox, help center
3rd party integrations allowed: Yes
Suited for: Medium businesses, large enterprises
Case Study:
Qonto is an all-in-one finance management company that operates with the aim of simplifying how businesses manage their finances. The company offers multiple financial services such as expense management, managed bookkeeping, online payment transfers, and more.
Qonto's team switched to Intercom as they were looking for a ticketing system that adopted a more conversational approach. The financial company achieved a 95% CSAT score and an average first response time of two minutes.
Pricing:
Get in touch with the company for a quote.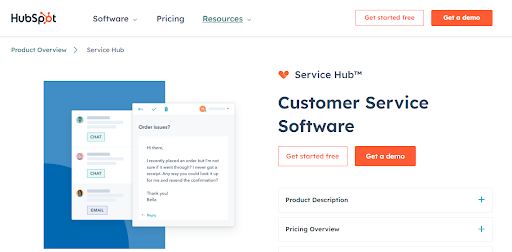 HubSpot Service Hub is a free alternative to Gorgias that can help your support team get started in no time. The tool allows you to convert commonly asked questions into knowledge base articles or videos.
The best part about this ticketing system is that you can easily integrate it with HubSpot's CRM platform. This powerful integration will allow your service agents to get view the customer information and provide personalized assistance.
Top Features of HubSpot Service Hub:
Route chat conversations to the right live chat operators
Create a secure customer portal to allow customers to track ticket progress
Monitor the CX with CSAT, NPS, and CES surveys
Gain better visibility into conversations with a shared inbox
Deliver agile support on the move with mobile apps
Why We Picked It:
Robust CRM integration
Automatically share recommended content with your team
Choose it for: Shared inbox, customer surveys, CRM integration, help center
3rd party integrations allowed: Yes
Suited for: Small to mid-sized businesses, large enterprises
Case Study:
Studio Designer is a digital project management and accounting platform designed specifically to meet the needs of interior designers. The online design platform is used by 6,500 professionals across 3,000+ businesses and design studios.
Studio Designer partnered with HubSpot Service Hub to merge their customer service, marketing, and sales processes onto a single platform. As a result, their customer service team has witnessed a significant increase in customer satisfaction scores and saved 25% of their time.
Pricing:
Starts at $45/month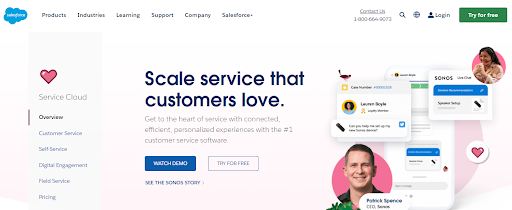 When most people think of Salesforce, they think of it as a popular CRM brand. However, Salesforce Service Cloud is designed to help you delight customers while reducing service costs.
The tool can be used to provide personalized support experiences on digital channels and on the field. You can create a branded help center for customers and free up your agents from the trouble of handling repetitive customer questions and requests.
Top Features of Salesforce Service Cloud:
Develop chatbots to handle frequently asked questions
Monitor asset performance and predict asset failure
Empower customers to schedule their own appointments and get updates
Unify customer data onto a single platform
Build a mobile responsive and secure customer portal
Why We Picked It:
Provide access to experts on the community forum
Leverage mobile apps for Android and iOS
Case Study:
PayPal is a global leader when it comes to online payments. The company offers a secure, faster medium to send and receive money to over 300+ million businesses and customers.
PayPal uses Salesforce to provide sales, service, and customer success teams with a unified platform. The team members can get a 360-degree view of all customers and personalize interactions at scale. Over the years, PayPal has successfully improved its first-call resolution and customer satisfaction scores.
Pricing:
Starts at $25/month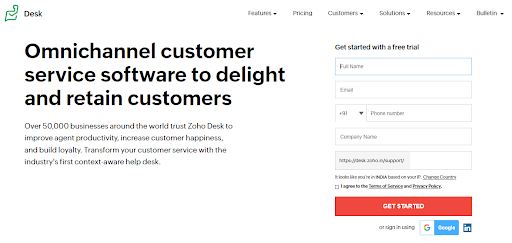 Zoho Desk is another software like Gorgias that deserves to be on your list. With powerful omnichannel capabilities, your team can meet customers on multiple channels such as email, chat, social media, phone, and website.
To encourage self-service and allow customers to find solutions on their own, you can embed a knowledge base on your website, mobile app, or SaaS products.
Top Features of Zoho Desk:
Automatically add tags to tickets to keep your inbox well-organized
Connect with Zoho CRM to access advanced customer management tools
Automatically assign support tickets to appropriate agents
Track the time spent by agents resolving each ticket
Save time by using templates for email and notifications
Why We Picked It:
Create different help centers for different brands
Monitor your social media presence
Choose it for: SLA management, agent productivity, help desk automation
3rd party integrations allowed: Yes
Suited for: Startups, small to mid-sized businesses
Case Study:
Shiji Group and its multiple subsidiaries provide world-class technological solutions for businesses belonging to hotel, food service, retail, and entertainment industries. Founded in 1998, Shiji consists of over 5,000 workers and serves businesses in over 180 countries.
Around 600 Shiji employees use Zoho Desk to manage support channels and portals for different products. Moreover, they have integrated Zoho Desk with Zoho CRM, Zoho Analytics, and multiple other tools.
Pricing:
Starts at $12/agent/month
Read More – Zoho Desk Alternatives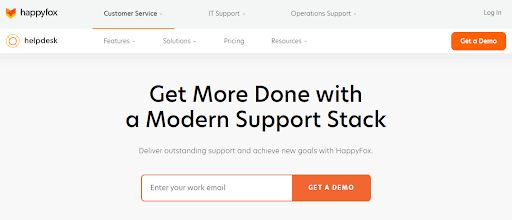 HappyFox is another brilliant Gorgias alternative that can help you meet your customer service goals. The tool can be used by customer service, IT operations, and marketing teams.
HappyFox allows your team to automatically organize incoming tickets into different categories such as customer service, returns, billing, sales, etc. This ensures every ticket lands in the right place and can be worked on by the relevant team members.
Top Features of HappyFox:
Capture customer communications via chat, email, phone, and social media
Track the progress of issues with the help of ticket statuses
Select related tickets to apply bulk actions
View and access all ticket attachments in one place
Filter tickets based on priority and responsibility
Why We Picked It:
Find past tickets using the advanced search functionality
Avoid duplicate replies with agent collision
Case Study:
PDG+ Creative is a reputed marketing company that is know for its website design and branding services. Based in Bartlesville, Oklahoma, the marketing firm offers creative solutions in digital, print, and interactive formats.
Before switching to HappyFox, there was no platform to track incoming service issues raised by customers via phone calls and emails. However, now, their team can easily organize messages into relevant categories and track every issue from start to finish.
Pricing:
Starts at $29/agent/month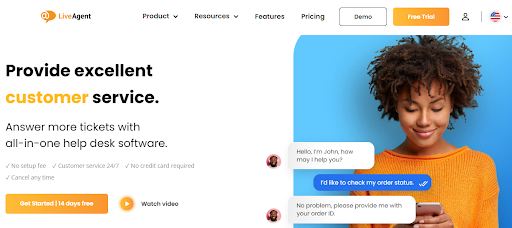 LiveAgent is another help desk software like Gorgias that helps you automate repetitive tasks and make better business decisions based on rich insights. To optimally manage your team's workload, you can automatically distribute tickets among service reps.
LiveAgent is known for its highly functional live chat feature. You can invite customers to chat based on the time spent on your website, offer personalized assistance, enhance engagement, and boost lead generation.
Top Features of LiveAgent:
Choose from a wide range of contact form templates
Give agents access to specific parts of the help desk platform with custom roles
Send automated email notifications about new tickets to agents
Merge similar tickets together and respond faster
Create pre-defined answers to common questions
Why We Picked It:
Simply copy and paste images inside a ticket
Track your agents' productive time
Choose it for: Call recordings, IVR, time tracking, ticket export
3rd party integrations allowed: Yes
Suited for: Startups, small to mid-sized businesses
Case Study:
As a popular online lifestyle magazine, Refresher publishes articles on topics that the current generation loves – fashion, food, technology, and music. The company chose LiveAgent to streamline its internal communications.
With the help of robust internal collaboration features and flexibility, Refresher's customer service team can handle more than 1700 support tickets per month. In addition, automation rules enabled them to route tickets to the right people.
Pricing:
Starts at $15/agent/month
Read More: Best Live Agent Alternatives for 2023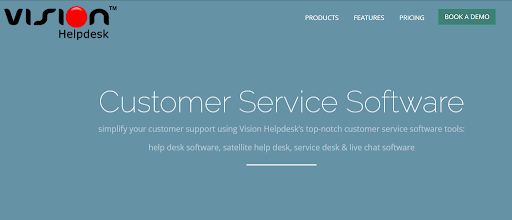 Vision Helpdesk offers a powerful ticketing system that converts your customer emails, phone calls, chat messages, and social media conversations into unique tickets. You can monitor tickets based on their statuses, such as "Open," "Awaiting," "Pending," "Resolved." etc.
Vision Helpdesk allows you to gamify your help desk platform by creating agent achievement levels. This makes things much more interesting for your service heroes as they feel motivated to showcase their best performance.
Top Features of Vision Helpdesk:
Set round-robin rules to automate your ticket assignment process
Apply SLA rules to tickets based on different criteria
Automatically close tickets when no customer response is received
Allow agents to share knowledge and files on complex issues
Automatically escalate tickets when SLAs are breached
Why We Picked It:
Create custom email templates
Gamify your help desk platform
Case Study: Not available
Pricing:
Starts at $12/agent/month
Read More: Best Vision Helpdesk Alternatives for 2023
Comparison of Best Alternatives of Gorgias
| Software | Price | Ticket Management | Shared Inbox | Multi-channel Communication | Alerts & Escalations | Live Chat | Self-Service Portal | IT Help Desk |
| --- | --- | --- | --- | --- | --- | --- | --- | --- |
| ProProfs Help Desk | $10/month | Y | Y | Y | Y | Y | Y | Y |
| Zendesk | $49/month | Y | Y | Y | Y | Y | Y | Y |
| Freshdesk | $15/month | Y | Y | Y | Y | Y | Y | N |
| Intercom | Not Available | Y | N | Y | Y | Y | Y | N |
| Hubspot Service Hub | $45/month | Y | Y | Y | Y | Y | Y | N |
| Salesforce Service Cloud | $25/month | Y | Y | Y | Y | Y | Y | Y |
| Zoho Desk | $12/month | Y | N | Y | Y | Y | Y | N |
| HappyFox | $29/month | Y | Y | Y | Y | Y | Y | Y |
| LiveAgent | $15/month | Y | Y | Y | Y | Y | Y | N |
| Vision Helpdesk | $12/month | Y | N | Y | Y | Y | Y | Y |
| Gorgias | $10/month | Y | N | Y | Y | Y | Y | N |
Final Verdict: Which Gorgias Alternative Should You Go For?
Gorgias is a powerful help desk tool that allows you to:
Manage customer interactions on multiple channels
Encourage self-service among your customers
Share offers and recommendations via live chat
Get actionable insights into your team's performance
Despite such powerful features, some serious limitations, such as inflexible pricing structure, malfunctioning mobile app, etc., make people search for the right alternatives to Gorgias. All the tools shared in this Gorgias comparison blog are well-trusted, useful, and have been selected after rigorous research.
If you wish to go for a ticketing system that is designed for every industry and offers a wide range of features, you can choose ProProfs Help Desk. If you want a service-oriented solution with a blend of CRM capabilities, then Salesforce Service Cloud can be a great option too. Similarly, if you want to enhance your IT support operations, Vision Helpdesk can be a good bet.
Do you want a free Help Desk?
We have the #1 Online Help Desk Software for delightful customer support