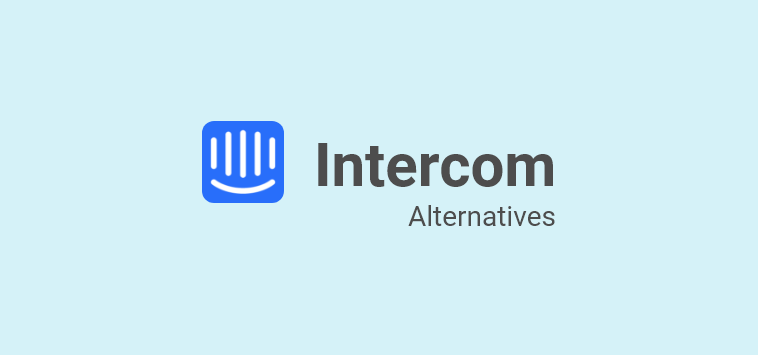 Whether you are a marketing pro or a customer service professional, chances are you have already heard about Intercom. The tool offers the power and flexibility you need to provide personalized support at scale and onboard new customers with ease.
However, despite its excellent set of features, a single question has often baffled most Intercom users.
"What are some free Intercom alternatives? And if not free, what are the most affordable alternatives that we can use instead?"
But why are Intercom users eagerly searching for alternatives? The intercom might appear all shiny at first, but not everything that glitters is gold!
The tool has garnered many negative reviews due to its over-the-top pricing, complicated subscription plans, lack of core customer service features, and more. In this blog, we will discuss the 15 best alternatives to Intercom, compare their features, and highlight the ones that will fit right into your budget.
What Is Intercom?
Intercom was founded in 2011 and has more than 30,000 paying customers, including brands such as Moz, Living Spaces, Baremetrics, and more.
Intercom is an industry-leading business messenger tool that can help your team improve customer onboarding, and customer engagement, and offer proactive support to all your customers. You can get new customers up to speed with helpful product tours, make impactful announcements inside your app, and offer product tips or insights proactively. Moreover, agents can automatically assign tickets and prioritize important conversations.
So, it's evident that the tool offers multiple features, but what about Intercom pricing? Intercom's basic chat and messaging features start at $74/month. For premium features, you will have to contact their sales team.
Why Look For Intercom Alternatives?
Although it comes packed with some really good features, Intercom fails to impress on certain crucial areas. Let's discuss them right away.
Incredibly High Pricing: To say that Intercom is heavily priced would be an understatement. It is one of the most expensive business communication tools out there. The tool starts at $74/month, which includes just two seats and limited to thousand customers/month.
The Pro Plan Misses Out on Important Features: Intercom's Pro plan (pricing available on request) lacks important features that can be disappointing for many users. For instance, the plan misses out on SLA rules, lead generation bot, email templates, custom reports, and other features.
Lack of Core Customer Service Features: If you look closely, Intercom is a mix and match of both marketing as well as support features. But, it lacks many core customer service features such as email automation, in-depth reporting, ticket filters, CX surveys, and more.
Poor Support: If you check Intercom's online reviews, many users have complained about the company's poor support. While some claim that their team is difficult to get in touch with, others say they have received a response couple of days later.
Our Selection Criteria for Intercom Alternatives
Searching for products similar to Intercom can seem like a mountain to climb. You need to go through dozens of software review platforms, read each review carefully, compare prices, speak to sales reps, check for any hidden terms, and the list goes on.
To save you from such colossal efforts, we have done some painstaking research. All the alternatives have been carefully selected to make the comparison not just simpler but fair. In order to make it to our list, the Intercom help desk alternatives should meet the following criteria:
Core Customer Communication Features: All Intercom alternatives should offer core customer communication features, such as proactive support, ticket tracking, live chat, lead generation, reports, and analytics, etc.
Listed on Top SaaS Review Platforms: The tools should be listed on the leading online software review platforms such as Getapp, Capterra, and SoftwareWorld.
Minimum 10 User Reviews: All Intercom competitors should have at least 10 genuine customer reviews on the software review platforms mentioned above. Online reviews that are shared by genuine users help you evaluate the pros and cons of each tool.
A Quick Comparison Table
Tool
Features
Pricing
ProProfs Help Desk
Multi-channel communication
Develop powerful chatbots
Use pre-defined email templates
Share ownership of tickets
Send CSAT & NPS surveys
Starts at $20/user/month
Zendesk
Communicate via live chat
Build a help center
Escalate issues to agents
Provide self-service options
Leverage easy-to-use analytics
Starts at $49/user/month
Drift
Initiate live chat conversations
Deploy custom chatbots
Automated message routing
Receive Slack notifications
A/B test different messages
Starts at $2500/month
Tidio
Deploy response bots
Create multiple departments
Canned responses
Automated chat distribution
Pre-chat surveys & forms
Starts at $29/month
HelpScout
Create a help center
Send automated email responses
Auto-suggest help articles
Filter reports
Multiple integration options
Starts at $20/user/month
Helpcrunch
Automated chat greetings
Merge similar conversations
Live reports and analytics
Connect with Google Analytics
Customize chat size & color
Starts at $12/user/month
Freshdesk
Engage customers via live chat
Track SLA violations
Social media integrations
Send automated notifications
Create a knowledge base
Starts at $15/user/month
Zoho Desk
Create distinctive self-service portals
Build a community forum
Automated ticket assignments
Receive email notifications
Connect with Zoho CRM
Starts at $12/user/month
LiveAgent
Automated ticket distribution
Customize your workflow
Set up chat & feedback widgets
Avoid spam emails
Merge similar tickets together
Starts at $9/user/month
Front
Assign requests & tasks
Gain relevant context
Gmail-like interface
Add comments to emails
Discuss emails internally
Starts at $59/user/month
Olark
Set up automation rules
Customize the chat box
Access live chat transcripts
Create chatbox forms
Leverage canned responses
Starts at $29/user/month
ClickDesk
View visitors on a World map
Use social toolbars
Intuitive mobile app
Initiate proactive chats
Access chat stats
Starts at $29/month
HubSpot Service Hub
Hold contextual interactions
Leverage a Universal inbox
Measure customer satisfaction
Monitor SLA violations
Deploy chatbots
Starts at $450/month
Salesforce Service Cloud
Initiate live chat conversations
Convert customer messages into cases
Automated ticket routing
Track the progress of cases
Create a self-service portal
Starts at $25/user/month
Crisp
Create custom chatbots
Target website visitors
Add a live chat widget
Initiate a co-browsing session
Monitor ticket progress
Starts at $25/month
Top 15 Intercom Alternatives You Can Consider for 2023
As discussed above, looking for the right alternatives to Intercom only makes sense. We have curated a list of some of the best alternatives out there that will help you save money and never miss Intercom again.
ProProfs Help Desk is the best Intercom alternative that has been diligently designed for productive support teams and delighted customers. Agents can prioritize urgent conversations, communicate with other team members using internal notes, and see who is working on what. On the other hand, managers can leverage smart reports to track daily, weekly, or monthly performance.
As a software cheaper than Intercom, ProProfs helps you collaborate across multiple departments. For instance, a parent ticket can be broken down into multiple child tickets and allocated to relevant departments. Moreover, automation capabilities such as chatbots, canned responses, automated ticket assignments, automated surveys, notifications, etc., make it a powerful tool.
Top Features of ProProfs Help Desk:
Capture customer requests, leads, and complaints on multiple channels
Leverage chatbots to handle customers even when your team is offline
Use pre-defined templates for email notifications
Provide ownership of tickets to multiple teams such as marketing, sales, delivery, etc.
Improve customer experience with CSAT and NPS surveys
Pricing:
FREE for a single user. Plans start at $19.99/user/month for 2 or more users. No hidden fees. A 15-day money-back guarantee.
2. Intercom vs. Zendesk
Zendesk is another popular alternative to Intercom that can easily scale to match your growing business needs. With Zendesk's ticketing system, you can view all customer conversations in a single, shared location. Customer service agents can capture customer queries or requests from multiple channels and access interaction history to deliver personalized experiences.
Moreover, Zendesk provides all the features for impeccable knowledge management. You can empower customers and internal employees by creating a dedicated help center, customer portal, and an online community. Customers with common queries can be directed to FAQs and help articles for faster service.
Top Features of Zendesk:
Communicate with customers over live chat, email, messaging, etc.
Build an integrated help center and community forum
Escalate issues to agents best-suited for help
Deliver self-service options and content at scale
Leverage easy-to-use analytics and understand what your customers need
Pricing:
Starts at $49/user/month
3. Intercom vs. Drift
Drift is a cloud-based conversational marketing platform that allows companies to connect with customers in the moments that matter most. So what makes this tool so special? Well, it offers a wide range of features such as geo-targeting, chatbots, offline access, and automated chat routing, which are not offered by Drift competitors.
Drift can also be a great option if you wish to automate your customer service process. You can deploy AI-powered chatbots on your website and deflect tickets with the knowledge base integration.
Top Features of Drift:
Initiate live chat conversations with prospects and customers
Generate leads and support customers with custom chatbots
Automatically route website visitors to the right team members
Receive notifications on Slack and mobile applications
A/B test different messages to create more high-converting conversations
Pricing:
Starts at $2500/month
4. Intercom vs. Tidio
Whether it's providing instant support, capturing leads, or nurturing relationships, Tidio empowers businesses to deliver exceptional customer service and drive conversions. You can keep your conversations well-organized with the help of tags and priorities.
Tidio enables businesses to connect with their customers in real-time through live chat, chatbots, and email marketing automation. In addition, the tool offers customizable chat widgets, AI-powered chatbots, and CRM integration to streamline customer interactions and provide personalized experiences.
Top Features of Tidio:
Automate a majority of customer conversations with Response Bots
Create multiple departments to manage your team's workflow
Save time by using canned responses for frequently asked questions
Automatically assign incoming chats to specific team members
Capture important information using pre-chat surveys and forms
Pricing:
Starts at $29/month
Help Scout is an easy to use customer support software that provides businesses with a shared inbox, help center, and live chat software. With this tool, businesses can give their teams all the collaboration, organization, and automation features they need to move faster.
This affordable Intercom alternative offers the shared inbox feature to help your team manage multiple team inboxes (billing@, help@, info@, etc.) in one place. Team members can can avoid sharing duplicate replies with collision alerts and discuss emails using private notes.
Top Features of Help Scout:
Create a help center to encourage self-service
Send automated email responses with customers for faster service
Suggest different knowledge base articles based on customer behavior
Filter reports by conversation type, tag, mailbox, or folder.
Connect Help Scout with over 90+ business applications
Pricing:
Starts at $20/user/month
HelpCrunch is another help desk software like Intercom that helps you scale your support, marketing, and sales proceses. You can access all help desk features on the web or mobile and assist customers via chat, email, or offer 24/7 customer self-service through a knowledge base.
HelpCrunch makes it easier for you to engage, convert, and onboard new customers. For instance, you can share newsletters with customers and update them about the latest trends, ongoing offers, and more. Easily set up behavior-based campaigns and increase your conversions at every stage of the funnel.
Top Features of HelpCrunch:
Capture more leads with automated chat greetings
Tag, assign, and merge similar conversations
Track your team's performance with live reports and analytics
Connect HelpCrunch with powerful tools like Slack and Google Analytics.
Customize chat size, color, and logo based on your unique needs
Pricing:
Starts at $12/user/month
Freshdesk offers a robust Team Inbox to track and manage all incoming customer communications from multiple channels. While agents can prioritize and categorize conversations, managers can set deadlines for ticket response and resolution.
Freshdesk is built for improved team collaboration, efficient ticket management and ensures a large number of tickets can be resolved effortlessly. You can make the most of the automation capabilities to streamline day-to-day operations, enhance productivity with the help of gamification, and empower your users with an extensive knowledge base.
Top Features of Freshdesk:
Engage, support, and retain customers via live chat
Set SLAs to track and avoid SLA violations
Integrate help desk with your company's Twitter and Facebook pages
Update customers and agents with automated notifications
Convert ticket replies into knowledge base articles
Pricing:
Starts at $15/user/month
Zoho Desk is another versatile tool that utilizes the power of customer context to drive meaningful conversations across multiple communication channels. You can proactively reduce your support ticket volume, monitor customer sentiments, and spot useful patterns in ticket traffic using Zia, the AI-powered assistant offered by Zoho Desk.
To help your customers find answers quickly, you can embed a dedicated knowledge base or user community into your website. Moreover, with Zoho Desk's mobile app, customer service agents can handle hundreds of support tickets, track ticket traffic, and monitor metrics, no matter where they are.
Top Features of Zoho Desk:
Create distinctive self-service portals for customers of different brands
Build and grow a community of visitors, prospects, and customers
Automatically assign tickets to appropriate agents
Use notifications to update both agents and customers
Connect Zoho Desk with Zoho CRM and other business applications
Pricing:
Starts at $12/user/month
LiveAgent is also one of the top tools like Intercom that does an excellent job of combining live chat, ticketing, and automation to help your team provide exceptional support to customers. Your customer service agents can reach customers on the channels they use most, such as email, chat, voice calls, and social media.
Help desk managers can make their team members more productive by enabling automation rules. For instance, they can automatically assign tickets to relevant agents or departments, add tags to tickets, or set up unique rules to automate support workflow. With Live Agent's intuitive chat widget, you can effectively convert website visitors into customers.
Top Features of LiveAgent:
Automatically distribute tickets among your agents
Customize your workflow around time, action, and SLA rules
Set up chat, contact, or feedback widgets in multiple languages
Avoid spam emails or messages with spam filtering
Merge multiple similar tickets into a single ticket
Pricing:
Starts at $9/user/month
10. Intercom vs. Front
Front is another popular Intercom alternative that offers an easy-to-use 'Universal Inbox' for all your emails, chats, SMS texts, tweets, and more. This makes it easier for businesses to keep all their incoming customer communications well-organized and actionable on a single platform.
With Front, your team can easily apply workflow rules to automate manual tasks and assign requests based on keywords, sender, time of day, and other important criteria. Gain insights into all your email activities, learn where you need to improve your workflow, and take your customer experience to the next level.
Top Features of Front:
Assign a relevant owner to every request or task
Get context at your fingertips for fast, personalized conversations
Enjoy a familiar interface like Gmail and Outlook
Add comments on emails and collaborate effortlessly with other agents
Discuss emails internally- directly on the email thread
Pricing:
Starts at $59/user/month
11. Intercom vs. Olark
Olark is one of the top Intercom competitors that offers robust live chat and customer data tools that help you learn from every online interaction. The tool makes it easier for you to update customer records, track page views, save customer conversations in a searchable database, and more.
With Olark, you can get all the data you need to improve both sales and support. Managers can access real-time dashboards and view reports on chat metrics and customer feedback. You can also choose to receive daily, weekly, or monthly email reports in your inbox.
Top Features of Olark:
Speed up your workflow with easy-to-configure automation rules
Customize your chat box to match your brand
Gain complete access to your live chat transcripts
Use chatbox forms to collect valuable information even before a chat begins
Leverage canned responses for quick, consistent replies
Pricing:
Starts at $29/user/month
Unlike other Intercom alternatives, ClickDesk helps you bring conversations to life through voice and video chats. Both voice and video chat sessions can be conducted by agents right from their browsers, and there is no need to install any heavy software or apps.
With ClickDesk, you get a help desk automatically integrated with the live chat tool. This further helps you track support issues and stay on top of every customer communication. Add Like, Tweet, and Follow buttons on your chat widget and allow visitors to connect with your business on multiple social networking platforms.
Top Features of ClickDesk:
View online visitors on an intuitive World map
Use social toolbars to increase social media traffic
Take chats and manage tickets on the go using mobile apps
Use proactive chats to close more leads
Access chat stats and agent performance reports
Pricing:
Starts at $14.99/month
HubSpot's customer service software enables teams to scale their customer service operations and unites customer-facing teams on one powerful, easy-to-use platform. The tool is known for features such as help desk automation, conversational tools, a knowledge base, customer feedback surveys, insightful reports, CRM integration, and more.
HubSpot Service Hub takes reporting to the next level by allowing you to create single-object, cross-object, or custom funnel reports to monitor your team's performance. Moreover, by deploying NPS, CSAT, CES, and custom surveys, you can gather valuable feedback and build a better customer experience.
Top Features of HubSpot Service Hub:
Hold contextual conversations over live chat
Manage all customer conversations from a Universal inbox
Measure customer satisfaction with customer feedback surveys
Create service level agreements (SLAs) and monitor SLA violations
Leverage chatbots for 24×7 support
Pricing:
Starts at $450/month
Salesforce Service Cloud combines the power of customer service software with a CRM tool. Users can leverage features such as case tracking, multichannel communication, self-service, and more.
The platform gives your team a 360-degree view of all customers and enables you to deliver smarter, faster, and more personalized service. Moreover, with Salesforce Service Cloud, you can create a connected knowledge base, enable live chat interactions, and manage case interactions – all on one platform.
Top Features of Salesforce Service Cloud:
Enable agents to chat with customers in real-time and resolve issues quickly
Converts customer messages into cases that can be tracked in a centralized dashboard
Route cases to the most qualified agent based on their skills and expertise
Track the progress of cases and ensure they are resolved within the specified time frame
Empower customers to find answers to their questions through a self-service portal
Pricing:
Starts at $25/user/month
15. Intercom vs. Crisp
Crisp is a powerful messaging platform that helps businesses manage customer conversations and data in one place. You can also use this tool to create an unlimited database of customer contacts, contact activities, and browsing history.
With the Crisp Inbox, everything is at arm's reach for your team members. Whether it live chat messages, emails, or Instagram DMs, customer service reps can access all important conversations from a single dashboard.
Top Features of Crisp:
Leverage a visual editor to create custom chatbots for your website
Target visitors based on their browsing activities
Add a live chat widget to your website in easy steps
Initiate a co-browsing session with customers without any additional plugin
Monitor the status of all ongoing support tickets
Pricing:
Starts at $25/month
Final Verdict: Which Intercom Alternative Should You Go For?
After being in the market for over a decade now, Intercom has come across as a renowned business tool that allows you to:
Communicate with customers on multiple channels
Launch marketing campaigns and generate more leads
Onboard new customers
Offer self-service options to customers
Despite all the appealing features, the demerits, such as expensive pricing, unpredictable billing, lack of core customer service features, etc., make people search for the right Intercom alternatives. All alternatives shared in this Intercom comparison blog are well-trusted, rich in features, and have been a popular choice among businesses of all sizes.
If you are looking for an all-in-one software that is inexpensive and helps you communicate with your audience on multiple channels, you must go for ProProfs Help Desk. If budget is not an issue and you are looking for a more support-oriented solution, then Zendesk can be a good option. Similarly, if you wish to communicate with context, Zoho Desk deserves your attention.
Do you want a free Help Desk?
We have the #1 Online Help Desk Software for delightful customer support