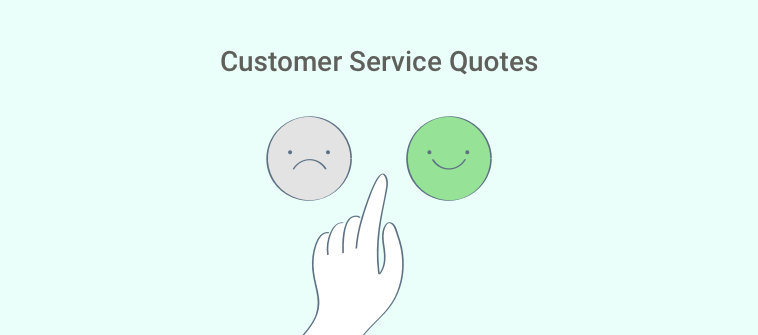 Every business aims to be customer-centric now. Only a company that makes its customers' prime focus can stand out from the crowd and gain recognition.
So, if I were to ask you, which brand do you remember that you'd recommend to your friends?
No matter what brand you choose, there must be something that you would be basing your recommendations on:
Products?

Services?

Reviews?

Customer support?
Whatever be the case, it is only a good customer experience that can make you recommend it to your loved ones.
How do you make your company customer-centric?
Research is the only way on which you can base the foundation for a strong and loyal customer base.
And, the one thing that many company's fail to research upon is customer service quotes. Reading about popular customer service quotes gives you a basic idea of what is trending in today's era and makes you realize what you need to do to offer delightful customer service.
Here are 150+ customer service quotes that'll give you insight into a customer's mind.
Customer Service Quotes
"Customer service means making it easy and fast for your customers to get the help they need―when and how they need it." –

Steve Benson, Founder & CEO, Badger Maps

Customers don't care about your policy, they care about action. –

Flavio Martins, Best-Selling Author

"Always keep in mind the old retail adage: Customers remember the service a lot longer than they remember the price." –

Lauren Freedman

The only purpose of 'customer service' is to change feelings. –

Seth Godin, Author

Do right. Do your best. Treat others as you want to be treated. –

Lou Holtz, Former Football Player

"Ease your customers' pain." –

Hazel Edwards

"When a customer enters the store, forget me. He is king." –

John Wanamaker, Merchant, Religious Leader and Political Figure

We have entered the era of the customer. Today, providing customers with outstanding customer service is essential to building loyal customers and a long-lasting brand. –

Jerry Gregoire

"Customer service is the experience we deliver to our customers. It's the promise we keep to the customer. It's how we follow through for the customer. It's how we make them feel when they do business with us." –

Shep Hyken, Customer Service & Experience Expert, Hyken

"The customer is king." – Unknown

"People don't just buy your products that they can see; they buy your attitude that they can sense" –

Roxanne Emmerich

You never get a second chance to make a first impression. –

Will Rogers

"The more helpful you are, the more pleasant the customer is." –

AJ Saleem, Academic Director, Suprex Tutors Houston

"Until you understand your customers — deeply and genuinely — you cannot truly serve them." –

Rasheed Ogunlaru, Author of Soul Trader

Kind words can be short and easy to speak, but their echoes are truly endless. –

Mother Teresa, Philanthropist

"It is not your customer's job to remember you, it is your obligation and responsibility to make sure they don't have the chance to forget you." –

Patricia Fripp, Professional Keynote Speaker

"Bottom-line obsession comes from turning the pursuit of money into a God and forgetting the real master your business serves: The Customer." –

Michael Shevack, Executive Coach

"Customer service is what sets the good companies apart from the bad companies. Think of it as an added value. In today's competitive industry, everyone can provide the best product, but not great customer service." –

Charles Vallena, Co-owner, Foretec Philippines

"Great customer service doesn't mean that the customer is always right, it means that the customer is always honored." –

Chris LoCurto

"Customer service is about excellence and integrity above all else and it should be a continually evolving process."–

Kirk Paulsen, President, River Oak Partners

"Customer service has more in common with selling an identity than it does with selling a product."–

Than Merrill, CEO & Founder, FortuneBuilders

"Customer service is nothing less than the foundation on which today's most prolific businesses will be realized."–

Than Merrill, CEO & Founder, FortuneBuilders




Customer Loyalty & Customer Service Quotes

Loyal customers, they don't just come back, they don't simply recommend you, they insist that their friends do business with you. –

Chip Bell

The way to a customer's heart is much more than a loyalty program. Making customer evangelists is about creating experiences worth talking about. –

Valeria Maltoni

"Customers who love you will market for you more powerfully than you can possibly market yourself." –

Jeanne Bliss

"Courteous treatment will make a customer a walking advertisement." –

James Cash Penney, Founder J.C. Penney Stores

"Just having satisfied customers isn't good enough anymore. If you really want a booming business, you have to create raving fans." ―

Ken Blanchard

"Satisfaction is a rating. Loyalty is a brand." –

Shep Hyken

The best advertising you can have is a loyal customer spreading the word about how incredible your business is. –

Shep Hyken

"Repeat business or behavior can be bribed. Loyalty has to be earned." –

Janet Robinson, Former President and CEO of The New York Times Company

"Customer satisfaction is worthless. Customer loyalty is priceless." –

Jeffrey Gitomer, Author, and Professional Speaker

"Because in any economy – especially a down economy – Customer loyalty is your strongest asset!" –

John R. DiJulius III, The Customer Service Revolution

Getting service right is more than just a nice thing to do; it's a must-do. American consumers are willing to spend more with companies that provide outstanding service — ultimately, great service can drive sales and customer loyalty. –

Jim Bush

Merely satisfying customers will not be enough to earn their loyalty. Instead, they must experience exceptional service worthy of their repeat business and referral. Understand the factors that drive this customer revolution. –

Rick Tate




Customer Satisfaction & Customer Service Quotes

Unless you have 100% customer satisfaction, you must improve. –

Horst Schulze, former president of the Ritz-Carlton Hotel Company

"Customers don't expect you to be perfect. But they do expect you to fix things when they go wrong." –

Donald Porter

"The single most important thing is to make people happy. If you are making people happy, as a side effect, they will be happy to open up their wallets and pay you." –

Derek Sivers, Founder CD Baby

"Rule 1: The customer is always right. Rule 2: If the customer is ever wrong, read Rule 1." –

Stew Leonard's Grocery Store Customer Policy

"A satisfied customer is the best business strategy of all." –

Michael LeBoeuf, Business Author, and Former Management Professor

Don't try to tell the customer what he wants. If you want to be smart, be smart in the shower. Then get out, go to work and serve the customer! –

Gene Buckley

"Don't find fault. Find a remedy." –

Henry Ford, Founder Ford Motor Company


Customer Retention & Customer Service Quotes

Make your products easier to buy than your competition, or you will find your customers buying from them, not you. –

Mark Cuban

"Historically, our number-one growth driver has been from repeat customers and word of mouth." – Unknown

"It takes 20 years to build a reputation and five minutes to ruin it. If you think about that, you'll do things differently." –

Warren Buffett

"Value-added promotes customer retention (they come back) but value-unique nurtures customer advocacy (they bring their friends)." –

Chip Bell, Keynote Speaker & Author, The Chip Bell Group

"Customer retention is the only metric that matters. When you focus on customer retention, by default you have to be exceptional at client care. In our instant gratification, online, lowest-price-is-best mentality, those companies that focus on keeping their clients, over acquiring new ones, will not only survive, but they will also thrive and see great profitability." –

Lou Altman, CEO, GlobaFone

"I attract a crowd, not because I'm an extrovert or I'm over the top or I'm oozing with charisma. It's because I care." –

Gary Vaynerchuk, Author "The Thank You Economy"

When the customer comes first, the customer will last. –

Robert Half

"The key is when a customer walks away, thinking 'Wow, I love doing business with them, and I want to tell others about the experience.'"―

Shep Hyken, Customer Service & Experience Expert, Hyken

Read more about Customer Retention Statistics.


Quotes on Customer Service Benefits

"If you just communicate, you can get by. But if you communicate skillfully, you can work miracles." –

Jim Rohn, Author, and Motivational Speaker

Customers may forget what you said but they'll never forget how you made them feel. – Unknown

"Flawless customer service facilitates opportunity more than anything else―the opportunity to exceed any and all expectations." ―

Than Merrill, CEO & Founder, FortuneBuilders

"If you have the confidence to speak with people, you can solve their problems."―

Steven Lowell, Customer Service Manager

"The customer is not always right. You just make them think they are."―

Mike Mancini, Founder, Mancini Digital

"Your target customers have to love you more than they hate change. And people really hate change." –

Erika Hall

"Happy customers are your biggest advocates and can become your most successful sales team." –

Lisa Masiello

Every company's greatest assets are its customers because without customers there is no company. –

Michael LeBoeuf

Focusing on the customer makes a company more resilient. –

Jeff Bezos


Company Culture & Customer Service Quotes

"Make a customer, not a sale." – Unknown

In an era when companies see online support as a way to shield themselves from costly interactions with their customers, it's time to consider an entirely different approach: building human-centric customer service through great people and clever technology. So, get to know your customers. Humanize them. Humanize yourself. It's worth it. – Unknown

Keeping customers is about the experience, and the employees control the culture and temperature of the business. Never forget that. –

Steve Wynn

"Excellent firms don't believe in excellence – only in constant improvement and constant change." –

Tom Peters

You're serving a customer, not a life sentence. Learn how to enjoy your work. –

Laurie McIntosh

Service, in short, is not what you do, but who you are. It is a way of living that you need to bring to everything you do if you are to bring it to your customer interactions. –

Betsy Sanders

Businesses often forget about the culture, and ultimately, they suffer for it because you can't deliver good service from unhappy employees. –

Tony Hsieh

Your best customers leave quite an impression. Do the same, and they won't leave at all. –

SAP Ad

"Great teams need great leaders – leaders who inspire, motivate, instill pride, loyalty and a sense of fun at work." –

Natalie Calvert, Customer Service, and Sales Strategist

We're not competitor-obsessed, we're customer-obsessed. We start with what the customer needs and we work backward. –

Jeff Bezos

If you're competitor-focused, you have to wait until there is a competitor doing something. Being customer-focused allows you to be more pioneering. –

Jeff Bezos

Every employee can affect your company's brand, not just the front-line employees that are paid to talk to your customers. –

Tony Hsieh

When people call our call center, our reps don't have scripts, and they don't try to up-sell. They are just judged on whether they go above and beyond for the customer and really deliver a kind of personal service and emotional connection with our customers. –

Tony Hsieh

Whether you are big or small, you cannot give good customer service if your employees don't feel good about coming to work. –

Martin Oliver

Customer service is not a department, it's everyone's job. – Anonymous




Brand Value & Customer Service Quotes

"There's a place in the world for any business that takes care of its customers – after the sale." –

Harvey MacKay

"Great customer service is a critical competitive advantage for a business." ―

Steve Benson, Founder & CEO, Badger Maps

The customer's perception is your reality. –

Kate Zabriskie

Statistics suggest that when customers complain, business owners and managers ought to get excited about it. The complaining customer represents a huge opportunity for more business. –

Zig Ziglar

The purpose of a business is to create a customer who creates customers. –

Shiv Singh

It's easier to love a brand when the brand loves you back. –

Seth Godin

"A brand for a company is like a reputation for a person. You earn reputation by trying to do hard things well." –

Jeff Bezos


Quotes About Customer Service Cost Benefits

"A rose on time is more valuable than a $1,000 gift that's too late." –

Jim Rohn, Author, Motivational Speaker

"The absolute fundamental aim is to make money out of satisfying customers." –

John Egan

"Customers are an investment. Maximize your return." – Unknown

We take most of the money that we could have spent on paid advertising and instead put it back into the customer experience. Then we let the customers be our marketing. –

Tony Hsieh

"One customer well taken care of could be more valuable than $10,000 worth of advertising."–

Jim Rohn

Politeness goes far, yet costs nothing. –

Samuel Smiles

"Your service is rated by your profit."―

Elle Clarke, CEO, Elle Clarke Media Group

If you make a sale, you make a living. If you make an investment of time and good service in a customer, you can make a fortune. –

John Rohn

Good customer service costs less than bad customer service. –

Sally Gronow

Profit in business comes from repeat customers; customers that boast about your product and service, and that bring friends with them. –

W. Edwards Deming


Quotes on Customer Service (How to Improve the Process)

The longer you wait, the harder it is to produce outstanding customer service. –

William H. Davidow

"The customer: Someone that indirectly pays for your food, clothes, and vacations. Be nice to them." –

Gene Caballero, Co-Founder of GreenPal

"The customer tells us how to stay in business, best that we listen." –

Pamela Nelson, President, and CEO of Bracane Company

"The magic formula that successful businesses have discovered is to treat customers like guests and employees like people." –

Tom Peters, Best-Selling Author

"Companies designed for success in the 20th century won't be successful in the 21st"– Unknown

"Get closer than ever to your customers. So close that you tell them what they need well before they realize it themselves." –

Steve Jobs, Co-Founder, and CEO of Apple

"… the customer expects you to have knowledge of their stuff, not just your stuff." –

Jeffrey Gitomer, Sales Expert

"When you make a mistake, there are only three things you should ever do about it: admit it, learn from it, and don't repeat it." –

Bear Bryant, Former College Football Player, and Coach

"When you assume negative intent, you're angry. If you take away that anger and assume positive intent, you will be amazed." –

Indra Nooyi

The goal as a company is to have customer service that is not just the best, but legendary. –

Sam Walton

Customer service is just a day in, day out ongoing, never-ending, unremitting, persevering, compassionate, type of activity. –

Leon Gorman

"Biggest question: Isn't it really 'customer helping' rather than customer service? And wouldn't you deliver better service if you thought of it that way?" –

Jeffrey Gitomer, Author, and Professional Speaker

"Go beyond merely communicating to 'connecting' with people." –

Jerry Bruckner, Author The Success Formula for Personal Growth

"Face a simple fact before it comes involved. Solve the small problem before it becomes big." –

Lao Tzu, Philosopher

"Your ability to communicate is an important tool in the pursuit of your goals, whether it is with your family, your co-workers or your clients and customers." –

Les Brown, Author, and Motivational Speaker

"Thank your customer for complaining and mean it. Most will never bother to complain. They'll just walk away." –

Marilyn Suttle, Success Coach




Quotes About Customer Service Gone Bad

If you make customers unhappy in the physical world, they might each tell six friends. If you make customers unhappy on the internet, they can each tell 6,000. –

Jeff Bezos

Any customer that walks away, disrespected and defeated, represents tens of thousands of dollars out the door, in addition to the failure of a promise the brand made in the first place. You can't see it but it's happening, daily. –

Seth Godin

We will use the scar tissue from this painful mistake to help make better decisions going forward, ones that match our mission. –

Jeff Bezos

The reputation of a thousand years may be undermined by the conduct of one hour. – Japanese Proverb

"It takes months to find a customer… seconds to lose one." –

Vince Lombardi

"Listen to your customers or you will have none" –

Zach Hendrix Co-founder, GreenPal

Every contact we have with a customer influences whether or not they'll come back. We have to be great every time or we'll lose them. –

Kevin Stirtz, Author

"If you don't care, your customer never will." –

Marlene Blaszczyk, Motivational Specialist


Customer Experience and Customer Service Quotes

"Building a good customer experience does not happen by accident. It happens by design." –

Clare Muscutt

"Every day we're saying, 'How can we keep this customer happy?' How can we get ahead in innovation by doing this because if we don't, somebody else will." –

Bill Gates

"The first step in exceeding your customer's expectations is to know those expectations." –

Roy H. Williams

We see our customers as invited guests to a party, and we are the hosts. It's our job every day to make every important aspect of the customer experience a little bit better. –

Jeff Bezos

"Customer experience is one of the two core pillars of customer retention; the thing is, you can't grow if your customers don't stick around." –

Jes Kirkwood

If companies start reinventing themselves and focus on the customer experience more, they will win out in the end. –

Alfred Lin

"CXM = The art and science of coaxing lifetime loyalty from daily transactions." –

Steve Curtin

"Customer experience isn't an expense. Managing customer experience bolsters your brand." –

Stan Phelps

"No amount of advertising can repair the damage done by failing to properly address a customer's concern." – Unknown

"Quality in a service or product is not what you put into it. It is what the customer gets out of it." –

Peter Drucker

If you do build a great experience, customers tell each other about that. Word of mouth is very powerful. –

Jeff Bezos

"Revolve your world around the customer and more customers will revolve around you." –

Heather Williams

"Customer experience is the next competitive battleground. It's where a business is going to be won or lost." –

Tom Knighton

Culture, leadership and employee engagement are the essentials for great customer experience. –

Steve Cannon, President & CEO of Mercedes-Benz USA


User Experience and Customer Service Quotes

"Want your users to fall in love with your designs? Fall in love with your users." — Unknown

Speak Human. Feedback is for human beings, so address them as such. Use the words your users use. –

Dan Saffer, Author of "Microinteractions"

Humans have always been emotional and have always reacted to the artifacts in their world emotionally. –

Alan Cooper, President of Cooper

When creating content, be empathetic above all else. Try to live the lives of your audience. –

Rand Fishkin, Founder at Moz

If you don't talk to your customers, how will you know how to talk to your customers? –

Will Evans, Design Thinker in Residence @ NYU Stern

"There are three responses to a piece of design– yes, no, and WOW! Wow is the one to aim for." —

Milton Glaser

"People ignore design that ignores people." —

Frank Chimero, Designer

"A consistent experience is a better experience." —

Mark Eberman

As far as the customer is concerned, the interface is the product. –

Jef Raskin

"Does it better" will always beat "did it first." –

Aaron Levie, CEO at Box

Rule of thumb for UX: More options more problems. –

Scott Belsky, Vice President of Products & Community at Adobe

I get very uncomfortable when someone makes a design decision without customer contact. –

Dan Ritzenthaler, Senior Product Designer at HubSpot

"UI is the saddle, stirrups, & the reins. UX is the feeling you get being able to ride the horse."— Unknown




Good Leadership and Customer Service Quotes

"If you don't have anybody in the room to look up to then you have to be the one." –

Jeannie Walters

"If you're not connecting with the people in your organization, you'll never deliver the experience that you want for your customers." – Unknown

"Leaders foster collaboration by building trust and facilitating relationships. They strengthen others by increasing self-determination and developing competence." –

Deb Calvert

"Successful people are always looking for opportunities to help others. Unsuccessful people are always asking, 'What's in it for me?' –

Brian Tracy

"Worry about being better; bigger will take care of itself. Think one customer at a time and take care of each one the best way you can." –

Gary Comer

Develop success from failures. Discouragement and failure are two of the surest stepping stones to success. –

Dale Carnegie, Author and Motivational Speaker

"Ninety percent of leadership is the ability to communicate something people want." –

Dianne Feinstein, U.S. Senator

An organization's ability to learn, and translate that learning into action rapidly, is the ultimate competitive advantage. –

Jack Welch, former CEO of General Electric

"One of the most important things for any leader is to never let anyone else define who you are. And you define who you are. I never think of myself as being a woman CEO of this company. I think of myself as a steward of a great institution." –

Ginni Rometty, CEO of IBM

"Outstanding leaders go out of the way to boost the self-esteem of their personnel. If people believe in themselves, it's amazing what they can accomplish." –

Sam Walton, founder of Walmart and Sam's Club

"Of all the things I've done, the most vital is coordinating those who work with me and aiming their efforts at a certain goal." –

Walt Disney, founder of Disney

"We do not need magic to change the world, we carry all the power we need inside ourselves already: we have the power to imagine better." –

J.K. Rowling, Author – Harry Potter Series
You may not be motivated by these quotes, but you can certainly get an insight into the latest trends and what others are doing to ace up their customer service game. No matter what strategies you plan, what you want to do differently, what uniqueness you want to offer to your customers; in the end what matters the most is- "How delighted your customers were!"
Do you want a free Help Desk?
We have the #1 Online Help Desk Software for delightful customer support