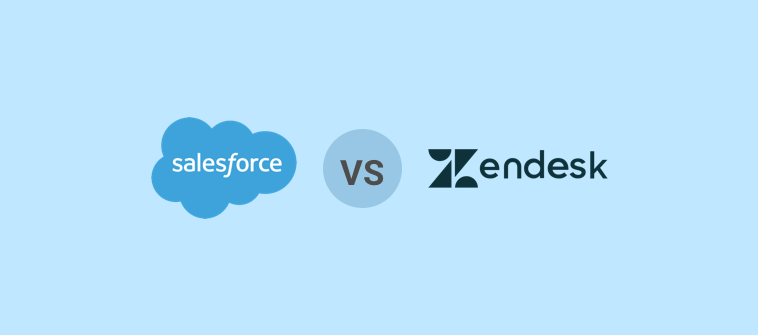 Zendesk vs. Salesforce is a common dilemma that most entrepreneurs and customer service managers face. On one hand, they are attracted by the powerful features of Zendesk, and on the other hand, they find Salesforce as a complete brand.
So between Zendesk and Salesforce Service Cloud, which help desk software deserves your time and money?
The truth is that there is no obvious winner. Both the tools are dominant players in the market and offer features that may or may not fulfill your company's needs.
If you're a business struggling to choose the best help desk software for your team and exploring the best options, this Salesforce vs. Zendesk comparison blog will offer all the help you need.
We have compared these tools to every minute detail so that you can make a sound decision. Let's begin!
| Features | Zendesk | Salesforce Service Cloud | ProProfs Help Desk |
| --- | --- | --- | --- |
| Free Trial | 14 days | 14 days | 15 days |
| Price | Starts at $49 | Starts at $25 | Starts at $20 |
| Ideal Users | Large enterprises | Medium-to-large businesses | Small-to-medium businesses |
| Live Chat | Available | Available | Available |
| Customer Surveys | Available | Available | Available |
| Knowledge Base | Available | Available | Available |
| IT Help Desk | Available | Not Available | Available |
| Chatbot | Available | Available | Available |
| Real-Time Analytics | Available | Available | Available |
Let's Start With a Brief Introduction
Before we begin the Zendesk vs Salesforce comparison, let's start with a short summary of these software solutions.
Zendesk: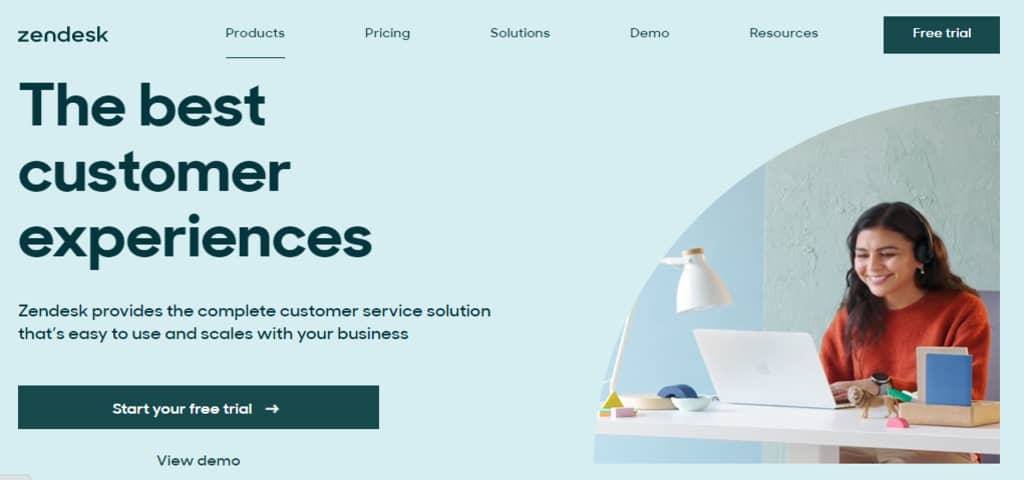 Source:zendesk.com
Zendesk was founded in 2007 in Copenhagen, Denmark, and helps businesses build strong customer relationships. As a popular service-first CRM company, Zendesk offers its products to a customer base spread across 160 countries.
In addition to traditional channels, you can interact with your customers via social media, video support, live chat, and more. To encourage self-service, Zendesk even helps you create a dedicated help center as well as a community forum. This way, customers can resolve issues at their own pace and interact with like-minded users.
Recommended Read: Best Zendesk Alternative
Salesforce Service Cloud: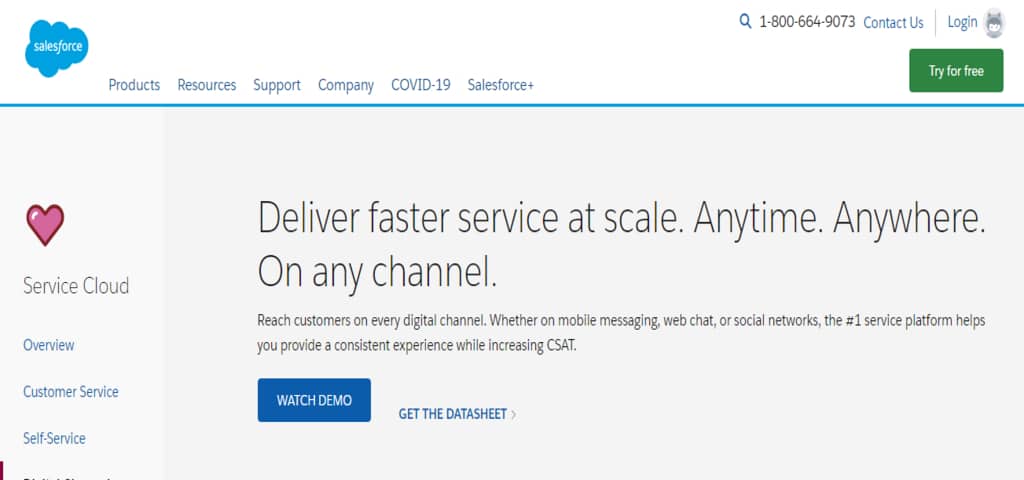 Source: salesforce.com
Salesforce was founded in 1999 in a small San Francisco apartment. During the initial days, the company launched its CRM system and offered it as a subscription service. This SaaS model quickly spread across the technology industry, and Salesforce became massively successful.
Salesforce Service Cloud is an omnichannel customer support software that helps you manage customer conversations on channels such as the phone, messaging, chat, and more. Agents can get a holistic view of every customer — whether they are in the contact center or working remotely.
Overall, you can give your agents all the context they need to deliver personalized and meaningful customer experiences at scale.
Criteria of Comparison
Different customer support tools are known for different features. How do you compare them against each other? Well, to successfully compare any software system, you need to first identify the commonalities between them.
In our Zendesk vs. Salesforce Service Cloud comparison, we have identified common aspects such as types of users, features, pricing, etc. All these different aspects will help you understand the drawbacks as well as the strengths of these popular tools.
Type of Users
Interface
Features
Pricing
Customer Support
Zendesk vs. Salesforce: Type of Users
Zendesk:
Zendesk is a scalable tool built to meet the needs of businesses with a high ticket volume. So whether you are a medium-sized business or a large enterprise, Zendesk surely deserves your attention.
Now, considering that every modern business uses multiple business tools, Zendesk offers a variety of integration options. To enhance the customer and employee experience, you can integrate Zendesk with third-party business applications such as Shopify, Trello, Aircall, and more.
However, when you see Zendesk's high pricing and complicated features, the tool doesn't do justice to the needs of small businesses. That being said, it can be a good option for big enterprises that have a global presence and large customer service teams.
Salesforce:
Just like Zendesk, even Salesforce Service Cloud is designed for medium to large enterprises. The tool can work great if you wish to create a 360-degree profile of every customer for both sales and service.
The years of experience in building powerful CRM tools have helped Salesforce allow brands to build better customer relationships. When you connect Service Cloud with Salesforce sales and marketing software, you can store all customer profiles as well as interactions in a central place.
Moreover, if you have a big field service team, then this tool can meet your needs. You can automatically assign tasks to field agents and give customers all the info they need – who to expect, when the mobile agent will be there, and how long the session might take.
Zendesk vs. Salesforce: Interface
Zendesk Interface: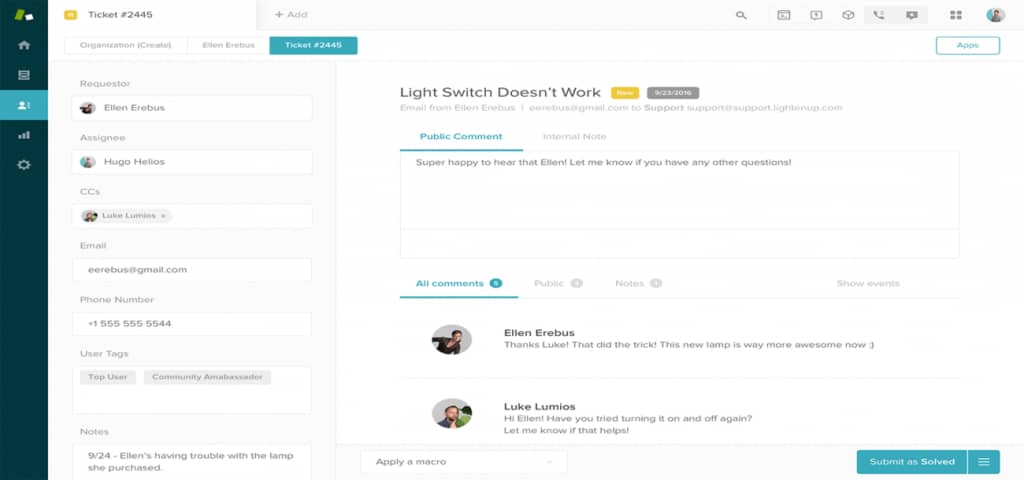 Source: zendesk.com
Although Zendesk's interface is not the most attractive in the market, it still looks quite clean. As soon as you log in, you can find basic ticketing details within arm's reach.
If you are a big business that operates with a huge number of support tickets, you will find Zendesk's filtering options quite useful. Agents can even view private notes (internal conversations among agents) right at the bottom of a selected ticket.
If you are searching for customizations options, this tool will not disappoint you at all. For instance, to uplift the look and feel of your dashboard, you can add widgets, modify the background color, and receive all ticket updates via real-time notifications.
Salesforce Interface:
In this battle of Zendesk vs. Salesforce, the latter disappoints on one of the most important aspects of customer support tools – interface. As soon as you enter Salesforce, the interface looks quite outdated, almost a decade behind its leading competitors.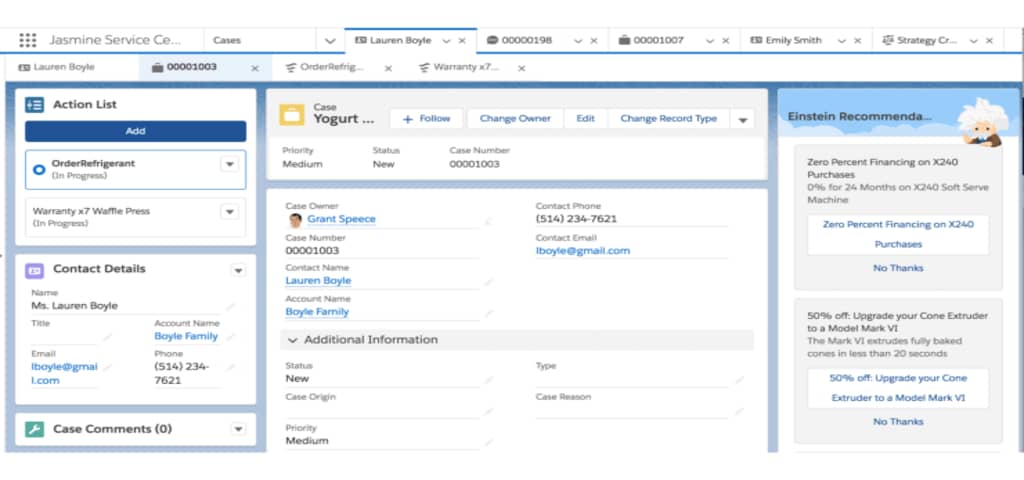 Although the user interface looks outdated and boring, your agents will not have a hard time finding the right information. You can easily open customer cases (support tickets) on multiple tabs and find all important customer details such as the customer name, email address, account name, contact number, etc., on the left panel. From the top, you can even see the Priority of a case, its Status, Case Reason as well as Case Number.
Zendesk vs. Salesforce: Features
1. Ticket Management
Zendesk:
Zendesk comes with a built-in automated ticketing system so that you can increase agent productivity and enhance customer satisfaction. Whether customers share their problems via chat or email, AI-powered bots can scan the text and share relevant help articles before a human agent is even needed to continue the conversation.
When a customer makes a request or complaint, they are automatically converted into tickets. With all these support tickets in one place, agents can categorize, tag, and assign them to the relevant team members.
Zendesk even allows you to create macros (also known as canned responses) so that your team is ready to face all kinds of challenges. However, it is quite difficult to categorize these macros, and finding the right one at the right time might prove to be a difficult task for the agents.
Salesforce:
Salesforce makes it easier for your team to address support tickets quickly by making sure your teams can identify, track, and fix issues with proven workflows. Moreover, you can rise above manual tasks by adding chatbots to Whatsapp and other messaging apps.
With this tool, you can proactively address customer concerns before customers even know about them. You can integrate with other systems to resolve company-wide issues before they have a widespread impact on the business.
You can even use Slack to connect external experts with your internal team members. This allows agents to collaborate on complex tickets and resolve issues faster. You can even keep customers updated about their cases by sharing automated ticket updates.
2. Live Chat
Zendesk:
Zendesk chat allows you to connect with your customers in real-time. In addition to reactive support, you can proactively engage your customers with automated triggers, enhance online sales, and improve the customer experience.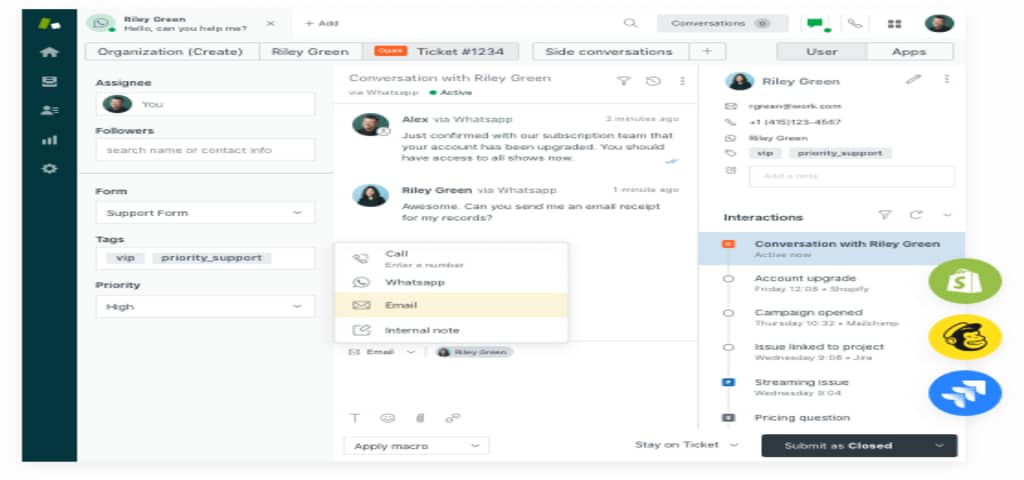 Source:zendesk.com
Whether you have ten customers or a thousand, you don't have to worry. Zendesk's sophisticated live chat features such as departments, operational hours, and chat routing makes things a lot easier.
No matter if your customers reach out to you via laptop, mobile, or app, they can get their issues resolved in no time. You can ask customers to rate their interactions in real-time and improve agent performance.
Salesforce:
Salesforce Service Cloud allows you to connect with your audience on multiple channels, including live chat. You can quickly integrate a live chat window and other messaging channels where your customers need you the most.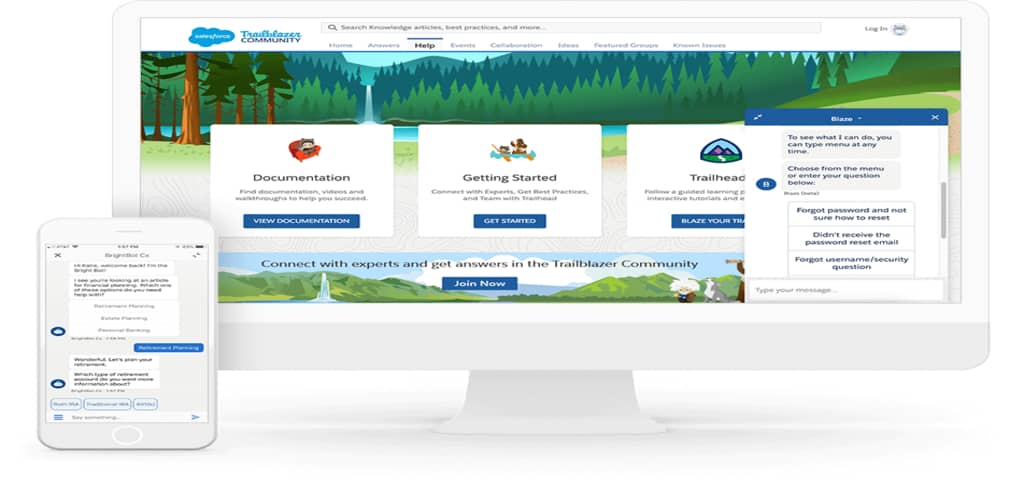 Source: salesforce.com
Based on how customers are viewing or interacting with your site, you can start a conversation in real-time. You can offer multilingual support via chat and take it to the next level with the help of powerful chatbots.
Agents can see the complete customer profile in real-time, gain context, and share faster chat responses via premade templates or canned responses. In addition to Live Chat, your business can use other popular messaging apps such as SMS, WhatsApp, and Facebook Messenger.
3. Knowledge Base
Zendesk: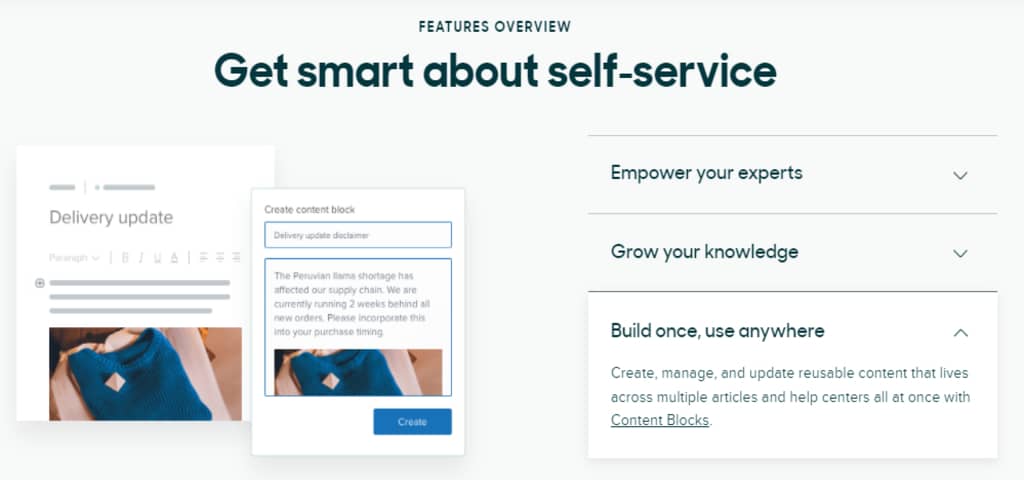 Source:zendesk.com
Zendesk is one brand that definitely believes in self-service and the real empowerment of customers. You can organize company-wide knowledge and empower customers to find all the help they need in real-time.
The best part is that you can empower agents to update, edit, and publish content on their own terms. Agents can convert their ticket replies into knowledge base articles and help thousands of other customers who face similar issues.
With Zendesk's self-service capabilities, you can reduce ticket volume and support costs. This allows your support agents to focus on high-priority issues and offer more meaningful support to customers.
Salesforce: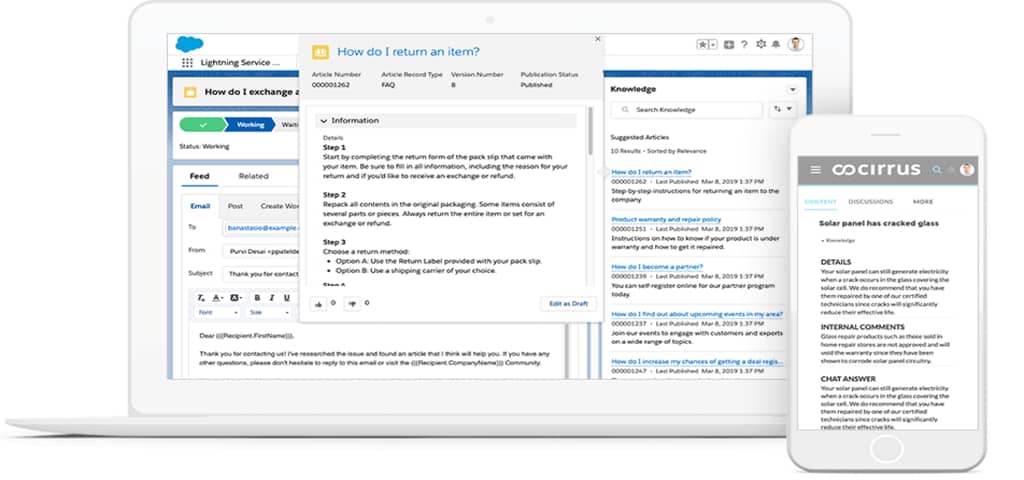 Source: salesforce.com
With the Salesforce knowledge base, you can help your customers get exactly what they need in the form of help articles, videos, guides, and tutorials.
When you compare Zendesk and Salesforce, the latter has the upper hand. For instance, you can use analytics to easily see which articles are performing great and also identify which new help articles or videos need to be created by your team.
You can even add your knowledge base to your agent workspace and allow them to share the most relevant help articles for different customer requests or issues. Agents can easily share these articles with just one click over a variety of communication channels.
4. Team Collaboration
Zendesk:
From the Zendesk Agent Workspace, agents can collaborate with internal as well as external teams using private notes and get more done together. With Slack and Microsoft integration, you can enable team members to get real-time notifications on apps that they spend the most time on.
In addition to this, you can allow agents to schedule and launch Zoom meetings with customers right from a Zendesk support ticket with the help of Zoom Integration.
Salesforce Service Cloud:
Salesforce is better than Zendesk when it comes to internal collaboration features. Customer service representatives can chat with each other in real-time and discuss complex issues together.
In addition to this, you can run your support operations right from your phone – collaborate with your team, close deals, assist customers, and deliver personalized interactions from anywhere. With Salesforce, team members can also share up-to-date content with each other and receive automated recommendations on what to follow and join.
5. Reports & Analytics
Zendesk: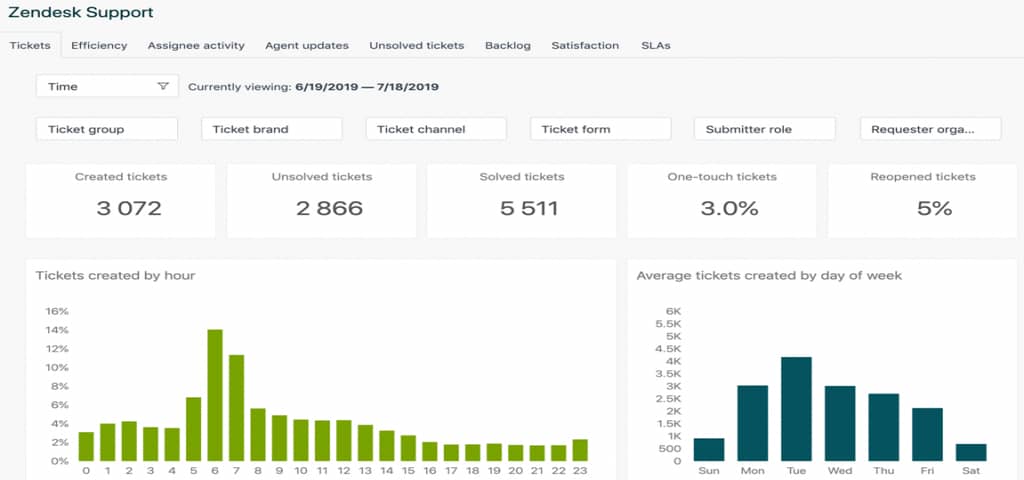 Source:zendesk.com
Zendesk is a powerful customer support suite that offers all the reports and analytics you need to run your business.
However, an overwhelming amount of information might leave you confused at the end of the day. Therefore, it's important to go for a tool that helps you track the data you really need.
With the help of Zendesk's reporting dashboard, agents can easily track metrics such as support tickets, unresolved tickets, and reopened tickets. You can even sort or filter your tickets created by the hour or days of the week. However, not everything can be viewed at once. In order to view reports on agent performance, customer satisfaction, or SLAs, you will have to switch to other tabs.
Salesforce: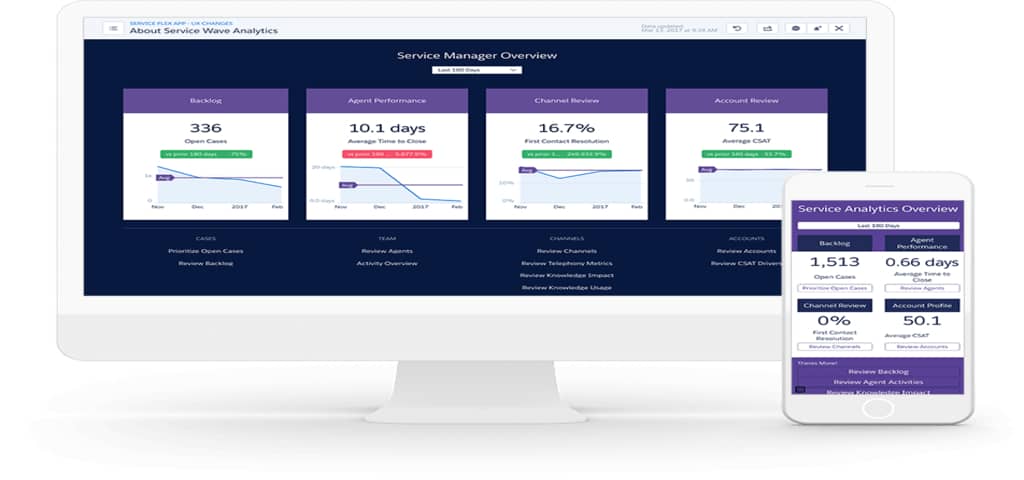 Source:salesforce.com
With the Salesforce support ticket system, you can embed analytics in the agent workspace and allow them to make informed and data-backed decisions.
Customer service managers can gain visibility into ticket volume, agent and mobile worker activity, chatbot performance, and case backlog analysis. Moreover, with the help of proactive insights, you can even identify common customer issues as well as churn risks.
Unlike Zendesk, Salesforce also helps you see your performance by each communication channel. For instance, you can review telephony metrics, knowledge impact, and see how knowledge is being used by your customers for self-service.
Zendesk vs. Salesforce: Pricing
Zendesk Pricing:
Suite Team: $49/agent/month
Suite Growth: $79/agent/month
Suite Professional: $99/agent/month
Suite Enterprise: $150/agent/month
When you compare Zendesk vs. Service Cloud, you will notice that Zendesk is fairly more expensive compared to its counterpart. When we talk about Zendesk's plans, you can choose from four options depending on your needs — Suite Team ($49/agent/month), Suite Growth ($79/agent/month), Suite Professional ($99/agent/month), and Suite Enterprise ($150/agent/month).
With Zendesk, you can enjoy a 14-day free trial and get started quickly. However, if you look closely, Zendesk's basic plan Suite Team misses out on key features like self-service customer portal, knowledge management, SLA management, and more.
On the other hand, with Suite Enterprise, you can enjoy advanced features such as custom roles and permissions, knowledge management, branding capabilities, real-time reporting and analytics, change management, and more. Overall, Zendesk is quite heavily priced and may not be the best option for small to midsize businesses.
Salesforce Service Cloud Pricing:
Essential: $25/user/month
Professional: $75/user/month
Enterprise: $150/user/month
Unlimited: $300/user/month
Salesforce Service Cloud's basic plan starts at $25/agent/month and can be a good option for mid-size businesses or support teams. Besides this, there are other plans on offer, such as Professional ($75/user/month), Enterprise ($150/user/month), and Unlimited ($300/user/month).
Although the basic plan is cheaper, it misses out on important features such as service contacts and entitlements, web services API, and 24×7 support from the Salesforce team. On the other hand, with the Unlimited Plan, you can get best-in-class features such as service console apps, advanced case management, 24×7 support, telephony integration, and more.
Overall, Service cloud's basic plan is cheaper compared to Zendesk. However, the Unlimited plan can prove to be a game-changer if you need a heavy customer support tool.
Zendesk vs. Salesforce: Customer Support
Zendesk:
As soon as you visit the Zendesk contact us page, you can see dedicated buttons to contact their sales team (by filling a web form) and product support team (by visiting their help center). There is no dedicated helpline number to contact the Zendesk team if something goes wrong.
Zendesk offers a vast collection of Frequently Asked Questions (FAQs) around common topics such as accounts & billing, cross product, data privacy, and accounts. In addition to this, you can even visit their community forum to view trends, product announcements, events, and more.
Zendesk has also done a great job of adding links to its leading social media pages of Facebook, Instagram, YouTube, Twitter, etc., to help you get regular updates.
Salesforce Service Cloud:
When comparing Zendesk vs. Salesforce customer support features, you will notice that Salesforce offers a helpline number for prospects as well as customers. Moreover, you can even chat with an agent in real-time and get your support or sales-related queries resolved.
Similar to Zendesk, Salesforce offers a vast FAQ section that answers questions related to everything from plan upgrades to add-on features or free trials. This makes it a lot easier for customers to find the right answers by themselves without seeking agent support.
Zendesk vs. Salesforce: Which One's the Best?
Both Zendesk and Salesforce bring their own set of pros to the table. Both these tools are quite expensive, and Zendesk can offer you an overwhelming amount of features that you might never need. Salesforce Service Cloud, on the other hand, offers an outdated and not-so-friendly solution that your team may not appreciate.
But don't worry as there are some positive sides too.
"If you are looking for a tool that is easier to set up and offers powerful automation features, then you can go for Zendesk. On the other hand, if you wish to have a 360-degree view of your customers and enhance collaboration between sales and service teams, then Salesforce can be a great bet."
From this Salesforce vs. Zendesk comparison, it is clear that both the tools are quite expensive and may not be the best option for startups or small businesses, or for that matter, any business that is on a budget. As an alternative, you can go for ProProfs Help Desk – a feature-rich help desk software that comes at half the price of these tools. Let's learn more about it in the next section.
ProProfs Help Desk as an Alternative to Salesforce & Zendesk
If you are looking for an extremely affordable, easier-to-implement, and AI-powered solution then ProProfs Help Desk deserves your undivided attention. Let's quickly see how ProProfs puts you in a better position:
User-Friendly Interface: With ProProfs, you can get started in minutes. As soon as you log in, you are greeted with an Email-like interface and well-laid-out features. There is no need to give rigorous product training to your agents as everything is really simple to use.
Powerful Automation: The automation capabilities of this tool will help you get more done and delight customers with faster responses. For instance, you can automatically assign tickets to relevant team members and share automated alerts to keep customers and agents updated.
Self-Service: When it comes to customer support, a lot of customers love to take matters into their own hands. You can create a self-service knowledge base and reduce your support costs. Similarly, you can even create powerful chatbots that can interact with customers even when your team is not available.
Monitor the CX: ProProfs Help Desk allows you to monitor the customer experience with the help of CSAT and NPS surveys. You can gauge customer satisfaction in respect to the support interactions and understand how loyal customers are to your brand.
24X7 Human Assistance: Whether you are a new visitor or an existing customer, you can contact the ProProfs' support team 24×7. For any queries, you can reach out via phone, email, chat, or raise a ticket on the website.
We hope with the help of this Zendesk Salesforce comparison blog, you have a clear picture of which tool can perfectly match your needs as well as expectations. If you are still unsure about these tools, you can give ProProfs Help Desk a shot. Discuss with your team, understand your budget, jot down the most essential features you need, and go for the one that makes customer support easy.
Do you want a free Help Desk?
We have the #1 Online Help Desk Software for delightful customer support