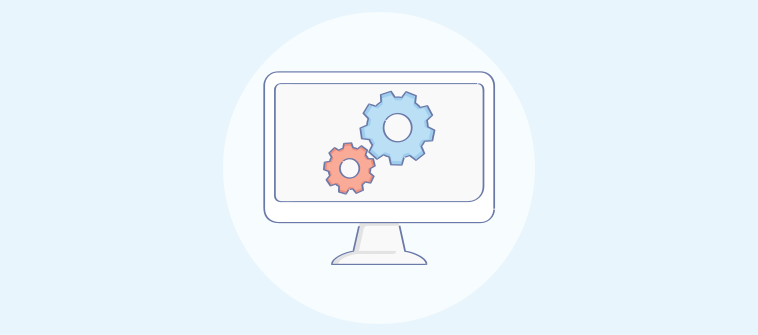 Automation technologies that seemed impossible some years ago are a reality in today's world. Modern IT teams are no longer dependent on slow and sluggish manual processes – thanks to ITSM automation.
With IT Service Management automation, you can speed up the incident management process, reduce errors, and address IT issues before they bring your business to a halt.
Is your organization among the slow adopters? Are you not quite convinced about how to bring about automation in your ITSM process? Well, here is a stat that will give you some dose of inspiration.
"About 75% of companies plan to invest in automation technologies such as Artificial Intelligence and process automation."
If you are new to automation, don't worry your business hasn't missed the boat yet. Read this article to discover our top ITSM automation tips and learn about the most in-demand features of ITSM tools in the market.
Let's go!
What Are the Key Benefits of ITSM Automation?
While implementing ITSM automation, you might face the need to convince your peers or the leadership. Here are some top benefits of IT service management automation that will strengthen your argument.
1. Reduce Response Times
IT support agents are always under scrutiny for the time they take to respond to requests and incidents. When you implement ITSM workflow automation, you can reduce response times and resolve issues much faster.
For instance, if the help desk receives an email about a malfunctioning laptop, workflow automation can:
Determine the priority of the incident
Assign it to the right agent
Send an automated response to the user
Many modern ITSM tools offer the chatbot feature to help you share automated responses with users. This will help you further improve your ticket response and resolution times.
2. Skyrocket Internal Productivity
When issues are resolved quickly, and requests are fulfilled within set deadlines, your employees can return to their respective tasks faster.
Adopting ITSM automation can fuel individual as well as team productivity. For example, when the issue resolution process for the malfunctioning laptop is automated, the problem can be resolved quickly, and the staff can continue with their respective work.
3. Improve the End-User Experience
Whether you deliver IT services to internal employees or external customers, they deserve to have a seamless experience every time they contact your team.
A key benefit of ITSM automation is that you can significantly increase user satisfaction and improve their support experience. For example, when the user receives automated alerts and notifications about the progress of their tickets, they can simply stay stress-free, knowing the issue is in safe hands.
4. Get Accurate Metrics With Automated Reports
When humans have to produce data, there can be multiple inconsistencies and errors. Manually creating your IT help desk reports can lead to poor data analysis and decision-making.
Service management automation can improve the accuracy of reports and relieve support managers of the manual work required to capture data and correct errors. You can even download or print these reports or share them with key stakeholders for better transparency.
Read More: 15 Help Desk Metrics to Improve Customer Support
8 Tips for Successful ITSM Automation Implementation
Now that we have covered the various reasons for "Why" you must adopt ITSM automation for your business, let's focus on the "How" part. Here are some tips and strategies that will offer great help:
1. Automation Isn't for Everyone
ITSM automation should not be implemented for the sake of business outcomes alone. Your automation journey should be more focused on improving the end-user experience.
If automation does not positively impact the user experience or reduce your team's workload, you must avoid the idea altogether.
It is not a wise idea to introduce new technology just because you can. Are your IT support reps in favor of automation? Do customers even want it? These are some genuine questions you need to answer. For example, there is no point in developing chatbots for your help center if end-users are consistently demanding a more human-like experience.
2. Communicate the Benefits of ITSM Automation
For most businesses, automation is a drastic change introduced to any process that can bring up resistance from staff members or leaders.
To prevent your ITSM automation efforts from going futile, it's advised that you communicate its benefits to win your team's confidence.
Whether it is about process efficiency, reduced costs, or improved user experience, make sure your team knows what automation can bring to the table. Involve key stakeholders such as support reps, leaders, business partners, users, etc., right from the early stages of technology adoption.
In addition to this, you can even conduct a brainstorming session to encourage different departments to share the pain points or hurdles they faced.
3. Invest in the Right IT Help Desk Tool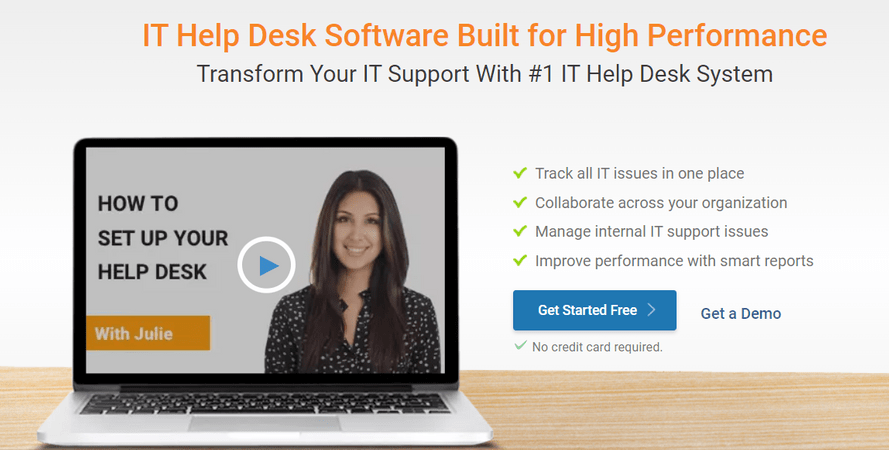 Many businesses are looking to implement automation with ITSM tools that come with powerful features and insightful reports. But is it worth the investment?
To bring your automation aspirations to life, you must invest in the best IT help desk software. With cloud hosting, you can enjoy 24×7 accessibility, data security, and automated backups.
An IT help desk tool can turn your automation dreams into reality. Right from ticket assignments to surveys to notifications and alerts, there are at least a dozen things that you can automate. Moreover, you can even build powerful chatbots to assist employees or customers with their common queries.
Your ITSM tool will most likely not offer all the automation capabilities you need to enhance productivity. Therefore, look for a tool with multiple third-party integrations (CRM, project management tools, etc.) to automate the different aspects of your work.
4. Set Clear Roles & Responsibilities
While IT service management automation can reduce your workload and help you avoid mundane tasks, you will still need agents to handle more pressing tasks or issues.
As soon as you have implemented the tool, communicate to your agents about their unique roles and responsibilities.
If roles are not clearly defined, challenges such as scapegoating, deflection, etc., can crop up. When certain tasks are getting automated, this will offer agents more time and allow them to take up new responsibilities. To set task distribution right, you can sit with your team, go through existing roles, and establish a transparent hierarchy.
5. Train Your Support Staff Members
The real success of ITSM automation depends on how well your team embraces technology and handles the different sets of tools and guidelines.
The moment you add a new tool to your tool stack, ensure your team is trained thoroughly. They must be given the time to get well-versed with the different features and functionalities before they begin handling cases.
You must also educate them about the fundamentals of the tool, the rationale behind the implementation, and the expected outcome. You must ensure the tool comes with an easy-to-use functionality so that agents don't have to undergo intensive learning or training sessions to get started with the tool.
6. Empower End-Users With Self-Service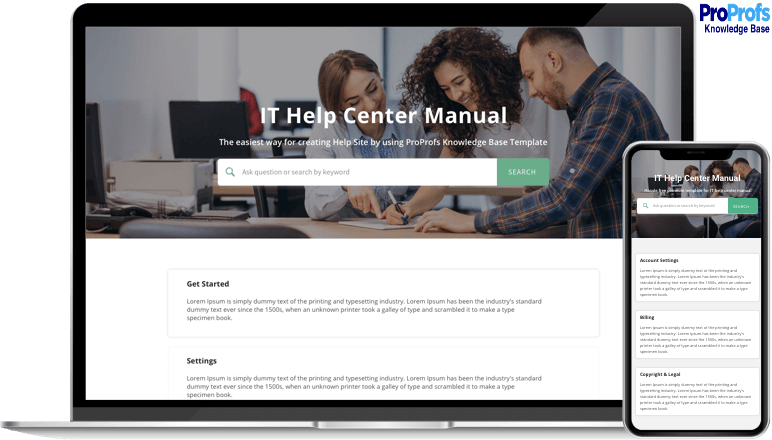 For a smooth experience, end-users expect your business to offer self-service content in the form of FAQs, guides, videos, or articles that provide technical troubleshooting steps.
Your ITSM automation strategy is incomplete without self-service. If your business does not have any self–service content, now is the time to develop a knowledge-rich self-service portal.
Make sure your internal knowledge covers routine topics such as password reset, hardware problems, software installations, and more. When employees can find relevant information by themselves, you can reduce your incident or request volume and allow agents to focus on other important tasks.
Read More: How to Create an Internal Knowledge Base
7. Focus on Continuous Improvement
Automation is not a one-day job and requires consistent efforts from your team members and the management.
Continuous improvement is a sum of ongoing efforts to improve the implementation and maintenance of ITSM automation. Small improvements, diligently executed, can have transformational results for your organization.
So how do you go about this? You can start by identifying the key performance indicators (KPIs) that can help you understand if you are moving in the right direction. Some popular ITSM metrics can be first response time, average resolution time, user satisfaction, and more.
In addition to this, you must always be open to the idea of implementing new tools and technology as and when your team grows. Watch out for the latest trends in IT and keep moving forward.
8. Do Not Neglect the Human Aspect
AI and automation are drastically improving business areas, and ITSM is no exception. But can your business really afford to lose the human touch?
You must aim to strike the right balance between automation and human support. After all, you will always need humans to connect with end-users at an emotional level and foster long-term relationships.
A great example of this would be using chatbots to assist IT service users with their queries. However, when the need arises, the user can connect with a human agent to have one-on-one interaction.
Features of ITSM Automation Tools
What features or functionalities you want in your ITSM software can depend on your team size, industry, unique needs, etc. However, there are some vital must-haves for any great ITSM tool. Let's discuss them right away.
1. Incident & Request Tracking: If you offer IT services to users, you are bound to receive multiple incidents and request tickets every day. With an automated ITSM tool, you can capture all these tickets in one place, track their progress, and share faster resolutions.
2. Automated Ticket Assignment: Do your IT support agents pick tickets manually depending on their own convenience? If yes, this can lead to unfair work distribution. Modern ITSM software uses the round-robin method for ticket distribution so that every incoming ticket can be automatically routed to available agents.
3. Self-Service Knowledge Base: Documenting and providing access to self-help knowledge is the first step to automating your IT support process. You can build an internal knowledge base for employees using ready-to-use templates, and upload multiple file types such as blogs, FAQs, videos, forms, etc., for 24×7 support.
4. Metrics, Analytics, & Reporting: Reporting is another must-have feature of ITSM automation tools. The best ITSM systems empower users with intuitive and actionable reports so that they can customize reports and find all the metrics they need in one dashboard. Tracking key metrics over time will help you make ongoing improvements in IT service delivery
5. User Satisfaction Surveys: To boost end-user satisfaction, you must share regular surveys with them. With this feature, you can share automated surveys with users right after their support interaction. After gathering all the feedback, you can analyze how well agents are meeting customer expectations and dig deeper into improvement areas.
Read More: Survey Question: 250+Examples, Types & Best Practices
Enhance Team Efficiency With ITSM Automation
If you are looking for a sign to automate your IT service management process then this is it. To implement automation, you must involve multiple departments, set clear agent roles and responsibilities, train your support staff, and track performance metrics for continuous improvement.
However, ITSM automation isn't just about removing humans from the picture. You must look to automate repetitive tasks so that agents can hold meaningful conversations with IT end-users and deliver a delightful experience.
If you're looking for the right IT help desk partner for your business, ProProfs Help Desk can be a perfect choice. With powerful automation capabilities, you can re-design your workflows, save time, reduce costs, and enhance team efficiency.
Do you want a free Help Desk?
We have the #1 Online Help Desk Software for delightful customer support