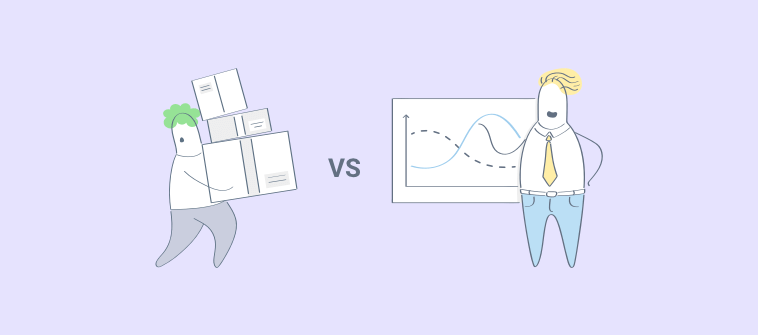 Bundling? Free shipping? Suggested items? All of these eCommerce strategies work toward the same goal: getting customers to buy more on each visit, increasing the average order value.

And they hold an important place in boosting revenue for your eCommerce brand. But what about increasing the lifetime value of your customers?

Focusing on increasing order value is important to boosting revenue, but increasing the lifetime value of your customers is critical to long term success of your brand.
"Many entrepreneurs find themselves in a race to the bottom, as they begin to focus on using revenues to keep up with expenses instead of produce profits," writes Eric Siu at Entrepreneur.
eCommerce business owners and marketers would do well to remember that, especially at the beginning.
Average Order Value (AOV) is about real time sales tactics to increase sales volume, while Customer Lifetime Value (CLV) is about delivering individualized experiences over the long term to keep customers coming back.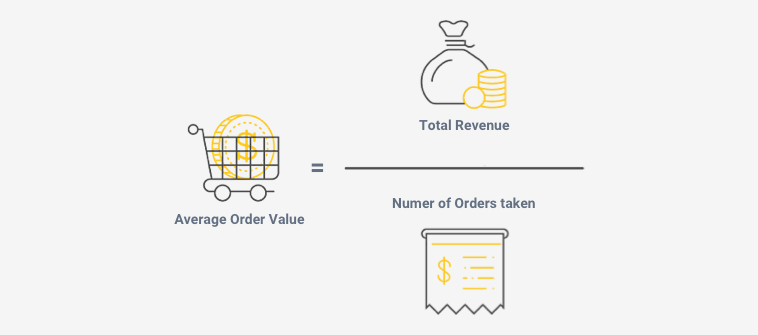 Let's jump into why that the lifetime value of your customers matters more than you might think — and how it can work hand-in-hand with AOV.
# Average Order Value: A Short Term Fix for Revenue
Average order value as a number is straightforward: the total revenue divided by the number of orders.
AOV is a good metric to start with as you begin exploring new routes of acquisition and upselling. After all, the higher your order value the fewer customers you need to acquire.
At the same time, in the short term, it gives you more to work with. Higher revenue means more advertising dollars.
But focusing solely on AOV can be limiting. It not only fails to take into account the cost of goods and other expenses; AOV also limits its view to month by month improvements, rather than lending itself to long term growth.
# Lifetime Customer Value: A Long Term Boost of Profitability
In contrast to AOV, increasing the lifetime value of a customer takes a much larger and long term view of profitability.
Customer lifetime value is defined as the metric that represents the total money a single customer spends on your business/products during their lifetime. This can help you calculate and decide how much you want to invest in customer acquisition and customer retention.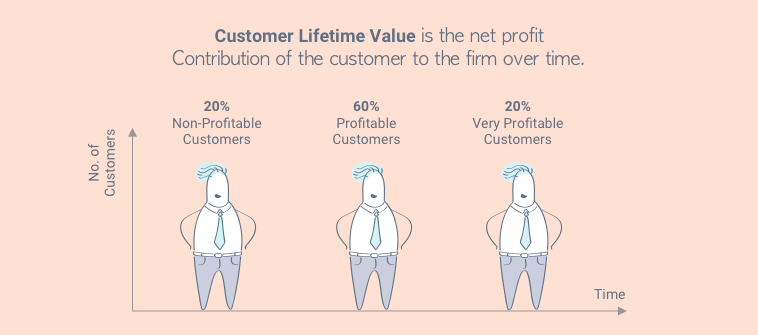 Even with this limited definition, you can see that AOV and LTV are closely related; order value affects customer value, which affects lifetime value of the customer.
The main difference in increasing LTV versus AOV is that lifetime value efforts are focused on organic changes to your interactions with customers.
# AOV vs. LTV: Determining Which Matters Most for Your eCommerce Brand
Average order value and long term customer value are not mutually exclusive metrics for growing your eCommerce business.
Both AOV and LTV hold important insight into how effective your marketing and sales efforts are.
It's not a matter of determining which matters most — it's about determining which approach is already working well and which needs work.
If your current focus is solely on AOV, it's critical to explore ways in which you can bring an LTV approach to your marketing and sales efforts. In the same way, if you have that long term value but struggle with increasing order value, it's just as important to look at specific personalization and landing page tweaks that will increase sales.
# 4 Ways to Maximize LTV for Your eCommerce Brand
If you have strategic efforts for increasing AOV in place, it's time to focus on more organic efforts for increasing LTV over time.
Make Brand Loyalty a Primary Business Goal.

If you start with the question "How can we keep customers coming back?" the potential answers will span marketing, sales, customer service and everything in between. As of 3 years ago,

nearly 90 percent of companies expected to compete

primarily on the basis of customer service. Customer experience is the new marketing.

Make Marketing Channels More Efficient.

You don't want your marketing efforts to

feel

like marketing to current customers. But that doesn't mean they shouldn't efficiently bring customers further down the funnel. Any marketing efforts should add value to customer interactions with your brand — which is where personalization comes in. Personalization is all about making the customer feel known and understood — by design, this keeps them coming back. If you don't already have the tools in place to deliver personalized landing pages, drip emails and special offers that's your first step.

Make it Easier For Customers to Share Feedback.

An easy checkout process will help increase AOV and an easy account creation process should increase LTV, as:

it gives you a foot in the door for returning customers. It's as simple as that. In the same vein, encourage and respond to reviews, making the feedback process as simple as possible.

even

negative reviews

can lead to better ratings if they are handled correctly. Take the time to respond to reviews, find ways to make it right with dissatisfied customers, and incorporate feedback into your processes and products.
Use a knowledge base to encourage customers to return and rewarded surveys to keep them interested.
Make Use of Your Customer Data.

From how far down the funnel they make it to demographics, you have customer data at your fingertips. You should bring all of this together on a customer data platform to realize the benefits of acting on data in real-time will offer your eCommerce brand. On the other side of the same coin, you should be using

data analysis

to assess how each tweak you make — from paid campaigns to personalization — affects your profitability.
At the heart of incorporating LTV and AOV into your marketing and sales efforts is the importance of data in eCommerce.
You have customer data at your fingertips. With the right tools can use it to boost everything from customer satisfaction to profitability.
Do you want a free Help Desk?
We have the #1 Online Help Desk Software for delightful customer support