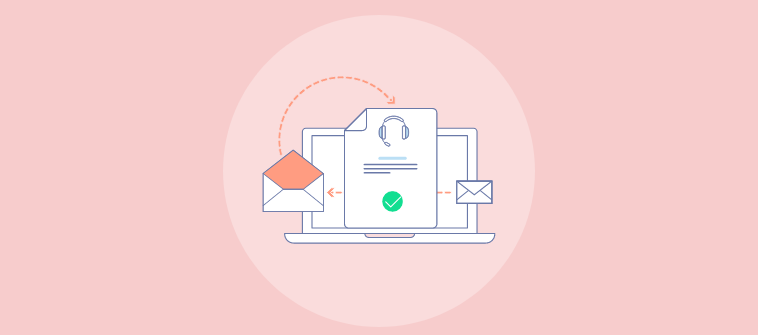 Wouldn't it be great if your favorite brands never made a mistake? Sadly, we don't live in a perfect world.
Think of any Fortune100 companies (Apple, Disney, Amazon), and you will see they have one thing in common – they still receive customer complaints. If complaints are so mainstream, how do you handle them without losing the customer?
The best and smartest businesses know the answer can be found in using customer complaint email response templates. These are pre-designed responses that can be used to handle all blunders – from late product deliveries to missed project deadlines.
Just a decade ago, complaints could be kept as secrets. But as the world embraces digital technology, it is no longer surprising to see a Tweet with a thousand retweets or a video review with a million hits.
This makes it all the more important to adopt complaint management software that can help you create and store email templates in one place. In this blog, we will explore 10 complaint response templates that will help your team share sincere apologies and turn angry customers into your biggest fans.
Let's go!
What Is a Customer Complaint?
A customer complaint can be termed as a problem or dissatisfaction shared by the customer in response to your business. Customers usually complain when your business fails to meet their expectations. For example, a customer can complain if they receive a defective item or if they encounter a slow-moving checkout aisle.
Customers can complain using different channels. While some prefer email, others can ran out on social media and destroy your brand image.
But if you look closely, complaints are often a blessing in disguise. They can shed light on your improvement areas and help you fix problems before customer churn takes over. If you want happy and loyal customers, you must take their problems seriously. After all, that's the only way to grow your business.
Read More: Tips for Reducing Customer Complaints – 10 Simple Ways
10 Examples of Customer Complaint Email Response Templates
Did your product never reach the customer? Are your customers raving in anger during website downtime? Don't worry! We have got you covered. Here are ten examples of email response templates that will help you handle customer complaints with ease:
1. Late Product Delivery
When your business is overflowing with orders, delays are bound to happen. There will be some orders that fail to reach the customers on the promised delivery date. According to a PWC study, 41% of customers are willing to pay extra for same-day delivery. Amidst such high expectations, late deliveries can make you lose your hard-earned customers.
We understand that delays in product deliveries can happen due to a number of reasons that are outside your control – poor weather conditions, accidents, and so on. However, it's important to empathize with your customers and share an effective apology email. Mention a new delivery date and offer them an exclusive discount if possible.
Dear [Customer Name],
We are extremely sorry to hear that your order of [Mention Product/Order ID] has not reached you yet. I completely understand how frustrating this must be for you.
I've contacted our logistics partner, and it is currently at the warehouse nearest to your location. Here is a link you can use to track your package in real-time [Mention Link].
From the current status, I'm positive that the package should reach you on or before [Mention Date]. However, if there is any further delay, you can contact me directly at this number [Mention Contact Number].
Once again, I would like to apologize for any inconvenience caused to you. I appreciate your patience.
Regards,
[Signature]
2. When an Item Is Out of Stock
If there is one feeling that comes close to getting punched in the gut, is realizing that your favorite product is out of stock. Products can go out of stock due to poor inventory management or a sudden rise in demand during a sales or festive season.
However, the good news is that customers are waiting in line to buy your products. It's important to be transparent with them and give them a realistic timeline. You can also send them notifications on their registered email id, mobile number, or via in-app as soon as the product is back in stock. This will help you prevent customers from switching to competitors and boost revenue.
Dear [Customer Name],
We regret to inform you that our product [Mention Product Name] is currently out of stock at all our offline and online stores. However, we do have some good news for you. You can expect the product to be back in stock by [Mention Date].
If you wish to receive a further reminder, you can click on the "Notify when product is back in stock" icon from the product page. Here is the link: [Add Link]
Feel free to check out similar products we have available now. You can use the coupon [Mention Coupon Code] to get an instant [Mention Percentage] discount.
It is indeed heartwarming to see your interest in our products. See you soon!
Regards,
[Signature]
3. Delayed Response
Customers expect a prompt response whether they contact you to inquire about upcoming offers or share their complaints. According to Statista, 77% of customers expect an instant response on live chat. However, when it comes to email, 62% of customers are okay with receiving a response within 24 hours.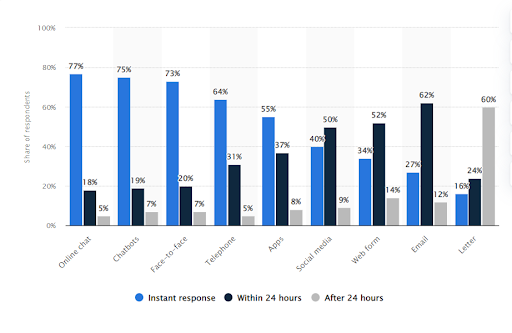 So, even if you have missed out on responding to a customer, it's never too late to share a sincere apology. Let the customer know what led to the delay and assure them that this will not happen again. This will help your team win their trust back and foster long-term customer relationships.
Pro Tip: You can use a help desk ticketing system to ensure every customer message gets a prompt response. For instance, you can prioritize urgent tickets and never lose track of them.
Hello [Customer Name],
I apologize for the delay in responding to your [Request, Inquiry]. I understand this must be really frustrating for you.
As I can see, you contacted us on [Mention Date] via [Mention Channel: Email, Phone, etc.]. I failed to respond to you as something really urgent had come up. I was quite busy for the past [Mention Hours/Days/Weeks] and couldn't get back to you.
I have kept your request on high priority, and you can expect a solution by [Mention Date].
If you need any further assistance, do feel free to reach out to me at the contact details mentioned below. I would be happy to help you, as always. Thanks again for your patience!
Regards,
[Signature]
4. Refund Not Received
Did you know that customers return around 30% of all products ordered online? This means that your customer service team will frequently be dealing with product return and refund requests. But the sad part is that refunds often take time and, in some cases, might not get credited to the customer's account even after several weeks.
How you respond to customer refund complaints often becomes a deciding factor in their overall experience with your brand. It's important to be patient and explain the current refund status to your customers. If possible, explain to them how they can track their refund status in real-time.
Hello [Customer Name],
Thanks a lot for bringing this to our notice. As I can see, you had requested a complete refund for the returned item [Mention Product Name], bought on [Mention Order Date].
Your refund was successfully processed on [Mention Date]. The complete amount shall be credited to your bank account ending with [Mention Last 3-4 Digits]. Typically, it takes anywhere from 4-7 business days for the amount to reflect in your account.
You can visit our refund FAQ page for more details: [Add Link]
I would request you to kindly wait for a couple of days more. You can expect the refund amount to reflect in your account by [Mention Date].
If you are facing any other issues or have more questions, do feel free to contact me. I would be more than happy to be of assistance. Thanks for choosing us!
Regards,
[Signature]
5. Impolite Employee
We all have encountered situations where an employee was rude to us, whether on call or in person. In such cases, the customer has every right to escalate the matter and bring it to the notice of the manager.
If you have a difficult employee who is disrespectful or rude to customers, you must deal with the situation effectively before it dents your brand reputation. After you confront the employee about their poor behavior, it is important to share an apology email with the customer. You can even add a relevant discount coupon or freebies to turn the negative situation upside down.
Dear [Customer Name],
I am extremely disheartened and shocked to hear about your negative experience with one of our customer service representatives. We highly appreciate your efforts in bringing this to our attention. Kindly accept our sincerest apologies for the inconvenience.
I would like to inform you that our customer service team goes through consistent training programs that involve sessions on both soft skills and technical knowledge. However, such instances are extremely rare, and we are not taking this lightly.
To appreciate your efforts and keep our relationship moving forward, we would like to offer a discount coupon [Coupon Code] that you can redeem during your next online or offline purchase.
If there's anything else that you want us to know, please get in touch. Call us at: [Contact Number].
Sincerely,
[Signature]
6. Defective Item
It is not rare for business owners to receive customer complaints pertaining to poor-quality products or defective items. Despite multiple quality check processes in place, your business may end up shipping a defective product to the customer.
During such a complaint, you must quickly accept your mistake and offer an immediate apology to the customer. In addition, you must inform the steps you are taking to rectify the situation. For example, you can arrange a new shipment of the same product or offer a discount.
Dear [Customer Name],
I am extremely sorry to learn that you received a defective product in your order placed on [Mention Delivery Date]. Kindly accept my sincere apologies for the inconvenience.
Our quality team ensures every product is scanned properly before they are shipped to meet our quality standards. Chances are that the product might have been damaged in transit.
However, I have some good news for you. Here are two offers for you:
1. If you wish to get the same product, I can initiate the shipment today (no delivery charges shall apply).
2. If you want to order another similar product, here are some personalized recommendations [Share Product Links]
If you have any other questions, feel free to get in touch. We look forward to continuing this beautiful relationship we have built over the years. Thanks for your patience!
Sincerely,
[Signature]
7. Technical Complaint Email Template
If you run a software or electronic business, it is common to receive customer complaints that are of a technical nature. For example, imagine a customer complaining about software that runs incorrect reports. Now, even though you can train your customer service agents on some technical details, they might not be able to resolve the whole issue on their own.
Your CS representative can share the necessary troubleshooting steps if they understand the problem. However, they can always escalate the issue to your technical team if no solution is available at hand. If the issue is affecting all the users (for example, a software bug), you can proactively draft an email explaining the situation.
Hello [Customer Name],
I would like to take this moment to apologize to you for the technical issues you are facing. I understand how frustrating this must be for you.
It seems like the issue you are facing is caused due to [Mention Problem]. I have escalated your complaint to our technical team, and they are already working on this as we speak. You can expect our team to fix your issue within the next [Mention Hours/Days].
Rest assured, your complaint is kept on top priority. We always strive for customer service excellence and will make it a point to ensure such instances are not repeated.
Thank you for your valuable feedback.
Regards,
[Signature]
8. Website Down
"Error 404." We all have seen this error code while trying to open a website. It does feel frustrating, right? Let's accept it, technology isn't perfect. There will be times when your e-commerce website is down, and customers can't stop complaining about it.
According to a study by Gartner, website downtimes can cost a business an average of $5,600 a minute and up to $300,000 an hour. Moreover, you can lose valuable visitors and SEO rankings. This complaint email template will help you update customers about what's happening and when the website will be restored.
Hello [Customer Name],
Thanks for bringing this to our notice. We are aware that our website [Mention Website Address] is currently experiencing some technical issues. As a result, our website will be inaccessible for some time.
Our backend team is actively looking into what caused the issue and working to resolve it as soon as possible. You can expect our website to be fully functional by [Mention Date or Time]. You will surely get a notification about the same on your registered mobile number and email address.
We appreciate your patience during this time! Thanks for choosing us, as always!
Sincerely,
[Signature]
9. Feature Request
Most customers request new features when they feel your current product is inadequate. For example, a customer can request a new feature in your app that some competitor company offers.
The first thing you need to do is not consider feature requests or complaints as negative feedback. In fact, it means your users care enough to share their ideas and want to see your products improve. Sometimes, these requests might be too over the top and may not align with your product roadmap. However, if they do, you can use the following template and share the good news with your customers.
Hello [Customer Name],
Thank you for reaching out to us. We are always excited to know what customers feel will be a good addition to our products.
I do have some amazing news for you. The feature that you are looking for is already in the works. It will be available in one of our upcoming releases. You can expect the requested feature to be live by [Mention Date].
You can always receive news about our upcoming products and features on [Mention Website/Social Media/Forum Link].
Product feedback like this helps us improve and delight like-minded people like you. Thanks for choosing us!
Cheers,
[Signature]
10. Missed Project Deadline
Missed deadlines are any project manager's worst nightmare. For whatever reason, sometimes, we are unable to deliver our work on time. In order to maintain your professional brand image, it's always better to inform your clients in advance about any sort of delay in meeting project deadlines.
We have drafted this email template to make your conversation less uncomfortable and save your business from losing out on valuable clients. In this case, simply apologizing will not be enough. It's important to add all the reasons that are causing the delay so that the client can understand your situation better.
Hello [Customer Name],
I am writing this email to inform you that our team will not be able to deliver your project [Mention Project Name] on the agreed timeline. We are extremely sorry as we could not live up to your expectations.
Here are some reasons that have led to the unexpected delay in project delivery:
[Mention Reason 1]
[Mention Reason 2]
[Mention Reason 3]
However, I assure you that my team has been working day in and day out to complete the remaining work as quickly as possible. I would like to request a short extension to the deadline. We will need [Mention Days] to finish your project and hand it over to you without further delay.
I hope you will understand my situation and grant us an extension. I highly value the relationship that we have built and look forward to working together on more exciting projects in the future.
Thank you for your patience and understanding on this matter.
Regards,
[Signature]
Handle Angry Customers With Complaint Response Templates
When you run a business, there are a hundred things that can go wrong and make your customers angry. It might seem like the more you try to avoid mistakes, the more they happen.
However, even the world's top-rated companies are dealing with complaints almost every minute. The good news is that you can use customer complaint email response templates to pacify angry customers, educate them about what is going on, and share an appropriate apology.
The ten examples shared in this blog will help you handle complaints related to late product deliveries, impolite employees, defective items, technical issues, etc. You can use ProProfs Help Desk to automate your complaint-handling process. You can prioritize urgent issues, create thousands of email responses, and share surveys to identify customer pain points. Ready to turn customer complaints into compliments?
Do you want a free Help Desk?
We have the #1 Online Help Desk Software for delightful customer support